Lane Cove Council's next meeting is Monday 18th June 2018.  The public section of the meeting room is expected to be packed with local residents concerned about two "controversial" development applications.
Many people do not know where and when LCC meets.
Background
Lane Cove Council holds its meetings on the 3rd Monday of every month (except for January where there is no meeting).  The December meeting is earlier and this year it will be held on the 10 December 2018.   Meetings are held in the Council Chambers at 48 Longueville Road, Lane Cove.
The agenda for each meeting is online every Thursday prior to a meeting and the Minutes are online by the Thursday following each meeting.
These agenda can also be viewed at the Lane Cove Library or the Customer Service Counter at the Lane Cove Civic Centre.
Lane Cove Council permits the public to view proceedings from 7 pm.  You can also view them via webcast.
A Lane Cove resident can address a Lane Cove Council meeting for up to 3 minutes on a council issue before general meeting agenda items are discussed.
The Agenda is as follows:
Notice of Motion: Reducing and phasing out single use plastic items
Northwood Shops Planning Proposal 29 – Public Exhibition
Update – Girraween Park Planning Proposal
Results of the Consultation on Councils Draft Community Strategic Plan, Liveable Lane Cove: 2035
Results of the Consultation for the 2018-21 Draft Delivery Program, 2018/19 Draft Operational Plan, 2018/19 Draft Budget and 2018/19 Draft Fees and Charges
Council Nominations for the Sydney North Planning Panel
Retrofit of Confiscated Bikes from Bike Share Companies
Local Government Remuneration Tribunal Determination for Councillor Fees
May 2018 Traffic Committee Meeting
China Sword Policy – the impacts on Council
Official Opening of Lane Cove Child and Family Health Centre and Lane Cove Creative Studios
Draft Budget Plans
At the Lane Cove Council Meeting on 16 April 2018 the 2018/19 Draft Budget, Fees and Charges, 2018/19 Operational Plan and 2018-21 Delivery Plan (Budget Papers) were considered. The Council resolved to adopt the Budget Papers so they could go on public exhibition and community consultation could be undertaken.
Community consultation on the Budget Papers was undertaken from 18 April 2018 to 1 June 2018.
It included: –
Advertisements in the North Shore Times on 19 April 2018 and The Village Observer (May Edition);
Public exhibitions at the Civic Centre, Lane Cove Library and Greenwich Library;
An online exhibition;
An eNewsletter sent to over 6,200 recipients (note over 36 000 people in the Lane Cove Council area);
A feature in Council's April 2018 Quarterly Newsletter;
Plaza stalls on Saturday 5 May and Wednesday 16 May 2018;
Notifications to Council Advisory Committees; and
A community surveys.
The result of this community consultation was:
One written submission received about the operational issues and
Three comments received about the Council's Draft Fees and Charges.
The Lane Cove Council Agenda papers include the following comment:
The limited response is considered to be reflective of the high level of community satisfaction with the priorities, direction and actions of the Council during the current term,

It is considered that the minimal response during the public exhibition period reflects general community support for Councils proposed activities, Budget and Fees and Charges for 2018/19
The community consultation process cannot be working if this is the response rate.  A golden rule is that silence does not constitute acceptance.  It would be interesting to benchmark other local council's resident response rates to budget papers.
Northwood Aged Care Development
The Developers of the proposed Northwood Aged Care facility have held two public meetings and each time the meetings have been packed.  The developers plan to construct an aged care development at the Kenneth Street/River Road West intersection (opposite the Longueville Sporting Club).  Due to access issues, local residents are concerned traffic to and from the development will be forced to rat run through narrow local streets.  ITC understand that local residents impacted by this development will be out in force at the council meeting. To counteract residents' complaints, we have heard rumours the developers are bringing out the big guns (including a well-known former local member for Lane Cove).
266 Longueville Road Aged Care Development
Although not an agenda item, ITC has heard several unhappy local residents will be making comments about this proposed development.  The Lane Cove Council is the registered owner of the land being developed. However, the applicant is Australian Unity.
Although the consent authority for this proposal is the Sydney North Planning Panel, Lane Cove Council is responsible for liaising with the developer in relation to their development plans.  The Lane Cove Council has taken a very long time to upload relevant documents to the Development Application Portal.  Neighbours were notified of new plans and given 14 days to comment.  After the comment period commenced, the Lane Cove Council uploaded documents they had in their possession before the notification period.  LCC eventually extended the submission period on the basis that two new documents were uploaded on 8th June 2018.
Local Residents have numerous concerns about this development including overriding advice from RMS, lack of response to resident concerns and unsatisfactory consultation process.  Read more here.
Record Management Issues – 266 Longueville Road
Date Created (LCC DA Portal Term) Date Uploaded to DA Portal
Date of
Document
Name of Document
22 Nov 2017
1 Nov 2017
RMS Comments – 266 Longueville Road, Lane Cove

NOTE:  a resident who regularly checks the DA Portal due to the DA impacting on the value of their property reported to ITC that this document was the last document on file until 7 March 2018 (see below documents with a create date before 7 March 2018)

12 Feb 2018
22 Dec 2017
Applicants Response to Objections – February 2018 – 266 Longueville Road, Lane Cove

NOTE: Applicant's response put in system on 12/2/2017 before the 8/12/2017 letter requesting information.

NOTE: the document name refers to Feb 2018  (document is dated 22/12/2017)

7 March 2018
8 December 2017
Letter to Applicant dated 8 December 2017 from Lane Cove Council requesting additional information

Note:  Lane Cove Council stated that delays occur in uploading documents as LCC needs time to review them – you do not need time to review a document you have written.

31 May 2018
9 April 2018
Additional Information Request Letter Dated 9 April 2018

NOTE: Create Date is 31 May 2018 – Search of DA Portal did not show link until after 4 June 2018

29 May 2018
3 May 3018
Independent Analysis Overshadowing 266 Longueville Road

NOTE:  This is an important document that neighbors would want to see.  Neighbours notified on 25 May 2018 (and given 14 days to object).  Document not uploaded until after neighbor notification – some neighbours may have submitted response before 29 May 2018.

NOTE: Create Date is 31 May 2018 – Search of DA Portal did not show link until after 4 June 2018
Record Management – Rosenthal Avenue Car Park Comparison
(note this site is used as a comparison as land owned by LCC)
Date Created (LCC DA Portal Term) Date Created
Date of
Document
Name of Document
30 Nov 2017
30 Nov 2017
LCC Letter to Applicant
10 Jan 2018
21 December 2018 (includes Christmas Break and back log work)
Statement of Environmental Effect
30 April 2018
30 April 2018
Statement of Environmental Effect's Letter from ADC)
4 May 2018
4 May 2018
Council Report
ITC wrote to the Lane Cove Council and pointed out irregularities in the 266 Longueville Road DA process and asked the Lane Cove Council 19 questions about the development.
This is the response received to those questions:
As you are aware you are welcome to amend your submission* on the DA 117/17 until end of Monday 18 June and this would provide you with the opportunity to raise concerns you may have regarding the development application.

Information is uploaded to the website as soon as practicable following review of a number of aspects within the document. Council's document management system is used within the local government industry and in addition to a number of functions, it does include create date capability which is used for different purposes depending on the variety of needs within Council.

I can confirm that the website is up to date with any information received about Environment Assessment. As this matter has yet to be determined there is no view expressed on the nature of any documents. Council's website contains the latest information available on the DA. [ITC Note one environment report was upload in 2018 but dated 2011]

Regarding the 14-day notification period, this is the standard notification. The time frame was set by the Planning Panel and does not relate to any lease agreement.

Your feedback on the processes undertaken has been noted. If you would like to follow up on any of the items raised that have not been addressed through the above response, please let me know.
This response was received after close of business on Friday 15 June 2018 – ITC will be following up a response on the issues raised.
Lane Cove Council Website Issues
When providing comments to the LCC on proposed developments it is sometimes necessary to review Lane Cove Council's policies and historical documents.  As at the 17th June 2018, the Lane Cove Council website hyperlink system was not functioning properly.  ITC advised Lane Cove Council about this issue on Thursday 7th June.  For example, on the LCC Open Space Plans page, there are 14 hyperlinks – 6 links do not work.
The Council Snapshot
If you really want to know what your council is doing, ITC highly recommends you read the Lane Cove Council snapshot.  It highlights the work undertaken by LCC on a monthly basis. The Lane Cove Council has some excellent programmes and facilities and you can find out more about them in the LCC snapshot.
Parking infringement statistics are included.  There was a big spike in last month's infringement notices.  The NSW government has recently called upon "greedy councils" to lower their fines for non-safety matters.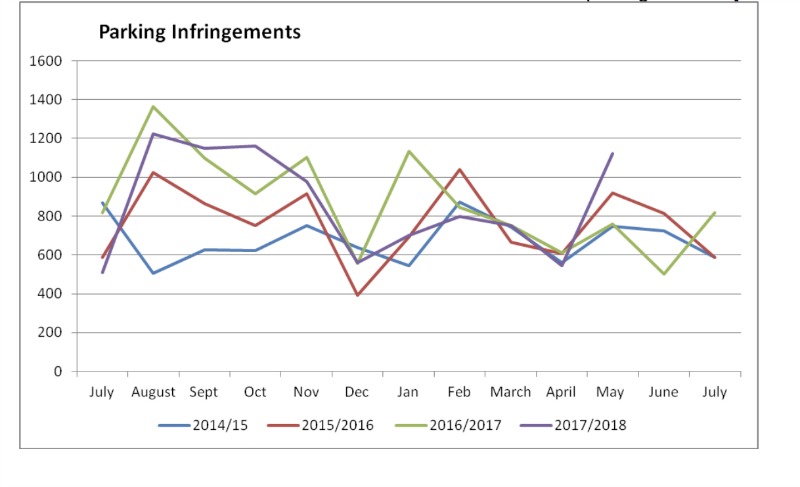 More Information
Lane Cove West Ward Councillor Andrew Zbik provides a run-down of council issues in a video presentation before each meeting – you can see his June Council Meeting summary here.
Please come along and be part of the democratic process and see your Council in action.
---
*ITC is a resident of the Lane Cove Central Ward that is impacted by both developments.  ITC was first alerted to these issues by concerned residents.