Australian violinist Madeleine Easton is an established star on the international stage, known for her versatility and expertise in the world of violin playing.
Madeleine plays on a 1682 Giovanni Grancino violin.
Madeleine's career spans 20 years and includes living and working in Europe as a concertmaster and director, but it all started in Lane Cove.
Life in Lane Cove
Madeleine attended Lane Cove Public School.  Her greatest inspiration was her 5th-grade teacher Mr Ian Evans.  Madeleine told ITC;  Mr Evans was responsible for inspiring an entire future generation of Lane Cove musicians.  Lane Cove Public School has always had a powerful music programme that continues today.
Madeleine's favourite Lane Cove memories are the many wonderful hours spent in the Lane Cove Library and the Lane Cove Plaza.  She was a regular at Bill's Milk Bar, which used to be the centre of life, at York's Corner on Tambourine Bay Road.  She is still in touch with many of her primary school friends (and even pre-school friends).  She will always remember Lane Cove for its strong sense of community.
Music Career
Madeleine studied at the Sydney Conservatorium of Music, where she graduated with first-class honours. She won a place at the Royal College of Music with Dr Felix Andrievsky graduating with distinction, winning the String Prize for the most outstanding performer.
Throughout her career, a desire to combine period and modern playing have led to unique opportunities for playing with many wonderful and varied ensembles worldwide.
She has appeared as both soloist, concertmaster, and director of some of the worlds most respected ensembles and orchestras.
Engagements include:
the Orquesta Sinfonica de Madrid under Thomas Hengelbrock and Paul McCreesh;
the Gulbenkian Foundation Orchestra of Lisbon;
the English Baroque Soloists under Sir John Eliot Gardiner;
the Australian Brandenburg Orchestra;
The Kings Consort;
The Gabrieli Consort;
the Melbourne Symphony Orchestra; and
the Northern Ballet Orchestra of England.
She held the position of concertmaster of The Hanover Band from 2006 – 2017.
She has also performed with:
the London Philharmonic Orchestra;
the City of Birmingham Symphony;
the Orchestra of the Age of Enlightenment;
the Academy of Ancient Music; and
the Orchestra Revolutionaire et Romantique.
Madeleine has also taught and performed regularly at the Royal Academy of Music in London, where she directed the Bach Cantata Series from 2009- 2019.
Back in Australia
After returning to Australia in 2016, Madeleine created a dedicated Bach ensemble, 'Bach Akademie Australia'. It aims to enrich and enhance the musical life of Australia and to perform all of J.S. Bach's music – showcasing the incredible inventiveness, profundity and joy of his music.
The Akademie is also dedicated to forging close links with academic institutions to establish educational and learning opportunities for young musicians.
Madeleine wrote on www.shareyourlifestory.com.au:
"Bach inspires me because his music makes sense. It is in proportion in so many ways. I remember hearing David Attenborough say at a post-concert reception in London how Bach fits in with nature. 'Bach's music exists within nature; it's so perfect. It is like a human creation that reflects the perfection of nature itself.' David's description is accurate. If you break down Bach's music mathematically, it makes sense—it is in proportion. Bach knew it, and it was in his heart. He had an instinct. You can tell. Every phrase, every interval, is new and fresh as if it has always been there."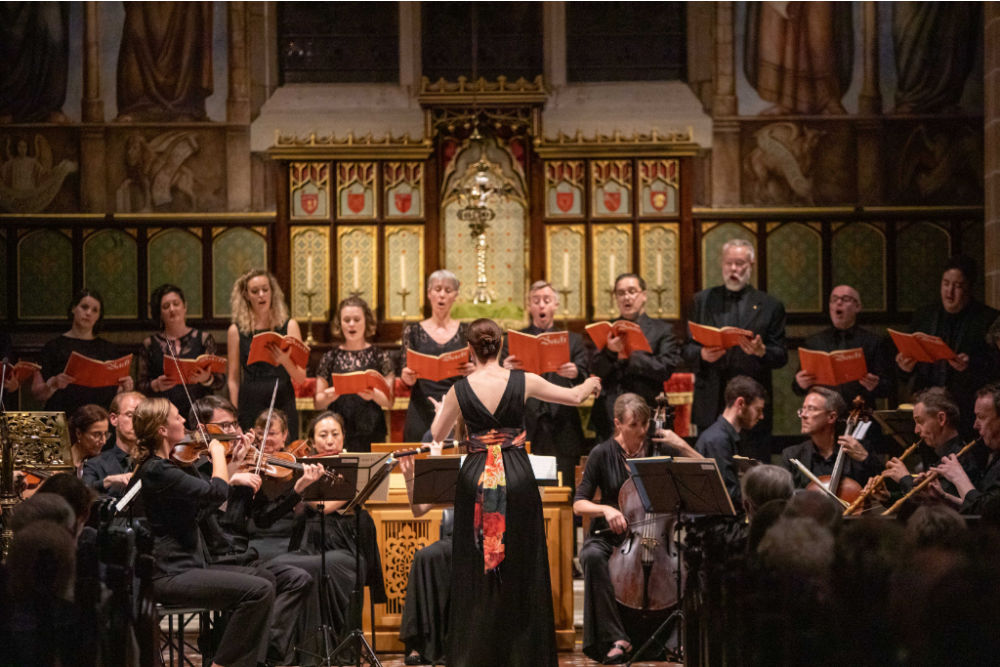 Lane Cove Visits
Madeleine visits Lane Cove more these days, due to her involvement with the Lane Cove Musical and Cultural Centre.  Madeleine told ITC that Robyn Mah (Founder and President of LCMCC)  has been incredibly supportive of her students.
Where Can You See Bach Akademie Australia Perform?
Bach Akademie Australia is presenting the Obligato Sonatas on Friday 18 June 2021 and Sunday 20 June 2021.
Madeleine will be joined by two of Australia's most lauded early music specialists.
Neal Peres De Costa and Anton Baba in a unique recital of Bach's much-loved Obligato Sonatas.  Neal Peres Da Costa is a world-renowned performing scholar and educator.
Perth-born Anton Baba is an award-winning cellist and acknowledged virtuoso of the viola da gamba.
The program comprises Bach's Sonatas No.1 in B minor BWV 1014; No.2 in A major BWV 1015; No.3 in E major BWV 1016; No.5 in F minor BWV 1018; and No.6 in G major BWV 1019
Concert Details
Bach Akademie Australia presents: JS Bach – The Obligato Sonatas
Friday 18th June, 7.30 pm – St James Church, King Street, Sydney
Sunday 20th June, 2.00 pm – Parish of the Holy Name Church, 35 Billyard Avenue, Wahroonga
Madeleine Easton – violin | Neal Peres Da Costa – harpsichord | Anton Baba – viola da gamba
Tickets $35-$75 plus booking fee
Information & Bookings www.bachakademieaustralia.com.au
In The Cove New Features
In The Cove is now producing a weekly Lane Cove Property Update.  See our latest update here. 
If you are selling, ask your agent if they are an ITC Lane Cove Property Guide supporter.

Are you looking for a local job? In the Cove is fast becoming the GO TO place for local businesses to list local jobs. Why – because we are passionate about local jobs for local people, and we offer FREE listings to help our local businesses and local residents.