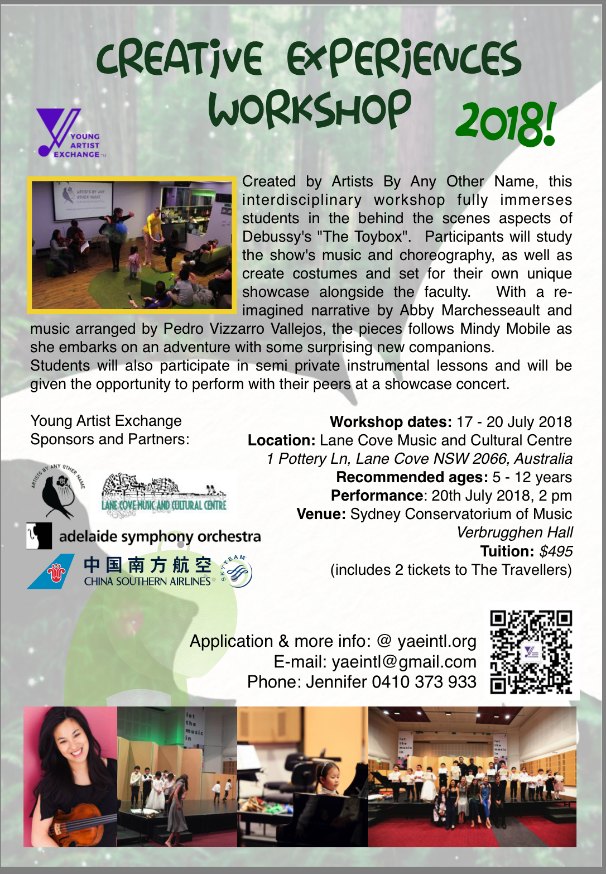 Creative Experiences Workshop –  the Toybox
Recommended ages 5 – 12.
Mission: To foster a sense of global citizenship through the performing arts.
Created and taught by New York based Artists By Any Other Name, this interdisciplinary workshop fully immerses students in the behind the scenes aspects of Debussy's "The Toybox". With music arranged by violist Pedro Vizzarro Vallejos, a new narrative and choreography by dancer Abby Marchesseault, the piece follows Mindy Mobile as she embarks on an adventure with some surprising new companions.
The curriculum, includes set design, costumes, music and choreography to Toybox with a goal of becoming familiar with the work on several levels to discover how a unity of the arts enriches the understanding of each art form. The course aims improve communication and partnership skills through collaboration. Students will also participate in semi private instrumental lessons and will be given the opportunity to perform with their peers at the
Creative Experiences Sydney:
17-20th July 2018
Venue: Lane Cove Music and Cultural Centre
1 Pottery Ln, Lane Cove NSW 2066, Australia
Performance: July 20th 2018, 2 pm
Sydney Conservatorium of Music, Verbrugghen Hall
The Toybox ~ Imagination springs to life in this music and dance collaboration. Mindy Mobile, a girl obsessed with her phone, one day finds herself caught up in a whirlwind of magical adventures when she accidentally rescues a butterfly from a spider's web. As she explores this new world and meets new friendly creatures, she must learn to focus her attention away from her mobile phone and to live in the present — or risk losing her wonderful new companion forever!