Please see below our daily update regarding Lane Cove and other important Covid 19 news.  If you know elderly or vulnerable people in the community who do not have access to social media then please ask them to sign up to our newsletter and we will provide information to them via our newsletter. Sign Up here.
Everyone can help prevent the spread of COVID-19 by practising social distancing, thorough hand washing, cough etiquette and staying home unless it's essential. To learn how to protect yourself and others click here.
COVID 19 Cases NSW
As at 8 pm, Wednesday, 1 April 2020, an additional 116 cases of COVID-19 have been diagnosed, since 8 pm 31 March, bringing the total number of confirmed cases in NSW to 2,298.
There are 231 COVID-19 cases being treated by NSW Health, including 43 cases in our Intensive Care Units and, of those, 20 require ventilators at this stage. More than 50 per cent of the remainder of cases being treated by NSW Health is through Hospital in the Home services.
The 14-day isolation period for passengers from most cruise ships that came into Sydney, including Ovation of the Seas, Voyager of the Seas, Celebrity Solstice and Ruby Princess, is close to completion.
NSW Health has undertaken a thorough review of confirmed COVID-19 case numbers within the system to update the total NSW number of passengers from cruise ships, and a number of cases have now been accurately linked to cruise ships.
Current cruise ship voyages into Sydney linked to confirmed COVID-19 cases are the Ovation of the Seas which docked 18 March (74 cases), the Voyager of the Seas which docked 18 March (34 cases, as well as 5 crew members), the Ruby Princess which docked 19 March (337, as well as 3 crew members) and the Celebrity Solstice which docked 19 March (11 cases).
COVID 19 Cases Lane Cove
There are 29 confirmed cases of COVID 19 in Lane Cove Council Area as at 8 pm 1st April 2020.
The Lane Cove Council area and includes the suburbs of Greenwich, Lane Cove, Lane Cove North (part), Lane Cove West, Linley Point, Longueville, Northwood, Riverview and St Leonards (part).
When you do a ratio of cases/population the stats are 29/39486 Lane Cove 40/150 752 Hornsby and 21/80 339 Willoughby (all population figures are based on people living in a local government area).
You can check these figures on a daily basis here.
NSW Police Commissioner Says STAY AT HOME Penalties will last for 90 Days
NSW Police Force Commissioner Mick Fuller issued the following statement:
"NSW Health Minister Brad Hazzard has issued directions to stop the spread of COVID-19, which kills people.
You must stay at home unless you have a reasonable excuse for leaving.
Shopping for food, travel to work or school, medical treatment or exercise are all reasonable excuses.
Exercise is important for physical and mental health. The list of exercise types is endless and it is not possible to list them all, and some forms of exercise are more active than others.
The important thing is that people comply with the two-person rule when doing exercise, or that they only exercise with their household.
As I keep saying, a good rule of thumb is that if you are questioning whether you should be doing something, it is best to give it a miss.
Treat every situation like YOU have the virus.
DO THAT.
SAVE LIVES."
At a press conference after issuing this statement Commissioner Mick Fuller said that the penalties for breaching the new rules will be wound back after the 90 days.  This does not mean that the social distancing recommendations will cease after 90 days.
A Newcastle business owner was the latest to receive a $5000 infringement notice under the Public Health Act NSW (2010), after continuing to receive customers in contravention of a ministerial direction.
Officers from Lake Macquarie Police District attended a remedial massage business on Harrison Street, Cardiff, about 4 pm yesterday (Wednesday 1 April 2020), following information it was continuing to operate.
Police observed several customers enter and leave the premises.
The operator, a 57-year-old woman, was spoken to and issued a $5,000 PIN for failing to comply with noticed direction (Section 7/8/9 – COVID-19).
Since Tuesday 17 March 2020, police have issued two Court Attendance Notices for Breaching the Public Health Act.
Crime Stoppers has received 3,200 reports related to COVID-19 since Tuesday 17 March 2020, and police have conducted more than 3900 compliance checks across NSW.
Additionally, officers have now handed out 30 Penalty Infringement Notices (PINs) for failing to comply with a ministerial direction under the Public Health Act 2010 (NSW). Of these, 27 were issued to individuals, and three to business owners.
NSWPF Commissioner Mick Fuller will personally review every Penalty Infringement Notice (PIN) issued in relation to alleged breaches of Public Health Orders, to ensure the issuing of such infringements is the most appropriate course of action.
Commissioner Fuller will also be reviewing the wider application of this new legislation daily to ensure best practice across the board.
Stay at Home Rules
You must stay at home unless you are going to
work (where you can't work remotely)
school or an educational institution
shop for food and essentials
get medical care or supplies
exercise.
You may only leave home with a reasonable excuse, including to
avoid injury or illness or escape a risk of harm
deal with emergencies or on compassionate grounds
access childcare
provide care or assistance (including personal care) to a vulnerable person or to provide emergency assistance
attend a wedding or funeral (subject to 5 and 10 person limits)
move to a new place of residence, or between your different places of residence
donate blood
undertake legal obligations
access social services, employment services, services provided to victims (including as victims of crime), domestic violence services, and mental health services
continue existing arrangements for access to, and contact between, parents and children for children who do not live in the same household as their parents or one of their parents
go to a place of worship or to provide pastoral care if you are a priest, minister of religion or member of a religious order.
NSW Police to Crack Down on People Gathering in Parks
After the new rules became law, many people visited parks to exercise and by default socialise. Commissioner Mick Fuller said NSW Police will now crack down on people gathering in groups greater than two in parks.
He said:
"I get it, and we want people to be able to stay fit and physically and psychologically healthy. But, of course, if I said it's OK to sit on a park bench, then everyone is going to go to the park and we're going to end up back where we started."
Lane Cove Tennis Courts and Golf Course to Reopen
Lane Cove Council has advised:
Tennis courts – tennis courts will reopen from 7:00 am Friday 3 April. Please check with your local club. Tennis clubs must follow the below guidelines.
Maximum of two people per court, i.e. singles only
Casual court hire and one-on-one coaching only
Hand-sanitiser and / or wipes must be available at all main contact points. Clubhouse and amenities (toilets, showers and changerooms) closed.
Lane Cove Golf Course will reopen from 7:00 am Friday 3 April. The following guidelines must be adhered to.
Maximum of two players per flight
One-on-one coaching only
Hand-sanitiser and / or wipes must be available at all main contact points. Clubhouse and amenities (toilets, showers and changerooms) closed.
Lane Cove Residents Who Worked/Working in Bondi
The Bondi pop-up COVID 19 testing facility began yesterday and 119 people tested within the first few hours. This pop-up responds to a cluster of coronavirus cases in the Bondi area and we encourage people who meet the broadened testing criteria to visit the clinic for testing.
If you are working/have worked recently in Bondi Beach or Bondi Junction and have a fever or history of fever or symptoms like a cough, shortness of breath or sore throat you can visit the clinic and be tested.  The tests are free. The clinic is open 9 am to 4 pm 7 days a week.
Don't Worry About an Overdue Book Fine from Lane Cove Library
Due to COVID-19 public health measures, Lane Cove and Greenwich Libraries are now closed.
All current loans have been automatically extended.
No items will be due until the Library reopens. Members will not accrue any new fines during the shutdown.
Do not return items during the closure.
Go to Library eResources webpage for eBooks, eAudiobooks, eMagazines, films and more.
Library to Your Door and the Home Library Service are still operating as usual.
Hot Cross Bun Drive for Local Health Workers and Teachers.
Lane Cove let's show our appreciation for the vital members of our healthcare services by calling out for your help to deliver hot cross buns for Easter.
Just $8 will support 6 workers!
Our local hospitals, Royal North Shore Hospital and Ryde Hospital are at the frontline of the COVID 19 Pandemic.
Every staff member at RNSH and Ryde is working hard. Doctors, Nurses, allied health workers, clinical assistants, patient services assistants porters, cleaners and admin staff are facing weeks (if not months) of long hours, stress and sacrifice.
They will be working hard over Easter and will probably not be able to spend time with their immediate family.
What can we do to make their Easter a little brighter?
The answer is Hot Cross Buns.
Hot Cross Buns baked fresh will be delivered to the Hospitals by the team at Bakers Delight. Bakers Delight Hot Cross Buns won the 2019 Good Food award.
Their delicious Traditional Hot Cross Buns are made with real fruit, delicious spice mix and no bitter orange peel!
We want every member of staff to enjoy some hot cross buns. We need to deliver the buns on Wednesday 8th April 2020.
In the Cove and the Health Start Appreciation Project @https://www.facebook.com/groups/3095936597298769// have joined together to raise $1500 for some yummy buns.
We know that it is tough times out there, so you can donate any amount you like. Every cent is gratefully accepted.
It would be Buntastic if you helped us reach our goal. Imagine the smile on the face of our health workers as they bite into a beautiful fresh Bakers Delight Hot Cross Bun.
Many of our local doctors, nurses and allied health professionals and other staff that work at RNSH or Ryde live in Lane Cove.
So let's see that Lane Cove spirit work its magic again
Donate here https://www.gofundme.com/f/buntastic-health-staff-appreciat…
UPDATE: We would also like to say thanks to our local primary care teachers and early childcare teachers and admin staff – if we raise enough money we will do that. If you are connected with a school or early childcare and preschool.
Please contact us at [email protected] and provide details of how many teachers and admins staff you have on-site and we will see what we can do. That is for schools located in the Lane Cove Council Area (including Lane Cove, Lane Cove West, Lane Cove North Mowbray and Greenwich)

Prime Minister Announces Early Childhood Education Support
Around one million families are set to receive free child care during the coronavirus pandemic under a plan from the Morrison Government that will help deliver hip pocket relief and help the early childhood education and care sector make it through to the other side of this crisis.
Under the plan, the Government will pay 50 per cent of the sector's fee revenue up to the existing hourly rate cap based on a point in time before parents started withdrawing their children in large numbers, but only so long as services remain open and do not charge families for care. The funding will apply from 6 April based on the number of children who were in care during the fortnight leading into 2 March, whether or not they are attending services.
Prime Minister Scott Morrison said the plan supports families while also ensuring as many of the sector's 13,000 child care and early learning services as possible could keep their doors open for workers and vulnerable families who need those services.
The plan provides funding certainty to early childhood education and care services at a time where enrolments and attendance are highly unpredictable. This, along with the JobKeeper payment, means services can offer free education and care.
"Relief is on its way for around a million Australian families and thousands of early learning educators and carers," the Prime Minister said.
"These services are vital for so many parents so they can provide for their family, and children need as much familiarity and continuity as we can help provide at this unsettling time. Priority will be given to working parents, vulnerable and disadvantaged children that need early education more than ever and parents with pre-existing enrolments.
The new system will see payments start flowing at the end of next week. The system will be reviewed after one month, with an extension to be considered after three months. The payments will be paid in lieu of the Child Care (CCS) and Additional Child Care Subsidy payments.
Minister For Education Encourages Families to Make Contact With Their Early Childcare Centre
Minister for Education Dan Tehan said the assistance package would ensure services remained open to serve families that needed to work and to support vulnerable children.
"The Federal Government is working with states and territories and the sector to minimise the impact of coronavirus," Mr Tehan said.
"The states and territories are looking at how to reduce the regulatory burden on the child care services which will further help them to remain viable. The Education Council of the country's education ministers, as well as National Cabinet, will address regulation this week.
"This package will help support families during these difficult times, particularly those who have lost their job and are doing it tough.
Until the payments arrive, we are allowing services to waive gap fees for families who keep their children home, and families will be able to use the 20 extra absence days the government has funded for coronavirus related reasons without giving up their place in a child care centre.
"If you have terminated your enrolment since 17 February, then I encourage you to get back in contact with your centre and re-start your arrangements. Re-starting your enrolment will not require you to send your child to child care and it certainly won't require you to pay a gap fee. Re-starting your enrolment will, however, hold your place for that point in time when things start to normalise, and you are ready to take your child back to their centre."
"We will also make payments of higher amounts available in exceptional circumstances, such as where greater funding is required to meet the needs of emergency workers or vulnerable children.
Pre-Schools
The Government is also providing certainty to the preschool sector in recognition of its importance to a student's formal education.
The Morrison Government will also provide $453.2 million for preschools in 2021 to support almost 350,000 children to attend preschool. The funding injection comes on top of the $3.2 billion the government has delivered for preschool education since 2014.
The National Cabinet is also considering short-term intervention for commercial tenancy arrangements.
Child care services seeking health and situation information about COVID-19 should contact the 24/7 National Coronavirus Health Information Line on 1800 020 080. Information is also available from https://www.dese.gov.au/news/coronavirus-covid-19
We are showing our appreciation for the vital members of our healthcare services by calling out for your help to deliver hot cross buns for Easter.
Sydney Community Services Food Drive and Volunteers
Sydney Community Services is located in Lane Cove and has a long history of providing services to the aged and people living with a disability including social activities, gardening, home nursing, podiatry, Community Care Advisory, clean sheets and towels, home delivered meals, home modifications and maintenance, flexible respite, carers support, shopping services, community and engagement programs, medical transport and assistance in daily life.
Sydney Community Services (9427 6425) is a central source for anyone in Lane Cove or Hunters Hill who either need to self-isolate or choose to not go outside as they worry they are at risk of the Corona Virus.
If you are a neighbour of someone who may be at risk please check they are ok and let Sydney Community Services know if they need to be on the vulnerable list.
They are putting together a database of people who are in isolation but they also need volunteers who are able to help others who need emergency supplies, or even just give social contact, through a phone link.
They take referrals by phone on 9427 6425. You can also email [email protected] with your details.
They are now the first line of contact for many elderly and vulnerable people in our community.
Thank you to everyone who has put their name down for volunteering with SCS.  They are working hard to process all the applications and comply with government requirements for volunteers in the aged sector.  SCS will be in contact with you as soon as possible to work out a role for you to play.  However, as you can appreciate, with each new day and announcement SCS has to readjust and change their plans.
They may need to call upon more residents in the future, but at this stage, they have enough volunteers.
Food Drive
Sydney Community Services is asking for donations to supply urgent items to vulnerable housebound people in our local area. Items needed include toilet paper, non-perishable food such as pasta, rice, tinned vegetables, tinned fruit, tinned soups, tuna, beans, sugar, tea, coffee, cereals, long life milk and personal hygiene products.
Donations can be dropped at Sydney Community Services, Ground Floor, 1 Pottery Lane, Lane Cove. Parking in Little Street car park, take the lift to ground level. Opening hours are Monday to Friday 8:30am – 4:00pm.
Elderly or Vulnerable People Priority Online Shopping
If you are elderly or vulnerable you can arrange for priority shopping with Woolworths. Coles is working to introduce their priority home deliveries by the end of this week.
Woolworths has introduced Priority Assistance home deliveries to help the elderly, people with disability, those with compromised immunity and those in mandatory isolation. To apply for Priority Assistance delivery, please complete the form at woolworths.com.au/priorityassistance
Coles Online has been temporarily diverted to the Coles Online Priority Service (COPS), allowing them to focus on delivering food and grocery essentials to elderly and vulnerable members of the community, including retirement and nursing homes. They will shortly announce how customers can access COPS; please check www.coles.com.au for more details.
Mental Health Support
If you aren't feeling yourself lately the Way2Wellness team are available to listen. Talk to a trained mental health supporter using a free and confidential wellbeing service.
For more information visit: www.way2wellness.org.au or call: 1300 120 446 to chat.
Closest Covid 19 Testing Clinic
There is a Covid 19 Testing Clinic at Royal North Shore. These clinics are currently assisting with the assessment and testing of people with fever, cough or flu-like symptoms who are returned travellers or a contact of a confirmed case.
NSW Health Advice on Social Distancing
Everyone should practise social distancing, as it reduces the potential for transmission.
Social distancing is an effective measure to reduce the potential for transmission, but it is recognised that it cannot be practised in all situations.
Social distancing includes:
avoiding places where it is difficult to keep the appropriate distance away from others
attempting to keep a distance of 1.5 metres between themselves and other people where possible, for example when they are out and about in public place.
do not shake hands, hug, or kiss people who do not live with you.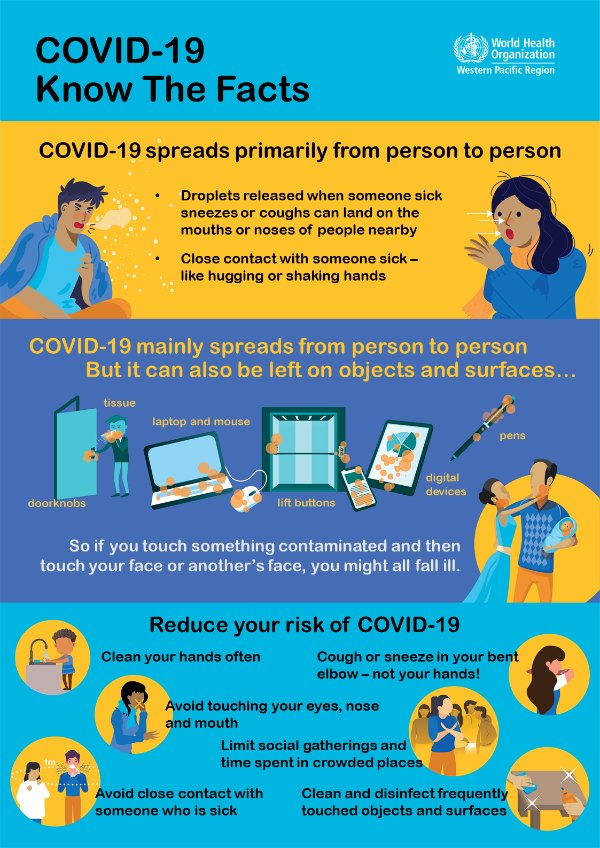 Ke
Keep Up to Date With In the Cove
To make sure you don't miss Lane Cove info sign up to our newsletter. It comes out every Wednesday Night at 7.30 pm and includes a wrap up of everything posted on our Facebook site in the previous week.
Did you know that In the Cove has an instagram page? Yes, we do and we feature pictures from our roving reporters and our ITC team that do not appear on our Facebook page. Follow us on @inthecove