Welcome to our Lane Cove Week in Review, for 4 to 10 July 2016. A quieter week, as is the norm during school holidays.

New Childcare Centre Opened
Blossoms Childcare & Early Learning Centre is now open on Tambourine Bay Road, taking 0-2 year olds. Thanks to a Roving Reporter for sending us this pic.
Bar Blaq Internal Changes
Bar Blaq was closed on Friday 8 and Saturday 9 July due to "internal renovations". They will reopen on Friday 15 July with a "bigger and better space for you to enjoy".
Furever Pets Need your Help
This gorgeous rescue kitten is looking for a forever home. "Lost or abandoned female kitten found in Lane Cove. She is now healthy and happy however does need a family as soon as possible as the shelter is full. To adopt this friendly and loveable kitten please visit us at Furever Pets or call 94275739."
Lodge 'Kids in the Kitchen'
Lodge held a 'Kids in the Kitchen' workshop on Thursday, and by all reports, it was a huge success! There is another workshop this coming Thursday 14 July.
Accident at Lane Cove Black Spot
On Friday we were alerted by Fadi from BeSafe Property Inspections to another car accident at that nasty junction where Bridge Street meets River Road and Penrose Street. Thankfully no one was injured. Please stick to your lanes people!!
Service NSW – Chatswood Digital Store Moved
Level 2 Westfield (near Coles) is the new home of Service NSW's digital outlet in Chatswood.
Business for Sale
Fancy buying a business ITC – Buby Bling, located in Lane Cove Arcade, is For Sale.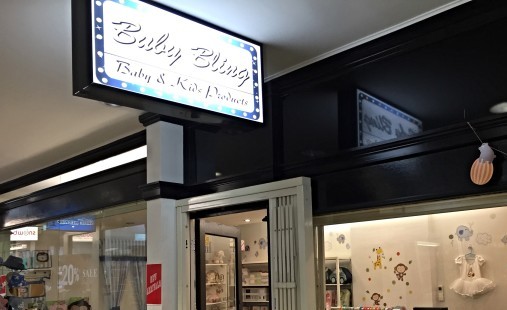 Opening this Week
Suzie's Restaurant is due to open in the coming week – it is a reincarnation of Le Simpatic O, on Longueville Road.
Stop Press
-18 Meno Diciotto has now closed down, deciding not to renew their lease. Expect even longer queues at Gelatissimo this summer! A Vietnamese Pho restaurant is rumoured to be opening in this space soon.
Work is moving forward on the Spanish Tapas restaurant due to open this winter, in the old BBQ King premises on Longueville Road
The old Shoe Superstore premises, at 118-120 Longueville Road has been re-leased, and will be opening as a 7 Day a week Bulk Billing Medical Centre.
Crime Report
This week's North Shore LAC Crime Report:-
Assault with intent to rob – Chatswood/Lane Cove North
Around 3pm on Friday 1st July two respective groups of friends were in the vicinity of an oval at Chatswood.
A 15 year old male from Killara (from one group) has allegedly approached a 15 year old from Lane Cove North (from the other group) and demanded to know what was in his bag. The Lane Cove North youth has told the Killara youth to mind his own business.
The Killara youth has then demanded to see what was in the Lane Cove North youth's wallet and then demanded that it be given to him. The Lane Cove North youth has refused to hand the wallet over; it's at this time that he has been allegedly head butted and punched in the face by the Killara youth.
Police were contacted by a witness to the incident and arrived a short time later. Before police arrived the Killara youth and two of his friends decamped from the location, however police conducting patrols in the area located them on Nelson Street, Chatswood. The youths have observed police and taken off on foot with a foot pursuit ensuing. Police continued the foot pursuit into Ferndale Park, Chatswood West before they were eventually detained on Beresford Street.
The Killara youth was subsequently placed under arrest and conveyed back to Chatswood Police Station. The Killara youth refused to be interviewed by police so as a result he was charged with Steal from the person (other robbery) and Stalk/intimidate intend fear physical etc harm. He was given bail conditions and is required to attend Bidura Children's court at the end of this month.
Break and Enters in the local area this week
* Gordon Crescent, LANE COVE NORTH – Between 5:00pm on Wednesday 29th June and 7:30am on Thursday 30th June
* Gordon Crescent, LANE COVE NORTH – Between 5:00pm on Wednesday 29th June and 8:00am on Thursday 30th June
In other news
A Lane Cove resident was caught up in a large scale drug bust this week – details HERE.
Reported to us by ITC Roving Reporters – 27 June to 3 July
Parcel Theft – we were contacted by a Cope Street Resident (the upper part) to say "We had a parcel stolen from my front doorstep, we live up a long driveway out of view so they may have been actively looking. Not sure if you've had any other reports like this but you may want to tell people to make sure a signature is required for their deliveries so it's not left unattended."
Calling All Arty School Students
Local Jobs
More local jobs listed on our Job Board this week – Looking for a part-time receptionist role, or a job in hospitality, beauty, sports coaching, and more – HERE.
Our Weekly Newsletter
Each Wednesday evening, we email out a newsletter to subscribers. You can read this weeks newsletter HERE.
Subscribe for next week HERE.
---
Do you have a local issue you would like help with? ITC is here to help just email us at [email protected]

You can subscribe to our newsletter by filling out the form at the bottom of our homepage. Our newsletter is sent out every Wednesday Night at 7.30pm and includes details of Lane Cove Events for the next seven days or so, and articles you may have missed during the previous week.
Have you liked our Facebook page or Instagram Page – what are you waiting for?!