Lane Cove Fair
The Lane Cove Rotary Fair and Sustainability Lane went off today with over 8000 people descending on the Lane Cove Village.  The rain stopped at 8am and did not rain again until after the fair finished at 5pm.  It's such a great day to meet the local community.  It is always on the second Sunday in October so put the date in your diary now for next year.  Well done to Lane Cove Rotary and the Lane Cove Council for such a great event.  It was lovely to meet so many In the Cove followers.  Thank you for your kind words.
Development
The Sydney Morning Herald reported today that another 7500 apartments would be built in St Leonards and Crows Nest in the next 20 years.  The development in St Leonards impacts Greenwich and traffic on River Road West and the Pacific Highway.  Read more here.
Do you want a say on Development in Lane Cove?  Come along and meet the people who make the planning decisions on 30th October 2018.  Find out more here.
Epping Road Rejuvenation
On Friday Anthony Roberts announced funding for the Azalea Corridor on Epping Road.  Read more here.
Food Drive
Sydney Community Services is having a food drive. Help your neighbours in 'Anti-poverty Week' 14-20 October 2018.  Donations (cans or another non-perishable food or toiletries to the Sydney Community Services office at Little Street Lane Cove (next to the Lane Cove Aquatic Centre).
You might not know that many of our neighbours live on low incomes and they'd be glad to receive donated food, so they could pay for some other essential items. In Ryde 17.7% people live on less than $650 weekly while about 15% in Hunters Hill and 10.5% of people in Lane Cove manage on similar tight budgets.
Social housing provides a roof for 5% of people in Hunters Hill; in Lane Cove West it's 7%; in Lane Cove North and Ryde, 4% of people are in social housing.
Little Street Car Park
Many people have not wanted to use the Little Street Car Park due to the rear to kerb parking signage.  This signage was advisory only (however many people thought they would be booked if they did park rear to kerb).  New signage has been installed as per below which not states basically park how you like at your own risk.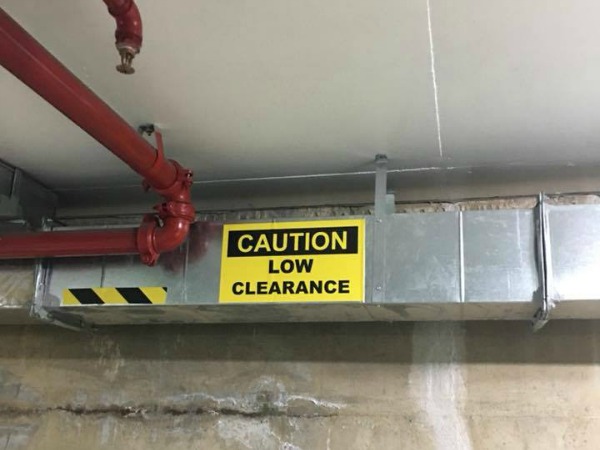 Epping Road and Centennial Avenue Road Works
Roads and Maritime will be upgrading the intersection of Centennial Avenue and Epping Road, Lane Cove to improve traffic flow, travel times and road safety by reducing queue lengths and improving left turns for motorists traveling northbound.
This week Lane Cove West residents were advised that work is expected to start in November 2018 and will take approximately ten months to complete.
Tree Down
A massive tree came down on Austin Crescent.  The wet weather and windy conditions caused the crash.
Incidents and Accidents
Another car's window was smashed in on Phoenix Street this week.
Yet again another serious accident a the Diddy Corner with two people injured.
Believe it or not, but another bus got stuck on Barina Road.
Police arrested an armed male who was found wandering around the Greenwich Hospital grounds. Read more here.
Indigenous Art Sale
The Stuart Leal Art Gallery has a 30% off Spring Clearance Sale.  Stuart Leal is located across from Snowberry and Go Vita Lane Cove.  Read more about the artists here.
Do yourself a favour and visit the Stuart Leal Art Gallery to see the full range.
Contact Details
Address: Shop 11/115 Longueville Road Lane Cove ( opposite Go Vita and Snowberry Yogurt )
Phone: 0414 551 956
Website: www.stuartleal.com.au
Facebook: @stuartleal
---
Do you have a local issue you would like help with? ITC is here to help just email us at [email protected]