Welcome to our November 2018 Lane Cove Business Round-Up.  If a business opened, closed, rebranded, was refurbished or achieved a milestone we will tell you about it.  Our local Businesses are struggling with the closure of the Rosenthal Avenue Car Park.  Please support Local or Bye Bye Local.
Opened
Little Red Robin
Lane Cove has another new food and wine bar.  Welcome Little Red Robin to Lane Cove.  They are located on Birdwood Lane (in between Crust Pizza and Birdwood Cafe).
The initial reviews posted on the ITC Facebook page and ITC Lane Cove Chat (our closed Facebook group) have been very favourable.  The Foodies are liking the very different wine list.
This is what one roving reporter wrote on the ITC Lane Cove Chat page
Just want to give a food destination recommendation as I had dinner last night at the new restaurant Little Red Robin in Birdwood Lane. I have to say the flavours of the food is definitely worth a visit, best meal I've had in Lave Cove. It's a tasting experience so get plates to share and enjoy the chefs delicate touch with flavours, good international wine list (loved the Spanish Tempranillo) and very dedicated staff with a New York style atmosphere. This is a must restaurant and will be going back. Great food!!
9 Degrees Lane Cove
9 Degrees Lane Cove has opened in the Lane Cove West Business Park.  Bouldering is rock climbing without the ropes, heights, and hassle. It's physical problem solving.  Train your muscles without the pain and get fit without the repetition!
Distinctly simple, it's a fast growing, social form of climbing. At 9 Degrees, every climb, or 'problem', has been designed with it's own solution in mind – the challenge is figuring each climb out! We have 9 levels of difficulty, each represented by a colour. Colours are set up as gym wide circuits with climbs varying in style so within the same grade you will find climbs focusing on balance, agility, strength or coordination. There are climbs to suit every level of fitness (including absolute beginners!).
Go and see what all the fuss is about. They have a coffee shop so ITC is there for sure.
Popular Lane Cove local Corinne Fisher has launched a new massage business.  She has a opening special for ITC followers:
One Hour Massage:  $65.00
One and Half Hour Massage: $95.00
This special is valid until 31 Dec 2018 and any massage purchased before this date is valid until 30 June 2019.
Lane Cove Businesses Going from Strength to Strength
Lane Cove Orthodontics – New Hunters Hill practice
A huge congratulations to one of our foundation sponsors, who helped fund the ITC website, Lane Cove Orthodontics. They have now opened a Hunters Hill practice. We first met the fab team at Lane Cove Orthodontics when Miss ITC was a patient. The team at LCO are amazing and Dr T REX is a legend. If there is a Lane Cove community event they sponsor it!! Now they will also be an asset to Hunters Hill.  Tell your Hunters Hill's friends they are located at 58-60 Gladesville Road Hunters Hill.  Like their Hunters Hill Facebook page here.
Shorties Lane Cove
Happy Birthday to the gang at Shorties Lane Cove. They celebrated their first birthday in November. Lane Cove is loving Shorties and its relaxed and intimate atmosphere. Has anyone tried the cocktail they named after ITC – Gin the Cove? Well done Shorties and here's to many more years in Lane Cove.
Batch By Batch Northwood
Batch By Batch's philosophy is food gifts and hampers should be bespoke, and only include handmade foods from ingredients sourced in Australia (whenever possible). Batch by Batch's founder is Cate Holst. Batch by Batch was an exciting addition to the Lane Cove food scene. If you are a true gourmand you will love visiting Batch by Batch in Northwood.
They are now feaured on TVSN, a featured seller in Williams Sonoma Chatswood and they have committed further to Lane Cove by opening up a corporate office in Northwood behind Bespoke Catering.  Last year ITC had a Batch by Batch cake as the centrepiece on our Christmas Table.
Sydney Speech Clinic is fitting out a purpose built clinic in the Little Street Carpark building.  It will be easy to access with parking under the building.  Catherine Lavery is the founder of Sydney Speech Clinic a Lane Cove local and mum.  More details in January after they open.
Fourth Fish
Fourth Fish has opened another restaurant in Darling Street Rozelle.  Well done Lee.
Coming Soon
A new eatery is coming to Lane Cove on Longueville Road and it is called Lillane_eatery. Like their Facebook page to find out when they will open etc and what will be on the menu. They will be located on Longueville Road just near the Goodwill Op Shop Lane Cove and Belle Property Lane Cove. The Foot Group is also located at 154 Longueville Road Arcade.
Relocated
Well Spine Chiropractic Lane Cove has relocated to  Site 1 79-83 Longueville Rd, Lane Cove.  They are now in the same arcade as MBE Lane Cove and Pilates Connection. Congratulations to Well Spine Chiropractic and Dr Park (pictured below) who recently celebrated their third birthday in Lane Cove.
Closed or Closing
Riverview Butchers
Riverview Butchers closed on 3rd November 2018. If  you're missing Glen from Riverview Butcher you can now find him at Springbok Delights on Mowbray Road. Springbok Delights has a great range of South African meat products and all your other favourite cuts of meat. They are located next to Mowbray Road Public School. They also have South African Wine and a deli packed with delights. Pictured below from left to right are : Glenn, Jeremy, Adam and Reon.
Caesars Pizza Restaurant
Caesars Pizza Restaurant,  in the Village Shopping Centre, closed this month.  Caesars had been in Lane Cove for many years. Its sad to see a family friendly restaurant like Caesars close.
Harlem and Stone
Harlem and Stone Lane Cove are closing down. Their closing down sale has started. This is their official statement:
"It is with great sadness, lots of red wine and tears we have decided to close the doors of our lane cove store. Massive reductions start on all stock in Lane Cove.
JEANS $10.00 SHOES 50% OFF
EVERYTHING IN STORE MUST GO!!
An closing date has not yet been announced.
Glory Homes Flooring
The Flooring shop located in the Rosenthal Avenue (across from MBE Lane Cove) has closed.  It has moved to bigger premises in Drummoyne.
Quartet 
The Quartet Homes Display Centre in the Lane Cove Plaza has closed and the premises are for lease.  If you think you might like to lease premises in the Plaza – details here.
Businesses We Just Heard About
ITC is often asked about dressmakers in Lane Cove.  We just heard about a local dressmaker – Charlene Urmenyhazi.  If you have a big event coming up and you want a special made to order outfit contact Charlene on 0411 438 262.
Wrap Up
Wrap Up
is a fabric gift wrapping company.  They sell cotton wraps that can be reused, repurposed and recycled.  The brain child behind this business is a Lane Cove resident.
The share ideas on their
instagram
page on how to repurpose their wraps.
Business Changes and New Staff
Burns Bay Physiotherapy
Burns Bay Physiotherapy welcomes Andrew Wang to their practice. Andrew previously worked at the Royal North Shore Hospital, then private practice in Canberra. He has also provided sports coverage for various soccer and rugby clubs.
Andrew has strong interests and extensive experience in assessing and treating musculoskeletal, orthopaedic and sports injuries for the neck, back, upper and lower limbs. He is qualified in advanced dry needling. Andrew is experienced in treating a wide variety of clienteles from elite athletes, diplomats, office workers to the young and elderly.
Health Space Clinic Lane Cove
Health Space Clinic Lane Cove has a new member of staff, Melissa, who specialises in acupuncture and Traditional Chinese Medicine.  They are offering a special deal to welcome Melissa to the practice.
Lane Cove Businesses for Sale
Would you like to own a mobile phone shop?  There is one for sale in Lane Cove – more details here.  Perhaps you would like to run a pizza restaurant with a cafe attached – more details here.
For Sale – Early Learning World's Letterland Business
Overview
Early Learning World (ELW) has provided preschool literacy tuition to the North Shore Community for over 10 years via the proven Letterland phonics program. As a family-owned organisation, ELW is committed to providing outstanding support to children,  their parents and the community. ELW's Director has moved interstate and is now seeking an enthusiastic, dedicated Owner/teacher who will continue the wonderful Letterland legacy that has been established over the past decade.
Growth Opportunities
Incentives for day-care and preschool centres to advertise the Letterland program to their attending families
Offer in-house Letterland classes at day-care/preschool centres, and at broader Sydney locations
Offer casual classes
Financials
The ELW business model is best suited to the Owner/teacher and holds particular appeal for those who prefer to work part-time with the added benefit of being your own boss. Currently, the ELW business comprises a part-time work load of approximately 10 – 12 hours per week, which includes classroom + administration hours. The asking price includes:
Goodwill
Class materials
Preschool tuition IP
Letterland stock
Website
Training and transition
 For more information please contact Margaret on 0403 501338.
Flannery's Naturopath Clinic
Flannerys are excited to launch an online booking platform that allows you to secure a free 15 minute advice session with thier qualified naturopaths. Here are a few examples of what their naturopaths can assist you with.
WELLBEING & IMMUNE SUPPORT
STRESS & SLEEP
BEGINNING YOUR WELLNESS JOURNEY
SKIN CONDITIONS & TREATMENTS
FOOD ALLERGIES & GUIDANCE
BOOK NOW
Please use the below links to book your time slot with one of their Naturopaths. BOOK HERE
Flannery's Organic and Wholefoods
Flannerys are immensely proud to be Queensland's leading natural and organic wholefoods market, providing healthy alternatives for over 30 years and now they are in Lane Cove (near Len Wallis).
Flannerys have many amazing people within their community who help them do what they do…. from their local farmers supplying fresh organic produce and meats – to passionate skin care creators, food enthusiasts, loving naturopaths offering free advice and insightful speakers engaging with us to deepen our knowledge of health and well-being.
Little Red Robin is a cosy, edgy & welcoming restaurant & wine bar with an intriguing ambience located in the leafy and buzzy suburb of Lane Cove.
Taking inspiration from the traditions and culinary riches of the mediterranean, this modest restaurant & wine bar aims to treat patrons by re-imagining classic recipes in a contemporary aspect. Nestled in a lane way, off the beaten track, Little Red Robin will be a cosy place to enjoy small sharing plates at the bar or in the dining area, accompanied by some of the most intriguing, indigenous grape varieties and unusual wine styles the old world has to offer.
Their promise is to keep on surprising with frequent menu changes driven by freshness and seasonality, and a wine list that keeps you coming back for more.
They look forward to welcoming you soon and until then.. chirp chirp..
Kasina Korean Restaurant
Kasina Korean Restaurant is a modern Korean Restaurant located on Longueville Road. Developing a reputation for the best KFC around (Korean Fried Chicken). If you're not familiar with Korean cuisine, their staff will give you some recommendations on menu and the best way to enjoy our dish! So, how about Korean tonight?
Paul Denny Conveyancing
Paul Denny Conveyancing has a wealth of experience in conveyancing, opening its first office in Lane Cove in 1993. Over the last 20 years, we have helped over 20,000 people across NSW through the legal process of buying and selling property.
All of our licensed conveyancers are fully qualified and highly experienced in all aspects of real estate transactions.
We also appreciate that paperwork isn't your only consideration. You need to know what's happening at all times and feel comfortable with the people looking after you. We keep our clients informed every step of the way to make the transaction as stress-free as possible.​
Whether you're looking to sell your property or you've found the house of your dreams, make sure you call us first to answer any of your questions. We will talk you through the conveyancing process, provide you with an obligation-free quote and also advise you on any additional costs that you may need to take into account.
The information provided under new business directory listing is provided by the business directory subscribers
Advertise on In the Cove
Your business can be featured above if you become an ITC Community Business Supporter. Did you know you can advertise on In the Cove? Yes, you can!!  In fact, advertising is our only revenue. At this stage the ITC team is 1 fulltime and 2 part time Lane Cove residents. We would love to do more and bring you more but we need your help. Spread the word about ITC and let local business owners know that ITC is your source of local business news. If you would like to advertise with us please email us here for a Media Kit. All community groups and sporting groups can advertise their events free of charge on ITC so don't forget to email us with your events.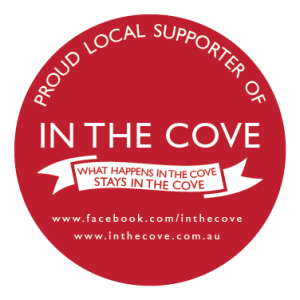 Do you have a local issue you would like help with? ITC is here to help just email us at [email protected]