Last Saturday (29 January 2021) was a huge day for Girl's Cricket in Lane Cove. The Lane Cove Cricket Club plays in the North Shore Junior Cricket Association (NSJCA) competition. NSJCA is the largest junior cricket association in Sydney in terms of player registration.
Lane Cove Cricket Club has six girls' teams, and for the first time, they were all in action at Blackman Park.
Blackman Park Lane Cove Cricket Girl's Matches – 29 January 2022
| | | | | |
| --- | --- | --- | --- | --- |
| 29 January 22 10:30 AM | Lane Cove Mooney |   v | North Sydney Healy | Blackman Park (Lower Field 3) |
| 29 January 22 10:30 AM | Lane Cove Haynes |   v | Lane Cove Healy | Blackman Park (Upper Oval) |
| | | | | |
| --- | --- | --- | --- | --- |
| 29 January 22 1:00 PM | Lane Cove Lanning |   v | Lane Cove Perry | Blackman Park (Lower Field 4) |
| | | | | |
| --- | --- | --- | --- | --- |
| 29 January 22 3:30 PM | Lane Cove Schutt |   v | Epping | Blackman Park (Lower Field 4) |
Local Derby
The Lane Cove Cricket Club Girl's Under 17 sides are the top two on the ladder in the North Sydney Junior Cricket Association competition. Lane Cove Perry is on top of the ladder, and Lane Cove Lanning is right behind them in the second spot.
The match was a nail biter and Lane Cove Perry defeated Lane Cove Lanning by just 6 runs.
Lane Cove and Castle Hill are the only clubs with more than one team in this division. This shows how much girl's cricket has grown and been promoted by the Lane Cove Cricket Club and the girl's cricket coordinator John O'Farrell.
Without John O'Farrell and his dedication, girl's cricket would not be thriving in Lane Cove.
John O'Farrell has led the development of Girls Cricket at the Lane Cove Cricket Club and developed pathways for the girls into the North Shore representative teams.
It all started in spring 2018 with one Under 11's team of eight girls. In summer 2019, that grew to three teams with 22 players. In 2022 six girls' teams will be playing on one day at Blackman Park. In 2022 John O'Farrell was recognised for his contribution to girl's cricket in Lane Cove, and he received a Lane Cove Council Citizenship Award for his contribution to sport in Lane Cove.
You can find out more about John in our podcast here.
By the way, John does all of this, even though his daughters are no longer eligible to play junior cricket.
John Lloyd Trophy
The Under 17's were playing for the John Lloyd Trophy. At the end of the game, John Lloyd presented the Trophy.
Gordon Women Cricket Club President Beny Chun was also at the match.
John Lloyd started his cricket career as a local junior. He was President of the Lane Cove Cricket Club for ten years (and a committee member for ten years before becoming President). He is a life member of the Lane Cove Cricket Club. There are only 27 life members in the 129 years history of the Lane Cove Cricket Club, and John is Life Member No 23.
For the last 20 years, he has been the Junior Blaster/ In2cricket coordinator, and you will see him down at Kingsford Smith Oval every Saturday morning during the Cricket Season.
John Lloyd has won the Clubman of the Year Award a record four times. He is also the 8th highest run-scorer in the history of the Lane Cove Cricket Club.
Statistics
7,253 runs from 377 inns, 24 Not outs, Average 20.55
Highest Score 158 runs
Four centuries  (Only 11 other players have scored more centuries)
500 runs in a season in 2002 -2003
121 catches (6th overall in club history)
13 wickets
19 wicket keeping catches and one stumping
Head on down to Blackman Park this Saturday and watch the girls in action.
Lane Cove Girl's Cricket at the Western NSW Carnival
Recently Lane Cove Girl's Cricket had teams competing at the Western NSW Carnival, and in the words of John O'Farrell – "The girls had a brilliant four days of cricket in a variety of conditions and played their hearts out in every game. They were tremendous ambassadors for Lane Cove cricket and represented the club with great spirit."
Our cover photo is one of the teams that played in the recent Western NSW U15 Girls Carnival in Orange in January 2022.
Follow the Lane Cove Cricket Club's Facebook page to learn about playing cricket in Lane Cove.
Many of you have asked how you can support In the Cove. It's so easy – tell your friends about us, follow us on a different platform, subscribe to our weekly news blast, or if you can, we now have a Patreon Account (this allows us to keep local news free – no paywall!!!)
ITC wants to make sure you get local news when you need it by employing local people to help us out. We need your help – yes, we get local business advertising, but that covers our costs and pays our current team. Feel free to be a reader sponsor if you have enjoyed our local news coverage – no amount is too small or too big. Thank you so much to the people who have already supported us via our press Patreon account. Help Us Here.
Stay tuned. We will be announcing our In the Cove Intern programme soon – where we will take on a part-time PAID intern who lives locally and is studying either PR, Social Media, Communication or Journalism.   This is our way to give back to Lane Cove, and as you would be aware, we offer free advertising for all local jobs as we are passionate about local jobs for local people.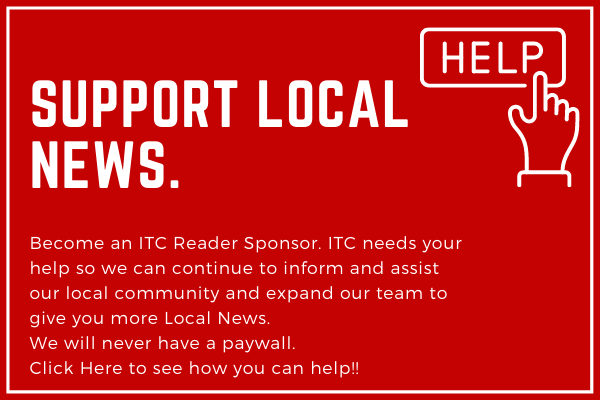 ---
Get Your Local News on Different Platforms
We have many platforms to follow, each taking a different take on Lane Cove News and Information. Don't miss out!
Facebook: www.facebook.com/inthecove
Instagram – www.instagram.com/inthecove/
Weekly News Blast – https://inthecove.com.au/sign-up-for-newsletter/
Lane Cove Chat by ITC– www.facebook.com/groups/itclanecovechat
Kids in the Cove – www.facebook.com/groups/861987681252413
In the Cove Podcast – inthecove.com.au/in-the-cove-lane-cove-podcast/
Weekly Lane Cove Property Update – https://inthecove.com.au/category/lane-cove-property/
As always, thanks to everyone for the support!!!!
Check out our Instagram Site click on the picture below.