Welcome to our Lane Cove News week in review.
Another Sydney Water Burst Pipe
On the weekend, some Longueville Residents were without water due to another burst water pipe.  An ITC reader told us that tree roots had broken the pipe.  Apparently, Sydney Water removed the tree from the Longueville Reserve and had to wait for a plumber to reseal and reweld the pipe.  Residents near the Longueville Wharf and around Kingsford Smith Oval were impacted.
Daylight Saving – Safety Reminder
According to the NSW Department of Justice website, we were supposed to move our clocks forward at 2.00 am on 2nd October 2022.
In practice, most of us probably turned the clocks forward before we went to bed or when we woke up.
The start of Daylight Saving is a good time for organisations like the NSW Police and NSWFR to draw attention to some "housekeeping" matters like reminding you double demerits apply this weekend, and check your fire alarm.   Read more here.
The Dumping Continues
As always happens after a long weekend, unwanted items have been dumped outside the charity bins at St Micheal's Church in Dorritt Street and also books dumped near Book Street Libraries.
Father Sam has contacted ITC and advised that he has asked St Vincent De Paul to relocate the charity bins.  The church has tried several different ways to discourage dumping but none of them has worked.  If you do want to get rid of unwanted items, check out our article on how to dispose of unwanted items or sign up to RecycleSmart (ITC had two bags of e-waste cords, some books and soft plastic picked up today).
Drive Carefully These School Holidays
Are you driving during these school holidays?
NSW Police has reported 8 people killed on NSW roads as their Operation Labour Day concluded on Monday night. However, the roads will be busy as people return from school holidays this weekend. Also, wet weather is expected, so please drive to conditions.
NSW Police reported the following incident on Burns Bay Road (nearer to Hunters Hill than Lane Cove or Linley Point)
"About 5.10am on Friday (30 September 2022), a Toyota Camry was stopped on Burns Bay Road, Hunter s Hill, after it allegedly overtook an unmarked police vehicle at 110km/hr in a 60km/h zone. Police spoke to the driver – a 36-year-old man – who told police he had never held a driver's licence. He was charged with never licensed person drive vehicle on road and class C motor vehicle exceed speed over 30km/h. The man is due to appear before Parramatta Local Court on Tuesday 1 November 2022."
NSW Police released the following statement:
"NSW Police are frustrated some drivers are not getting the message, after eight people died and close to 70 others were injured on our state's roads over the long weekend.
Operation Labour Day was executed state-wide and commenced at 12.01am on Friday 30 September 2022 and concluded at 11.59pm yesterday (Monday 3 October 2022), with double demerit point in force for the duration.
Officers from Traffic and Highway Patrol Command were assisted by general duties police from commands across the state, targeting speeding, drink and drug driving, mobile phone use, and other traffic offences.
During the operation, police issued a total of 3,310 Traffic Infringement Notices for speeding, a further 269 people were charged for drink driving offences and 251 people were issued infringements for mobile phone usage.
Commander of Traffic and Highway Patrol Command, Acting Assistant Commissioner Trent King, said although the operation is over, families continue to travel around the state with school holidays and are urged to plan their trips.
"Just because the operation has concluded, doesn't mean the messaging is any different. We still need people to obey the road rules and take necessary breaks to keep themselves and the rest of the community safe," Acting Assistant Commissioner King said
"There is expected to be more inclement weather this coming week, so please heed the warnings issued by the Bureau of Meteorology and NSW State Emergency Service, and drive to the conditions.
"Do not drive through flood waters and always obey road closure signs when you see them, they are there for your own protection. We have seen too many incidents recently involving people ignoring warning signs, resulting in a tragic outcome.
"While a detour may be inconvenient, it is not worth your life – listen to emergency services and do not attempt to drive through any flooded causeway, you have no clue how deep the water may be or what debris may be underneath," Acting Assistant Commissioner King said."
Business Alert
The Greenwich IGA has been owned by Paula and her family for 22 years!!! It's time to move on, and Paula has sold the business to Frank (with Paula in the picture below) and Martin.
Frank and Martin own the IGA in Annandale, and this will be their second store. Paula is working in the business until the end of the year. Other members of Paula's family who have worked in the business will be taking a well-earned rest!!
Meet Your Councillors
Lane Cove Councillors will be at the Lane Cove Plaza once a month. There will be three Councillors each month representing each ward. ITC spoke to Andrew Zbik (Mayor of Lane Cove – West Ward) and Bridget Kennedy (Central Ward).
We spoke to them about how locals can contact Lane Cove Council if they have an issue and also about the public forum before each Lane Cove Council meeting.
Councillor Bridget Kennedy also told us the big news about Lane Cove Council appointing the team behind The Sydney Library of Things to run a Toy Library and Library of Things in Lane Cove (stay tuned on that).
Bathurst Comes to Lane Cove
On Sunday 2nd October 2022, a young guns Bathurst team car was unveiled.
This car is a wildcard entry into Bathurst. The drivers are called the young guns and they are sponsored by local businesses throughout NSW and Victoria. Jack & Co Food Stores Caltex Lane Cove wanted to sponsor this team as they are an underdog team competing in their first race. It is very much like the Jack & Co story where a business owned by Wade Death and his family are taking on the big players in the convenience store game. Jack and Co have two stores in Lane Cove, one in Pymble and two in Taree (where it all started).
Jack & Co also employ Lane Cove locals (many HSC students and Uni Students).
Jack & Co have been an ITC sponsor since they opened their first store in Northwood.
Remember, these are professional drivers who only drive fast on the track (see our story above about being careful on the roads).
Lane Cove Rotary Fair and Sustainability Lane
On Saturday 9th, October 2022, the Lane Cove Rotary Fair and Sustainability Lane are scheduled to take place.  All the information you need is in this article.
The Canopy Village Green has been fenced off to allow grass to regrow and it will re-open in time for the Fair.  (see our cover photo)
Longueville Road will be closed for stalls and rides from 6:00 am to 7:00 pm.
The following streets will be closed:
Longueville Road – between Birdwood Avenue and Austin Street
Central Avenue – between Pottery Lane and Longueville Road
Birdwood Lane – between Birdwood Avenue and Rosenthal Ave (access will only be provided to properties along Birdwood Lane)
Burns Bay Road will not be closed, but there are still events along Burns Bay Road including a Petting Zoo at PetO.
The Lane Cove Rotary Fair and Sustainability Lane is usually an all-weather event, and in the past, ITC has set up our tent in drizzling rain (which usually clears up); however, due to the amount of rain forecasted, there is a chance the event may be cancelled.  This decision will be made early Sunday morning, and ITC will let you know.
The 254 bus service will also impacted, and there will be a shuttle bus to take people up to Longueville Road/Austin Street stop outside the Lane Cove Public School from the Longuevllle Road/Dorritt Street stop.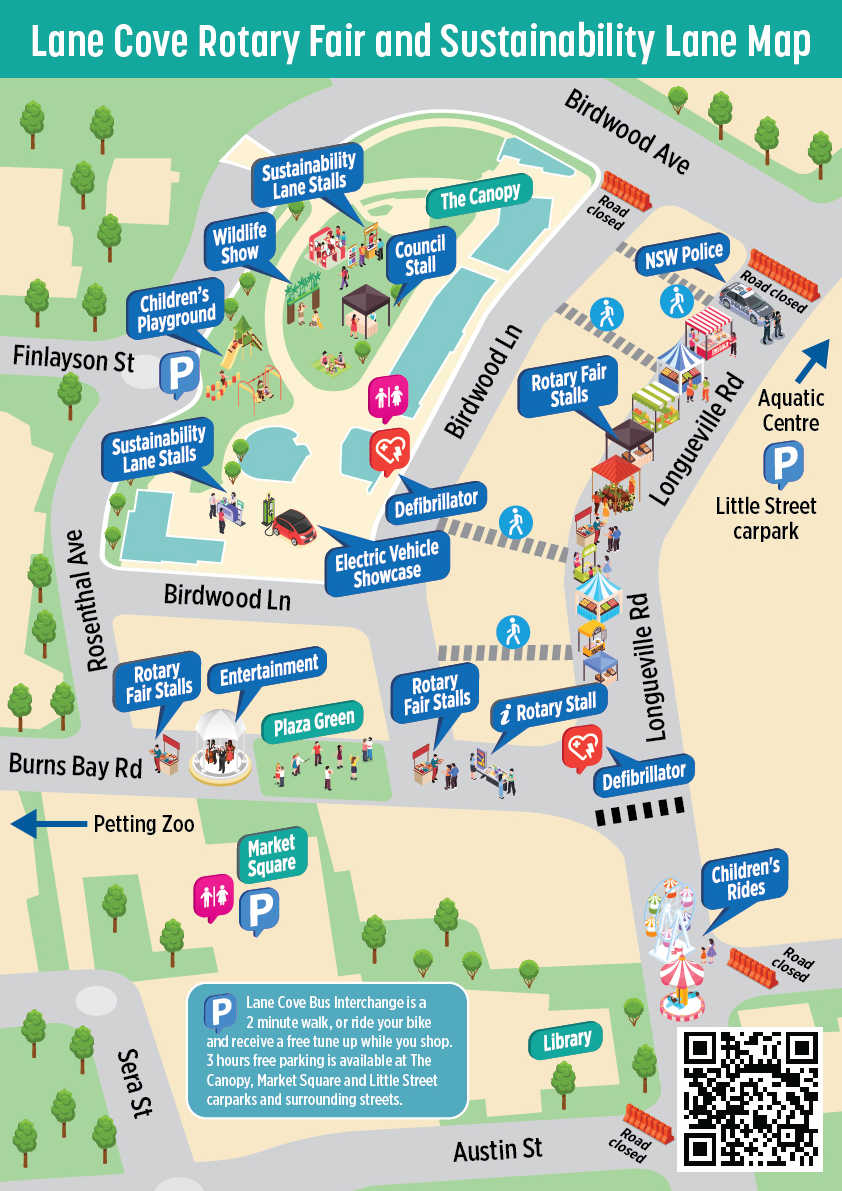 Train Line Closures
The T1 North Shore lines were closed on Monday, 3 2022 and will remain closed until Friday, 7 October 2022.
During this period, the T1 North Shore Line will be closed between Gordon and North Sydney and Metro services will be closed between North Ryde and Chatswood.
In addition, on the weekend of 8-9 October, the T1 North Shore Line will be closed between Hornsby and Wynyard and the Metro line will be closed between Tallawong and Chatswood.
While rail lines are shutdown, works will take place to connect the Metro North West Line and Sydney Metro City & Southwest at Chatswood.
Lane Cove Sport
You may have recently noticed that there have been upgrades to changing rooms and pavilions at Kingsford Smith Oval and Tantallon Oval.
The sporting facilities and, in particular Tantallon Oval, were upgraded as a result of cooperation between Federal, State, and local government and the Lane Cove Cricket Club, Lane Cove Tigers Junior Rugby League Club, Lane Cove Rugby and LCJRU
The following announcement was recently made on the Lane Cove Cricket Club Facebook page.
"In light of the successful developments at Kingsford Smith and Tantallon sporting clubs across the wider Lane Cove community are coming together with the aim of undertaking a large-scale project at Blackman Park. Whilst still in its planning stages the development would make Blackman a premier sporting facility for multiple codes and it goes to show the unity of our community that multiple clubs and associations have been involved in the process so far. Please see below for concept drawings and plans to have an idea of what the end goal is.
A massive shout out to Lane Cove Cats AFL Club, especially their Juniors who engaged the firm for the concept drawings. Going forward we will keep you updated with future developments. COYC!"
Last Chance to Treat Our Local Nurses
Check this out!! Joyce from Bakers Delight is running this initiative for local nurses.
If you want to help with this initiative, please pop over to Bakers Delight and buy a bun asap.
This is not only a generous offer BUT from a local business owner who last week could not operate her bakery at full capacity for three days due to low water pressure. At one stage, she had to carry buckets of water from the lovely staff at Sunset Diner and ended up hurting her shoulder/collarbone.
Let's give a Lane Cove local business owner some support.
Crime Incident and Accident Report – Lane Cove and Lower North Shore
E90612814 – Positive Drug Swipe – Lane Cove – 30/09/2022
A 25-year-old Macquarie Park man has been issued with a 24-hour Prohibition from driving after police stopped his vehicle in Lane Cove on Friday (30th September).
Police were patrolling Longueville Road in Lane Cove when they observed a white Audi.  Police stopped the vehicle and spoke with the male driver.  Police established that the male's drivers licence was currently suspended until 29th November 2022. The driver was subjected to a breath test which returned a negative result.
He was then subjected to a drug swipe which returned a positive detection to Cannabis. The male was arrested and conveyed to Chatswood Police Station for the purpose of a secondary oral fluid test which also returned a positive result for Cannabis.
The male was issued the 24-hour prohibition from driving and a sample will be sent for analysis in a lab.
E90636524 – Break and Enter – Mosman – 1/10/2022
Police are investigating a Break and Enter offence that occurred on Wolseley Road, Mosman around 3:30am on Saturday 1st October.
Police have been told by the victims, that they were asleep in their upstairs bedroom when they were awoken by a sensor light that had been activated outside, and then footsteps from within the house. The victims called out to the offenders to leave the house which they did. The victims contacted police, but were also able to get the registration details of the vehicle the offenders left in.
Police attended and commenced an investigation into the incident. Police established that the vehicle the offenders left in was also stolen.
Police are reminding the public of the importance of locking both your houses and vehicles at night, even when you are home and are also asking for anyone that may have noticed any suspicious activity on Wolseley Road, Mosman around 3:30am on Saturday 1st October to please contact North Shore Police on 9414 8499 or Crime Stoppers (1800 333 000 or www.crimestoppers.com.au).
H91059852 – Glassing – Neutral Bay – 2/10/2022
A 49-year-old Victorian man has been charged with assault after a "glassing" incident at a Licensed Premises in Neutral Bay.
About 5:30pm on Saturday 1st October, police and Paramedics were called to the Licensed Premises where they located a female with an injury to her head.
Police will allege in court that the Victorian man was drinking at the location with a group of friends when the female asked him to stop singing loudly. As a result, a verbal altercation took place after which the female threw beer on the male.  The Victorian man allegedly then tipped his beer over the female's head and then using the empty beer glass, hit the female over the head causing the glass to smash.
Police located the Victorian male at another Licensed Premises in North Sydney a short time later. The male was arrested and taken to Chatswood Police Station where he was charged with Assault occasioning actual bodily harm. The male is due to face Manly Local Court on the 2nd of November.
H90965150 – Supply Prohibited Drug – North Sydney – 2/10/2022
A 40-year-old Surry Hills man will face Manly Local Court in November after allegedly being found in possession of a prohibited drugs.
On the 2nd of October, police were conducting an operation at a licensed premises in North Sydney targeting the possession and supply of prohibited drugs and were utilising a drug detection dog to assist with this.
Around 2:40pm a male came under police notice for allegedly attempting to avoid the drug detection dog. Police will allege in court that the drug detection dog approached the male and indicated a scent of prohibited drugs.
Police had a conversation with the male in which he allegedly told police that he was in possession of cannabis. Police decided to search the male and located a clear resealable bag on his person. Police will allege in court that within the bag was an amount of cannabis as well as 8 capsules that police will allege contained 3,4-Methylenedioxymethylamphetamine (MDMA).
The male was arrested and conveyed to Chatswood Police Station where he was charged with Supply prohibited drug and possess prohibited drug.
H162018701 – Supply Prohibited Drug – Crows Nest – 30/09/2022
A 37-year-old Redfern woman has been charged with four offences after a vehicle was stopped in Crows Nest.
At 9:30pm on Friday 30th September 2022, police were patrolling the Crows Nest area when they noticed a Silver Volkswagen allegedly come to a stop in Hume Lane, collect a male and then drop the male off again in Oxley Street, approximately 100 meters away.
Police stopped the vehicle and had a conversation with the female driver and decided to search her and the vehicle. Police will allege in court, that they located 14 small clear resealable bags containing a white powder, 1 single clear resealable bag of brown crystal-like substance and $600 in cash in the female's handbag.
The female was placed under arrest and taken to Chatswood Police Station where she was charged with Possess prohibited drug, Recklessly deal with proceeds of crime and 2 x Supply prohibited drug.
The female was released on bail and is due to face Manly Local Court on 20th of October.
E90295830 – Stealing – Chatswood – 03/10/2022
Police are investigating after more than $1,200 worth of items were stolen from a cosmetic store in Chatswood.
Police have been told that at 3:50pm on Saturday 1st of October a female entered the store, which is located within a Chatswood Shopping Centre, and selected several cosmetic items and then allegedly secreted them in a pram she was pushing. The female left the store without paying for the items.
It wasn't until the following day that staff noticed the missing items and reviewed CCTV discovering the actions of the female.
Reports of Items Being Thrown from the Rosenthal Avenue Overpass and Harris Farm Car Park
ITC has received several reports of items such as tree branches, water bottles and eggs being thrown at cars and pedestrians.  This is not uncommon during school holidays, and the people who reported the incidents to ITC also advised they had reported the incidents to the police, and in some cases, they have CCTV footage.
Week in Review Sponsor – Jack & Co
Help Support Local and Independent News
You can support us in three ways:
Become an ITC reader sponsor –  Feel free to be a reader sponsor if you have enjoyed our local news coverage – no amount is too small or too big. Thank you so much to the people who have already supported us via our press Patreon account. Help Us Here.
Buy the ITC  team a coffee – our office is nearly every coffee shop in Lane Cove, and we regularly meet locals at coffee shops – buy the ITC team a coffee (or two) here.
Do you own a Lane Cove Business or a Lane Cove resident who owns a business, you can advertise with ITC – our packages start from $30 monthly fee (for a 12-month commitment). Email us here for our rates card.