Welcome to our Lane Cove Business monthly round up of all business happenings during November 2016. If it opened, closed, rebranded, refurbed or anything else, we've (hopefully) covered it here!
Now Open/New Businesses
Forest Piano Academy is now open in Longueville.  If it is located in Lane Cove, why is it called Forest Piano Academy? Good Question!!  They had so many Lane Cove students they wanted to open another studio where their students were located.
Forest Piano Academy was proud to showcase the accomplishments of their piano students on 4 December in Longueville. It was the grand opening event for the studio's second location on Kenneth St, with 65 audience members in attendance. 18 children performed solo piano pieces to a high standard and had a blast sharing their talents with friends and family! As a special treat, JayJay the Balloon Guy entertained the children and created some amazing balloon sculptures. Their giant 6 foot Santa balloon went home with a lucky local resident and it was hilarious to see Santa being walked down Christina Street and through the Longueville neighbourhood on a Sunday afternoon. Well done to all students and happy holidays!
They are now accepting enrolments for 2017. If you want your child to love playing piano for many years and to be part of a unique, creative music community, you can contact them via this link . They like to make scheduling a breeze for busy families!

Luna – Unique Designs
Opened in early November, Luna is a small women's clothing boutique, owned by a lovely lady called Heather. Heather is also the designer of the Stitch Label clothing sold in-store. The shop is hidden away, at the end of Library Place (below Library Walk).
Stitch Label specialises in Australian merino wool with the simple aim of creating luxurious wardrobe staples of high quality and durability. All pieces are designed with the seasons in mind, which you'll rely on year after year. Inspired by tactile fabrics, heavenly colours and patterns, each piece will add instant style and comfort to your life.
Local Yarn Bomber, Cee, is not only the star of a recent ITC Expose, but she has also launched a website and you can order customised yarn bombs from her! More info HERE
Personal Training Studio
A new Personal Training Studio has opened in the Village Shopping Plaza (next door to Furever Pets).  The  Village Shopping Plaza  is becoming very popular with sporty types.  You can train with personal trainers and/or take a yoga or pilates class  at Soulfitness.
The Lane Cove Eye Surgery is a branch practice of the long established Gordon Eye Surgery (est in 1993). It opened in November on Level 3, 71 Longueville Road (in the Anytime Fitness/Massage Envy building)

Riverview Realty has opened a new business sales division called Domain Business Brokers. They have added some new faces to their team – Joanna Bryant – Business Sales and Christopher Hayes – Food and Wine Consultant to the hospitality sector. If you're looking to sell a business in Lane Cove you might want to speak to Andrew and his team.
A new travel agent has appeared ITC. Travel Crafters is located upstairs in the Village Shopping Centre (opposite Coles)
Existing Businesses We've Just Heard About
Souly Guacamole is guacamole as it's meant to be: authentic, 100% all natural, incredibly flavourful, and healthy. They use an authentic recipe and add nothing that shouldn't be in a fresh guacamole. They use no filler ingredients, no preservatives, no additives and no artificial colours. 100% of their fresh produce is sourced from within Australia. Souly Guacamole is handmade and has healthy chunks of avocado, tomatoes, spring onions and coriander. Compared to other ready to eat dips it has not undergone ultra-processing to extend its shelf life and can still remain fresh for 5 days.  You can find out more here.
The Swag is a Unique, Reusable, Fresh Produce Storage Bag that keeps Fruit & Veggies Fresher for Longer.
How long would you last sealed in a plastic bag or container without air or water? Not long right! Well, it's the same for all living things, therefore if you want your fruit & veggies to stay fresher for much longer, then you need to give them an environment they can thrive in.
The Swag is a non toxic, environmentally-friendly, sustainable, machine-washable, breathable bag, meaning fruit & veggies stay fresher for much longer – naturally. So, it's great for your wallet and good for the environment too! You can find out more here.
One Touch Garden Care & Maintenance
One Touch Garden Care and Maintenance is owned by Khris, who grew up in Lane Cove, and has never left!
Julie Wall
Julie Wall is a holistic therapist specialising in emotional freedom techniques helping men, women, and children to overcome life's challenges.  She told ITC she can help with anxiety, grief, trauma or just help you down a new path in life.  Julie can be contacted on [email protected] or 0432 566 584d
New Ownership/Re-opened
New managers have been announced for Lane Cove Squash Club.  By the way, did you know Lane Cove had squash courts?
"Squash Mechanics are excited to announce that they have been appointed to manage the Lane Cove Squash Centre for a minimum of three years. The club is conveniently located 15 minutes from Sydney's CBD and it has been a Squash Hub in Sydney for decades. This adds another business in Australia to fall under the management of Squash Mechanics and once the team is onsite in January there will be significant physical changes and program changes implemented. The investment that Squash Mechanics is making will remove any of the lingering doubts over the facility being bulldozed by developers"
There is a new man in town and he is hanging out at the Burns Bay Road Shops. David Cameron is the new owner of Lane Cove Poolmart. Check out David and the other shops in our Local Area Spotlight of the Burns Bay Road shops.

Closing or Closed
Noodle King
Rumour has it that Noodle King will be closing down sooner rather than later.
Awards or Accolades
Cellarbrations at Lane Cove
The Lane Cove Cellarbrations store made it into the "Top Ten" stores in the state at the Liquor Stores Association annual Awards for Excellence last Friday night.
Congratulations to Harbourline Real Estate in Greenwich, for winning the 2016 Northshore Local Business Award for MOST OUTSTANDING Real Estate Agency.  They were up against some tough competition from real estate agents all over the North Shore!!
Rumours
New Cafe on Birdwood Lane
Work has started on the small vacant shop on Birdwood Lane, located near Story. Rumour has it that another cafe is coming soonish.
Moving/Relocating
Lane Cove Family Medical Centre
The Lane Cove Family Medical Centre, which has long been located in an old house on Longueville Road, is now moving further up the same road. We're guessing the reason for the move is that their premises are being redeveloped.
Milestones
Persian Basement
For Sale/For Lease
Local businesses we have noticed that are For Sale include this cafe, this cafe, and this cafe/restaurant.
KFC has leased their store on the Pacific Highway near the BP for a long long time.  The freehold was recently sold (so don't panic when you see the For Sale sign on the premises).  See further info here.  By the way given it is one of the top performing stores in Australia – who is eating all the KFC??  It's not ITC and we love our food!!!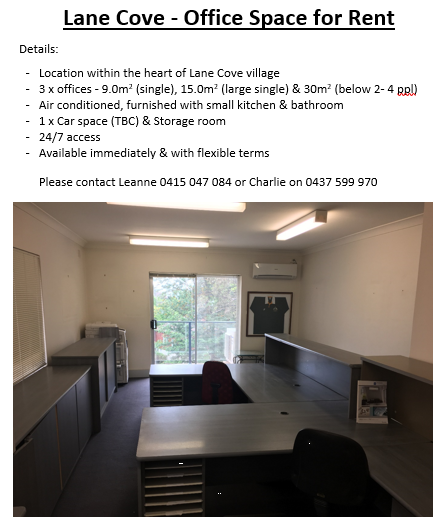 Special Offers for ITC Fans
Check out a special offer from one of the new business listed in our Business Directory.
Lasertech (located on Longueville road just down from the Longy) has fifty $10 gift vouchers to giveaway. So if you are in the market for laser hair removal pop into Lasertech at 2/98 Longueville Road Lane Cove (an excellent Kris Kringle Gift)

Xchange Air has a special offer for ITC Fans -if you book, pay and have your home ventilation system installed before 23 December 2016 you will receive a $150 Zjoosh voucher. Xchange Air is located in Lane Cove West Business Park.   You can find more details here.   Given the hot and humid past couple of days, you may want to read our blog on how to let the trapped heat out of your home.
#itcgoldsponsor
Infinity Hair has a great deal for someone looking to have fab hair for the Christmas Season. Try out their Wednesday Special.
L'valle Hair Salon have a special offer until 31 December 2016.
New Listings in our Lane Cove Business Directory this Month
The business information below is provided by our Business Directory members.
Questa Property Services was founded back in 2006 with one aim, TO PROVIDE CLEANING SERVICES OF BETTER QUALITY. Since then, we have been working hard to provide services our clients should be expected to have. We have created company procedures that sets us apart in drive for better quality.
The Lane Cove Eye Surgery is a branch practice of the long established Gordon Eye Surgery (est in 1993).

Lane Cove Eye Surgery provides quality patient care and state-of-the-art technology in a multidisciplinary eye care practice. We pride ourselves on upholding the highest standards of personalised care in a modern fully-equipped practice.
Burns Bay Dance Studios provides a professional, fun filled atmosphere for students who may wish to learn the creative skills of dance or merely for the purpose of fitness. Here at Burns Bay we also provide classes for students who want to take dance a little more seriously and maybe one day, aspire to dance or teach professionally. Whatever your dance requirements may be, you're in safe hands!
The Gas is a three piece Sydney band who want to get you up and moving with good times and great classic hits.  They regularly play at the Unwined Bar in Lane Cove.  However, did you know that they are available for gigs at your home, function centre.  They have been rocking parties around the Cove (particularly parties where the birthday boy or girl might have a birthday ending in the big 0).  We cannot confirm or deny that the picture below might have been taken a few years ago or not!!!
Tres Jolie Hair Face Beauty in Lane Cove are Organic Hair Specialists, using 100% Ammonia Free colour.
We also do wedding and formal hair, along with makeup, using Mineral Makeup.  We have  a new make up artist who has worked with the big companies.  We currently have the most beautiful wreaths for sale.  The wreaths have been hand made in Lane Cove by Mary Floral Creator.
L'valle Hair Salon is located in Rosenthal Arcade.  We offer an intimate and inviting
atmosphere, where you can experience exceptional service standards, innovative colouring and styling and
premium product. L'valle Hair Salon is a qaba™ Concept Only Salon.
LaserTech Hair Removal specialises in hair removal and beauty. We like to focus on your concerns. Our aim and target it to get satisfactory results in your area of concern. We have high levels hygiene practices and have very professional, experienced staff.
LaserTech Hair Removal always makes sure we are up to date with the latest technology and equipment.
At Forest Piano Academy, your child's musical enjoyment and success is our #1 priority. Your child will learn everything they need to feel confident about practising on their own, right from the start.  They can learn their favourite pieces, in any style of music.
We believe in providing a nurturing, caring environment where students are proud of their accomplishments.
Tutor4you's principal director is Mathematics, Chemistry and Physics tutor, Ezzat (Lecturer/ Architect – Phd). Ezzat found his passion for teaching at the age of 12 (Year 8). In the past 48 years, Ezzat has helped over 1000 students in different levels.
Tutor4you offers a free no-obligation session with an educational consultant to assess your child.  The Tutor4you programme is an individual tailored study programme to bring out the best in your child.
This is our last business round up before Christmas.  We know you like to hear about new businesses that open in Lane Cove and we know you are sad when an old favourite closes.  To keep businesses in Lane Cove you need to shop local!!  Shop local this Christmas with our ITC Gift Guides (featuring wonderful sponsors).
Do you have a local issue you would like help with? ITC is here to help just email us at [email protected]
You can subscribe to our newsletter by filling out the form at the bottom of our homepage. Our newsletter is sent out every Wednesday Night at 7.30pm and includes details of Lane Cove Events for the next seven days or so, and articles you may have missed during the previous week.
Have you liked our Facebook page or Instagram Page – what are you waiting for?!