Welcome to our Lane Cove Weekly Review for 17 to 23 April 2017.
This week we had an electrical fire in a lift, the escalators not working again at Lane Cove Market Square and the last ever E-Waste collection at Riverview.
Fire in Pedestrian Bridge Lift
Three fire trucks attended an electrical fire in the lift servicing the pedestrian bridge near. Get ready for a long delay in fixing this.  You can find out more here.
Lane Cove Market Square Escalators
The picture says it all and the Lane Cove Market Square businesses are not happy.
Lane Cove North joins the Two Million Dollar Club
According to Domain.com.au, the median price of a home in Lane Cove North is now $$2,163,333.  Longueville tops the list with the median price being $4,975,000.
E-Waste Collection
The last E-Waste Collection was held in Riverview. Residents are now able to take a short drive to the Community Recycling Centre at 8 Waltham St Artarmon. The recently opened facility accepts E-waste as well as a string of other household items, such as paint and chemicals etc.  You can find out more about the new facility here.
On Saturday members from the Lane Cove Sustainability Action Group assisted residents, unable to do so themselves, with their E-waste disposal.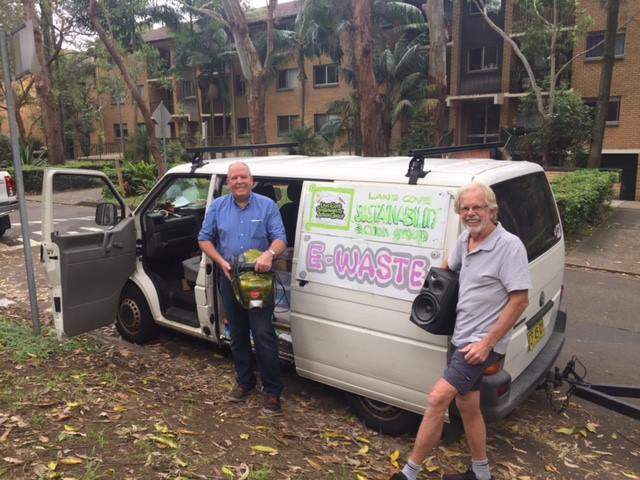 ANZAC Day
Just a reminder that the Lane Cove RSL Sub- Branch will hold their ANZAC Day service at 7.30 on Tuesday.  We have the low down on other ANZAC Day events here.
DOUBLE DEMERITS
Double demerits points kicked in from Friday, April 21 and will be in place from Tuesday, April 25.
The double demerit road safety campaign encourages safe driver behaviour on our roads and applies to speeding, not wearing a seatbelt, riding without a helmet and illegal use of a mobile phone.  Police have been extra vigilant on River Road West this weekend.
School zones will also be operating on Monday, April 24.   Do not park outside a school during school drop off or pick up time as rangers will book you.
Police remind motorists if they forget and are caught driving at 60km/h in a 40km/h school zone, they risk incurring 10 demerit points.
Crime Report
We were advised last night that there was a car break-in at Lane Cove North. We have put together some stats/recent trends on car break-in and thefts in Lane Cove and some tips on how to avoid having your car stolen here
Mother's Day Guide
This week we released our Mother's Day Guide. Remember to Buy Local or Bye Bye Local.  Challenge yourself to spend in one of our local stores this Mother's Day.
Booking Now
To all the Strong, Independent and Downright AWESOME ladies out there!
Chiropractic Central has a treat for you!! They are finding it challenging to contain our excitement! After such a great night last year, their Women, Wine and Wellness-Treat Yourself Right night is back with style Thursday the 18th of May 2017! Can you give us a woop woop!?
Hot topics include; how to arrest your stress, next level nourishment, breathe, and the power of saying NO. Not only are these topics so important (and often not spoken about), you will be surrounded by awesome, like-minded women in a room full of so much fun-lovin' goodness!
So grab your special women and come join Chiropractic Central for a fun, interactive night full of all things WOMEN and WELLNESS (and not to mention some cheeky organic wine!) You will leave the event ready to conquer the world with your own home-made bliss balls in hand!
They only have limited seats, so please
click here to buy your tickets and check out the details.
Our Weekly Newsletter
Each Wednesday evening, we email out a newsletter to subscribers. It is full of events, news and more! You can read this week's newsletter HERE.
Subscribe for next week HERE.
Advertise on In the Cove
Did you know you can advertise on In the Cove? Yes, you can!!  In fact, advertising is our only revenue. At this stage the ITC team is 1.5 people. We would love to do more and bring you more but we need your help. Spread the word about ITC and let local business owners know that ITC is your source of local business news. If you would like to advertise with us please email us here for a Media Kit. All community groups and sporting groups can advertise their events free of charge on ITC so don't forget to email us with your events.
---
Do you have a local issue you would like help with? ITC is here to help just email us at [email protected]