Whenever there is a helicopter flying low, we know that we will be asked about it.  This week a chopper was hovering over Lane Cove.  It was an Ausgrid contractor carrying out bushfire risk management work.
As part of Ausgrid's Bushfire Risk Management Strategy, they are working with the NSW Rural Fire Service, local councils and community groups to inspect powerlines, poles and other equipment in bushfire-prone areas.
Ausgrid engages specialist contractors to conduct bushfire safety patrols utilising helicopters, planes, vehicles and drones (UAV) in parts of The Hunter, Newcastle, Central Coast and Sydney looking for hazards. The helicopter crews use radar imaging equipment and high-resolution photography to identify potential bushfire hazards. The radar sends and records 300,000 pulses every second to create a three-dimensional representation of the network and can identify branch heights with an accuracy of within two centimetres.
Ausgrid crews will be in the air from about 8.30 am to 4 pm (weather permitting) between 1 February 2021 and 7th June. The helicopters fly between 18 and 55km/h, 500-1000 feet from the ground.  You can see from our cover photo that they do indeed fly low.
Car Theft Arrest Made
A 17-year-old male from Ermington has been charged for allegedly stealing cars from Northwood and Killara in late January.
Both vehicles were stolen overnight from a garage or driveway while the owners were home and both vehicles were later recovered.
The 17-year-old is alleged to have also stolen vehicles from Newington, Eastwood, Cherrybrook, Forestville, Castle Hill, Epping, Beaumont Hills and Glenwood, all of which have been recovered by Police.
Police allege that most of the vehicles were stolen after the youth and his co-offenders first broke into the victim's home and located the keys.
Lane Cove Theatre Company's Jekyll and Hyde  Season Sold Out
Well done to the Lane Cove Theatre Company for selling out their first 2021 play.  Their next play is Steel Magnolias.  Find out more here.
Canopy Playgroup Upgrade
There has been some criticism around The Canopy playground near the slide.  A few people have taken a tumble near the slide.  It looks like the Lane Cove Council is addressing this concern.
Wild Weather
It was a rainy week with some windy conditions.  A tree came down in Wood Street near Beatrice St Lane Cove West.  The road was partially blocked, and police and the fire brigade attended the scene.  Ausgrid also attended to fix up the low hanging powerlines.
Dinghy Registration
Time to check your dinghy registration!
Dinghy numbers are increasing across the local government area and are sometimes stored on sensitive bushland areas or other inappropriate locations.
Any dinghy stored along any of Lane Cove Council's public foreshore areas must be registered with Lane Cove Council or risk being impounded.
Registration is free – owners simply need to complete the Dinghy Tag Application Form at www.lanecove.nsw.gov.au/boating. Registered dinghies will receive a tag to place on their vessel.
Dinghies must be registered by 1 March 2021 – Lane Cove Council may impound any untagged dinghies found after this time.
Kids in the Cove
Exciting news – ITC has created a Group on Facebook called Kids in the Cove.
What is Kids in the Cove?
It's a private group focused on topics relating to parenting and children in Lane Cove and surrounds. Kids in the Cove will also share helpful information to parents in 2066 such as guides, playground & bush walk reviews etc.
We have some exciting things on the horizon for you to keep your eyes peeled such as a buy swap sell night, babysitter info, business hour … just to name a few. Just hold tight!!
Gold Cup
There will be plenty of traffic around Riverview next weekend with the Gold Cup's running – this is usually a great event to watch. However, due to COVID19 restrictions, spectators are not allowed but can watch it via live stream.
Find out more about the history of the gold cup here https://inthecove.com.au/…/tradition-skill-power-and…/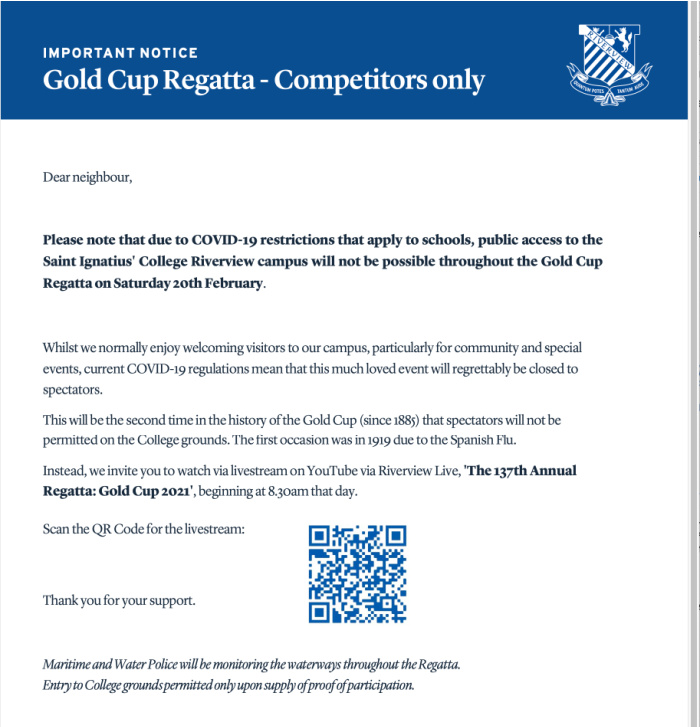 Lane Cove Council February 2021 Meeting
Officer Reports for Determination
Have Your Say
If you would like to submit any agenda items or any council issue you can address the Lane Cove Councillors before the Meeting to held on Monday, 15 February 2021.
To comply with the NSW Government's directives and in the interests of public health, the meeting will be conducted online.   Members of the public will not be permitted to attend the Council Chambers. Councillors are also not permitted to attend in person and participate in the meeting via video conference.
Council is currently trialling the use of video conferencing for the Public Forum by using the online meeting platform, Zoom.    A link to the video conference, including all Councillors attending the online Council meeting, will be made available by email for community members to participate.
All speakers wishing to participate in the public forum must register by using the online form no later than midnight, 14 February 2021.   A Zoom meeting link will be emailed to the provided email address.
The time limit of three minutes per address still applies so; please make sure your submission meets this criterion. Alternatively, members of the public can still submit their written address via email to [email protected].
Written addresses are to be received by Council no later than midnight, on the day before the meeting. (500 words maximum).  The meetings will continue to be live-streamed. Ordinary Council Meetings will be
viewable via the webcasting
page
on this website.
Get That Job
You're invited to a free workshop for local residents who are looking to get back into the workforce.
Join Lane Cove Council and Mike Taylor, and you will receive:
Tools and tips from an experienced career management consultant
Opportunities to share experiences and form support networks
One-on-one follow up session Places are strictly limited. Bookings essential.
Date: Thursday 17 February 2021
Time: 9:30am – 1:30pm
Location: The Terrace Function Room Lower Ground Floor
Lane Cove Community Hub
1 Pottery Lane, Lane Cove
Bookings: [email protected]
Don't Kill Funnel Web Spiders
Lane Cove and the Lower North Shore are known for their Funnel Web Spiders.  This Week the Australian Reptile Park put out the following request:
"With recent rain and warmer weather occurring the past few weeks, we are seeing a spike in funnel-web spiders as they are on the move.
We're asking for any collected spiders to be brought to the Australian Reptile Park to contribute to our lifesaving antivenom program! We need more spiders – it takes up to 150 spiders to make one vial of antivenom!
You can help us save Australian lives!"
Find out more about funnel-web spiders in Lane Cove here.
Accidents and Incidents
This week a car flipped on its roof after an accident on Mowbray Road near Hinkler Avenue.  As usual with Mowbray Road accidents, the traffic took a while to clear.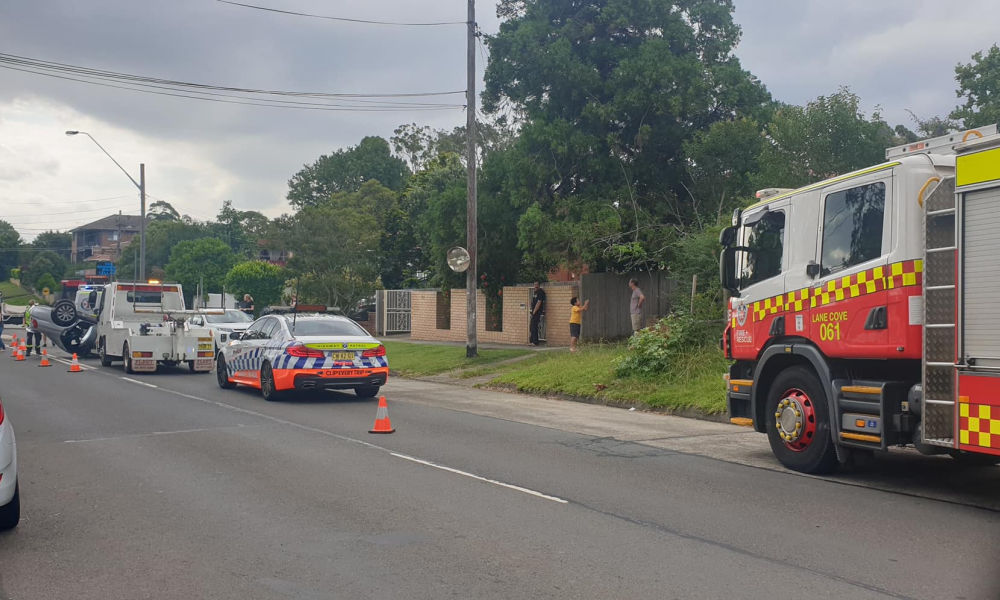 This week in review is sponsored by Burns Bay Physiotherapy.
Sisters Ann Ross and Jill Ross established
@burnsbayphysiotherapy
in Lane Cove in 1996. Burns Bay Physiotherapy is located at Burns Bay Road Shops, just near IGA Agora.
They are Musculoskeletal Physiotherapists. They provide a friendly, caring and professional environment where each patient is respected and treated as an individual.
Burns Bay Physiotherapy is conveniently located with level access to the clinic and street parking.
Thank you to Burns Bay Physiotherapy for your support.  Read more about Burns Bay Physiotherapy here.
Support ITC and Advertise With Us
Not all of the businesses noted above advertise with In the Cove – we like to give all businesses a free shout out when they start out.  However, we are so grateful for those businesses who become part of the ITC Business Community.  Without their support, we could not undertake our community and advocacy work.
ITC has hit a few milestones recently.  We now have
Facebook – Over 19 000 followers
ITC Lane Cove Chat – Over 8000 members
Instagram – Over 8000 followers
In The Cove – Web Site Views – Over 2.5 million views since we started our website.
If you would like to advertise and promote your business locally to a very engaged audience email us at [email protected] or message us on Facebook
Help In the Cove Grow
In the Cove wants to employ local people, we want to bring even more news to you, and we need your help. Become an In The Cove member, and we have a little gift for you (our very own reusable masks sourced from a Lane Cove business). To find out how to help here and how to get your reusable mask, hurry as stocks are limited. 
Local News At Your Fingertips
In the Cove is run by locals. It is the only online hyperlocal news and media business based in Lane Cove.  We provide local free news – we do not have a paywall and will never have a paywall.