Given the growing number of infectious cases in the community and unlinked cases of community transmission, COVID-19 lockdown restrictions will remain across Greater Sydney, including the Central Coast, Blue Mountains, Wollongong, and Shellharbour.   The restrictions will remain until 28 August 2021.
NSW Health is asking people not to seek exceptions to the rules but to ensure they comply with them, so the number of infectious cases of COVID-19 in the community reduces.
Four Major Changes
10-kilometre restriction for shopping (same restriction as applies for exercise and recreation)
Year 12 students to return to classrooms from August 16 2021
Construction re-opening
Single people living alone  will be able to have a support bubble
More financial support packages for businesses and individuals
The Public Health Order has not been updated to reflect these changes, and there can be differences between what is said by the Premier in a press conference, what is on the Health Website and the Public Health Orders.  We will update this article when the Public Health Orders are updated.
Construction Update
Construction will resume in Greater Sydney, including the Central Coast, Blue Mountains, Wollongong and Shellharbour, this week with new COVID protocols to be introduced to keep workers and worksites safe.
Deputy Premier John Barilaro today outlined the roadmap forward. He said the NSW Government had worked closely with the industry to plan this reopening, creating the construction COVID-19 safety plan, and he commends the industry's ongoing commitment to tackling the virus.
"Construction will resume on Saturday 31 July 2021, with safety measures such as controls on movements between sites, reduced contact between workers within sites, improved tracing capability and a focus on encouraging workers to get vaccinated," Mr Barilaro said.
"Works in occupied premises including residential homes can also resume from this Saturday where there is zero contact between workers and residents. There will be a limit of up to two workers for indoor services and five workers for outdoor services, and works will only be possible where it is feasible for residents to vacate the area. If contactless arrangements are not possible, work cannot go ahead.
"Unfortunately, construction will not resume in the eight LGAs of concern – Fairfield, Blacktown, Cumberland, Campbelltown, Canterbury-Bankstown, Liverpool, Parramatta and Georges River Local Government Areas.
"However, businesses in those LGAs which are part of the construction supply chain will be permitted to operate. Construction supply chain workers will be added to the authorised workers' list and will be allowed to leave their local area for work, subject to meeting COVID-19 surveillance testing requirements. This includes workers engaged in the manufacturing of construction materials, plant and components.
A defined list of preparatory works may commence on worksites from 29th July 2021 to enable sites to reopen safely, with limited workforces on-site to ensure COVID safe measures are in place. Equipment and plant can be restarted safely, and that all utilities are in order.
Back to Construction 7 Days a Week
As part of our plan to reopen construction, worksites will be able to operate on Sundays and public holidays for the remainder of the year, up until Christmas, to make up for any time lost."
Treasurer Dominic Perrottet said the construction industry was vital to the State's economy and reopening the industry safely was crucial to keeping hundreds of thousands of people in jobs.
"Getting workers back on the tools as soon as possible has always been our priority, but we need to ensure it is done as safely as possible to protect both workers and the community," Mr Perrottet said.
"The construction COVID-19 safety plan builds on the COVID safe measures already in place at many worksites, but we're now applying that consistently right across the sector.
"We have worked with the industry over the past two weeks to get the right outcome, and I would like to thank the sector for their constructive engagement. I would also like to acknowledge the willingness of the industry to take the lead in trials in the application of Rapid Antigen Testing and local vaccination services at sites, consistent with guidance from NSW Health."
Same Restrictions – Retail Not Allowed To Be Open to Public
Until 28th August 2021, most retail premises in Greater Sydney, including the Blue Mountains, Central Coast, Wollongong and Shellharbour, are closed to the public.  This does not mean that owners and employees are not allowed to access their shops.  We have heard a few retailers tell us that the owners have been in the closed shop working on orders or undertaking necessary work, and they have been "told off" by people walking by.
Retail premises providing essential products and services that can be open are:
supermarkets
food and drink premises (but only if they offer takeaway)
grocery stores (including butchers, bakeries, fruit and vegetable, seafood and other food retailers – so any shop that predominately sells food or drink)
kiosks and other small food and drink premises
petrol stations
liquor stores
chemists
businesses that predominately sell office supplies, pet supplies, newspapers, magazines, stationery, alcohol, maternity and baby supplies
banks and financial institutions
hardware, building supplies
landscaping material supplies
agricultural and rural supplies
timber yards;
post offices and newsagents
office supplies
garden centres and plant nurseries
vehicle hire premises, not including the premises at which vehicles are sold;
shops that predominantly carry out repairs of mobile phones.
Note Service Stations, Banks, Post Offices, Laundromats, Dry Cleaners are NOT retail premises and can remain open.
'Click and collect' and home delivery.
Retail Businesses not listed above may continue to operate if they provide goods and services to customers that are ordered by phone or internet and collected by customers via click and collect.  You cannot take orders at retail premises.
A 'click and collect service can also be used by customers to return or exchange goods by prior arrangement either by phone or internet.
If you click and collect, customers must:
Here is how you can shop online in Lane Cove to support local businesses.
Face masks
In Greater Sydney, when you leave home, you must carry a face mask with you at all times.  You also need to have your ID on you at all times.
They must be worn when working outdoors, by all school staff, by all people in outdoor markets, outdoor shopping strips, and in an outdoor queue waiting for products such as coffee and food.  The Public Health Orders specifically use the example that a mask is needed if you are queuing outside a cafe or shop to collect take away food or drink or a person walking on a street near shop fronts.  So this would mean if you are walking near shops in The Canopy, Lane Cove Plaza, Longueville Road, Lane Cove Market Square etc., you need to be wearing a mask.
You do not have to wear a face mask if you are exercising.  However, Dr Chant has requested that if you can please wear one when you are out and particularly if you are exercising with a person not from your household (limit of two people)
You must wear a face mask
in all indoor areas of non-residential premises
at certain outdoor gatherings
if you are on public transport
in a major recreation facility such as a stadium
if you are working in a hospitality venue
in indoor areas of construction sites, except when an exemption applies, such as when
wearing a face mask creates a safety issue or
there is a worksite emergency.
Common Areas in Units and Apartments
In Melbourne, you may have seen that they are locking down several apartments where COVID19 cases have been identified. This is because it is being spread in common areas.
You must wear a fitted face mask when you are in an indoor area of common property in a residential building that is
strata-titled
community titled or
company titled.
You do NOT need to wear a mask inside your own apartment.
Common areas where you must wear a mask include
a shared foyer or lobby of an apartment block
lifts, stairwells and corridors
shared laundry facilities.
Masks must be worn by anyone entering, including
residents and visitors
building managers, concierge staff and cleaners
people providing goods and services, including tradespeople and contractors
people delivering food, mail and parcels.
Learn more about face mask rules.
Previous Restrictions That Still Apply
The following additional restrictions are in place:
Outdoor public gatherings limited to two people (excluding members of the same household);
People must stay in the Lane Cove Council Area or within 10kms of home for exercise and outdoor recreation, with no carpooling between non-household members (see below details of where you can check the 10km rule);
Only one person per household, per day, may leave home for shopping;
Funerals are limited to ten people in total.
The four reasons to leave your home remain in place:
Shopping for food or other essential goods and services (one person only – dependents are permitted if there is no care available (i.e., single parent));
Medical care or compassionate needs (only one visitor can enter another residence to fulfil carers' responsibilities or provide care or assistance, or for compassionate reasons);
Exercise with no more than 2 (unless members of the same household);
Essential work, or education, where you cannot work or study from home.
Working from home
Employers must allow an employee to work from home if it is reasonably practicable to do so.
If you cannot work from home and you go to your workplace, you must wear a face mask (unless an exemption applies).
Get Tested
High testing numbers are key to finding unrecognised chains of transmission in the community, so please continue to come forward for a COVID-19 test, even if you have the mildest of symptoms.   Details on where to get tested near Lane Cove are here.
This is an excuse to leave home.
Vaccinations
You are permitted to leave home to be vaccinated.  Check your eligibility here.
Latest Advice from ATAGI
All individuals aged 18 years and above in greater Sydney, including adults under 60 years of age, should strongly consider getting vaccinated with any available vaccine, including COVID-19 Vaccine AstraZeneca. This is on the basis of the increasing risk of COVID-19 and ongoing constraints of Comirnaty (Pfizer) supplies. In addition, people in areas where outbreaks can receive the second dose of the AstraZeneca vaccine 4 to 8 weeks after the first dose, rather than the usual 12 weeks, bring forward optimal protection.
ATAGI continues to closely monitor the epidemiology of COVID-19 in New South Wales, Victoria and South Australia. The outbreak in NSW continues to grow, and the risk of disease, particularly in the greater Sydney area, is likely to continue to be significant over the coming weeks.
ATAGI reaffirms our previous advice that in a large outbreak, the benefits of the COVID-19 Vaccine AstraZeneca are greater than the risk of rare side effects for all age groups.
In the context of the current risk of COVID-19 in NSW and with the ongoing constraints on Comirnaty (Pfizer) vaccine supplies, all adults in greater Sydney should strongly consider the benefits of earlier protection with COVID-19 Vaccine AstraZeneca rather than waiting for alternative vaccines.
Maximal protection requires two doses of vaccine, but even a single dose of either vaccine provides substantial protection (by more than 70%) against hospitalisation. A single dose of COVID-19 Vaccine AstraZeneca partially reduces transmission by around half and therefore may also benefit close contacts and the community. It should be noted that there is a delay of 2-3 weeks after receiving the first dose of vaccine and being protected from COVID-19.
A second reason for ATAGI to recommend that individuals strongly consider vaccination at this time is emerging data about the severity of the disease. The Delta variant may be more severe than the original SARS-CoV-2 strain. The proportion of people less than 60 years requiring hospitalisation appears to be higher than was reported in outbreaks with the original SARS-CoV-2 strain. This reinforces the benefit of protection with any available vaccine.
People considering vaccination should be informed of the benefits and risks and give informed consent. People who receive COVID-19 Vaccine AstraZeneca should be aware of the symptoms of thrombosis with thrombocytopenia syndrome (TTS) and when to seek prompt medical attention. Early detection of TTS means that people can get treatment, and this can improve their outcomes.
ATAGI has previously issued advice recommending a shorter interval between the first and second doses of COVID-19 Vaccine AstraZeneca of 4-8 weeks in an outbreak (versus the routine 12-week interval) so that maximal protection against COVID-19 can be achieved earlier.
ATAGI also reinforces that the interval between the first and second doses of Comirnaty (Pfizer) is 3-6 weeks, providing flexibility in managing available supplies of vaccines whilst also noting two doses are required for optimal protection. Spacing Comirnaty (Pfizer) to a routine interval of 6 weeks would allow limited vaccine supplies to be redirected to obtain first dose protection in outbreak areas of greatest need.
10km Rule
The new rules state that if people do leave their homes for exercise and outdoor recreation, they must stay in their Local Government Area (LGA) or within 10kms of home.
This means people must stay within their LGA, but they can also cross LGA borders as long as they do not travel further than 10km from their home. This acknowledges the pragmatic reality that many people live in close proximity to LGA borders, and their closest park may be in a neighbouring LGA (for example, one side of Mowbray Road is in the Lane Cove LGA, and one side is in Willoughby City Council LGA)
The aim of this measure is to minimise movement among the community and reduce the risk of further transmission of COVID-19.
NSW Health has an interactive map here so you can check the 10km rule.  The map below shows 10km from The Canopy.
The LGA and 10km restriction apply to shopping, exercise and outdoor recreation, not to the two other essential reasons you can leave home:
Medical care or compassionate needs (only one visitor can enter another residence to fulfil carers' responsibilities or provide care or assistance, or for compassionate reasons);
Essential work, or education, where you cannot work or study from home.
Nonetheless, people should only leave their home if absolutely necessary, and try to minimise the time they are out and the distance they travel from their home if they must leave for an essential reason.
Funerals and memorial services
From 12:00 am on Sunday 11 July 2021, a maximum of 10 people can attend a funeral or memorial service. The maximum number includes the person conducting the service.
Funerals and memorial services can continue to take place in Greater Sydney, including the Blue Mountains, Central Coast, Wollongong, and Shellharbour, with the maximum number of people allowed.
Attending a funeral or memorial service is a reasonable excuse to leave home and to enter Greater Sydney, including the Blue Mountains, Central Coast, Wollongong, and Shellharbour.
If you live in Greater Sydney, including the Blue Mountains, Central Coast, Wollongong, and Shellharbour, you cannot participate in a funeral or memorial service or a gathering after a funeral or memorial service at a place of residence.
Caring and compassionate visits (personal visits)
You are allowed to visit a home and have a person visit your home for the purposes of caring, providing care to vulnerable persons, or for compassionate reasons, including where 2 people are in a relationship but do not live together.
Only 1 person may visit a place of residence to fulfil carers' responsibilities, provide care or assistance to vulnerable persons, and for compassionate reasons at any one time. You may bring a dependent child with you if they need supervision and childcare arrangements are not reasonably available.
Gatherings
If you are in Greater Sydney, including the Blue Mountains, Central Coast, Wollongong, and Shellharbour, you must not participate in an outdoor public gathering of more than 2 people unless you are:
working or attending a university or other tertiary education facility
providing care or assistance to vulnerable persons
gathering with other people in your household
providing emergency assistance to a person
fulfilling a legal obligation
moving home or moving your business to a new premises
gathering for a funeral or memorial service that complies with the rules for funerals and memorial services.
QR Codes Scan In
From 12 July 2021 (and when some of these businesses reopen after lockdown), the businesses below will need to display the Service NSW QR code and take reasonable steps to ensure people entering their premises check-in using the Service NSW QR codes or digital sign-in sheet:
Retail businesses and supermarkets
Individual shops within shopping centres
Shopping centres will also be asked to display QR codes at entry points where practicable.
Gyms
Offices, including call centres
Manufacturing and warehousing
Universities and TAFE
Schools including teachers and visitors (such as parents and contractors) but excluding students.
Businesses such as hospitality and hairdressers that were already using the Service NSW QR code will also need to ensure staff and visitors such as maintenance workers and delivery drivers check-in when they resume services after the lockdown period.
Hospitality businesses will now need to extend the use of the Service NSW COVID-Safe check-in to all customers, including takeaway orders.
Businesses that fail to comply with the new health order requirements may be subject to fines and, in case of flagrant breaches, temporary closure orders.
Lane Cove Council Facilities and Services that are Closed
A number of our facilities remain closed, with Council delivering its customer service activities via online, phone and email requests.
From this week, the Council Depot is also closed with skeleton staff for emergencies only. All non-essential works on Council sites will pause with sites made safe and secure until work can resume. The community can rest assured that services such as waste collection, street cleaning and cleaning of public toilets continue.
The following arrangements are in place for Council services and facilities until further notice:
Request for service can be made

 

online

, by email 

[email protected]

 

or by phone 9911 3555. Council has suspended walk-in services at the Lane Cove Civic Centre including Justice of the Peace services.
Lane Cove Library and Greenwich Library remain closed. The Library are advising borrowers to please retain your library items until after the lockdown – no fines will accrue during this period. You can access electronic resources including

 

eBooks, eAudiobooks and eMagazines online

. Residents can once again utilise our Home Library and 

Library to your Door services

 

– we'll deliver your items directly to your door. All other Library services are currently suspended and we are currently reviewing options for limited services. If you need to contact the Library please email 

[email protected]
Lane Cove Youth Centre and Lane Cove Aquatic Leisure Centre are also closed to the public.
The Return and Earn facilities at the Little Street Car Park, and Lane Cove West are closed.
Anyone who has hired a Council venue or sportsfield for community sport has been contacted regarding their booking.
Events taking place up to and including 30 July have been postponed, cancelled or moved online – where events have involved registrations any affected participants are being contacted.
Where Can I Exercise in Lane Cove LGA?
At this stage, all parks and playgrounds remain open  (unlike last time when playgrounds were closed).   Why not try some new playgrounds?  You are allowed to visit them for outdoor exercise and recreation – but no more than 2 people can gather together (except if a family household).  You must observe social distancing and the 4 sq meter rule.
ITC has been updating its playground list and featuring a playground of the week.  Check out parks and playgrounds here.
You must maintain the social distancing measures and observe the four square meter rule when you are exercising.
Lane Cove Council has responded to ITC lights will be turned on at the following sports grounds from 5:00 pm – 8:00 pm to extend the opportunity to exercise safely:
* Blackman Park
* Bob Campbell Oval
* Pottery Green Oval
* Tantallon Oval
 A reminder to please distance socially when exercising and follow the latest NSW Health advice.
ITC asked Mayor Gail Giles-Gidney if Willoughby City Council would look at lighting some ovals in walking distance for Lane Cove North Residents and our Artarmon followers.
Mayor Gail Giles-Gidney advised ITC of the following:
"Thompson Oval, Mowbray Public Oval and Rotary Field, Artarmon Reserve will have lights on until 8 pm Monday to Friday.
What is Happening With Our Local Cafes and Eateries?
Our local eateries are allowed to remain open for takeaways
You must not sit at a cafe and restaurant.  Pubs and Clubs are closed.  Lusso Kitchen, which operates from the Diddy, is allowed to stay open as they only sell takeaway food delivered to your door.  We have put together a list of offerings from local eateries with a direct link to their delivery platform for one-click ordering.   Read more here.  Make sure you bookmark this article.
I Am Concerned About My Neighbour – How Do I Help Them?
If you have an elderly or vulnerable neighbour who needs help – please ask them to contact Sydney Community Services as they provide services such a Meals on Wheels and help with online grocery shopping.  You can contact them on (02) 9427 6425 or email at [email protected].
Lane Cove Cares Reach Out if You Need Help
If you are don't fall within those categories, we will be updating our article on financial assistance soon.
You can obtain financial assistance from NSW and the Commonwealth. But that may not be enough to feed your family.
If you need help, please reach out and email us at [email protected].
We have so many people who are offering help that we can assist you in some way. It does not have to be financial; it could be an issue that you just need a kind voice on the end of the phone.
If you are not feeling ok, or a friend or family member isn't, there is support available.
// BEYOND BLUE CORONAVIRUS WELLBEING SUPPORT //
It's natural to experience feelings of uncertainty and anxiety right now. If you're not feeling ok, you might want to check out the Beyond Blue Coronavirus Mental Wellbeing Support Service.
You don't need to be in crisis to seek support – the service is available to everyone, no matter your situation.
// LIFELINE TEXTLINE //
Some people don't want to talk on the phone. But sometimes nighttime is hard.
You can text with someone from Lifeline. They provide short-term support for people who are feeling overwhelmed or having difficulty coping.
Text: 0477 13 11 14 from midday to midnight.
—
If you or anyone you know is in immediate danger, always call 000.
Schools and Early Childhood Education
The NSW Education Department has stated:
Students are encouraged to learn from home. No student is to be turned away. Early childhood education services can continue to operate.
All non–core curriculum-related activities are to cease on the school site.
Schools should not turn away any student from attending the school site in person. Schools will provide a program of learning for students who attend school and students who are learning from home.
Schools should revert to their remote learning mode, using existing resources and programs. For additional support, including a readiness checklist for principals, refer to Learning from home.
Under the current health orders, there is nothing to restrict students and staff who must attend school from moving between two areas with different levels of restrictions.
OSHC services on and off school sites can continue to operate for before and after school care for any children requiring it.
Even though child care services remain open in NSW, from Monday 19 July, services in Local Government Areas (LGAs) subject to stay-at-home orders can waive gap fees for parents on days they choose to keep their children at home.
Services can also waive gap fees if they are directed to close by a local authority because of COVID-19 until 31 December 2021.
Real estate auctions and open inspections
The following restrictions apply:
Auctions that people attend in person can not take place.
Open inspections of properties can not take place, but inspections may be conducted by private appointment for one person only.
Read our latest Lane Cove Property Update here – it includes properties listed for sale, off-market, and sold (prices are included if disclosed).
Weddings and Church Services
You cannot:
enter Greater Sydney, including the Blue Mountains, Central Coast, Wollongong, and Shellharbour to hold or attend a wedding
leave your place of residence to attend a wedding if you live in, usually work in, or usually attend a university or other tertiary education facility in Greater Sydney, including the Blue Mountains, Central Coast, Wollongong, and Shellharbour.
Services may be live-streamed from a church, meeting house, mosque, synagogue, temple, or another place of worship that is not open to members of the public.
You can attend the premises if you are directly involved in the service or the operation of the equipment for the Livestream event. Find out about the rules that apply to singing in a place of public worship during a live-streamed event.
The place of worship must not be open to members of the public.
Are You Looking to Buy or Sell in Lane Cove?
In The Cove is now producing a weekly Lane Cove Property Update. See our latest update here. 
If you are selling, ask your agent if they are an ITC Lane Cove Property Guide supporter.

In the Cove is on Instagram
If you would like to follow ITC's travels throughout Lane Cove and see some beautiful pictures of where we live, follow ITC on Instagram
 here.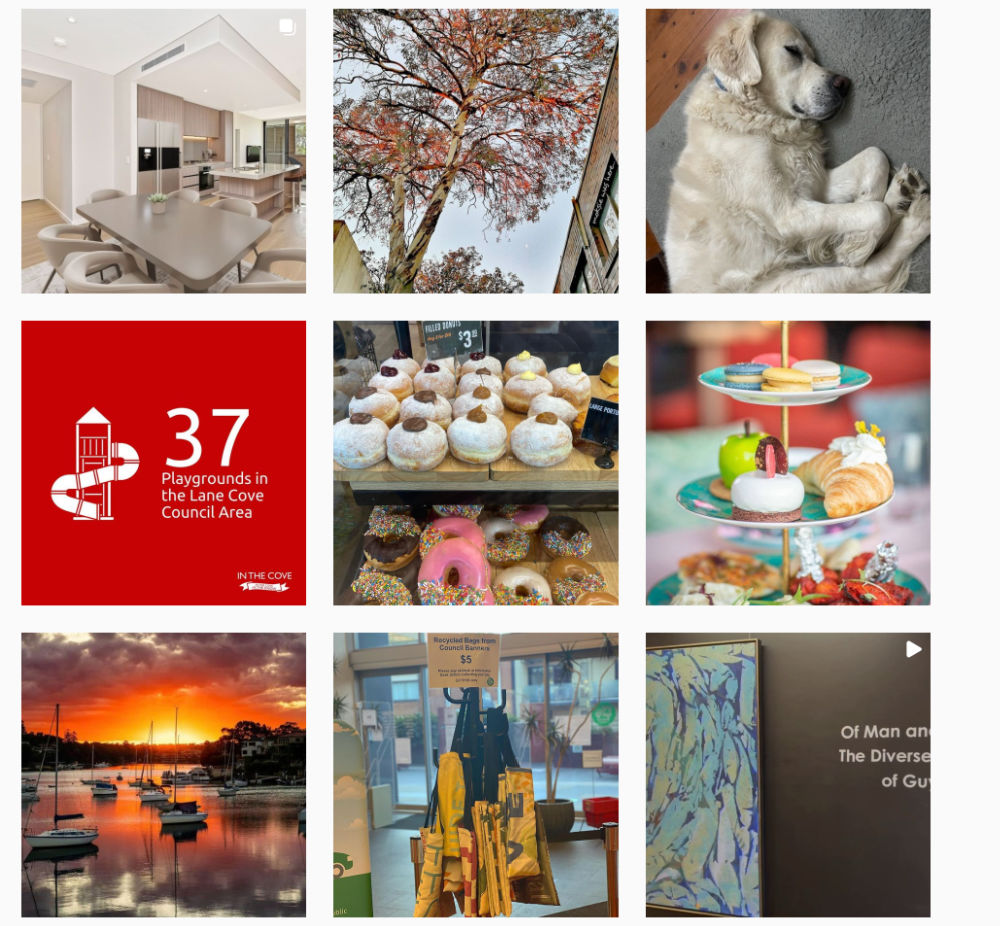 In the Cove Weekly News Blast
Have you ever heard people talking about a hot Lane Cove issue and wondered how they knew about it?  More than likely, they get our newsletter every Wednesday Night at 7.30 pm, and it has all the info that was on any of our social media platforms and more – so sign up now and never have FOMO (fear of missing out). SIGN UP HERE