Buying and Selling a home at any time is stressful, what is it like buying and selling during the COVID19 Delta Lockdown.  One Lane Cove couple told ITC about their experiences.
Why Did You Decide To Buy a House in Lane Cove?
We are a family of 3 with an active 5-year-old boy. We own a 2 bedroom apartment in a lovely part of Lane Cove, close to bushwalks, parks, and reserves.
We had always thought we would move and upsize to a house in Brisbane where property is more affordable.
But in early 2021 we decided we love the life we have in Sydney and the community we have built and we decided to stay in Sydney and search for a house.  We were looking for a house with a manageable yard and that had the potential for us to make our own in the years to come.  Also with increased working from home, we needed more space to allow for this. Setting up and packing down the kitchen table is frustrating after 12months.
We love Lane Cove and the lifestyle it offers. We have very little family in Sydney and really rely on a network of friends as our support. We love that you can see friends kids walking to school and in the local parks and shops. It adds a sense of safety to the community.
Why Did You Buy During the COVID19 Lockdown?
We have kept an eye on the market over the years.  We then started to actively look and by the time we found the house, we eventually purchased we had on two other properties been ready to buy with our finance sorted, contract reviewed and independent inspections.
The lockdown started 4/5 days before the auction. We were hopeful that our upper budget limit would be sufficient based on the average amount that houses were selling about the guide price.  We also hoped that the lock down would deter others. It didn't there were 13 registered bidders on the day.
We also loved the property. It is such a cute property that suits our needs now and has scope for us to make it work even better in the future as our family needs change.
Did You Inspect the Property Before Your Purchased It?
We were fortunate the property was vacant and we were able to arrange a private inspection.  We had also been able to go to open house inspections before the lockdown restrictions kicked in.  During COVID19 vendors and agents seem to be more flexible in arranging private inspection times.   In this case, the agent was  Rebecca Mitchell of Raine & Horne Lane Cove.
What Was It Like Bidding Via an Online Auction?
Nerve-wracking to start!
We had no idea what to expect and neither did the agents really.
We could see other auctions starting 5-10mins before they were meant to with the auctioneer coming out beforehand.
But our auctioneer was bang on time. That caused a bit of panic as we didn't know when we would get our bidder number, what would happen if the tech failed. Would there be a delay? But the agent had provided lots of contact numbers for us if that happened and we just needed to say 'help'.
It was very surreal….clicking on preset amounts….another 25k here and there. But it was so much better having the visual of all the numbers in front of you, being able to talk openly between us about how much more to bid, when to bid. We didn't get psyched out by other people or have to speak behind bits of paper trying to be discreet.
And the biggest bonus, we could put the television on to keep our 5 year old occupied while we made one of the biggest decisions of our lives.
Was There Any Silver Lining to Buying During Lockdown?
More private viewings, the calmness around the auction, the online transactions. We would have hoped for less competition but with 13 registered bidders, it was full-on.
We have bought property before, and looked during the period between the lockdowns. We definitely found it preferable to buy during the lockdown…perhaps we didn't get as psyched out by people at the auction because we couldn't see anyone.
What Happened Next?
The excitement of buying our new house started to fade as we got into the details of selling our current home – a home that we love, delightful neighbours, amidst the Linley Cove community that is both private and family-friendly in an environment surrounded by bush!  But, the show must go on.
We had to find a real estate agent and we decided upon Rebecca Mitchell from Raine & Horne.
We have known Rebecca for many years – she was the listing agent on the very first property that we went to auction for back in 2014/15!
It was somewhat serendipitous that she was the agent selling the house that we bought, and a natural choice to list with when deciding to sell our apartment.
Research shows that buying and selling property is one of the top 10 most stressful events in a person's life. No research has been done on throwing a global pandemic and lockdown into the mix!   Rebecca has provided reassurance, compassion, kindness, and a genuine joy to us during this time.
Negotiating viewings during work hours when you are working from home, unable to use local libraries to connect to meetings and work adds another dimension to selling – along with more frequent viewings for longer durations than normal open homes.
We hope that someone will buy our apartment and love living here as much as we do.  It's time for us to move on.  Buying and Selling real estate keeps happening, pandemic or not.
Where is Your Apartment Located?
Our apartment is located in the beautiful 25 Best Street Complex.  The listing is here.
The picture below shows the indoor pool and tennis court and the view from the balcony.
The picture below shows the complex's indoor pool and tennis court and the view from the balcony.
In the Cove is on Instagram
If you would like to follow ITC's travels throughout Lane Cove and see some beautiful pictures of where we live, follow ITC on Instagram
 here.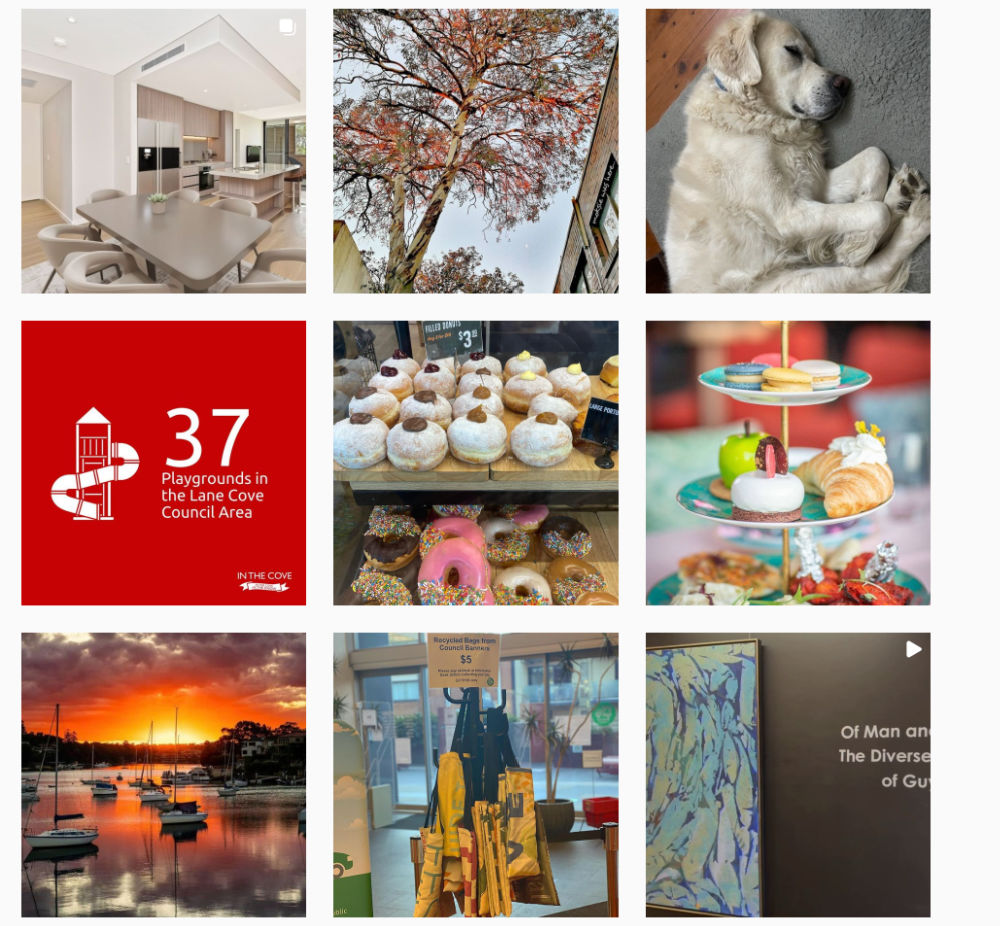 In the Cove Weekly News Blast
Have you ever heard people talking about a hot Lane Cove issue and wondered how they knew about it?  More than likely, they get our newsletter every Wednesday Night at 7.30 pm, and it has all the info that was on any of our social media platforms and more – so sign up now and never have FOMO (fear of missing out). SIGN UP HERE