Welcome to our Business Round Up for April/May.  In this article we tell you about new businesses, renovations, refurbishments and businesses who support ITC by becoming part of our Local Business Directory.
Opened
Xtend Barre Lane Cove has now opened. They are located on Longueville Road near Anytime Fitness. Find our more about what they offer here.
Coming Soon
Cyroclinics Australia will be opening soon.  If you want to know more about the services they offer – more details here.
A new bathroom showroom on the corner of Burns Bay Road and Penrose Street.  It's located at the old Clapham's  Site.
Changed Ownership
Cafe Zivelli has changed ownership. The new owners have grand plans for renovations.
Cafe Geo in Lane Cove North has changed ownership – we hear there maybe extended hours and wait for it RIBS.
Closed
Cafe 652 on Mowbray Road has closed.  It is located next door to Springbok Delights (if you love South African meats, food and winer head to Springbok Delights).
Renovations and Refurbishments
The Diddy is undergoing renovations.  Even the outside of the building has had a spruce up.
Expanded
The Cake Man Lane Cove now has a kiosk store in the Macquarie Centre – let your friends know they can now grab Cake Man products in Macquarie.
Moved
Adam Larissa has expanded and moved to a larger shop in The Village Shopping Centre right next to Soulful Fitness.
North Shore Vet  Hospital has moved to a stunning new purpose built animal hospital.  North Shore Vet is open 24 hours a day and is the place to go when you need some urgent medical care.  They are also fabulous if you take in a pet that is lost they help find the owners – particularly useful after hours.  ITC has used them after hours.  They are located  57 – 63 Herbert Street, Artarmon.
Mangement Changes
Little Red Robin Restaurant has welcomed a new head chefAlberto Ranalli and the menu has been updated.  New dishes include:
Heirloom Tomatoes + Cucumber + Kalamata + White Balsamic (Vegan suitable)
Kangaroo + Parsnip + Espelette Pepper
Hawkesbury Calamari + Celery + Chermoula + Colatura
Grains + Mushrooms + Porcini Jus
Hapuka + Snow Peas + Okra + Buttermilk
Wagyu Flank + Radicchio + Chestnut
Eggplant + Yoghurt + Chickpeas 12
Apple + Cider + Rosemary (Dessert)
Nougat Semifreddo + Piel De Sapo (Dessert)
Lane Cove Business of the Year
Well done to Len Wallis Audio who are Lane Cove Business of the Year. Len Wallis Audio began in 1978 as one man – Len Wallis operating from a small shop in Lane Cove. Len had a vision to build the best HiFI products and service business in the industry. Today Len Wallis Audio is a large showroom on Burns Bay Road with a variety of the latest audio/visual equipment. They are also so generous with sponsoring local community groups and schools and ITC. In 2007 Len Walls received the inaugural Sound and Image Life Time Achievement Award.
Support Local
The Lane Cove Gift Card is here.  You can buy a gift card and it can only be used in participating shops in Lane Cove.  What a way to support local.  Further info here.
For Sale
A hairdresser in the heart of Lane Cove is for sale.  More details here.  Have you ever wanted to run a bakery?  Here is your chance – details here.   There is also another bakery/coffee shop for sale here.
A cafe in the heart of Lane Cove is for sale – details here.  A Thai restaurant is still available for sale in Lane Cove – details here.  One of Lane Cove's longest running pizza and pasta restaurants is up for grabs – details here.
Milestones
Congratulations to the following businesses who achieved Milestones this month:
Lillah Kitchen – One Year Anniversary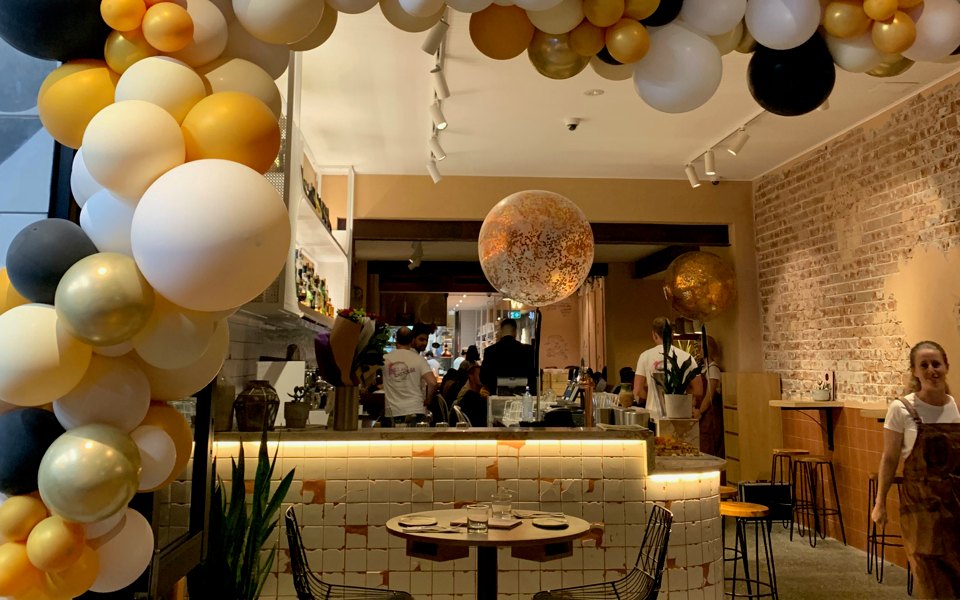 Soulful Fitness – Four Year Anniversary
Oliver Barkley – Lane Cove only pet shop – Two Year Anniversary (they deliver locally)
Fitness Revelation is celebrating 15 years in Lane Cove in June 2019 and we will bring you an article on them soon. They have 15 members who have been with them for 15 years.
Business Directory Listings
The Figtree Veterinary Clinic in Lane Cove provides modern, professional and affordable health care for your pets. They aim to make your pet feel at ease in the clinic with a caring and gentle approach to treatment and consultations. Many of their staff are trained in Fear Free techniques, to make your pet's visit as stress-free as possible. The dedicated staff and leading veterinarians are all passionate about pets and avid animal lovers. They are the first choice for pets in Lane Cove, Woolwich, Linley Point and Hunters Hill.
At Figtree Veterinary Clinic, you will be fully supported with sound advice first and foremost. They know that helping clients starts with providing a good understanding of health care issues and treatment options. With fully equipped examination rooms, xray, ultrasound, blood testing machines and pharmaceutical stores they provide on-the-spot assistance for all pet health and medical needs.
You can find them at rear of 225 Burns Bay Road Lane Cove. Enter via Beatrice St where you will find a large car park out the front
Services we provide: 
Preventative health and wellness care
Consultations for health concerns
Dentistry
Surgery
Diagnostic Services
Emergency Services
Cat Boarding
Puppy preschool
House Calls and Nurse pick up and drop off services
End of life care and cremation
Eden Gardens take pride on our genuine commitment to both social and environmental causes with a mission to improve the quality of life in the wider community through horticulture and education. We want to enrich people's lives with plants
If you love life, you'll love Eden Gardens, it's so much more than a garden centre! For a great family day out lose yourself in our inspirational display gardens or linger over a delicious lunch in our cafes, then browse the huge range of indoor and outdoor homewares, gifts and plants and take a bit of Eden Gardens home!
Macquarie Park's Dragonfly Café at Eden Garden
Open 7 days for breakfast, lunch and afternoon tea
Specialising in delicious modern Australian cuisine, our licensed cafe extends into the beautiful garden surroundings of Eden Gardens.
Our menus include gluten-free and vegetarian options featuring fresh, seasonal produce.
Whether you are dining for business or pleasure, you are sure to enjoy a quality meal in our comfortable indoor or outdoor seating. Come in and try our in-house made cafe and perfectly ground coffee
Riverview Pharmacy is located beside Marjorie Park on Tambourine Bay Road in Riverview. In addition to the standard chemist offerings, Riverview Pharmacy also provides compounding prescriptions and DosePaks.
Compounding Pharmacy
Custom made medications tailored to individual patients. We can compound capsules, suspensions, specialized creams, ointments and pastes. We also compound bio-identical HRT such as Troches and creams.
We compound pharmaceuticals for 8 main reasons:
It's not commercially available.
It's an off licence pharmaceutical.
Your doctor wants a customized formulation that is not manufactured.
When the patient is allergic to certain preservatives, dyes or binders in available off-the-shelf medications
You want the medication reformulated so that it's more palatable or want another way to deliver the medication such as a suppository, pessary, suspensions, lollipops, creams and ointments.
When medications are discontinued by the manufacturer.
When medications require flavor additives to make them more palatable for some patients, most often children.
When medicines are out of stock from manufacturer's.
Come in and chat to us for your compounding needs.
DosePaks
DosePaks for Aged care and for community patients. We make managing your medications easier so you can spend more of your time doing the things you love.
Complimentary delivery to (Riverview, Lane Cove, Northwood, Longueville, Greenwich)
Kitty Cat Luxury Boarding
Kitty Cat Luxury Boarding delivers personalised care in a home environment.
Situated in Greenwich, Kitty Cat Luxury Boarding offers an individual large space with the choice of accomodation including a garden room with a leafy green outlook.
Qualified Animal Certificate 11 carer, ensures hygiene and care protocols are followed. All cats must have up to date vaccinations and a certificate of proof must be provided.
Overnight or longer stays are available.
For further information please contact Barbara Oliver 0439 848 665
Adam Larissa
Adam Larissa Fashion Boutique is located in the Village Shopping Mall on Buns Bay Road.  They are located near Soulful Fitness and have recently expanded their range.
Adam Larissa carries some classic Australian and New Zealand labels: Andiamo, Toorallie wool, Goondiwindi cotton, Vassalli (great Jeans) and Megan Salmon (evening wear)
They are confident that you will find something to suit your unique style.
The above business descriptions were provided to ITC by the businesses.
THINGS WE WILL DO FOR YOU
CATERING
With our professional team of chefs, wait staff, and event managers, you can rest assured that your catering will exceed your expectations every time.
CONSULTANCY
Having over 18 years of experience in the hospitality industry, we aim to help you in making your business both successful and profitable.
RECRUITMENT
DWL Hospitality is able to recruit and provide Wait Staff and Chefs. Our staff are available for long-term permanent positions or immediate casual placements.
EQUIPMENT
With the industry contacts to get you the most competitive prices, we are able to provide an extensive range of high quality hospitality equipment options, as well as providing innovative financing solutions.
Frankie and Harry Photography
A team of 3 local Mums who are passionate about natural light newborn, family and wedding photography. We  photographing genuine moments of love and laughter between loved ones. Our  style combines natural subtle poses and spontaneous unpoised moments and my aim is to collaborate with you to achieve photos you will cherish for a lifetime.  For a booking call 0481 395 232
We Focus On Delivering A Quality Service
Your children and your financial security are likely to be the most important things to you. We understand that. It is reflected in all the steps we take on your behalf to help you secure the best family law outcome possible.
You can be confident that we will :-
Listen to your concerns
Explain each step as you go, so you know exactly where you stand
Communicate to you clearly and not get "bogged down" in legal jargon
Be transparent about our charges
Represent you and your family law interests as you want to be represented
Be available to answer your questions
Family Law matters can be difficult for the people involved. It's our job to make it easier, by providing you with trusted advice and quality representation. As a firm, we believe in exploring all available options, including mediation, negotiation, collaborative law and litigation, in order to achieve the best possible outcome for you.
Want to look like you've been holidaying on the Amalfi Coast?
Using MediterraneanTan – the official tan of Miss Universe Australia – we'll help you get that just-back-from-holiday glow. Best of all, you won't even have to leave the comfort of your home.
MediterraneanTan is designed to reflect your individual skin tone to ensure there is no nasty orange colour. We also offer a violet or green-based solution to ensure the most flawless look for all skin types.
The two hour formula is perfect for those with busy schedules – and will also save the bed sheets!
All MediterraneanTan products contain Aloe vera and vitamin A, C & E to revitalise skin and provide hydration. In addition, their products are all made in a certified organic environment and are paraben free.
THE RESULT: AN EXOTIC TAN COMBINED WITH A LUXURIOUS SKIN TREATMENT.
Check to see if we travel to your area.
Request booking here
All north shore towing provides accident – prestige – machinery towing services Sydney wide.
ITC Celebrates
ITC hit a few milestones recently.  We now have
Facebook – Over 14 000 followers
ITC Lane Cove Chat – Over 4000 members
Instagram – Over 5000 followers
In The Cove – Web Site Views – Over 1.5 million views since we started our website.
If you would like to advertise and promote your business locally to a very engaged audience email us at [email protected] or message us on Facebook