This week Lane Cove was in the news for all the wrong reasons.  The media reported about an alleged assault on a schoolboy on Burns Bay Road.  Lane Cove was also in the news after police put out a call for anyone who may have witnessed anyone acting suspiciously around Rotary Field after two fires last week.
The air quality was low this week with a smoke haze covering Sydney for most of the week. Our cover photo was taken by Luke David Cannon
Lane Cove November Council Meeting
Lane Cove Council held their monthly meeting on Monday 18th November 2019. Nine members of the public spoke about the Redevelopment of the Greenwich Hospital Site. Agenda items are listed below.
Schoolboy Bus Attack
A North Ryde man and a woman have been charged in relation to an incident involving a schoolboy on a bus travelling along Burns Bay Road Lane Cove this week.  Read more here.
Light Up Lane Cove Cancelled
Lane Cove Council has advised that they will NOT be running the Light Up Lane Cove Competition this year. People liked the fact that there was an online map and houses entered not so much for the prize money (which the winners always donated to charity) but for the joy it brings Lane Cove Residents. In the Cove could not let this tradition lapse and we are in the process of pulling together a Lane Cove Christmas Lights Comp and map. Rebecca Mitchell Raine & Horne spoke to ITC about the comp and is on board as our major sponsor – she said quote unquote "we must have Christmas lights in Lane Cove".
Please jump on board and help Lane Cove shine this Christmas.
Gold for Gunnedah Update
Last year Lane Cove reached into their pockets and with the help of over 60 local businesses, schools, child care centres, pre schools, sporting clubs and church groups and Lane Cove Council and raised nearly $32 000 for ITC's Gold for Gunnedah. Last weekend Brownyn Deanne (who was an amazing volunteer for the campaign) and Lane Cove Rotary visited Gunnedah and saw first hand what had happened with our donations.  Read the article that appeared in the Naomi Valley Independent.
Lane Cove Council's Christmas Drought Appeal for Gunnedah and Cobar
The Lane Cove Council has launched a drought appeal to bring some Christmas cheer to Gunnedah (our sister city) and Cobar. Here is how you can donate a gift card to this wonderful cause and put a smile on someone's face for Christmas.
The Alcott and ITC's Christmas Trivia Fundraiser
The Alcott and In the Cove have organised a Christmas Trivia Fundraiser on Monday 9th December 2019.  Put this date in your diary to come to The Alcott for a Trivia Night hosted by In the Cove.  In the Cove in a previous life owned a Trivia Company and has been a contestant on Sale of the Century, Millionaire Hot Seat, Think Tank and Wheel of Fortune.  More details here.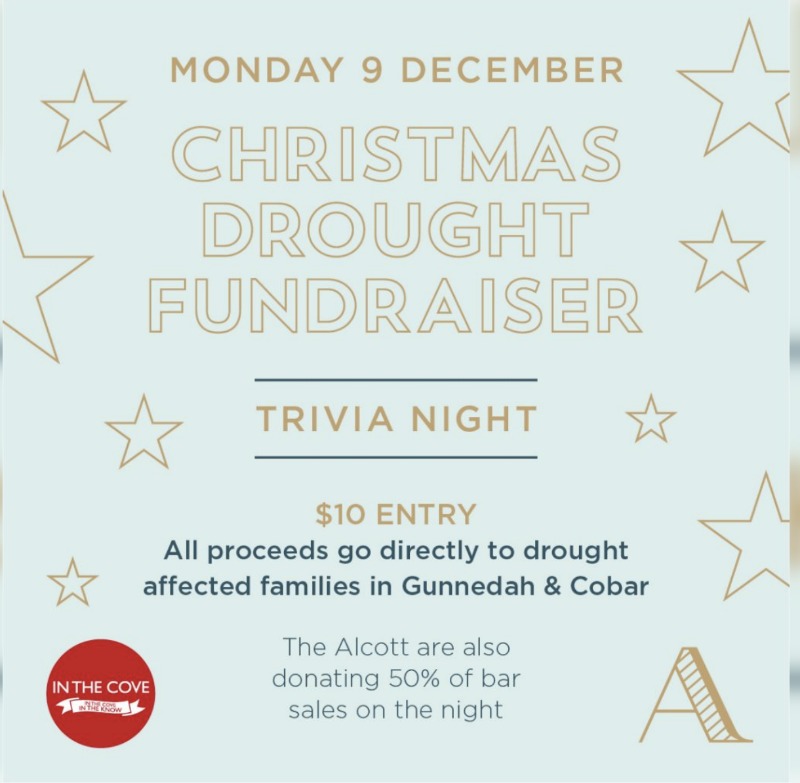 Level 2 Water Restrictions Starting 10 December 2019
The Bureau of Meteorology has predicted a hot summer, with no forecast for significant rain. Level 2 water restrictions will apply from 10 December 2019.
Water restrictions target outdoor water use, but there are some indoor water uses that are subject to restrictions, such as filling indoor swimming pools and water features, and operating car wash businesses in shopping centre car parks.
The restrictions apply to everyone in Sydney, the Blue Mountains and the Illawarra. This includes all residents and businesses.
The biggest changes

You can only use a watering can or bucket to water your garden before 10 am and after 4 pm.
You can only use drip irrigation or smart watering systems for a maximum of 15 mins a day before 10 am and after 4 pm.
You can only top up an existing pool or spa, using a hose fitted with a trigger nozzle, watering can or bucket for a maximum of 15 minutes a day. You can only do this to replace water lost through evaporation, not to replace water deliberately removed from the pool or spa.
You can only wash your vehicles with a bucket and sponge. You need a permit to fill new or renovated pools and spas that hold more than 500 L.Report Leaks
Shorties
Shorties has just celebrated their second birthday.  Shorties is a small bar on Longueville Road that is very popular for a quick drink, a night out or some great food.  They are an ITC sponsor and we thank them for their support.
Contact Details
Address:  Shop 1/96 Longueville Road  Lane Cove NSW
Website: Shortieslanecove
Facebook: @ShortiesLaneCove
Instagram:  @ShortiesLaneCove
Email:  [email protected]
ITC Business Community Supporter: Shorties Lane Cove
Licensed:  Beers, Wines, Cocktails, and Spirits
Opening Hours:
Monday: Closed
Tuesday-Saturday: 4pm-Late
Sunday 4-10pm
Our cover photo is my Luke David Cannon 
In the Cove is In the Know And You Could Be Too…
To make sure you don't miss Lane Cove info sign up to our newsletter. It comes out every Wednesday Night at 7.30pm and includes a wrap up of everything posted on our Facebook site in the previous week.
Read this week's newsletter
Did you know that In the Cove has an instagram page? Yes we do and we feature pictures from our roving reporters and our ITC team that do not appear on our Facebook page. Follow us on @inthecove