We have put together your guide to Christmas Carols in Lane Cove.  You have a few choices if you want to join in and have a singalong.
Lane Cove Concert Band Christmas in the Park
Come and join the Lane Cove Concert Band at their annual Christmas event – there will be lots of festive music, carol singing & snacks to buy.  This event will kick off Christmas Carols in Lane Cove.  Pop along to Hughes Park on 1 December 2019
BYO picnic (food, drinks and blanket) and your best singing voice as you sing along with featured artist Naomi Giselle and the Karingal and Turrumburra Concert Bands and Cameraygal Wind Symphony.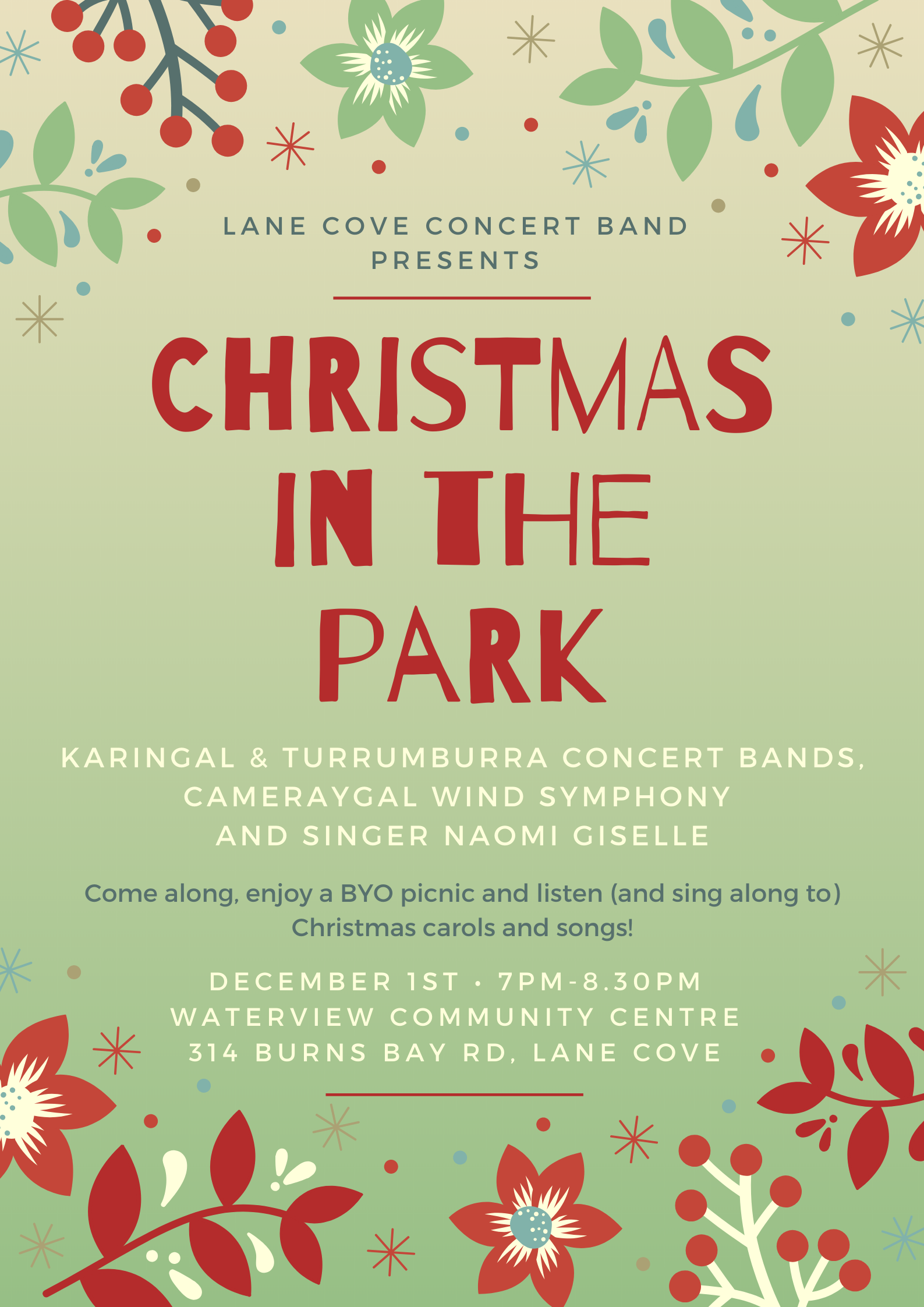 Join the community for the annual Greenwich Carols by Candlelight on 2nd December at 6.00 pm with funds raised on the night going to the Youth Off The Street charity.
Carols in the Plaza
The combined churches of Lane Cove are holding their Carols in the Plaza on
Sunday 9 December, from 6.30 pm in the Lane Cove Plaza.
Grab a bite to eat, then grab a patch to sit on in the plaza.  Bring your blanket.  Candles are available to buy and all proceeds go to charity.
The carols are accompanied by the Lane Cove Concert Band.  Santa Claus comes and usually makes a big entrance on a Harley.
Helen Street Reserve
will be filled with singing, as Lane Cove joins together to celebrate Christmas on 15th December.  There will be Christmas Carols, activities, food, and much more fun for the whole family!  The BBQ starts at 6 pm.

Note- In the event of wet weather, this event will be held in the St Andrew's Church building in Lane Cove.
Christmas Carols in the Lane Cove Library
La Voce Community Choir will fill the Lane Cove Library with the sound of music.  You will hear your favourite carols on 12th December 2019 at 6.30 pm to 7.30 pm. Free event.
Join the Metropolitan Baptist Church to sing traditional carols and to hear the Christmas story. Refreshments will be served on 22nd December 2019 at 6.00 to 7.30 pm.
In the Cove is In the Know And You Could Be Too…
To make sure you don't miss Lane Cove info sign up to our newsletter. It comes out every Wednesday Night at 7.30pm and includes a wrap up of everything posted on our Facebook site in the previous week.
Read this week's newsletter
Did you know that In the Cove has an instagram page? Yes we do and we feature pictures from our roving reporters and our ITC team that do not appear on our Facebook page. Follow us on @inthecove