Well done to the Lane Cove Council for initiating the Lane Cove Council Christmas Drought Fundraiser for residents of Gunnedah and Cobar.
Many of us are aware there are hundreds of communities in NSW suffering the effects of the drought. Lane Cove Council is helping to support two of those communities in the grips of drought; Gunnedah, our sister city; and Cobar, in central western NSW.
Lane Cove Council are inviting Lane Cove residents to make a difference in these communities this Christmas by donating a gift card which families and residents in need can use in their local town to buy essentials for themselves and also support the local economy.
How Do I help?
To show your support, simply follow these two steps:
Purchase one of the gift cards from the list below for any amount you choose.; and
Drop off your Gift Card in one of the wishing wells located at the customer service desks at Lane Cove Civic Centre and Lane Cove Library by Thursday 12 December 5:00pm.
Donate to Gunnedah by purchasing: (no surcharges or merchant fees apply)
A Lane Cove Gift Card – these cards have been activated for use at the participating stores in Gunnedah, enabling Gunnedah residents to use Lane Cove Gift Cards. Available to purchase from various stores in Lane Cove, for a list of load up stores visit www.lanecoveshopping.com.au.
Donate to Cobar by purchasing: (no surcharges or merchant fees apply)
An IGA supermarket Gift Card – which can be used by Cobar residents at Cobar's IGA supermarket. Available from IGA Greenwich, 87-89 Greenwich Road and IGA Lane Cove West (Agora), 165 Burns Bay Road, Lane Cove West. Please ask staff at the counter.
Donate to Gunnedah or Cobar by purchasing: (surcharges and merchant fees may apply)
A MASTERCARD or VISA prepaid gift card – which can be used by Gunnedah and Cobar residents in any store wherever MASTERCARD or VISA is accepted. These cards are available to purchase from numerous outlets including Australia Post and Australia Post online.
Lane Cove Council will distribute the gift cards to Gunnedah and Cobar Councils which will give the cards to local charities for residents and families in need in these communities. Thank you to those who have already given generously by dropping off a gift card.
At the Extraordinary Council Meeting held on Monday 4 November, Council pledged to make a separate donation of $2500 to each town (total of $5000) to Gunnedah and Cobar Councils for residents affected by the drought before Christmas.
Please note: When making your gift card purchase please note Gunnedah does not have an IGA supermarket and Cobar does not have a Woolworths or a Coles supermarket.
The Alcott and ITC's Christmas Trivia Fundraiser
The Alcott and In the Cove have organised a Christmas Trivia Fundraiser on Monday 9th December 2019.  Put this date in your diary to come to The Alcott for a Trivia Night hosted by In the Cove.  In the Cove in a previous life owned a Trivia Company and has been a contestant on Sale of the Century, Millionaire Hot Seat, Think Tank and Wheel of Fortune.  More details here.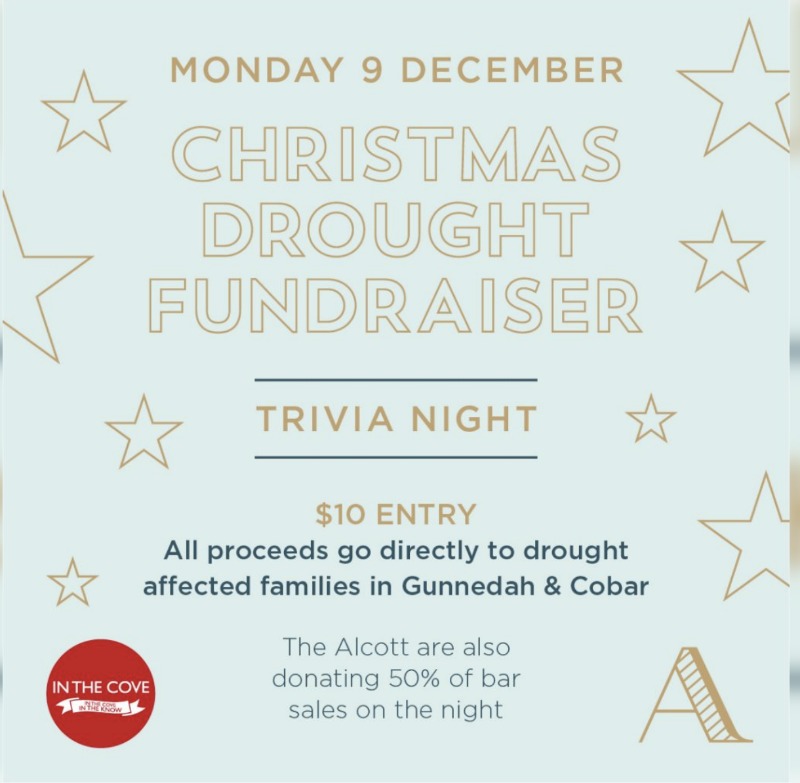 FOMO No more …
To make sure you don't miss Lane Cove info sign up to our newsletter. It comes out every Wednesday Night at 7.30pm and includes a wrap up of everything posted on our Facebook site in the previous week.
Read this week's newsletter
Did you know that In the Cove has an instagram page? Yes we do and we feature pictures from our roving reporters and our ITC team that do not appear on our Facebook page. Follow us on @inthecove