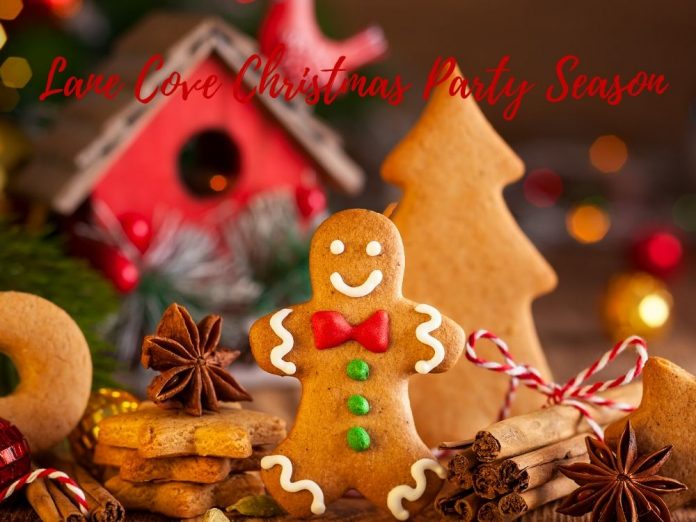 It's that time of the year when we like to get together with our workmates or family and friends.  Have you locked in a date to celebrate, but don't know where to go or what to do?  Relax – In the Cove is here to help with our Lane Cove Christmas Party Season Guide.
---
Dine in
---
The Alcott

The Alcott has many different options available for group bookings, private event spaces and event catering. Email to find out how The Alcott can help you organise your next get together.
Function Pack: Email
Facebook: @thealcott
Instagram: @thealcott
Email: [email protected]
Phone: 029428 5155
Website: thealcott.com.au
Address: 1 Birdwood Ave Lane Cove Lane Cove, New South Wales,
---
Little Red Robin
Christmas event packages are now available at Little Red Robin!  Download Packages – Festive Season Events at Little Red Robin Rest.
If you would like to discuss your event needs please email: [email protected]
Function Pack: here
Facebook: Littleredrobinrestaurant
Instagram: littleredrobinrestaurant
Email: [email protected]
Phone: 0294189529
Website: littleredrobin.net.au
Address: 4/85 Longueville Road, Lane Cove New South Wales 2066 (via Birdwood Lane)
---
Lillah Kitchen
Function Pack: here
Facebook: @LillahKitchen
Instagram: @lillahkitchen
Email: [email protected]
Phone: 0295881411
Website: lillahkitchen.com
Address: 128 Longueville Road, Lane Cove NSW 2066
---
The Diddy
Book before it's too late!
Make sure you secure your booking for your end of year Christmas party in 2019. Enjoy great food, drinks and atmosphere this Christmas.
Facebook: Longuevillesportingclub
Instagram: thediddy
Phone: 02 9427 2210
Website: thediddy.com.au
Address: Cnr Kenneth St & River Rd, Longueville NSW 2066
---
Lane Cove Golf Club

Facebook: lanecovegolfclub
Email: [email protected]
Phone: 02 9427 6631
Website: lanecovegolfclub.com.au
Address: 180 River Road, Northwood, NSW 2066
---
Four Frogs Crêperie
Four Frogs Creperie Lane Cove has  a dedicated function menu for group bookings. Or, you can make your own menu and choose from a selection of  delicious French crepes and galettes (savoury crepes). You're welcome to contact Four Frogs if you have specific requirements or if you want to discuss the function menu in detail.
Function Pack: fourfrogs.com.au/functions
Facebook: @Fourfrogslanecove
Instagram: @fourfrogscreperie
Phone: 02 9420 3944
Website: fourfrogs.com.au
Address: 115-117 Longueville Road Lane Cove, New South Wales
---
Party at Home – Catered
---
Porters Liquor Northwood
 
Facebook: @portersliquornorthwood
Instagram: @portersliquornorthwood
Email: [email protected]
Phone: 02 9427 1337
Website: portersnorthwood.com.au
Address: 1 Northwood Road, Northwood NSW 2066
---
Walkers Party Hire
Walkers Party Hire  proudly offer a huge variety of party hire equipment including quality tables, beautiful chairs, indoor and outdoor dance floors, disco lighting, casual ottoman cubes & benches, market umbrellas, oven warmers, ice tubs, bbqs, crockery, cutlery and glass ware.
Events Pack: walkershire.com.au
Facebook: @walkerspartyhirenorthshore
Instagram: @walkers_party_hire
Phone: 02 9428 3922
Website: walkershire.com.au
Address: Unit 3, 12 Chaplin Drive, Lane Cove West NSW 2066
---
Bern the Chef
Bern the Chef loves cooking, everything from roasting pork crackle, peeling potatoes and whipping meringues. We bring the experience, and you bring the guests, it's a perfect match!
Bern the Chef works in a Council Approved Commercial Kitchen, right here in Lane Cove!
Facebook: @bernthechef
Instagram: @bernthechef
Email: [email protected]
Phone: 0402 092 574
Website: bernthechef.com.au
Address: Lane Cove Community Hub Building. Lower Ground, 1 Pottery Lane, Lane Cove, 2066
---
Old Quarter Cafe
Old Quarter Cafe is modern Australian with infusions of Japanese and Vietnamese flavours. They do amazing catering with a huge variety of options and pricing.
Facebook: @oldquartercafe
Instagram: @oldquartercafe
Email: [email protected]
Phone: 02 9420 1103
Address: 1-3/ 105 Longueville Rd, Lane Cove
---
Chargrill Charlie's Lane Cove
Chargrill Charlies been doing catering for a long time. They essentially do two types of catering, their in store catering, for picnics, functions and parties where you can select from any of the food they normally sell in the shop. And their corporate catering, which caters for bigger parties and events.
Catering Info: catering.chargrillcharlies.com
Facebook: @cclanecove
Instagram: @chargrillcharlies
Phone: 02 8095 9761
Website: chargrillcharlies.com
Address: 27 Burns Bay Road, Lane Cove NSW 2066
---
The Ground Caffe
Let us cater for you. From kids party, family gathering, birthday, Baby shower, we have got you covered. We can do both cocktail and buffet style menus that suit your need. Please inquire within for quotes.
Facebook: @groundcaffe
Instagram: @groundcaffelanecove
Phone: 02 9418 3099
Address: Shop 14, Lane Cove Market Square, 24-28 Burns Bay Road, Lane Cove NSW 2066
---
At Jon-Patrick our passion is creating something beautiful and delicious as well as creating a menu that will entice all your senses.
O
ur simple philosophy is that food need not be perfunctionary but something to be enjoyed, a chance to indulge or escape the everyday.
​Great food is about taking something raw and creating an experience that leaves a lasting memory.
Catering Info: jon-patrick.com.au/our-services/
Facebook: @myfriendthechef
Instagram: @jon_patrick2016 
Phone: 0414 729 993
Website: jon-patrick.com.au
Address: Lane Cove NSW 2066
---
At Cake Shack Sydney we want every experience to be a unique one, providing people with great service, amazing cakes and wonderful memories.
Cake Shack Sydney put in 100% attention to detail every time!
Facebook: @CakeShack
Instagram: @cake_shack_sydney
Email: [email protected]
Phone: 0420 757 273
Address: Lane Cove, NSW 2066
---
The Cake Man – Lane Cove
The Cake Man Lane Cove has its legendary Gingerbread Houses on sale plus a huge assortment of cakes.
---
Party at Home – Self Catered
---
Hummerstons is taking orders for their amazing Kazcanowski Ham.  You can order a 7-12kg whole ham, 4-5kg half ham or 1-3kg boneless ham.   Then of course there is their ham jam, ham bags and ham anything else you need.  Order soon to avoid being disappointed.
---
Springbok Delights
Don't leave your Christmas feast to chance. For the best quality Hams, Turkeys and other meats, order now at Springbok Delights!
Facebook: @Springbokdelights
Instagram: @Springbokdelights
Website: www.springbokdelights.com.au
Email: [email protected]
Phone: :(02) 9427 5168
Address: 656 Mowbray Road, Lane Cove North NSW 2066
Decorate your house with fresh flowers or a stunning natural wreath from Pureflowers Lane Cove.
---
The Spotted Orchid
From the traditional  to funky and unusual blooms, anything goes for Festive Flowers! Incorporate your favourite flower with other beautiful blooms or leave the choice to The Spotted Orchid, either way they are sure to be 'wowed'!  Check out their Succulent Wreath
Address:
1/44 Burns Bay Road, Lane Cove NSW 2066
---
Friends and Family – Where to Stay in Lane Cove
---
Hotel Urban St Leonards has a deal for ITC followers. If you have relatives or friends visiting but no room at home, then Hotel Urban is close by. Book your friends into the Hotel Urban and use the code ITC on their website where it asks for a promo code, and a discount will be added to all of their flexible rates. Thank you to the Hotel Urban for offering this discount to ITC followers. Start booking for the festive season!!!
---
FOMO No more …
To make sure you don't miss Lane Cove info sign up to our newsletter. It comes out every Wednesday Night at 7.30pm and includes a wrap up of everything posted on our Facebook site in the previous week.
Read this week's newsletter
Did you know that In the Cove has an instagram page? Yes we do and we feature pictures from our roving reporters and our ITC team that do not appear on our Facebook page. Follow us on @inthecove
---