On 2 January the  NSW Health Minister signed the Public Health (COVID-19 Mandatory Face Coverings) Order 2021. The Order mandates the wearing of masks in certain indoor premises:
retail or business premises that provide goods or services to the public, including:

supermarkets,
shopping centres (but not an indoor recreation facility in a shopping centre),
bank branches and post offices,
hairdressing salons, nail salons, beauty salons, tanning salons, waxing salons, spas, tattoo parlours, massage parlours, and
betting agencies and gaming lounges

Entertainment facilities (such as theatres, cinemas and concert halls),
Any part of a premises licensed under the Liquor Act 2007 that is used primarily for gaming. Licensed premises include pubs, registered clubs and casinos,
Places of public worship and any other premises on which a religious service is being held,
Residential aged care facilities (but not the residents of the facility),
At a public transport waiting area (e.g. a bus stop or train platform), or travelling on public transport including a train, bus, light rail or ferry, or taxi, or a ride share service.
The Order obligates staff with customer-facing roles in hospitality venues to wear a mask, and the operator of the venue must ensure this is followed.
The Order defines "fitted face covering" to mean a mask or other covering that: (a) fits securely around the face, and (b) is designed or made to be worn over the nose and mouth to provide the wearer with protection against infection.
The following people are not required to wear masks:
Children aged 12 or under, and
Persons who have a physical or mental illness, condition or disability that makes wearing a mask unsuitable, for example, a skin condition, an intellectual disability, autism or trauma.
A person may remove a mask if they are:
eating or drinking,
communicating with another person who is deaf or hard of hearing,
at work and the nature of the work makes wearing a mask a risk to the person's, or another persons', health and safety, or means clear enunciation or visibility of their mouth is essential,
asked to remove their mask to confirm their identity.
Penalties of $200 will apply for not wearing a mask. There are also penalties for hospitality venue operators who fail to ensure their staff wear masks as required: $1,000 for an individual and $5,000 for a corporate operator.
The Order commences on the beginning of 3 January 2021.
On 3 January the Minister made the Public Health (COVID-19 Mandatory Face Coverings) Amendment Order 2021. This amendment clarifies:
the requirement to wear a mask applies to all parts of railway and light rail stations, including station concourses.
the general obligation to wear masks does not apply to customers in hospitality venues, but is confined to customer facing staff.
that public transport services includes community transport.
How Do I Wear a Mask Properly?
We asked Sarah Martin, Lane Cove Mum and Registered Nurse with over 30 years of experience working in an Operating Theatres as a Clinical Nurse Specialist on how to properly wear a mask.
How do I wear it?
Pinch the mask at the bridge of your nose. Pull the bottom of the mask underneath your chin so both your nose and mouth are covered. (Sarah is correctly wearing a mask in our cover photo).
If you're going out twice a day it's important to have TWO masks – wear one on each occasion, then wash and clean appropriately OR if it's a disposable mask THROW it out!
Please remember that other people's particles can stick on the outside of your mask
Treat the outside of your mask as DIRTY – so please wash it after every use (if it's cloth OR Throw it away if it's disposable!)
Can I wear it with my nose sticking out?
NO! 🤦‍♀️Your nose must be covered by the mask too!
I wear glasses and they fog up!
Yes, I wear glasses too so I hear you! Make sure your glasses rest on top of your mask not underneath it.
The bands of the mask around my ears hurt😳
A simple solution to this is to cut one end close to the actual mask (let's say the bottom band at each side) then tie them at the back of your head. There are band holders that you
can purchase on the internet
– to help ease ear pain.
Does it decrease my Oxygen intake? 
No, your oxygen intake will remain the same. You may recall (if you've ever had an operation) that a peg-like cord is attached to your finger- this measures the Oxygen in your blood. There is NO difference to this rate if you do or do not wear a mask.
Why should I bother, no one else is doing it! 
The simple answer to this is – I KNOW where I HAVE been but I do not know where YOU have been. Protect yourself.
Please ensure you are wearing one that is made with the government's standard guidelines – 3 layers are the minimum and the outer layer must be fluid resistant. (Yes people do spit when they talk, it's not intentional- it just happens ).
If you feel sick (even if it is the slightest of symptoms) get tested.  Symptoms include, runny nose, sore throat, dry cough, headaches, body aches and loss of smell and taste.  Details on where to get tested locally
here
.
Seriously, wear a mask – it's no big deal at the end of the day and you know what…you may actually prevent yourself OR a loved one from catching this dreadful virus.
My son is a Doctor in a Covid19 ward in Melbourne – please let's keep ourselves safe so he doesn't have to care for people just like us.  Let's keep our healthcare workers safe as well.
---
Safety Pup
DISPOSABLE FACE MASK – free delivery Lane Cove
Safety Pup is a small Lane Cove business distributing face masks from an established international distributor with headquarters in Hong Kong who has a track record of supplying to the US and UK.
We have a large supply of introductory stock for multiple businesses/ individuals and can resupply quickly if needed.
These are soft and comfortable disposable face masks with meltblown middle layer that stands up against international and Australian standards.
We have an ongoing approval certificate to supply these non-sterile, single-use, surgical face mask from the Australian Government. ARTG identifier: 336906.
Style: Disposable
Quality: 23 ply disposable face mask to filter particulates and fluids, surgical type, single use.  filters also available for purchase.
Size: Adult sized  175mm x 95mm
Price: Introductory offer of $25 per box of 50
Facebook: @facemaskbysafetypup
How to order: Free lane cove pick up from the village… or same or next day delivery by a diligent mum of 2. Alternatively, opt for delivery within Australia on the website.
Address: Shop 15, 115 Longueville Road, Lane Cove NSW 2066
Payment method: Cash or card in store
Email: https://facemaskbysafetypup.weebly.com/contact.html or PM on Facebook.
Style: Plain or pattern
Quality: 2 layers of premium fabric. N95 filters also available for purchase.
Size:  Adult and Children
Price: $18 – $26
Mobile: 0415 993 210
Facebook: masterpiecedressmaker
Instagram: masterpiecedressmaker
How to order: Head in store to purchase. Online ordering available soon.
Address: Shop 15, 115 Longueville Road, Lane Cove NSW 2066
Payment method: Cash or card in store
---
Go Vita Lane Cove
Let us take your health and wellness to a whole new level to help you get the most out of life ! Our shop has been serving the community of Lane Cove since 1953 and as such one of the few remaining original health food stores in Sydney. We have a large range of supplements, organic & gluten-free food, natural skincare & cosmetics as well as Eco-friendly products.
Style: Black or White 
Quality: 3 layer cotton mask with soft inner layer and waterproof outer layer
Size: Adult
Price: $8
Facebook: Go-Vita-Lane-Cove
Email: [email protected]
How to order: Head in store, 15A Burns Bay Road, Lane Cove

---
twoface LABEL is an Australian knitwear label owned by two local Lane Cove mum's that plays with the classic knit to create LUXE VINTAGE SPORTIF knitwear for women.
A month ago they were approached to make face masks for a disability association and of course they accepted. They received positive feedback and as a result, started making them for their knitwear label.
They have 2 styles that can be purchased on their website – twofacelabel.com
Styles:
The Embroidered Mask – comes in various solid colours and has adjustable elastic that sits behind the neck.
The Sportif Mask – comes in various colours, it has elastic that sits across the bridge of your nose and has adjustable elastic that sits behind the neck.
We also have an industry mask that we made for different organisations. (Very similar to Sportif mask) We are taking bulk orders for these via email.
Quality: 
All our masks:
Are Australian Made
Have 3 layers according to the Department of Health and Human Services Guidelines
Outer layer is water resistant polyester. Middle layer is lightweight polyester. Inner layer is cotton.
Have a pocket for those that would like to insert a filter .
Are adjustable with extra elastic around neck with toggle to lock in place
Are machine washable or quick hand wash after every use .
Size: Masks are adjustable to suit most sizes. (not recommended for kids under 10).
Price: Our masks  are $29 including delivery.
When you purchase more than 2 you get 20% off
OR $25 in store at 241 Australia St Newtown POP UP shop.
Wed-Fri 9-4pm, Sat- Sun 10-4pm
Facebook: twofacelabel
Youtube link: How to put on the TFL face mask.
Instagram: twofacelabel
Email: [email protected]
Delivery: Included in price
How to order: Please head to our website twofacelabel.com to order our masks and to see the full range of colours and styles and video.
Payment methods: Credit card payments can made via our website.
---
Located in the heart of Lane Cove, Itadaki Masks aims to create premium and reusable handmade face masks to help you social distance in style. All our masks feature nose wiring, an inbuilt filter pocket and filter, which can be replaced as regularly as desired. 
Itadaki Masks was founded by local fashion design uni student, Mia, after she lost her job at the local pub earlier this year due to the coronavirus pandemic. All masks are individually cut and sewn and are inspired by Japanese culture with the uniquely embroidered brand name, 'Itadakimasks'.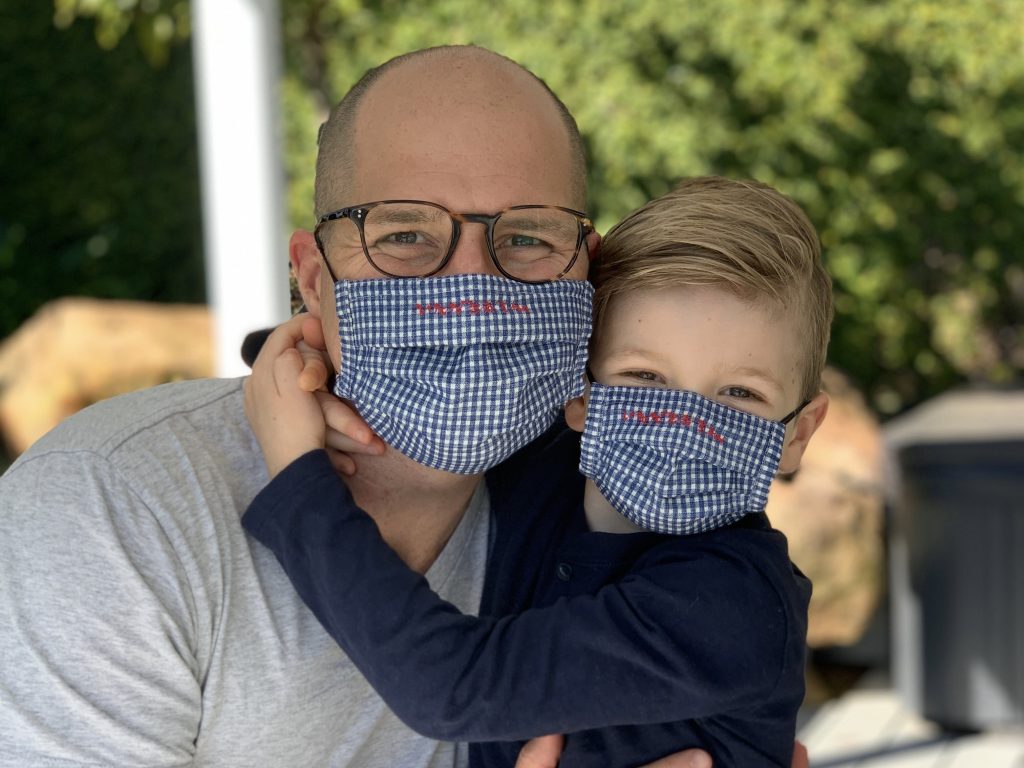 Style: We offer both sleek, staple designs and hand picked, quirky and unique patterns
Quality: Made with inbuilt filter pocket. Mask comes with one filter, inbuilt nose wiring and 3mm width thin elastic. Gentle machine wash.
Size: Adult, tweens and kids
Price: $20-30
Facebook page: Itadakimasks
Instagram page: @itadakimasks
Email: [email protected]
Delivery: free local hand delivery within 1-2 days of purchase
How to order: order online via our website www.itadakimasks.com
Payment method: credit card
---
My back ground is in Children's entertainment manufacturing Character
costumes. When covid hit all my work stopped.
At first I made face masks for my friends an a few elderly friends of
mine. People where interested so I have started to sell them I have kept the
cost as low as I can. I also sell on eBay
Style: Double layer cotton mix there are all machine washable
Quality:
 Assortment of prints and also plain colours 
Size:
Adults and kids
Price: 
$12.00 each $6.00 postage or pick up. If you buy more than 5 I
will charge $10.00 each
Facebook page: eireanncreations
Email: [email protected]
How to order: Through my face book page just leave a message or email
Payment method: PayPal
---
I'm Fiona, the owner, operator, order packer, product purchaser, photographer and website manager for Ribbons Galore.
I have decided to shift my focus slightly and to use my experience to sew high quality reuseable masks available to purchase online.
Style: I offer a variety of fabric designs including solids, patterned, brights and subtle patterns. The masks are reversible. New designs are added regularly.
Quality: My masks have 3 layers (2 outer layers of cotton quilting fabric with a non woven polyester layer in the middle) and elastic ear loops; Machine or hand washable
Size: Women's and men's sizes. Kid's sizes are available by special order.
Price:$20.00
Website:  ribbonsgalore.com.au/quite-contrary-handmade/fabric-face-masks
Facebook page:  RibbonsGalore
Instagram page:  fionaecarter
Email:  [email protected]
Delivery or pickup?: Pick up from Willoughby is available (please use the code PICKUP on the website to deduct postage from your order). Your order can also be posted.
How to order: You can order through the Ribbons Galore website here . You can also Facebook PM or email your order.
Payment method:  Bank transfer, cash, Paypal, credit card (using PayPal)
---
Clean Hands is a local family run business supplying reusable 3 layer face masks, hand sanitiser and commercial cleaning products to a range of industries. With an abundance of reusable masks and hand sanitisers (75% alcohol base) we want to help the local community stay safe during these troubling times. Our products are reliable, affordable and manufactured to the highest quality standard. We are offering free contactless delivery to all Lane Cove residents with no minimum order.
Style:(example: solid, pattern, bright, subtle) simple, black reusable mask, as well as a design your own mask option (minimum order for design your own mask 50 masks)
Quality:(example: Double layer of cotton. Machine washable)

Outer layer: Polyester compound 200gsm, lightweight yet durable double knit fabric for 2 x the protection from droplets
Middle Layer filter: Polypropylene non-woven washable inner – reusable (not disposable), hand washable/reusable filter (2-3 washes then best to replace). Comes with each mask can also supply be supply packs of 10 Premium PM2.5/N99 Carbon Activated Filters
Inner layer: 100% cotton 135gsm, Hypoallergenic and comfortable inner layer with an inbuilt pouch for filters to fit. A full mask is washable up to 90 degrees and can be ironed
Ties: Elastic spandex compound that ties/adjusts
Comfort and fit: Adjustable metal nose clip for the perfect moulded fit

Size: Adults sizes currently available
Price: $19.75 inc gst $21.95 for design your own mask (minimum order 50 masks) great for businesses
Facebook page: Clean Hands 
Instagram page: CleanHands.au
Email:

[email protected]

Delivery or pickup?: both options available. Pick up from our office at 7/15-17 Chaplin Drive, Lane Cove West also offering free contactless delivery to Lane Cove
How to order:(Facebook PM, email, order online) online at www.cleanhands.com.au or by email at

[email protected]

Payment method: (bank transfer, cash, paypal, credit card) All payment methods available
---
Iris & Lin is a locally owned and operated store stocking a range of beautiful and unique jewellery, clothes, scarves, gifts and home wares at prices you will love. We cater to a range of tastes, styles and interests through our broad product range.
At Iris & Lin we strive to provide personalised service as we bring you Australian products and brands that we adore.
We are selling Adult Reusable, Washable Cloth Face Masks in Cotton
Style: Pattern, more styles to come
Quality: Washable cotton
Size:  Adult
Price: $19.99
Facebook: irisandlin
Instagram: irisandlin
Email: [email protected]
Delivery or pickup?: both available
Phone: 9427 1395
How to order: head in store or buy online
Address: Shop 1/73 Longueville Road, Lane Cove NSW 2066
---
Ethically handmade reusable face masks and bandanas now available at @thefairtradecove
Colours subject to availability
Purchasing these face masks and bandanas support Indian women artisans to improve their children's education and health, improve their living standards and secure the future of their families
Style: Pattern, more styles to come
Quality: Washable cotton, 3 layers
Size:  Adult and Children
Price: $15 Adult and $12 Children
Facebook: thefairtradecove
Instagram: thefairtradecove
Delivery or pickup?:  Call to order delivery/ collect or come in store to buy
How to order: head in store or call 0414354144
Address: 126 Longueville Road, Lane Cove, NSW 2066
Payment method: Cash or card in store
---
Jack & Co Northwood
Jack & Co have plenty of boxes of disposable masks for sale.
3 ply ear loop mask – therapeutic goods TGA certified 95% filtration
Pack of 50 – disposable $38.98
Individual – $3
---