Welcome to our week in review.
Latest COVID19 Information – 7th July 2021
Lockdown has been extended to 16th July 2021 (the same restrictions apply – you can read them here).
Schools will not have face to face learning next week – to stop mobility. Those parents who undertake essential work will be permitted to drop their children at school.
The Premier flagged that the will be an increase in case numbers tomorrow.  Case numbers have increased in Fairfield, Canterbury Bankstown and Liverpool council areas.
NSW recorded 27 new locally acquired cases of COVID-19 in the 24 hours to 8pm 6th July 2021.
Of the 27 new locally acquired cases, 13 were in isolation throughout their infectious periods and seven cases were in isolation for part of their infectious period. Seven cases were infectious in the community.
If you have any symptoms please get tested – details here of closest testing centres
here
.
There are currently 37 COVID-19 cases admitted to hospital, with seven people in intensive care, two of whom require ventilation.
Of these locally acquired cases, 18 are linked to a known case or cluster – seven are household contacts and 11 are close contacts – and the source of infection for nine cases remains under investigation.
There are now 264 cases directly linked to known cases in the Bondi cluster. There are 25 cases that are unlinked to a known case or cluster, with a further 68 who are linked to these 25 unlinked cases.
NSW Health administered 20,564 COVID-19 vaccines in the 24 hours to 8pm last night, including 7,135 at the vaccination centre at Sydney Olympic Park.
The total number of vaccines administered in NSW is now 2,474,124, with 962,785 doses administered by NSW Health to 8pm last night and 1,511,339 administered by the GP network and other providers to 11.59pm on Monday 5 July.
To keep our community safe, please follow NSW Health advice. If you are directed to get tested for COVID‑19 or self-isolate at any time, you must follow the rules whether or not the venue or exposure setting is listed on the NSW Health website.
Please check the NSW Government
website
regularly and follow the relevant health advice if you have attended a venue of concern or travelled on a public transport route at the same time as a confirmed case of COVID-19. This list is being updated regularly as case investigations proceed.
COVID19 Update – Lane Cove Exposure Sites
If you were at the Ampol Service Station on Burns Bay Road on Saturday 26 June 8.00 am – 8.15 am you are considered a casual contact and must immediately get tested and self-isolate until a negative result is received. Please continue to monitor for symptoms and immediately isolate and get tested if symptoms develop after you test.
The Service Station was also an exposure site on Friday 25 June 1.45 pm – 2 pm. Again you are considered a casual contact and must immediately get tested and self-isolate until a negative result is received. Please continue to monitor for symptoms and immediately isolate and get tested if they develop.
The closest testing centres with the quickest turnaround times information can be found here.  Please note that before this latest lockdown, results were coming back from private testing centres within six hours – they are now taking longer to come back but usually within 15 – 20 hours after being tested (if you use a private testing centre).
The other possible exposure site for Lane Cove residents is if you travelled on the North Shore Line on Sat 26th June between 1.38 and 1.57 pm (Central to St Leonards), you are considered a casual contact and must immediately get tested and self-isolated a negative result is received. Please continue to monitor for symptoms and immediately isolate and get tested if they develop.
New Transport routes that could impact Lane Cove residents below
Cladding Falls from Atrium Plaza on Birdwood Lane
A roving reporter advised us about cladding/concrete that had fallen off the Atrium Plaza on Birdwood Lane. This is not the first time cladding has fallen off buildings on this lane. Another building had cladding issues a few years ago, and the cladding was replaced.
The area now has some barricading – but be careful walking near the building. You can always enter the arcade from Longueville Road. See our cover photo.
Supporting Our Local Businesses
Thank you to everyone who has been continuing to buy local.  Some of our businesses may be closed but they have online shopping and they will make sure you get your deliveries.
We previously published an extensive list of LOCAL businesses that are providing delivery services, online shopping and online services. Link to this guide here – one-click ordering for takeaway and delivery, and you can use your Dine and Discover vouchers, not for takeaway where you pick up.
We also have a sweet treat article you can view here, and no doubt someone will be celebrating an occasion while we are in lockdown.
Remember to shop local or local goes. Also, please make sure that you pick up the food and go home straight away. Use your QR code, and you must maintain social distancing.
Lockdown has been extended and we know how hard it is out there for small local businesses (because ITC is exactly that a small local business). In The Cove is all about promoting Lane Cove and its residents. We are putting together a special COVID19 Business Night where if you have a business located in Lane Cove or you live in Lane Cove and run a business you can post a business post on
Lane Cove Chat by ITC
on Monday 12th July 2021.
It does not matter if you are an ITC business supporter or not – during COVID19 lockdowns we have always tried to support all businesses in Lane Cove.
We are asking all ITC followers if they would do us a favour and get online on Monday Night and check out the local businesses. You may discover some that you don't know about it. We are also asking you to share this post with your friends and ask them to get online as well. We would love you to post words of encouragement and to pledge to
#shoplocal
or
#supportlocal
.
Many Lane Cove residents may have a business in another part of Sydney, but they shop here, their kids go to school here and they pay rates.
Are you in?? Let us know what you think about this idea and how we can make the night even bigger and better. We would love your feedback on how we can help out local businesses. A vibrant Lane Cove is a great Lane Cove.
Let There Be Light – Lane Cove and Lane Cove North
ITC asked Mayor Gail Giles-Gidney if Willoughby City Council would look at lighting some ovals in walking distance for Lane Cove North Residents and our Artarmon followers.
Mayor Gail Giles-Gidney advised ITC of the following:
"Thompson Oval, Mowbray Public Oval and Rotary Field will have lights on until 8 pm Monday to Friday.
ITC had previously asked Lane Cove Council if they would put on lights at ovals, and they advised that Blackman Park, Bob Campbel Oval and Pottery Green would be lit until 8 pm
You are allowed to exercise but in groups of no more than 10. You must maintain physical distancing, and you cannot undertake organised training events for sport (if there are more than 10 people all up, not 10 per team).
Speaking of Exercise and Recreation, Renee (part of our ITC team) has been out and about finding bushwalks and playgrounds to visit during the lockdown.
Andy also has some Bike Riding tips for you here.
Better Lights at Blackman Park (ovals and dog parks)
The lights at Blackman Park (non-synthetic field) have not been upgraded for years and years.  They are old technology and are expensive to run.  The Lane Cove Cats and Lane Cove Cricket Club are working with the Lane Cove Council to upgrade the lights, but it is a big job (which will benefit the community for years to come).  Lane Cove Council has applied for a grant, but the sporting clubs are also fundraising to supplement the grant and want the whole oval lit up (including the dog park).   Lane Cove Local electricity company Bright Spark Power wants to help with the fundraising. This fundraising will help all park users.
To raise funds, you simply upload a recent electricity bill to compare, and Bright Spark Power will donate $5 (or $10 for business bills) to the campaign.
Bright Spark Power kicked off their contribution with a $200 fundraising starter, and we pledge to match each $200 that's raised from local residents, family and friends as they submit their electricity bills for comparison.
There's no obligation to switch – just by sending your bill, the Cats will receive another donation! Submit a picture (take a photo or a screenshot) or upload a PDF bill at the webpage:
If you DO choose to join after you receive your comparison, we will increase the donation amount to $25 for each joining premises. Submit your comparison to support the Cats 'Let there be Light!'
More details here about how you can get involved in the fundraising – and all you have to do is send in a copy of your electricity bill.
QR Codes
Remember to check-in and check out of retail premises by scanning the Service NSW QR Code.  People are great at checking in but forget to check out.  It's important to check out; if you don't, you will be recorded as being on the premises until your next check-in, or if you don't check in to another place during that day, you will be recorded as being at the premises for the entire day.  This creates problems for contact tracers and for you – as you will be deemed either a close or casual contact and will need to be tested and isolate.
To help you check out, you can set a reminder in the Service NSW App.  For an iPhone, go to Settings on your phone, choose the NSW Service App, and select Allow Notifications.
In the Service NSW app, tap Settings (the wheel on the top right-hand corner of the home page), go to Notification Preferences and select Check Out Reminders.   Switch the checkout reminders on and then set a time frame when you want to be reminded.
From 12 July 2021, it will be mandatory for most retail premises to have a QR Code to enable a client/customer to check in via the Service NSW app.
Chalk It UP
We have had some amazing entries in our Chalk It Up Comp and now Porters Northwood has come on board and the Family Prize includes yummy treats for the kids and a gift voucher from Porters Northwood for the parents.  Find out how to enter here.
ITC Podcast
We have now released our special  Lane Cove COVID19 Lockdown 2.0 podcast.  We tell you what you need to know about COVID19 in Lane Cove.  You can listen to the podcast here – you can listen to it on your desktop, iPad, iPhone, etc.
We will be recording another podcast very soon and would love to hear about your lockdown tips or experience. Send us a voicemail on What's App on 0478 254 122.
Crime, Accident and Incident Report
A Roving Reporter has advised the following:
"Rogue boat floating around in Burns Bay – it has broken loose from its mooring.
Marine Police attended and made it safe – but you may want to check the boat if it is yours.
Rego number for boat IBC112N"  If you know the owner, please let them know.
It has been quite slippery on the roads this week.
This week ITC was advised of an accident at Longueville Road/River Road intersection (the infamous "Diddy" intersection). One of our roving reports in Artarmon sent us the photos below of an accident on Reserve Road.
This week in review is sponsored by Harbourline Real Estate in Greenwich.  They have a very experienced property management team (in addition to their sales team).  Bernadette Hayes is the founder of Harbourline Real Estate agency in Greenwich.  Find out more about Bernadette Hayes here.
Are You Looking to Buy or Sell in Lane Cove?
In The Cove is now producing a weekly Lane Cove Property Update. See our latest update here. 
This is a sponsored post – Thank you to Bright Spark Power for sponsoring ITC.  We could not provide free local news and info without our fab LOCAL sponsors.
If you are selling, ask your agent if they are an ITC Lane Cove Property Guide supporter.

In the Cove is on Instagram
If you would like to follow ITC's travels throughout Lane Cove and see some beautiful pictures of where we live, follow ITC on Instagram
 here.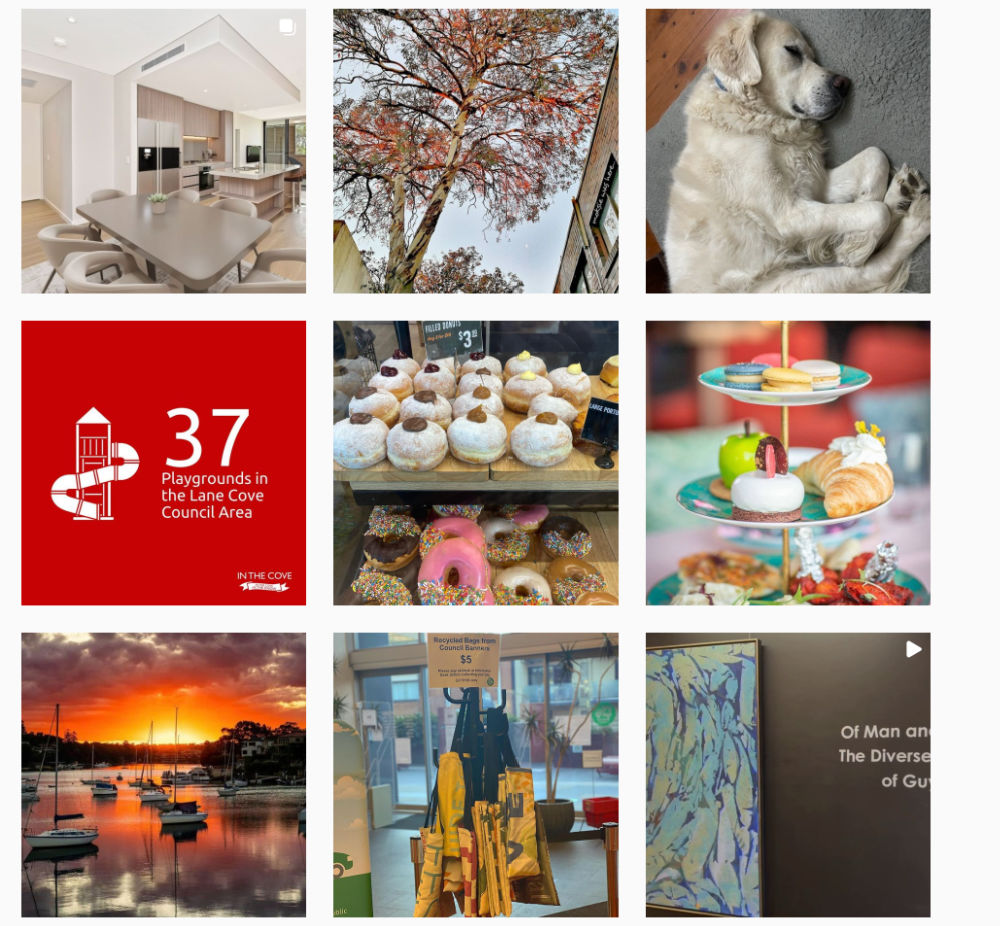 In the Cove Weekly News Blast
Have you ever heard people talking about a hot Lane Cove issue and wondered how they knew about it?  More than likely, they get our newsletter every Wednesday Night at 7.30 pm, and it has all the info that was on any of our social media platforms and more – so sign up now and never have FOMO (fear of missing out). SIGN UP HERE