At 2 pm on 26th June 2021, NSW Premier Gladys Berejiklian announced that Greater Sydney, the Blue Mountains, Central Coast, and Wollongong regions (Greater Sydney Area) would be under Stay at Home Orders/Lockdown Orders until 9th July 2021.  The Public Health Orders have now been released, and you can read them here.
If you were at The Ampol Service Station on Burns Bay Road on Friday 25 June 1.45 pm – 2 pm, you are considered a casual contact. You must immediately get tested and self-isolate until a negative result is received. Please continue to monitor for symptoms and immediately isolate and get tested if they develop.
The closest testing centres with the quickest turnaround times information can be found here.  Please note that before this latest lockdown, results were coming back from private testing centres within six hours – they are not taking longer to come back.
So, here's everything you need to know and the answers to the many questions ITC has been asked.
Stay at Home Order
Everyone within the Greater Sydney region (which includes the Lane Cove Council Area) must stay at home unless they have a reasonable excuse.  You must work from home unless you cannot perform your work from home (i.e. a train driver/bus driver/nurse/doctor/childcare worker etc.).
What is a Reasonable Excuse?
A reasonable excuse is if you need to:
obtain food or other goods and services:

for the personal needs of the household or for other household purposes (including pets)
for vulnerable people
if the food or goods and services are not available in the local government area that you live in

travel for work or education if it is not possible to do it at home
outdoor exercise and take outdoor recreation in Greater Sydney (no more than 10 people max to be together exercising)
go out for medical or caring reasons, including obtaining a COVID-19 vaccination (unless you are a close contact of a case)
donate blood
access childcare
continue existing arrangements for access to, and contact between, parents and children
attend a wedding or funeral
provide care or assistance (including personal care) to a vulnerable person or to provide emergency assistance
access social services, employment services, services provided to victims (including as victims of crime), domestic violence services, and mental health services
move to a new place of residence, or between your different places of residence
undertake legal obligations
avoid injury or illness or to escape the risk of harm
in case of emergencies
for compassionate reasons, including where two people are in a relationship but do not necessarily live together
to provide pastoral care if you are a priest, minister of religion or member of a religious order.
Can I go Away For the School Holidays?
Unfortunately no you cannot leave Greater Sydney to go on holidays. Taking a holiday is not a reasonable excuse.  However, if you have started your holidays and you were in Greater Sydney on or after 21 June 2021, you must follow the stay-at-home orders for a period of 14 days after you left Greater Sydney.  This means you can only leave your accommodation for the reasonable excuses mentioned above.
QR Codes Scan In
You must use QR Codes wherever you go – for example, Coles etc.  If you are picking up takeaway etc you must use a QR Code.  From 12th July nearly all businesses must have a QR code displayed.  The NSW Tresasurer has asked the major supermarkets to implement this asap.
Lane Cove Council Facilities and Services that are Closed
Lane Cove Council has suspended walk-in services at the Lane Cove Civic Centre, including Justice of the Peace services. Council services are available online, by email [email protected]or by phone 9911 3555.
Lane Cove Library and Greenwich Library are now closed to the public until further notice.
Library to Your Door provides an alternate option for books, magazines, DVDs, and audiobooks to be delivered directly to your home.
Return chutes are still open. Information on loans, renewals and Library services will be available on the Library website early next week.
Lane Cove Youth Centre and Lane Cove Aquatic Leisure Centre are also closed to the public.
Anyone who has hired a Council venue or sportsfield for community sport will be contacted from 28 June to cancel or postpone any bookings up to and inclusive of 9 July.
Lane Cove Council Events taking place up to and including 9 July 2021 will be postponed or cancelled – where events have involved registrations, any affected participants are being contacted.
Some Winter in the Village events have already been rescheduled, and they have paused their plans to release tickets for the highly anticipated ice rink while we observe NSW Health advice. Updates on the Winter in the Village program will be advised when further information is known.
The Community Recycling Centre (CRC) in Artarmon and the eWaste bin at The Canopy is closed due to the current COVID-19 restrictions.
Where Can I Exercise?
You can exercise outside the Lane Cove Council Area (as long as in Greater Sydney Area) – but not in groups of more than 10.
The Premier said at her Press Conference on Sunday 27th June – While you are outdoors walking or exercising in groups of up to ten, don't have to wear a mask while exercising but you must maintain social distancing.
All gyms, personal training studios etc., must close; however, many of our local gyms/yoga/pilates and exercise studios offer online services. You may want to join up and work out online.
At this stage, all parks and playgrounds remain open  (unlike last time when playgrounds were closed).   Why not try some new playgrounds?  You are allowed to visit them for outdoor exercise and recreation – but no more than 10 people can gather together.  You must observe social distancing and the 4 sq meter rule.
ITC has been updating their playground list and featuring a playground of the week.  Check out parks and playgrounds here.
In the Cove has written to the Lane Cove Council and asked them to put on the lights on all ovals up to 10 pm like they did last time to allow people who work at home during the day to exercise at night.  Usually, the lights are put on by the sports clubs, but most community sport has been cancelled (because it is school holidays and you are not allowed more than 10 people in a group).
You must maintain the social distancing measures and observe the four square meter rule when you are exercising.
Lane Cove Council has responded to ITC lights will be turned on at the following sports grounds from 5:00pm – 8:00pm to extend the opportunity to exercise safely:
* Blackman Park
* Bob Campbell Oval
Lane Cove Council are working towards extending this to Tantallon Oval where works are currently taking place. A reminder to please socially distance when exercising and follow the latest NSW Health advice.
What is Happening With Our Local Cafes and Eateries?
You can only buy take away food.  You must not sit at a cafe and restaurant.  Pubs and Clubs are closed.  Lusso Kitchen, which operates from the Diddy, is allowed to stay open as they only sell takeaway food delivered to your door.  We have put together a list of offerings from local eateries with a direct link to their delivery platform for one-click ordering.   Read more here.  Make sure you bookmark this article.
Some local shops have decided to close for two weeks, but many of them have online stores. As they did in the last lockdown, they may offer free local delivery or discounted local deliveries.
I Am Concerned About My Neighbour – How Do I Help Them?
If you have an elderly or vulnerable neighbour who needs help – please ask them to contact Sydney Community Services as they provide services such a Meals on Wheels and help with online grocery shopping.  You can contact them on (02) 9427 6425 or email at [email protected]
What are Essential Businesses that Can Stay Open?
Supermarkets, Grocery Stores, Butchers, Fruit Markets, Cafes and Restaurants (but only takeaway – no sitting down), bottle shops can stay open.
Doctors, Surgeries, chemists, Physios, dentists and vets or any other business providing medical and health support are permitted to stay open.
Retail Stores can stay open as people need supplies for the home and office or may need warmer clothes etc.
The following must close:
Pubs and registered clubs except for

selling food or beverages for people to consume off-site and
providing accommodation, including allowing food and drinks to be consumed in a person's room.

Food and drink premises, except for

selling food or beverages for people to consume off-site
selling food to be consumed in a person's room if in a hotel or motel
if the premises are part of a shopping centre, selling food or beverages for people to consume outside of the shopping centre

Entertainment facilities, such as theatres, cinemas, music halls, concert halls and dance halls.
Amusement centres, such as places to play billiards, pool, pinball machines or video games.
Micro-breweries or small distilleries holding a drink on-premises authorisation under the Liquor Act 2007 or cellar door premises, except for selling food or beverages for people to consume off the premises.
Indoor recreation facilities such as squash courts, indoor swimming pools, gyms, table tennis centres, health studios, bowling alleys and ice rinks.
Places of public worship, except for the purposes of conducting a wedding or funeral service.
Hairdressers, spas, nail salons, beauty salons, waxing salons, tanning salons, tattoo parlours, massage parlours.
Auction houses
Betting agencies and gaming lounges
Markets, except for food markets
Public swimming pools (except natural swimming pools, which may open)
National Trust properties and Historic Houses Trust of NSW properties (other than retail shops)
Nightclubs
Casinos, except for selling food or beverages for people to consume off-site and providing accommodation, including allowing food and drinks to be consumed in a person's room.
Can We Have Visitors?
Other than for the reasons below, you are not permitted to have visitors to your house.
A visitor does not include a person at the place of residence who is there
for work or attend a university or other tertiary education facility
for childcare
as a carer
to provide care or assistance to a vulnerable person
to give effect to arrangements between parents and children under 18 or their siblings
to assist a person to move places of residence
to avoid an injury or serious risk of harm
because of an emergency
for compassionate reasons
to view or inspect property to lease or purchase it.
Can I see my partner/significant other?
Yes, intimate partner visits are allowed. However, you are asked to exercise caution if you partner lives in area such as the eastern suburbs as they want to minimise the amount of people visiting that area.
You Must Wear a Mask
Face masks are compulsory in all indoor non-residential settings, including workplaces (if you can't work from home)
NSW Health Minister Brad Hazzard stressed that masks must be worn over your nose and over your mouth.
The NSW Police has already fined people for wearing masks incorrectly.
The NSW Police made the following statement:
The Premier has now announced updated lockdown arrangements for Greater Sydney. She has made it clear – we are dealing with a very dangerous strain of the virus, and this outbreak may represent the biggest challenge the pandemic has thrown at us so far.
Police will be enforcing the new public health orders like we have throughout this pandemic. While officers will continue to adopt a fair approach and use discretion, the time for cautions is over.
In the last 24 hours, we have issued another seven people with Penalty Infringement Notices for not wearing masks, which means we've now issued 14 since the new public health orders were put in place.
Officers from the Traffic and Highway Patrol Command are continuing to patrol roads on the outskirts of the Greater Sydney area and will be handing out tickets to those who aren't meant to be there.
If you leave your home in the Greater Sydney area, you can also expect to see officers patrolling public places and public transport hubs. They are there to keep you safe.
I would like to appeal to the community to continue to work with police, not against us, as we enforce these rules.
My ideal situation would be no more PINs to announce tomorrow, because everyone had obeyed the orders and stayed at home.
If you would like to support ITC in bringing you free local news, you can become an ITC Member for an annual fee of $50 and you get a free ITC face mark – which are very comfortable.  Join here.
Real estate auctions and open inspections
The following restrictions apply:
Auctions that people attend in person can not take place.
Open inspections of properties can not take place, but inspections may be conducted by private appointment for one person only.
Read our latest Lane Cove Property Update here – it includes properties listed for sale, off-market and sold (prices are included if disclosed).
Weddings and Funerals
Weddings will be allowed to take place on Sunday 27th June 2021.
Funerals will be permitted with a maximum of 100 guests (and using the four-square-metre rule) for the entirety of the lockdown.
Singing by audiences and choirs at indoor venues or by congregants at indoor places of worship will not be allowed.
Are You Looking to Buy or Sell in Lane Cove?
In The Cove is now producing a weekly Lane Cove Property Update. See our latest update here. 
If you are selling, ask your agent if they are an ITC Lane Cove Property Guide supporter.

In the Cove is on Instagram
If you would like to follow ITC's travels throughout Lane Cove and see some beautiful pictures of where we live, follow ITC on Instagram
 here.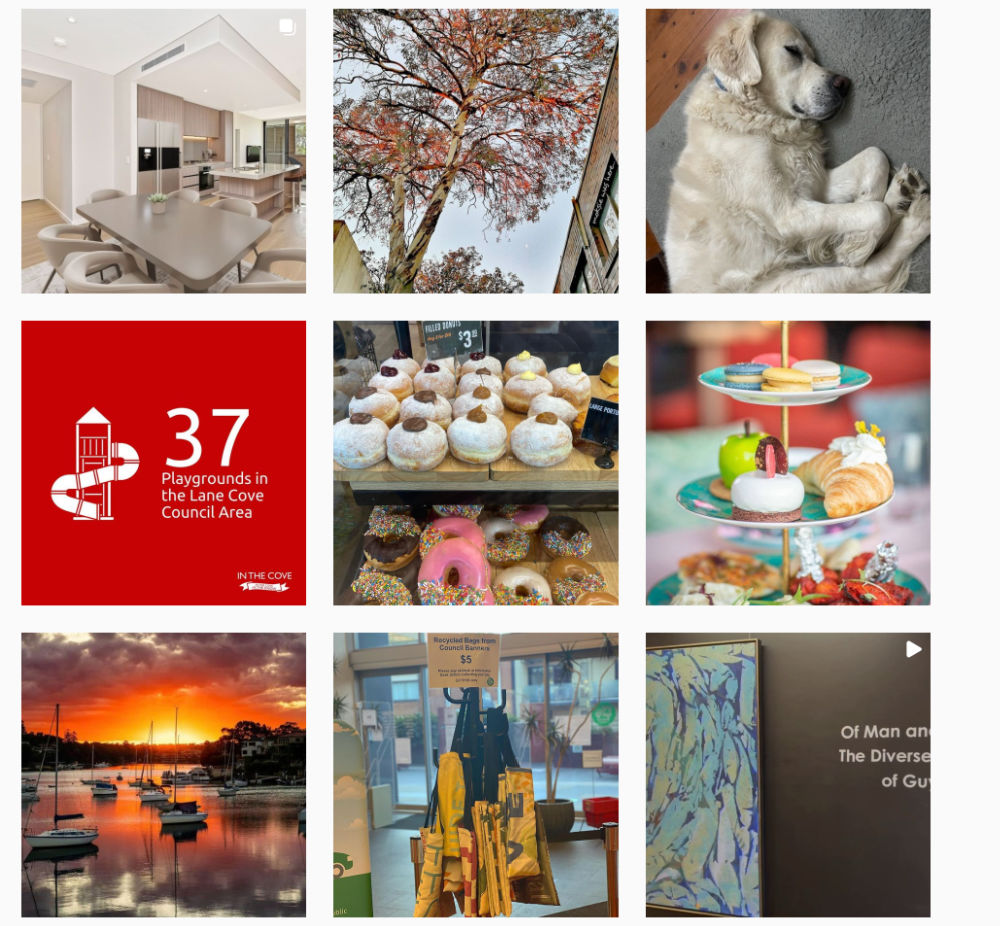 In the Cove Weekly News Blast
Have you ever heard people talking about a hot Lane Cove issue and wondered how they knew about it?  More than likely, they get our newsletter every Wednesday Night at 7.30 pm, and it has all the info that was on any of our social media platforms and more – so sign up now and never have FOMO (fear of missing out). SIGN UP HERE