Australia Day is Wednesday 26 January 2022.  We have done our best to give you accurate information on what's open on Australia Day but due to the ever-evolving situation with COVID19, a business could be shut due to staff shortages.
Unlike other public holidays, most coffee shops, and local eateries are open.  Some of the cafes and coffee shops do close earlier on public holidays around 2 or 3 pm.
If you're looking for local things to do on Australia Day – read our article here, there is a free BBQ in Lane Cove Plaza by Lane Cove Rotary, movies, live music and more.
COVID19 PCR Testing Centres
Laverty North Ryde – 60 Waterloo Road North Ryde (no walk ins) – open see hours below
click here
Laverty Willoughby – Willoughby Leisure Centre Car Park – open see hours below
The other testing centres have not updated their website to provide information on whether or not they open.
Supermarkets and Bakery
Woolworths, Coles and Aldi will be open – however supermarkets have been closing earlier due to staff shortages, so don't leave it until 10 pm to start doing your shopping.
Bakers Delight is open from 7 am to 2 pm and they have some Aussie Damper for you to try and of course the cheesymite.
The Source Bulk Foods will also be open.
Petrol and Convenience Stores
If you need Petrol and Convenience Store items , Jack & Co is open.  You can buy petrol, coffee, ice, snack food and more.  They are located on River Road/Northwood Road Northwood and Burns Bay Road/Centennial Av Lane Cove  (yes some people get confused with the street name changes).
Centro Lane Cove West is open – it is worth checking them out as they have an extensive range and if you are looking for a present for a homesick US, Brazillian, Asian friend they have a big range of foods from overseas to try. Here is a tip – If you live in Riverview you can easily access Centro by walking across Burns Bay Reserve and walking to Hughes Park – so easy and Centro has barista coffee and all your convenience foods.  Find out more about Centro here.
Take the kids to Hughes Park and then grab an ice cream at Centro.
If you need Booze over  Porters, Northwood is open – grab a few Hawke Lagers to feel in the mood.
If you lock yourself out of your house or you need a replacement lock urgently – Alert Locksmiths and Security operate their emergency service 24 Hours a Day/7 Days a Week.
I need a Doctor or a Vet.
If you need a Doctor on public holidays, Wise Medical Clinic in Macquarie Park is a private billing emergency clinic, and they are open 10 am-10 pm 7 days a week.
For your Furry family members needing a vet, North Shore Veterinary Hospital in Artarmon is open 24/7 for emergencies.
Local Restaurants, Cafes and Resources Closed on Australia Day 2022
The following are NOT open.
Have a great day off and ITC will see you having coffee somewhere in Lane Cove tomorrow.
Back To School
It will be back to school very soon, please remember school zones will apply (they apply even if it is a pupil free day – so don't park in a school zone).  If you are looking for local extracurricular activities for kids of all ages from babies to HSC students we have put together the ultimate guide.  Read more here.
---
Local News – Needs Your Support
Many of you have asked how you can support In the Cove. It's so easy – tell your friends about us, follow us on a different platform, subscribe to our weekly news blast, or if you can, we now have a Patreon Account (this allows us to keep local news free – no paywall!!!)
ITC wants to provide even more news to Lane Cove locals by employing local people to help us out. We need your help – yes, we get local business advertising, but that covers our costs and pays our current team.   We do not qualify for any government grants as you must have revenue of over $150 000 a year (we don't)
Feel free to be a reader sponsor if you have enjoyed our local news coverage – no amount is too small or too big. Thank you so much to the people who have already supported us via our press Patreon account every dollar helps offset costs such as insurance, web hosting fees, website manager's fees, Mailchimp fees, internet fees and more. Help Us Here.
Stay tuned. We will be announcing our In the Cove Intern programme soon – where we will take on a part-time PAID intern who lives locally and is studying either PR, Social Media, Communication or Journalism.   This is our way to give back to Lane Cove, and as you would be aware, we offer free advertising for all local jobs as we are passionate about local jobs for local people.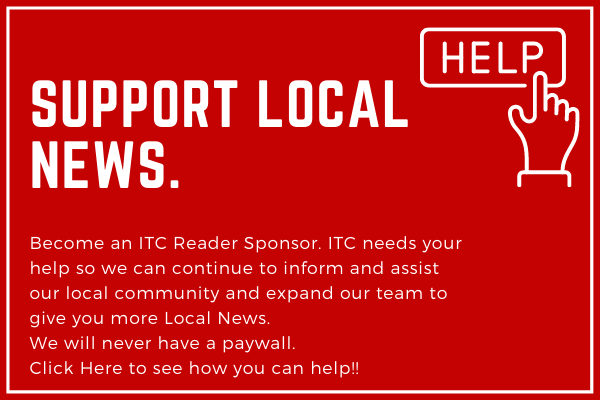 ---
Get Your Local News on Different Platforms
We have so many platforms to follow, each taking a different take on Lane Cove News and Information. Don't miss out!
Facebook: www.facebook.com/inthecove
Instagram – www.instagram.com/inthecove/
Weekly News Blast – https://inthecove.com.au/sign-up-for-newsletter/
Lane Cove Chat by ITC– www.facebook.com/groups/itclanecovechat
Kids in the Cove – www.facebook.com/groups/861987681252413
In the Cove Podcast – inthecove.com.au/in-the-cove-lane-cove-podcast/
Weekly Lane Cove Property Update – https://inthecove.com.au/category/lane-cove-property/
As always, thanks to everyone for the support!!!!
Check out our Instagram Site click on the picture below.