UPDATE:
The Transport Info website continues to have a general announcement that the majority of buses are now operating on a weekend timetable.
251 – now appearing on the Transport Info website as operating today (28 Jan 2022)
252 – now appearing on Transport Info website as terminating at North Sydney train station – this bus only continues into the CBD during non peak times
253 –  now appearing on the Transport Info website as operating today (28 Jan 2022)
536 – now appearing on the Transport Info website as operating today (28 Jan 2022)
Term 1 for NSW schools commences on 28 January 2022 and many school children take the buses noted above to school.  This could be the reason that the above routes have returned to regular timetables.
Due to staff shortages because of the COVID19 pandemic, Metropolitan Buses have been operating on a modified Saturday timetable.
Bus Route 251 (which services Lane Cove West) and Bus Route 253 (which services Riverview and Lane Cove residents living on River Road and Longueville Road) have not been operating as they only operate during peak times Monday to Friday.
On 13 January 2022, both the 251 and 253 routes appeared on the Transport Info website with the following notation:
Please note: the route does not operate today. Displaying information for 17 January Monday 2022 (see photo below).
On 16 January 2022, information about bus routes 251 and 253 was removed from the Transport Info Website. This move prompted some ITC readers to query if these routes had been cancelled permanently.
Information from Transport for NSW
A spokesperson for Transport for NSW told ITC:
"Most public transport services across NSW are running to a reduced timetable due to COVID-related staff shortages.
All bus services in region seven are operating to a dynamic uplifted Saturday timetable, including region 7 bus routes 251 and 253, which are currently suspended because these routes are weekday peak services.
It is anticipated that region 7 bus routes 251 and 253 will recommence normal operations by the end of January.  
In the meantime, customers can use alternative routes 252 and 254 and transfer to frequent city services 288 and 292 at Lane Cove Interchange for travel to the city. ITC Note: the 254 is currently operating a Saturday timetable which means it travels to the city (it stops at North Sydney during weekdays).
While Transport for NSW is currently running a dynamic timetable, all dedicated school services are planned to operate to a normal school term timetable."
Transport Info Website
Bus 253's route and timetable is back on the Transport Info site. However, Bus 251 information has not been reinstated. The 251 also operates a limited school run during the hours it's not servicing Lane Cove. The route and timetable information only shows this school run (see our photo below).   We will continue checking the website to confirm when the services return to a regular timetable.
Further Information
Busways commenced operating region 7 services on 9 January 2022. Timetables and networks continue to be controlled by Transport for NSW. Read More Here.
Students with an existing student entitlement or Opal card will be automatically moved to Busways as the new operator. New applicants for student travel cards should select the operator for the region they will travel to – in this case, Busways.
Visit transportnsw.info to get the latest timetable information and service alerts.
Our cover photo is a bus servicing the Lane Cove Interchange before the bus operator signs were rebadged to Busways on 9 January 2022.
Local News – Needs Your Support
Many of you have asked how you can support In the Cove. It's so easy – tell your friends about us, follow us on a different platform, subscribe to our weekly news blast, or if you can, we now have a Patreon Account (this allows us to keep local news free – no paywall!!!)
ITC wants to provide even more news to Lane Cove locals by employing local people to help us out. We need your help – yes, we get local business advertising, but that covers our costs and pays our current team.   We do not qualify for any government grants as you must have revenue of over $150 000 a year (we don't)
Feel free to be a reader sponsor if you have enjoyed our local news coverage – no amount is too small or too big. Thank you so much to the people who have already supported us via our press Patreon account every dollar helps offset costs such as insurance, web hosting fees, website manager's fees, Mailchimp fees, internet fees and more. Help Us Here.
Stay tuned. We will be announcing our In the Cove Intern programme soon – where we will take on a part-time PAID intern who lives locally and is studying either PR, Social Media, Communication or Journalism.   This is our way to give back to Lane Cove, and as you would be aware, we offer free advertising for all local jobs as we are passionate about local jobs for local people.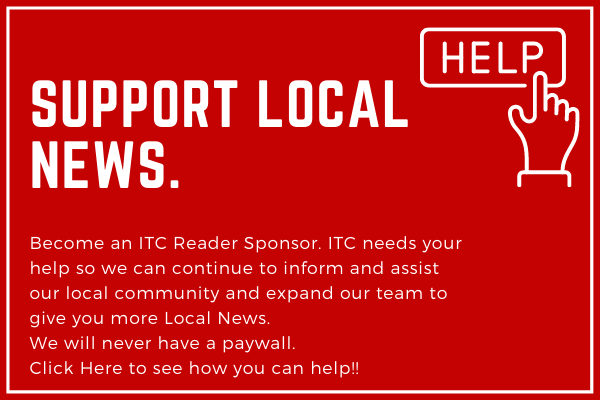 ---
Get Your Local News on Different Platforms
We have so many platforms to follow, each taking a different take on Lane Cove News and Information. Don't miss out!
Facebook: www.facebook.com/inthecove
Instagram – www.instagram.com/inthecove/
Weekly News Blast – https://inthecove.com.au/sign-up-for-newsletter/
Lane Cove Chat by ITC– www.facebook.com/groups/itclanecovechat
Kids in the Cove – www.facebook.com/groups/861987681252413
In the Cove Podcast – inthecove.com.au/in-the-cove-lane-cove-podcast/
Weekly Lane Cove Property Update – https://inthecove.com.au/category/lane-cove-property/
As always, thanks to everyone for the support!!!!
Check out our Instagram Site click on the picture below.