This week Lane Cove came alive with swing dancing, big bands and night lights.
Entertainment
The Canopy was a hive of activity on Valentine's Day with Queenie, and the Cavaliers and the Retro Rascals swing dancing around The Canopy Stage (see our cover photo).
The night before, a true rom-com classic, You've Got Mail, was shown on the Canopy Big Screen.
On Tuesday night, the Judy Baily Quintet performed.
On Friday 18th, the Lunar New Year Lion Dance will take place in the Lane Cove Plaza and Lane Cove Village.
So head along to the Lion Dance and then watch Lane Cove come alive with Lane Cove Lights – where Lane Cove buildings will be lit up, and there will be a digital activation at the Lane Cove Library; more info about Lane Cove Lights here.
Find out more about the lion dance here.
Lane Cove Council Street Activation
The Lane Cove Council has worked with local restaurants to provide streetside dining (see our photo below). The first restaurant to install the streetside dining is Shorties Restaurant and Bar (just in time for their new menu – details here)
Greenwich Manhunt
The NSW Police Media Unit has released details about the two searches conducted by PolAir and North Shore Police Area Command last Saturday after three people were seen in several backyards in Panorama Road Greenwich. The police started searching for the individuals involved around midday on Saturday, 12 February 2022. The search lasted for about an hour and then was called off; another search started later in the evening. Only two of three people the police were searching for were found – more details here.
Have Your Say on Lane Cove Council's Community Strategic Plan.
The Community Strategic Plan (CSP) is the most important document prepared by Lane Cove Council.   If you want a say in what the Lane Cove Council should be focussing on, then make sure you provide your feedback or complete the survey.
The Community Strategy Plan (CSP) describes Lane Cove's vision and aspirations for a period of ten or more years.
The creation of the CSP is led by the Mayor and Councillors and through engagement with the community.
This is the community's plan for its future. Council has a custodial role in engaging, refining and preparing the plan on behalf of its community. As it is possible, the community will identify aspirations that are not the council's full responsibility role to implement; the council may need to partner with state government agencies and community groups to deliver the plan.
CSP Key requirements:
The plan must be for a minimum of 10 years
Identify community priorities and aspirations
Includes a vision, strategic objectives and strategies to achieve those objectives
Must address the quadruple bottom line: social, environmental, economic and civic leadership issues
Based on social justice principles: equity, access, participation and rights
Give due consideration to the State Plan and other relevant state and regional plans
The community must be engaged in developing the plan in line with the Community engagement strategy created for the purpose.
Must be endorsed by council after being on public exhibition for at least 28 days.
The Lane Cove community is encouraged to:
The community workshops will be held:
Wednesday 16 March 2022 – 11:00am – 1:00pm
Wednesday 16 March 2022 – 6:00pm – 8:00pm
Thursday 17 March 2022 – 6:00pm – 8:00pm
Bus 252 Involved in Crash in the CBD
The 252 (one of the local buses from the Willoughby Depot that services Lane Cove) was involved in a crash last night.
Police issued the following statement:
Three injured in crash – Sydney CBD
An investigation is underway following a two-vehicle collision in the Sydney CBD overnight.
About 7.30 pm (Tuesday 15 February 2022), emergency services were called to the intersection of Erskine and Kent Streets following reports a bus and a Mazda 3 had collided.
Officers from Sydney City Police Area Command attended a short time later and were told the bus and Mazda collided before the bus crashed into a tree and the Mazda into a building.
The Mazda driver, a 46-year-old man, was treated by NSW Ambulance paramedics before being taken to Royal Prince Alfred Hospital in a stable condition.
The sole passenger of the Mazda, a 22-year-old man, was treated by NSW Ambulance paramedics before being taken to St Vincent's Hospital in a stable condition.
The bus driver, a 64-year-old man, was treated by NSW Ambulance paramedics before being taken to St Vincent's Hospital in a stable condition.
The injuries sustained by all three men are not considered to be life-threatening.
There were no passengers on the bus.
A crime scene was established, and an investigation commenced into the crash's circumstances.
Inquiries are continuing.
More Trees and Power Line Issues
Today (16 February 2022), a tree branch broke off and crashed into powerlines bringing down live wires on River Road West (between Warraroon Road and Barina Road Riverview). The lives wires caused a small grass fire, and traffic was diverted while the police, fire brigade and Ausgrid attended the cleanup. Residents near River Road West in Riverview and Lane Cove/Longueville lost power for a few hours.
Earlier in the week, another tree came down on Burns Bay Road near Waterview Drive.

Greenwich Baths
This summer, we have had significant rain, and more is coming over the next few weeks.
Remember that it is a good idea to wait at least three days after heavy storms to swim in harbour beaches. You can check out the water quality of our harbourside beaches here.
Each year the NSW Government issues a state of beaches report, and you can read more about it here.
Earlier this week, the beach alert for Greenwich was pollution possible due to the heavy rains over the weekend.
Upcoming Lane Cove Line Markings
Lane Cove Council will be undertaking line marking works from Monday 21 February at the below locations. The works will be conducted over one week (weather permitting) and all works will be conducted at night (7:00pm – 5:00am) to minimise the impact to traffic and parking.
Parklands Avenue between Epping Road and Nundah Street
Landers Road between Parklands Avenue and Coxs Lane
Parklands Avenue and Nundah Street Intersection
Parklands Avenue near the Kyong Street cul-de-sac
Corner of Kullah Parade near Mindarie Park
Osborne Avenue near the Pacific Highway and Osborne Avenue Intersection
Osborne Avenue and First Avenue Intersection
Osborne Avenue and Ronald Avenue Intersection
Ronald Avenue between Osborne Avenue and Panorama Road
Victoria Street and Prospect Street Intersection
Parking Bays at Wardrop Street
Longueville Road between Austin Street and Dorritt Street
Mowbray Road W between Roslyn Street and Ralston Street
Lane Cove Legends
In a recent week in review, you may read about the Australian Red Cross (now known as Lifeblood) asking for more blood donations. We thought we would let you know about some dead set local legends.
Adrian Schembri asked his mates for an unusual birthday present – donate blood. This is what Adrian told ITC.
"The idea of the day was to live out the saying "the greatest gift of all is the gift of giving". When I asked my friends to donate blood with me instead of traditionally handing me a gift for my birthday, my friends really rallied together and got around the cause.
Overall, we had five whole blood donations and seven plasma donations. The staff at Chatswood Lifeblood made it so easy for us to book as a group, and they made us feel welcome with their incredible hospitality. The names of everyone are below; we are a bunch of friends who all graduated in 2020."
Sam Douglass
Joseph Waterson
Daniel Gedeon
Gabriel Wood
Zachary Kalogerou
Harri Lee Young
Hugo Wicks
and
Adam Galizia from Henley
Tyler Andreazza from Griffith
Sam Ayrouth andAlex Khachigian from Ryde
Learn more about donating blood at www.lifeblood.com.au
Weekend Booster Appointments Available – No Need to Book
Haven't had your booster yet? Head over to Homebush or Royal North Shore hospital this weekend and stay protected against COVID-19!
If you had your second dose of a COVID-19 vaccine in November or earlier, you're due for a booster now.
At Homebush Sydney Olympic Park, you can make it a family affair and bring the whole family along to get vaccinated:
First & second doses for 5-11 year old's (at participating clinics
First & second doses for 12+ year old's
Booster doses for 16+ years
At Royal North Shore – between 8 am and 3.30 pm
First & second doses for 12+ year old's
Booster doses for 16+ years
There is no need to wait for an appointment; walk-in at the weekend and get protected.
Check locations, opening hours, & what vaccinations each clinic is offering: www.nsw.gov.au/weekend-walk-in
Monika's Doggy Rescue Need Supplies
Monika's Doggy Rescue is urgently looking for more supplies to meet demands.
Want to help? We have a complete list of URGENTLY needed items, and Soulful Fitness has agreed to be a collection point and deliver the items throughout February 2022. Read more here to see what is required.

Plumbing problems? When you need reliable, honest, and hard-working plumbers in Lane Cove, Plumber To The Rescue is here to repair what your husband fixed. Blocked drains? No hot water? No problem! They are here to help!
They have been saving customers from plumbing nightmares in Lane Cove, Lower North Shore, for over 30 years, with our local tradesmen working on all kinds of residential and commercial plumbing jobs. Lane Cove local Tim Cook is here to help you with Plumber to the Rescue business.
They are local Blocked Drain Experts!
For expert service, 100% guaranteed work and 24/7/365 emergency service, call today on 02 8583 2357 or click here to book online!
---
Keep Local News Free
---
Many of you have asked how you can support In the Cove. It's so easy – tell your friends about us, follow us on a different platform or subscribe to our weekly news blast.
We now have a Patreon account  where you can sponsor us for any amount you like (this allows us to keep local news free – no paywall!!!)
ITC wants to make sure you get local news when you need it by employing local people to help us out. We need your help – yes, local business advertises with us, but this is our sole source of funding. Feel free to be a reader sponsor if you have enjoyed our local news coverage – no amount is too small or too big. Thank you so much to the people who have already supported us via our press Patreon account. Help Us Here.
Stay tuned. We will be announcing our In the Cove Intern programme soon – where we will take on a part-time PAID intern who lives locally and is studying either PR, Social Media, Communication or Journalism.   This is our way to give back to Lane Cove, and as you would be aware, we offer free advertising for all local jobs as we are passionate about local jobs for local people.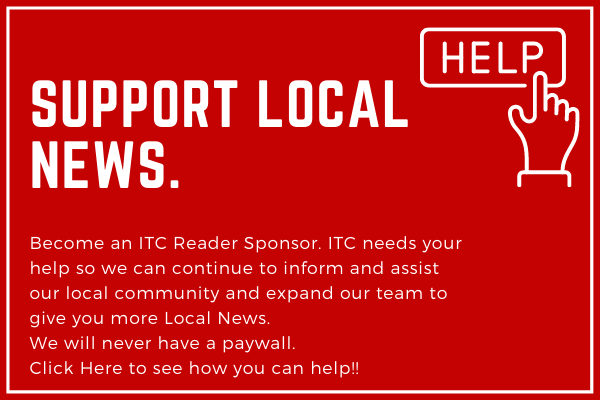 ---
Get Your Local News on Different Platforms
We have many platforms to follow, each taking a different take on Lane Cove News and Information. Don't miss out!
Facebook: www.facebook.com/inthecove