Village Night Lights will start on Friday 11 February and run through to Sunday 20 February 2022.  The display runs from 7:30pm – 10:30pm each night.
Lane Cove Buildings to Be Illuminated
Running over 10 days, Village Night Lights includes a series of evening activations in Lane Cove Village, accompanied by the illumination of iconic sites around the village including Lane Cove Library, Gallery Lane Cove + Creative Studios, Lane Cove Plaza and The Canopy.
Digital Video Artwork at the Lane Cove Library
A must-see will be the newly commissioned digital video artwork featuring the faces, stories, and imagery of Lane Cove through the windows of Lane Cove Library.
Events to Accompany the Village Lights Activation
Lane Cove Council is also planning the following events:
Valentine's Day: Screen on the Green – You've Got Mail (PG) 
Sunday 13 February, 6:00pm – 8:00pm, The Canopy
Warm up for Valentine's Day with the cult classic romantic comedy You've Got Mail (PG) on the big screen. Show your love for local businesses by buying Lane Cove sourced movie snacks for your picnic. No tickets required.
Valentine's Day: Swing Dancing Performance
Monday 14 February, 6:00pm – 8:00pm, The Canopy
Head to the Canopy village green with the Retro Rascals swing dancers and music by Queenie and The Cavaliers. Bring your dancing shoes to join in or enjoy local dining options while you view a performance.
Judy Bailey's Quintet
Tuesday 15 February, 6:30 pm – 8:00 pm, The Canopy
Judy Bailey's quintet will perform from The Canopy stage with seating available for attendees. This event has been relocated to The Canopy from Council's Civic Centre due to ongoing COVID-19 restrictions on indoor performances. No tickets are required.
Lane Cove Live: Sport
Thursday 17 February, 3:30 pm – 6:30 pm, The Canopy
This Summer, catch live sport on The Canopy big screen, including watching our Australian athletes chase Winter gold in Beijing.
Rescheduled Lion Dance Performance
Friday 18 February, 5:30 pm, Lane Cove Plaza & The Canopy
Unfortunately, rain cancelled the recent Lunar New Year celebrations however the popular lion dance crew are available for a rescheduled performance to wrap up the end of the Lunar New Year 2022 festivities.  Find out more about the Lion Dance here.
Village Night Lights is Part of the Festival Of Place
Village Night Lights is funded by the NSW Government: The Festival of Place – Summer Night Fund.
Over summer (2020-2021), the NSW Government supported close to 100 councils to activate almost 100 hectares of public space by running 397 free, safe activations and events, creating opportunities for people to connect.
Building on this success, NSW State Government in 2022 offered funding to all NSW councils under The Festival of Place Summer Night Fund for free, COVID-Safe activations or events in public spaces in local centres as part of the NSW Government's efforts to re-energise our local centres in the evening and at night as we emerge from lockdown.
Every council in NSW was invited to sign up for up to $15,000 for free activations or events that enliven public spaces in the evening or at night, from January until the end of April 2022.
Last year the Inner West Council lit up the Balmain Town Hall with Light with featured projections and audio in celebration of the local Aboriginal community. The project supported the engagement and employment of creative workers and producers.
Over 2,000 visitors across 10 days gathered to hear the stories of Baludarri (Balmain)'s local Aboriginal narratives projected onto the Town Hall in a truth-telling project.
The project provided an opportunity for people to safely return to their public spaces, with some of the community commenting on the excitement around seeing public activations occurring again.
So, pop along to one of our local eateries and then when you have finished dinner cruise the streets of Lane Cove and enjoy the illuminations and digital artwork.
---
Keep Local News Free
---
Many of you have asked how you can support In the Cove. It's so easy – tell your friends about us, follow us on a different platform or subscribe to our weekly news blast.
We now have a Patreon account  where you can sponsor us for any amount you like (this allows us to keep local news free – no paywall!!!)
ITC wants to make sure you get local news when you need it by employing local people to help us out. We need your help – yes, local business advertises with us, but this is our sole source of funding. Feel free to be a reader sponsor if you have enjoyed our local news coverage – no amount is too small or too big. Thank you so much to the people who have already supported us via our press Patreon account. Help Us Here.
Stay tuned. We will be announcing our In the Cove Intern programme soon – where we will take on a part-time PAID intern who lives locally and is studying either PR, Social Media, Communication or Journalism.   This is our way to give back to Lane Cove, and as you would be aware, we offer free advertising for all local jobs as we are passionate about local jobs for local people.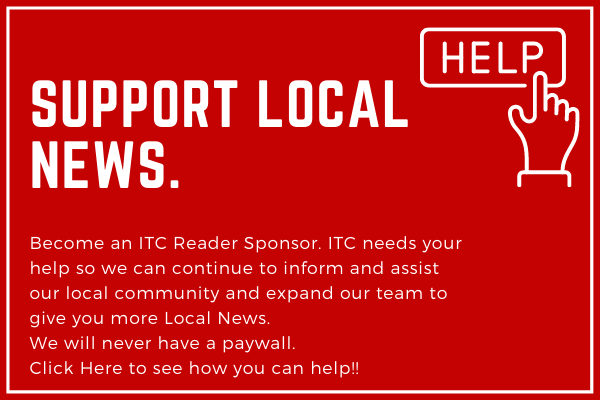 ---
Get Your Local News on Different Platforms
We have many platforms to follow, each taking a different take on Lane Cove News and Information. Don't miss out!
Facebook: www.facebook.com/inthecove