Welcome to our Lane Cove News week in review.
Federal Election – North Sydney Seat
In the Cove held an online North Sydney Candidate Information Night on Monday 9th May 2022. All candidates were invited. The following attended the forum.
Trent Zimmerman (Liberal)
Heather Armstrong (Greens)
Kylea Tink (Independent)
Catherine Renshaw (ALP)
Victor Kline (TNL)
Lesley Kinney (Informed Medical Options Party)
Each candidate gave a four-minute presentation on why you should vote for them, and the rest of the forum was a Q and A session. You can watch the forum on our youtube channel.
You can also read more about the candidates here https://bit.ly/38YIBVO
Pre Polling has started, and details on where you can pre-poll are here: https://bit.ly/38YouXO
Dates for Lane Cove Winter Festival Announced
Lane Cove Council has advised the Lane Cove Winter Festival (which includes an ice skating rink in The Canopy) will be held on Saturday 9th – Sunday 17th July 2022.
Blackman Park Sinkhole Update
Lane Cove Council advised ITC as follows:
"The repairs to the stormwater line at the bottom of the hole at Blackman Park have now been completed and our contractor is reconstructing the stormwater pit and working their way out of the hole.
We anticipate the works around the hole to be completed within the next four weeks subject to wet weather.
Once works are complete, the cricket nets and basketball court will be reopened – these were closed due to safety concerns, including people retrieving balls from the works zone.
Unfortunately, due to the flood conditions experienced in the Hawkesbury region there is no turf available in NSW until Spring which means that while the Dog Park will be reopened, it will be unable to be returfed until Spring. "
Despite numerous requests, the Lane Cove Council has not yet advised how much the rectification costs are and how they will be funded.  Our cover photo shows the substantial work still to be completed.
Community Recycling Centre – Artarmon
The collection of some household problem waste items from the Community Recycling Centre has been impacted following a fire at the processing and storage facility where waste is sent after it is dropped off at the CRC.
The Community Recycling Centre will no longer be accepting oils, paints, and aerosols.
Non-impacted waste items are still accepted.  ITC will let you know when full collections recommence.
Volunteering in the Lower North Shore
ITC often gets asked about volunteering opportunities in Lane Cove. If you are interested in volunteering then you may want to go to the Lower North Shore Volunteer Expo put on by Willoughby City Council.
Enjoy the many benefits of volunteering – making friends, learning new skills, and making a real difference. Suitable for those 18 – 80 years old!
11 am-1 pm | Thursday 26 May
Dougherty Community Centre | Chatswood
Tea/coffee and muffins provided
Lane Cove Sport
Pottery Green Lights
Lane Cove Council has advised that the sportsfield lighting at Pottery Green Oval is currently not operating at 100%.
To undertake the necessary repairs, Council needs to arrange for an elevated work platform to be driven onto the field however due to all the wet weather the ground is too wet to get this required machinery on site.
Unfortunately, more wet weather is forecast next week which will likely delay the opportunity to commence repairs until mid-May.
Lane Cove Cats Junior AFL Club Milestone
Congratulations to Emma Byrne who became the first girl in the history of the Lane Cove Cats Junior AFL club to play 100 games.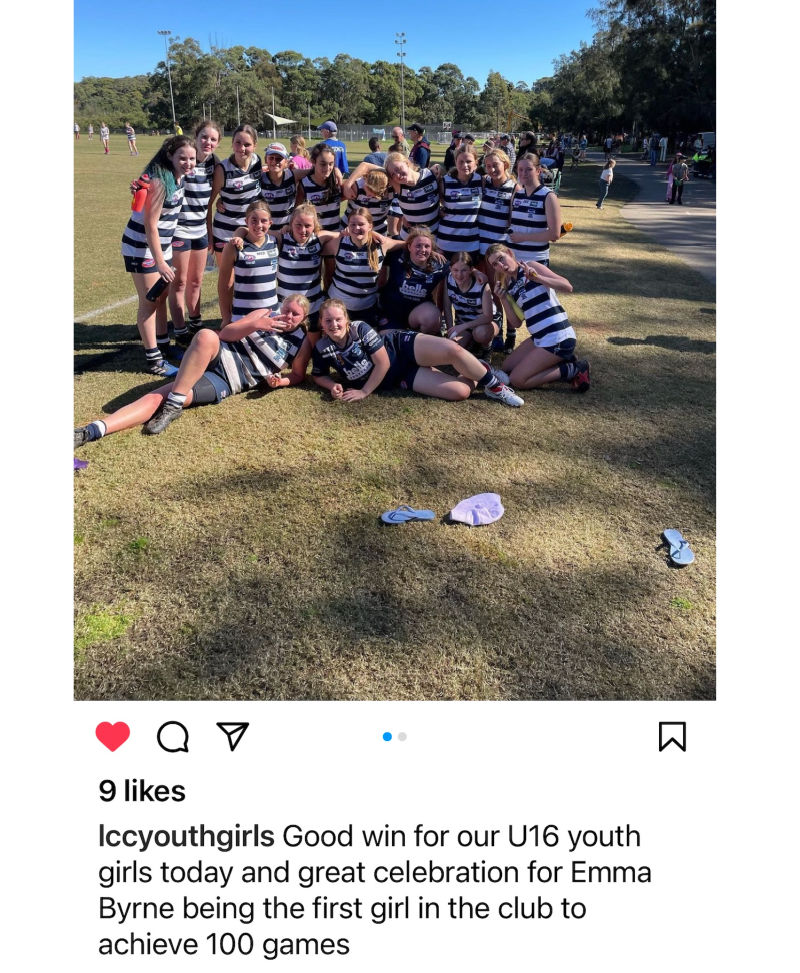 Mixed Netball Selection
A big congrats to Emily Nesbitt (exercise physiologist at Lane Cove Physio) for being selected as part of the Australian Mixed Open Netball Team.
Recently the Australian Mixed Open Netball Championships were held in South Australia; despite the NSW team finishing third – Emily was picked to represent Australia.
Emily also plays Netball in the Premier League – games are played out at Sydney Olympic Park.
Have Your Say
Break- In Cope Street
A house in Cope Street was broken into at 12 noon on 10 May 2022 while the owners were away. They used a jemmy to get through the front door.  However, they only got as far as the living area when the alarms must have scared them off. Please be alert for suspicious activity in the area and report it to police.
Mail Theft Arabella Street
An ITC Chat member posted the following:
"Hi all, just an FYI we had a package stolen from a letterbox in Arabella st Longueville.
In a cruel twist of fate for the thief, the book is all about
(specifically the microbiome of ) so I hope they enjoy it. If anyone finds a discarded book about microbiome please let me know."
Do You Know This Road Rule?
This week ITC Lane Cove Chat blew up when a follower published a post reminding people that it is legal to turn into a bus lane as long as you leave the bus lane within 100 m.  Do you know this rule?  If not, you can read more here.
Help Support Local and Independent News
You can support us in three ways:
If you own a local business or a Lane Cove resident who owns a business, you can advertise with ITC – our packages start from a $30 monthly fee (for a 12-month commitment).  Email us here for our rates card.
Buy the ITC  team a coffee – our office is nearly every coffee shop in Lane Cove, and we regularly meet locals at coffee shops – buy the ITC team a coffee (or two) here.
Become an ITC reader sponsor –  Feel free to be a reader sponsor if you have enjoyed our local news coverage – no amount is too small or too big. Thank you so much to the people who have already supported us via our press Patreon account. Help Us Here.