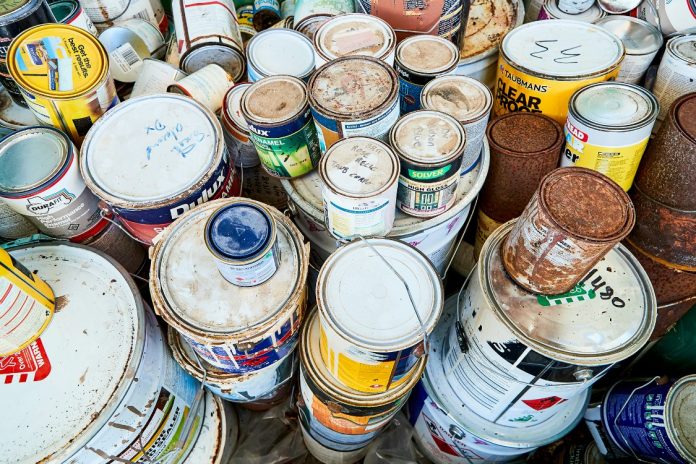 The Community Recycling Centre is a one-stop-shop for safely disposing of problem household wastes such as paint, gas bottles, e-waste or motor oil and more.  In other words, problem wastes that can't be collected via council kerbside waste or recycling collection services.
It is a free service and the Community Recycling Centre is conveniently located at 8 Waltham Street Artarmon.
A spokesperson for the NSW Department of Planning, Industry and Environment told ITC:
"The residents of Lane Cove, Hunters Hill, North Sydney, Willoughby, Ryde and Mosman Councils should be congratulated for their outstanding commitment to the Artarmon CRC.

The Artarmon CRC collects the second-highest volumes in the state, collecting over 190,000 kg in 2019, and this figure is growing each year.

Since it opened Artarmon CRC has collected over 540,000 kg of household problem waste. This includes over 11,500 kg of household batteries, 41,900 kg of gas bottles and 400,200 kg of paint (enough to paint the Sydney Harbour Bridge over 10 times)."
Location
8 Waltham Street Artarmon (see map below).  You drive in and waste is collected from your car.
Opening Times
Opening hours:
Monday, Tuesday and Friday – 8:00 am – 2:00 pm
Saturday and Sunday – 8:00am – 4:00pm
Closed on Public Holidays.
What Can You Drop Off?
You can drop off the following items for FREE:
Paint (oil and water based)
Gas bottles
Fire extinguishers
Fluorescent light globes and tubes
Electronic Waste (eg. computers, TVs, DVD players, CD players, electrical equipment and small electrical appliances).
DVD's and CD's. Please remove plastic covers on CD's/DVD's and any plastic or cardboard packaging. 

 

Household batteries
Lead Acid Batteries (eg. car & motorbike batteries)
Motor and other oils (including cooking oil)
Smoke detectors
Mobile phones
X-ray films

White goods

 are not accepted
Only household quantities of the above materials will be accepted. This is equivalent to a maximum of 20 litres or 20 kilograms for each of the items listed above.
Household chemicals such as household cleaners, motor fuels, acids and alkalis, garden and hobby chemicals will not be accepted at the CRC. These items must be taken to a Household Chemical CleanOut event. To find your closest event visit the ChemicalCleanOut website.
What happens to waste items after they have been dropped off?
Paints are mixed with other waste solvents and used as an alternative to fuel in cement kilns. The metal containers are recycled.
Lead acid batteries are sent to recyclers where the lead, acid and plastic are recovered and recycled.
Fluorescent tubes and globes contain mercury. Recyclers crush the tubes to separate the phosphor powder from the glass. They feed the powder through receiving containers, where it is filtered to capture fugitive mercury emissions. The mercury is then separated by distillation and sold for a range of industrial uses. The metals are also recycled.
Gas bottles have residual gas captured for reuse. Undamaged bottles are retested, restamped and entered into the hire industry. Damaged bottles are punctured and recycled as scrap metal.
Used oils are processed to become a lubricant or used for waste to energy.
Want More Information?
For more information call 9936 8100 or visit the EPA Recycling Centre pages.
What Are Some Other Recycling Options?
Check out our Lane Cove A to Z Recycle list here.  The other recycling programmes that are working well in Lane Cove are Return and Earn and Soft Plastic Recycling.
Recycling Bottles and Cans with Return and Earn
A return and earn reverse vending machine is located at Little Street Carpark.
More information about the scheme, including eligible containers and return point locations is available at www.returnandearn.org.au
Return and Earn Location
Little Street Car Park is located opposite the Lane Cove Aquatic Centre.  It is located in a parking station but you do not need to go into the carpark itself.  The machine is located before the boomgate.  It is great if you have a few bottles and cans.
If you have bulk items take it to the new return and earn centre in Lane Cove Business Park details here.
Since the ITC family has been separating our soft plastics, we have reduced the amount of rubbish collected from our red lidded bin.
Local Free News – that is ITC's promise.
In the Cove is run by locals. It is the only online hyperlocal media company based in Lane Cove.  We provide local free news – we do not have a paywall and will never have a paywall.
Lane Cove Chat by ITC – Chat with other Lane Cove locals about local issues, lost pets, local info and more on our closed Lane Cove Facebook group.  We closely monitor membership, to make sure (as much as possible) that members either live or work in Lane Cove.
Lane Cove News Every Wednesday – sign up for our Lane Cove news blast delivered to your inbox every Wednesday night.  Sign up here.
Check out last week's newsletter here.
Instagram – Follow our adventures around Lane Cove as we snap our lovely leafy Lane Cove.
We are also on Twitter and Pinterest.