There's no better time than now to bring together our amazing community of runners from the North Shore Running Group and Lane Cove Fun Run. This will be a perfect opportunity to start your training journey which will reach it's peak on the 11th September doing the 2km or 5km event at the Lane Cove Fun Run.
Unlike traditional running races, our time trial running event is all about you and the stopwatch. Choose your distance, arrive at the start line at your allotted time and off you go !
All participants entry: FREE ENTRY !
You can register for the event in the group sessions section of The North Shore Running & Fitness Group's  website or register on the day here
Where and When ?
Blackman Park – Llyod Rees Drive, Lane Cove West (adjacent to the amenities block and scout hall in front of the top Astro turf oval)
Sunday 22nd May 2022 Registration and briefing: 7:30am First runners start: 8:00am
How will it work ?:
This will not be a traditional "mass start" event where everyone starts at the same time. Instead it will be an individual "time trial" style event where each athlete will start separately at 1 minute intervals so as to encourage individual results rather that chasing a finishing position.
After registering you can choose to do one (or more !) of the following distances: 1km, 2km, 3km
You can choose to start on your own or form a team with your friends to run together for the same distance
You will then be given a starting time (for example 8:12am)
The starting marshal will call out your name to come to the start line at your allocated time
The starters whistle blows and off you go !
You then complete the number of laps for the distance you have chosen and cross the finish line to the cheers of your friends and family
Our friendly adult North Shore Running volunteers will be out on course to help you with directions
After you have finished your time will be recorded and provided to you at the completion of the event
What is the run course ?:
Run Course (for all distances)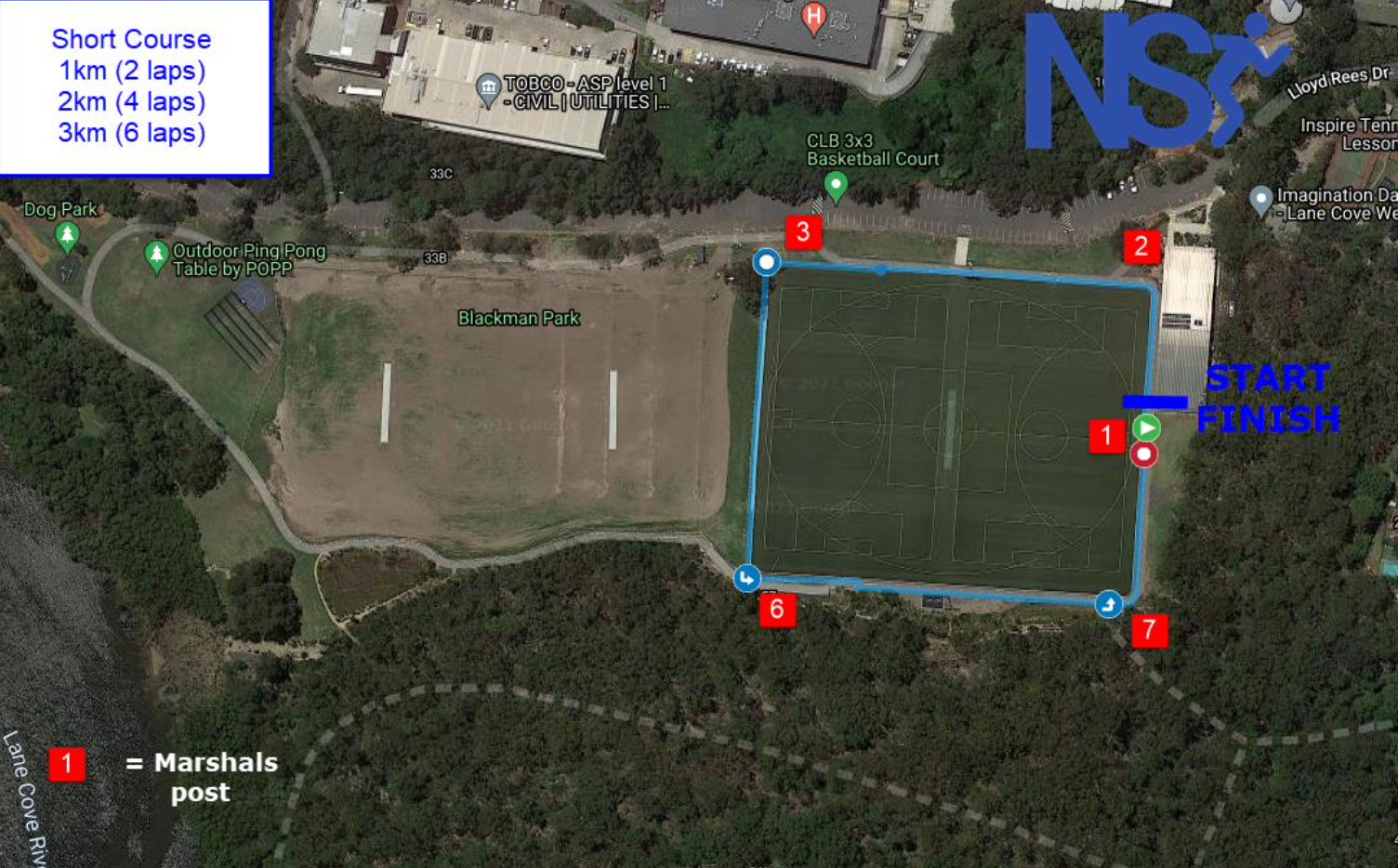 All participants entry: FREE ENTRY !
You can register for the event in the group sessions section of our website or register on the day here
The Event Plan and Rules:
The main objective of the day is to a provide a fun, supportive and social experience for our up and coming athletes and to give you a chance to prepare yourself for the Lane Cove Fun Run.
If you do not feel like you can complete your chosen distance there is no need to worry as we are more than happy to adjust your goal to a different distance at any time during the event.
For all participants please stay on the footpath at all times. Always stay left and DO NOT RUN ON THE ROAD !!
Given that the footpath is open to the public and we will be clearly visible and representing North Shore Running Group and the Lane Cove Fun Run, any inconsiderate behaviour to the general public will be frowned upon (eg. yelling at other pedestrians, pushing people off the path).
This is not a race so we expect to see lots of smiles and imaginative ways of providing support for participants in each event !
Please note the current COVID-19 guidelines for joining our training sessions:
We ask those who are unwell, to please stay home – there will be many more opportunities to train with us in the future!
We adhere to social distance guidelines whilst warming up and training as required.
Unfortunately, if you cannot abide by these protocols, you may be asked not to participate and we will not be liable for any infringement incurred.
ITC is the Media Partner for the Lane Cove Fun Run