Please see below our daily update regarding Lane Cove and other important COVID 19 news.  If you know elderly or vulnerable people in the community who do not have access to social media, then please ask them to sign up to our newsletter, and we will provide information to them via our newsletter. Sign Up here.
Everyone can help prevent the spread of COVID-19 by practising social distancing, thorough hand washing, cough etiquette and staying home unless it's essential. To learn how to protect yourself and others, click here.
COVID 19 Cases NSW
As at 8 pm, Tuesday 21 April 2020, an additional five cases of COVID-19 have been diagnosed since 8 pm 20 April, bringing the total to 2,971.
During that time, 4,291 people were tested, up from 2,502 the 24 hours before.
| | |
| --- | --- |
| Confirmed cases (incl. interstate residents in NSW health care facilities) | 2,971 |
| Deaths (in NSW from confirmed cases) | 33 |
| Cases tested and excluded | 172,448 |
| Total persons tested | 175,419 |
There are currently 231 COVID-19 cases being treated by NSW Health. This includes 20 people being treated in Intensive Care Units, with 16 of those requiring ventilators.
Anyone living or working in areas where community transmission has been identified in NSW who is feeling unwell with a fever, cough, or other symptoms of COVID-19 should get tested.
Areas of concern for community transmission in NSW are listed on the NSW Health website. This week the focus areas include the LGA areas of Blacktown, Canada Bay, Cumberland, Goulburn Mulwaree, Inner West, Liverpool, Parramatta, Penrith, Randwick, Ryde, Waverley and Woollahra.
COVID 19 Cases Lane Cove Council Area
There were 38 confirmed cases in the Lane Cove Council Area as at 8 pm 21 April 2020.
The number of cases by postcode were:
Lane Cove 2066 – 16 cases
Greenwich and St Leonards South and other suburbs in  2065 – 22 cases
The Lane Cove Council area and includes the suburbs of Greenwich, Lane Cove, Lane Cove North (part), Lane Cove West, Linley Point, Longueville, Northwood, Riverview and St Leonards (part).
You can check these figures daily here.
COVID 19 NSW Recovery Status
NSW Health can now confirm the number of people in NSW who have recovered from COVID-19. That figure as at 8p m Monday 20 April is 1,755.
To find out how long it takes people infected with COVID-19 to recover, NSW Health staff have begun contacting all cases at three weeks after their illness to ask them about their COVID-19 symptoms.
Cases whose symptoms have resolved are asked to report the date this occurred. Cases who still have symptoms are called every two weeks until symptoms have resolved.
A preliminary analysis of information collected from over 2,000 case interviews showed:
50 per cent of cases had recovered after 16 days
75 per cent of cases had recovered after 3 weeks
95 per cent of cases had recovered after 6 weeks.
Older people were found to take longer to recover than younger people. These data will be updated as more cases are interviewed.
Students to Head Progressively Back To School
Member for Lane Cove, Anthony Roberts, has welcomed the plan "for students attending public schools to progressively return to face-to-face learning in week three of Term 2."
He said, "health advice continues to be that schools remain open, and parents, teachers and students can be confident that school is a safe place."
"I am grateful to all families who kept their children home from school at the end of Term 1 and to teachers who worked tirelessly to deliver education online," Mr Roberts said.
"This gave us critical time to prepare our schools to develop better online learning options and for considering additional hygiene measures to allow schools to return."
"We know that nothing is more important than a child's education, and we must begin to return our students to their classrooms in a considered way."
Under these changes, from week three of Term 2, every student will be attending school for one day a week.
"We will look to increase the number of days students are at school in a staged way and hope to have all children back at school full-time by Term 3."
Further Information here.
Lane Cove Dentists Are Now Able to Offer More Services
Government restrictions on dental practice will be eased from level 3 down to level 2, from Monday 27th April 2020.
Level 2 basically means that anything necessary can be done, but anything elective should be deferred. The temporary fillings of level 3 can be definitive treatments under level 2.
Routine cleanings are unfortunately still not allowed under level 2 unless there is an active gum disease that requires ongoing attention.
Lane Cove – St Vincent's De Paul
As ITC previously reported, Lane Cove 's St Vincent's De Paul is closed.  There are signs advising goods should not be left out the back or the front of the shop.  This has not stopped illegal dumping.  Lane Cove Council has been advised that goods have been dumped.  The statement below is on St Vinnes website:
"As we all respect our wider community by staying safe indoors, we understand it's an ideal time for a spring clean, so have been working to provide a solution while we're closed. We've had lots of feedback that our customers and supporters would still love to donate to us, so we've launched our new donation collection service, Donation Stations across Sydney. Each of these donation drop-off points are now ready to accept quality donations of clothes, bric-a-brac, books and household items.
We are welcoming quality donations now for when it's time to re-open, as our shops raise essential funding for our community services which serve people facing poverty, homelessness and disadvantage.
For larger items, like furniture, we ask that you call ahead on 9350 9660 so we can assess our capacity to take them.
For your peace of mind, our Donation Stations are designed with social distancing measures in mind to reduce risks as much as possible, so we ask that people donate at these specific sites, rather than leaving items outside of the shops, donation bins or on the footpath.
Donations Station Sites – Open 9 am – 3.30 pm daily
| | | |
| --- | --- | --- |
| Site | Address | Location |
| Brookvale | 24 Roger Street, Brookvale | |
| Burwood | Clarendon Place, Burwood | Back Gate |
| Crows Nest | 8 Willoughby Lane,Crows Nest | Roller Door |
| Greystanes | 433 Great Western Highway, Greystanes | Left hand side dock |
| Hornsby | Jersey Lane, Hornsby | Back Gate |
| Mt Pritchard | 248 Humphries Road, Bonnyrigg | |
| Sutherland | 710 Old Princes Highway, Sutherland | Driveway |
| Waverley | Judges Lane, Waverley | Back Gate |
Here are some handy tips on donating responsibly to help you get started:
All Donation Stations are open 9 am – 3.30 pm daily, please come during these hours to ensure we can accept your donation.
It's never okay to leave goods outside bins or in front of charity shop fronts. If the bin is full, don't leave your goods – donate at the donation station or come back later.
Rubbish and damaged items belong in the garbage bin, not in a charity bin or donation station. If you wouldn't give a second-hand item to a mate, don't donate.
If it's dirty, damaged or dangerous, we won't be able to accept it. If you do have items to dispose of that are not appropriate for donation, contact your local council to arrange a council pickup or to find your nearest waste station."
Sydney Community Services
Sydney Community Services (SCS) are working hard to provide for the elderly and vulnerable in our community. They are a local not-for-profit organisation that helps residents to live a quality and independent life in their own home and in their community.
They provide Local Support for Local People.
Now more than ever, they are providing meals and assistance to the elderly and the vulnerable.
They provide a service where they will shop for locals, or they will assist local seniors by shopping online for them.  Online Shopping can be daunting for some segments of society.
You can help SCS by either:
Donating via their website here; or
Donating Food and Grocery Items or Supermarket Vouchers.
Donations can be dropped off at their office at Pottery Lane (i.e. the Little Street Car Park across from the pool).
If you still have a job and can afford to donate some items, they would love you to drop off the following:
Lane Cove Guides and Resources
ITC has put together numerous guides to help out our local businesses, to make it easier for you to shop and for kids to have fun. The guides are listed below. We hope you find them useful.
Mental Health Support
If you aren't feeling yourself lately, the Way2Wellness team are available to listen. Talk to a trained mental health supporter using a free and confidential wellbeing service.
For more information, visit: www.way2wellness.org.au or call: 1300 120 446 to chat.
Closest COVID 19 Testing Clinic
There is a COVID 19 Testing Clinic at Royal North Shore. These clinics are currently assisting with the assessment and testing of people with fever, cough or flu-like symptoms who are returned travellers or a contact of a confirmed case.
NSW Health Advice on Social Distancing
Everyone should practise social distancing, as it reduces the potential for transmission.
Social distancing is an effective measure to reduce the potential for transmission, but it is recognised that it cannot be practised in all situations.
Social distancing includes:
avoiding places where it is difficult to keep the appropriate distance away from others
attempting to keep a distance of 1.5 metres between themselves and other people where possible, for example when they are out and about in public place.
do not shake hands, hug, or kiss people who do not live with you.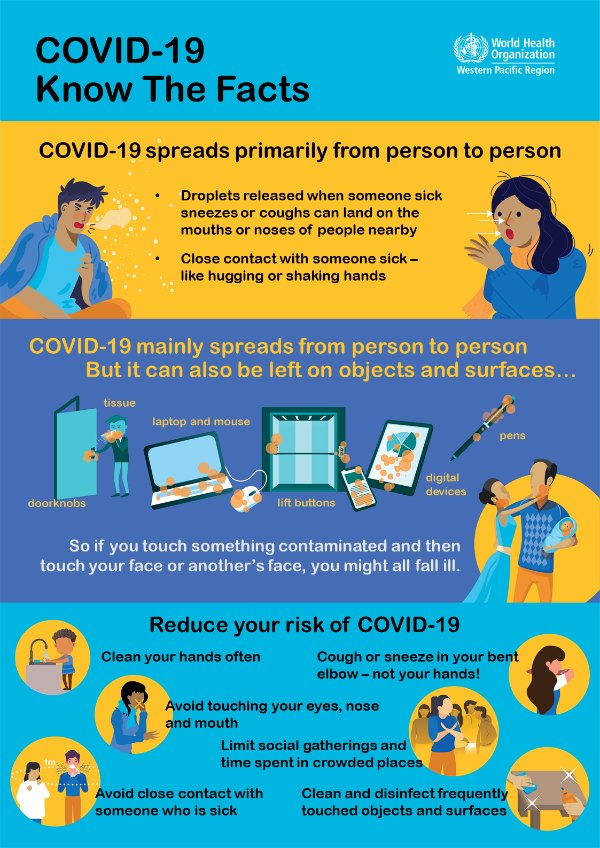 Be a Lane Cove Legend
To make sure you don't miss Lane Cove info sign up to our newsletter. It comes out every Wednesday at 7.30 pm and includes a wrap up of everything posted on our Facebook site in the previous week.
Did you know that In the Cove has an Instagram page? Yes, we do, and we feature pictures from our roving reporters and our ITC team that do not appear on our Facebook page. Follow us on @inthecove