EPIC Walk – WEST PYMBLE Bicentennial Park
12 June 2022 @ 10:00 am

-

12:00 pm

Free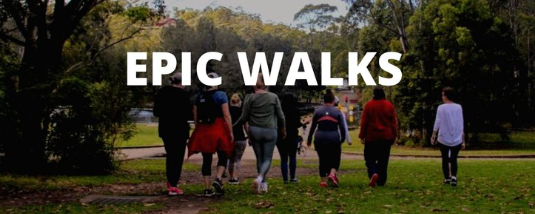 EPIC Walk, 12 June,
West Pymble Bicentennial Park
10am-12noon
This will be a relaxing walk to, and around West Pymble Bicentennial Park. We'll return to the shops for really good coffee! Dogs are welcome 🐶 Meet at West Pymble Community Garden, located at the end of West Pymble shops, Philip Lane, 10am.
A BIT MORE INFO ABOUT THE MAY WALK:
🥩 Meet at the West Pymble Community Garden, Philip Lane, West Pymble (behind the shops) @ 10am
🏋️‍♀️ Need a lift? Email us or request a lift in the sign up comments.
🚙 Parking. Free parking is available in the Philip Lane car park at West Pymble shops.
💕 Bring a friend, share the EPIC love. If you know someone travelling the path with a teen in crisis, or have a friend that is supporting you, invite them along.
⛈ Let us know if you're coming so we can alert you if there is a change due to weather or other circumstance. Register here 🙂
🤷‍♀️ Lost? Sms this number – 0409716800
EPIC walks are all about connection for parents of teens in crisis. We walk, talk, listen, laugh, cry and relax. With so much going on in our daily lives it's important for us all with troubled teens to take a moment to share, unwind a little and realise we are not on this journey alone.
Related Events