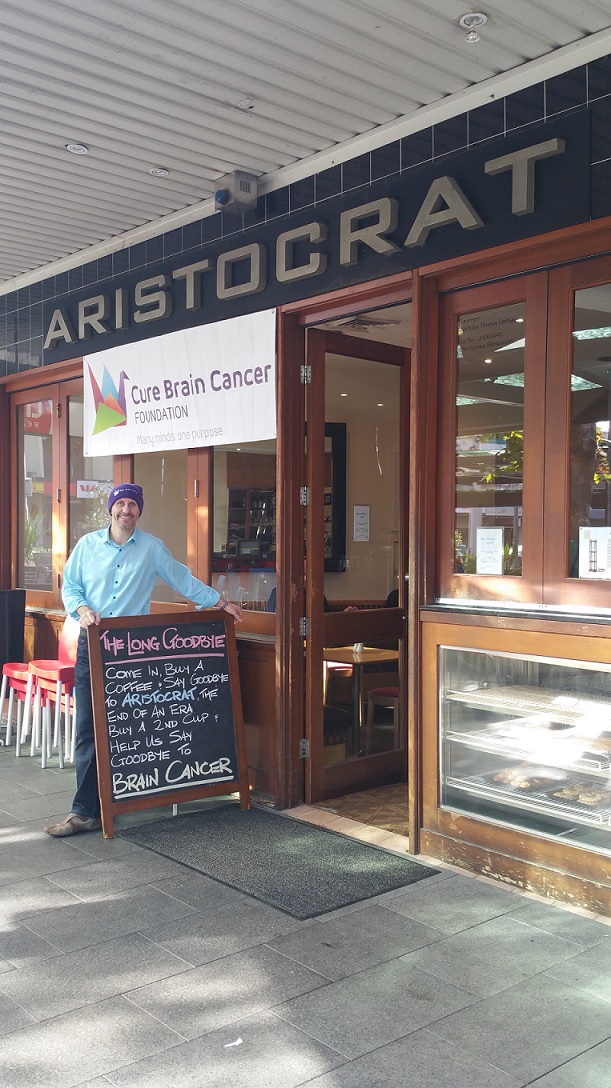 Carrie Bickmore inspired Australians to get behind Beanies for Brain Cancer after sadly losing her husband to Brain Cancer. Australia listened and support flooded in, beanies were seen everywhere. Nick and Paul Drinias from Aritsocrat are inspiring Lane Covians to get behind Beanies for Brain Cancer in support of their dear fathers' current fight with Brain Cancer. Nick has launched The Long Goodbye #aristocratlgb. The price of every second cup of tea/coffee bought is donated to the Cure Brain Cancer Foundation.
Nick and Paul have pledged their final three days profit as a donation to the Cure Brain Cancer Foundation and, with donations of support, is hoping to raise $5000. The Long Goodbye is also an opportunity for the two Drinias brothers to say Thank You and Goodbye to all the customers of their Aristocrat Coffee Lounge in Lane Cove.
The Aristocrat opened at #8 Burns Bay Road, Lane Cove in 1949 as a Milkbar. Nick and Paul bought the long established business in 1995 as the fifth owner/operators and their first day of trading was 1st July 1995. Both brothers worked tirelessly to give Lane Cove a hearty breakfast on a weekend morning, at a reasonable price, like it was cooked at home. In fact many of their customers refer to Aristocrat as their second home. It is a place to go with your pram or your walking frame, and both will be happily accommodated. A place to watch the World Cup, Australian Open, Olympics, Commonwealth Games, news of the world. Nick says "When 911 happened people flocked to see live updates on the big screen. The public wanted up to date information and we had the news channels up on the big screen. There was a very eerie silence in the café; people just eating and drinking silently. In a strange way I think people felt a sense of support and community at our place during this time." He goes on "…of course we had the World Cup on! We are Greek, Greece was playing, we supported Greece, and we had Greek flags and colours everywhere! Every Greek person in Lane Cove, and surrounding suburbs came to watch!!" Another example of the sense of the community inside Aristocrat.
Almost 20 years to the day, June 28th 2015 will see the doors close one final time at Aristocrat Coffee Lounge. Head on over, have a coffee, a milkshake, a meal or a snack and be generous in your donation to help the Thomas Drinias Cure Brain Cancer Foundation. Grab a wrist band to show your support for Cure Brain Cancer, wear a beanie and make a donation! Post your pics of Aristocrat, beanies, your support to Instagram using #aristocratlgb and #inthecove.
If you would like to donate to this cause (but you are unable to come into Aristocrat) then you can donate online here:
Lane Cove will sorely miss this place of comfort. The two Drinias brothers say "Andio Lane Cove".
If you would like to read more about Nick and Paul and Aristocrat check out our earlier blog on Nick and Paul here
.
We are also privileged to have living in Lane Cove, one of Australia's top brain cancer researchers – find out more here
This blog was written by Emily Patterson for ITC.  Thank you so much Emily.