Lane Cove is about to welcome a new Co-Working Child Care business called Upswing. What the heck is a Co-Working Child Care business? It is a business designed to provide you with flexible childcare in a venue where you can work uninterrupted for up to three hours. If you are a small business owner, freelancer, entrepreneur, consultant, student, writer, creative or a parent who needs a couple of hours to focus on your home admin tasks (paying bills, writing emails, or other home admin tasks) this is the child care solution for you. While you work in a designated work area, your child/children will be looked after in the same venue by a qualified carer in a fun environment. Your child must be between 6 weeks and 6 years old.
ITC can tell you from experience how hard it is to run a home based business. Working from home has it challenges. It's so easy to be distracted. You tell yourself, "I will just put that load of washing in and then go straight to my desk to work". Three hours later you are still doing chores around the home and have not sat down and worked on your business. You are also trying to squeeze in work time in between naps, feeds, playtime, tummy time, reading time etc. It gets to the end of the day, the children are in bed, and you are just too exhausted to work on your business.
Many people start a home based business so they can spend more time with their children or because they are not ready to go back to full-time paid work. So how do you grab a few hours of concentrated work time during work hours? You book into Upswing the new co-working child care solution in Lane Cove. This solution could work really well with your daily routine. You might take your child to a swimming lesson or some other activity and then check into a three-hour session. You might even schedule regular uninterrupted time every week to work, then the rest of the time focus on your family and other household tasks. 
When you run a small business, networking is so important, you will probably bump into other parents in a similar situation to yours and you might be able to network with them.
For convenience, Upswing is based in the heart of local communities. Lane Cove sessions will be held in:
There will be a maximum of 10 children at each session with two qualified educators. If these sessions fill up, they will look to will find more times / locations to accommodate everyone. The Lane Cove Council is supporting this initiative as another way to support local parents. This is not a drop and go service, the whole idea is to provide you with time to be productive while your child enjoys fun childcare.

Upswing has a special offer for In the Cove followers. They will commence in Lane Cove on 26th April 2016.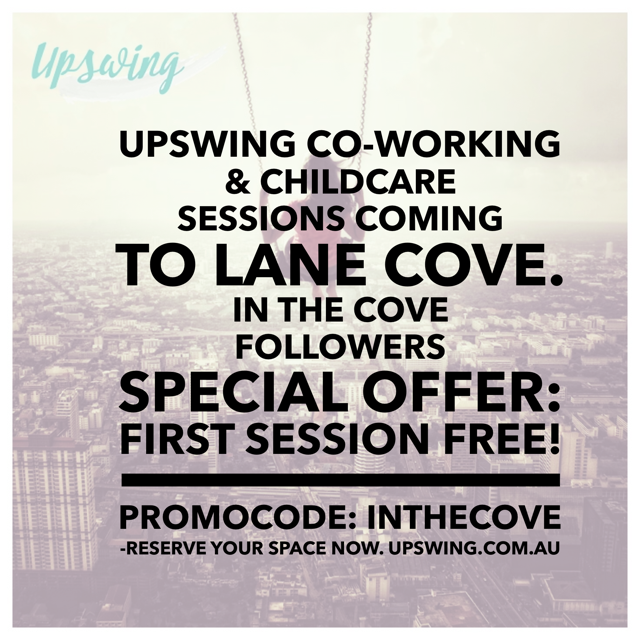 So if you are interested in this concept, check out Upswing.com.au for the costs and terms and conditions. A good place to start is their FAQ section.
There are several different packages available to you and in fact, one of the packages would make a great baby gift for a new parent.
Do you have a question about Lane Cove you are dying to have answered? Please send us an email at

[email protected]

Have you liked our Facebook page or Instagram Page – what are you waiting for?!