Members of the Welsh 7's Rugby Team will be at Tantallon Oval on Wednesday 1 February between 5 pm and 7 pm to conduct a session with the Lane Cove Junior Rugby Union Club.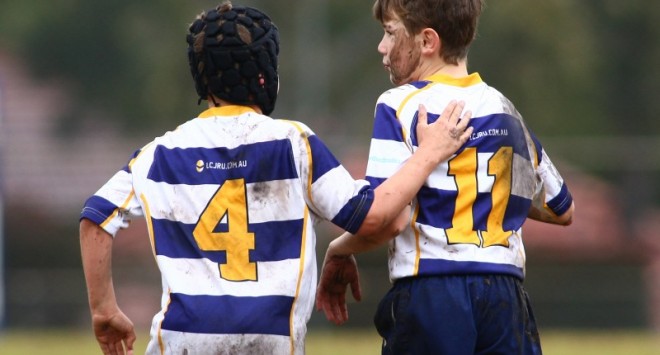 How did the LCJRU score such a coup?  It's a great story about what one family can do to help out their local club.  The Jones Family live in Lane Cove, but they are originally from Wales.  They went back to Wales to visit family and they just happened to meet the Head Coach of the Wales 7's team.  They got talking and the Jones Family asked if the Welsh team would mind coming to the Lane Cove Junior Rugby Union Club grounds to conduct a clinic?  The Head Coach said they would be delighted to come.   The Jones family headed back to Lane Cove.  The Welsh Team contacted the Jones Family and said they were very keen to meet the Rugby kids of Lane Cove.
So on Wednesday 1 Feb between 5 and 7 pm the Welsh 7's team will be at Tantallon Oval.  Everyone is welcome to come down.  Currently, 75 kids are participating (including 12 girls).  The clinic is for kids between Under 8's and Under 12's.  There will be a BBQ and a family friendly atmosphere.  The registration desk will also be open for anyone who is keen to sign up their kids to play Rugby.
So next time you meet a great sportsperson ask them to come down to your local sports club – you never know what might happen!!
The HSBC World Rugby Seven Series is on 3, 4 and 5 February 2017 at Allianz Stadium.  You can buy tickets here.
If you can't make it to Tantallon Oval to register, here are some other ways you can register.
Important Dates
      Registration days in Lane Cove Plaza – Saturday 4th and 11th Feb, 9 am- 2 pm
      Try Rugby Clinics for new participants – Sunday 10th and 17th Febr – Tantallon Oval, 1pm-3pm
      Trials – Sunday 6th, 13th, and 20th March
      Jersey Day – 19th March, 3pm-5pm at The Diddy
      Round 1 – 1st April
How to Register Online
There is a new registration process for 2017.  Registration is done via Rugby Link . If you are a returning member your details may well be in the system. Type your email address and click 'Recover'. This will only work if the email address on the database matches the email address that you are using to recover your password. If your email address is not recognised, you will have to follow the 'Sign up now' option.
If you have any questions about the registration process you can Email the Registrar.
Registration Fees
Under 7s and below – $180 per player
Under 8s to Under 9s – $200 per player
Under 10s and up – $265 per player
---
Do you have a local issue you would like help with? ITC is here to help just email us at [email protected]