Welcome to our Lane Cove Weekly Review for 10 to 16 April 2017.
School Holidays are here again, which meant less parking woes, for those who still dare to brave the local parking stations!
Breaking News
After weeks of "waiting for a part from Germany", on Thursday we witnessed a miracle – both the Market Square/Woolies escalators were working (and all three lifts too!). 'Twas indeed an Easter Miracle!
Also during the week, these officials were spotted inspecting the Woolies car park – looking at the boomgate, speed-bumps and cleanliness. Since then, some of the speed-bumps have been removed, and the stairwells and nooks and crannies of the car park have been cleaned.
Moving in
Thanks to a Roving Reporter for sending in this photo of the first residents moving into the recent completed apartments at the corner of Little Street and Pottery Lane. Also a good view of the new foot bridge across Little Street, to the Aquatic Centre.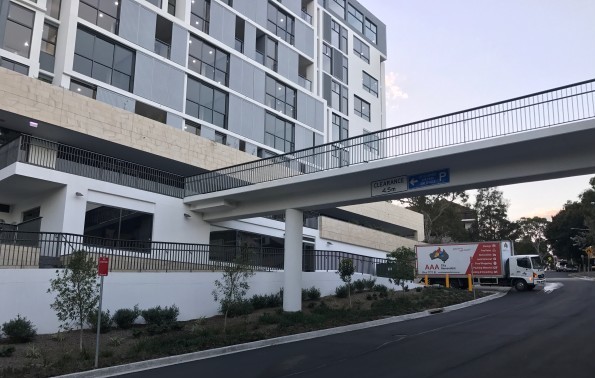 21 Fraser Street, Lane Cove North
This property is on the market with Belle Property Lane Cove.
For those who value a home of substantial quality offering generous space, superb entertaining and unrivalled privacy, this stunning split level residence unquestionably delivers. It's set on lush landscaped surrounds showcasing a secluded resort-like rear garden and swimming pool not overlooked by any neighbours, while the gently elevated setting provides glorious leafy outlooks from almost every window.
More details about this family home with a private resort garden HERE.
Local of the Week
This Lane Covian was spotted cycling around the Cove during the week.
Huge Plant Sale Success
Congrats to Keith and Maureene who raised $7300 for breast cancer research with their HUGE Plant Sale. Next sale is in October. All proceeds will be donated to the National Breast Cancer Foundation. Legends of Lane Cove!
The Lane Cove Captured Photography competition is back and all ages can enter. So get out those phones and start snapping! Details HERE.
Crime Report
From the North Shore Local Area Command weekly report
Prowler – Riverview
About 8:00pm on Sunday 9th April a Riverview woman was at home with her daughter when power to the Kallaroo Road home was cut.
The woman thought this to be unusual and went to the fuse box to investigate, as she has walked down the side of the property to the fuse box she has seen an unknown male wearing dark clothing with a bandana covering his face. The home owner has yelled out at this man and he has immediately fled the area.
Police attended a short time later and patrolled the area in search of the man but were unable to locate the offender.
The male is described as being Caucasian, about 175cm tall, medium build wearing dark clothing.
Police are appealing to anyone that may have witnessed any suspicious activity on or around Kallaroo Road Riverview during the stated time or that thinks they may have any information that could assist police in identifying the offender to please contact Chatswood Police on 9414 8499 or Crimestoppers on 1800 333 000.
Grab that pesky E-Waste, along with your proof of address, and head to Riverview on Saturday 22 April. more info HERE.
If you have post-Easter-egg-binge remorse, buck up – it's not all bad! Read THIS.
Our Weekly Newsletter
Each Wednesday evening, we email out a newsletter to subscribers. It is full of events, news and more! You can read this week's newsletter HERE.
Subscribe for next week HERE.
Advertise on In the Cove
Did you know you can advertise on In the Cove? Yes, you can!!  In fact, advertising is our only revenue. At this stage the ITC team is 1.5 people. We would love to do more and bring you more but we need your help. Spread the word about ITC and let local business owners know that ITC is your source of local business news. If you would like to advertise with us please email us here for a Media Kit. All community groups and sporting groups can advertise their events free of charge on ITC so don't forget to email us with your events.
---
Do you have a local issue you would like help with? ITC is here to help just email us at [email protected]