For over 22 years Lane Cove local Brian Thorburn has been staging successful Australian sporting events.  He is a walking encyclopaedia on sports staging and event management/venue management.  Brian is a north shore man through and through. He played Rugby Union from the age of 9 to 22 with Lindfield Rugby Club and the Gordon Rugby Club.  He went to Artarmon Demonstration School and North Sydney Boys High. ITC sat down with Brian to find out about his amazing career and have a look at his stunning Austin Street home and garden created by Brian and his wife Ally.
How Did You Start in Sports Event Marketing and Management?
After 20 years working in the corporate banking sector, it was time for a change. In 1996, I started working with the Australian Rugby Union (ARU) as their General Manager Commercial Operations. I'm passionate about all sports and being a former Rugby player, the ARU job was a dream, and I was with them for 11 years, during a golden period for Rugby in Australia.  While I was there, I oversaw the marketing and delivery of ten successive seasons of Super Rugby and Tri Nations Rugby and I was also heavily involved in the staging of the Rugby World Cup in 2003.
Part of my job was to drive big crowds at our domestic Test matches, and we were lucky to have a great product in the Bledisloe Cup and a great team in the Wallabies so we took those matches to big stadia and got massive crowds in those years. It started with taking the Bledisloe to the MCG where we got over 90,000 people, and there were many highlights for me including:
ANZ Stadium started construction in September 1996 and I was privileged to be there to help lay the first grass in 1998.
We had a fantastic Centenary Test between Australia v England in June 1999, where the teams played in the jersey colours from the first test match 100 years before. (light blue for Australia and dark blue for England).
Watching 107,000 voices sing Waltzing Matilda with John Williamson at a Bledisloe Cup match at Stadium Australia (as it was then known).
Helping to bring a world record crowd of 109 000 to Stadium Australia to watch one of the greatest Bledisloe Cup matches ever in July 2000. Australia came back from a massive deficit only to be denied by Jonah Lomu's brilliant try as he tip toed down the sideline.
What Did you do after you left the ARU?
In 2007 I decided I would work with other sports, so I set up an office on Longueville Road and worked with cricket, netball, rugby league, football and several other sports.
Then in 2010 I was approached and appointed by the Professional Golfers Association (PGA) to be their CEO and I enjoyed six great years running professional golf in Australia until early 2017.  It was a great job and going to the US Masters and British Open each year was a highlight, as were the Presidents Cup and the Rio Olympics. But it also had plenty of challenges, with one of the biggest being the staging of the 2012 Australian PGA Championship at Clive Palmer's Coolum Resort.  We had a massive dispute over the 62 grass signs Clive decided to paint on the fairways of Coolum, and it became a brawl which created headlines like "Clive Palmer's Titanic dispute as golf bosses teed-off with T-Rex"
Clive Palmer was promoting several of his projects like Titanic on the fairways and of course we also had to deal with his 18 meters high Dinosaur.  When we started sending legal letters, the dispute escalated and Clive kicked us out of the golf course, and parked a tractor next to the ninth green and told us that he was going to rip it up, if we didn't back off. We got through the tournament in the end but the next year we moved it to Royal Pines on the Gold Coast where it has been held ever since.
I also worked with the PGA to introduce the Greg Norman Medal and the SONIQ Million Dollar Hole and was a member at large on the Selection Committee for the World Golf Hall of Fame. So it was a great job, but the downside was that I was travelling up to 200 nights a year and really wanted to spend more time with Ally and my family.  So, I'm now running my own sports marketing and events management company.
Tell us about your involvement in the Invictus Games?
Due to my experience in sports management, I guess, I was asked to join the board of the Invictus Games. The word 'Invictus' is Latin for 'unconquered' and embodies the fighting spirit of our wounded, injured and ill servicemen and women.  The Invictus Games Sydney 2018 is organised by Australian International Military Games Limited, a not-for-profit charity responsible for planning and delivering the event. The Board members are made up of senior representatives of Federal and State Governments and senior functional experts who have experience in complex event staging.  It's a wonderful board, and an amazing cause with so many dedicated people working together to bring Prince Harry's vision to Australia.
[ITC note:  If you want to buy tickets to the Invictus Games, click here or if you would like to donate please click here.]
Why did you choose to Live in Lane Cove?
I've lived on the North Shore virtually all my life, growing up in Roseville and in 2002 we were looking around the North Shore and we thought we had found a place in Roseville.  Before going to the auction, we stopped at a vacant block of land in Austin Street and just knew that was the place for us.  We could not believe there was a vacant block of land in Lane Cove so close to the Lane Cove Village and Lane Cove Public School.  We worked with an architect to design a three-storey home with the bedrooms up the top and the entertainment room and party level down the bottom.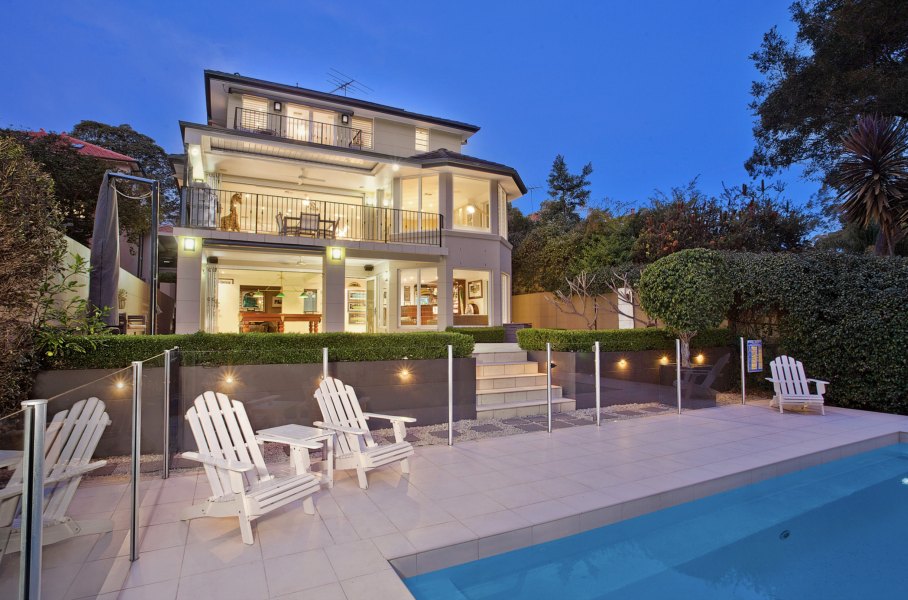 It's now time to move as the kids are soon to enter high school and our home is now for sale with Belle Property.
What Do You Love About Your House?
It's so close to the incredible Lane Cove village, schools, and there are only two sets of traffic lights between here and the CBD (and Canberra).  The three levels make it easy to entertain and I love sitting on the sun-soaked terrace and looking at our salt-water infinity pool against the green backdrop.
Our kids love the games room and the media room.  Our friends enjoy our wine cellar and custom-built bar.
The icing on the cake is the hidden garden at the back of the house.  Both Ally and I worked hard to create an oasis.  We used the sandstone taken from the house excavations to create steps to the hidden garden.
My brother Peter Thorburn lives in Longueville and runs Honeysuckle Gardens so I had access to high quality plants, at a pretty good family discount!
It was ITC dream job to be a sports journalist (that never happened) so interviewing Brian was a real treat.
Brian and Ally's house is located at 59 Austin Lane Cove and is open for inspection on Saturday 25 August 2018, 12:00 pm-12:30 pm and the auction is on Saturday 15 September 2018, 03:00 pm.
Do you know an interesting Lane Cove resident we should interview?  Email us at
[email protected]
?