ITC was invited to the Lane Cove Public School to meet students in classes 3KD, 3JC and 4SS and their dedicated teachers to find out about a very special STEAM project they've developed.  ITC was impressed that the students had created their very own reusable T-Shirt Bag "company" called 'Tag I.T. Lane Cove'
Why Did the Students Start their Own Reusable Bag Company?
After watching an episode of the ABC's War on Waste where the students discovered that every 10 minutes 6000kg of clothing around Australia is dumped in landfill and that by 2050 scientists predict there will be more plastic bags in the sea than marine animals. The students felt they needed to take action.
Initially, the students decided to embark on a mission to install recycling bins in their school playground.  This would stop all their waste going to landfill. The students wrote letters to the Lane Cove Council requesting recycling bins.  Lane Cove Council only provide recycling bins to residential ratepayers.  Schools are required to enter into their own commercial waste arrangements and this comes at a cost.
How would the students fund the cost of recycling bins and collection?  Eureka, the students decided to create their own company to raise money to pay for the recycling bins and Tag I.T  Lane Cove was formed!!
What is Tag I.T Lane Cove?
Tag I.T Lane Cove is a reusable T-shirt bags business where students make bags out of old T-shirts.   The bags are durable and aim to minimise both the amount of clothing and plastic bags that become landfill. Each bag has an augmented reality tag that contains an environmental message based around the concept reduce, reuse, recycle. The messages were developed by the students to raise awareness in the local community about recycling. The messages are revealed by using the HP Reveal app.
In exchange for a donation, local shoppers will walk away with a unique, bespoke tote bag made out of a T-shirt.
Raw Material
Every manufacturing company, like Tag I.T Lane Cove, needs raw materials to manufacture their products.  The students, through persuasive letters, to Woolworths Lane Cove arranged to install a Used  T-shirt collection box at Woolworths.  It got even better when Woolworths also agreed to install a box where local shoppers could "purchase" their reusable T-Shirt Bags by a donation.
Launch
Every business has to have a launch date.  The students launched their business with a workshop where members of the school and wider school community brought in old  T-shirts and the mini teachers (students of classes 3KD, 3JC and 4SS) demonstrated how to turn their old T-shirts into a reusable shopping bag. This was a big success.
Further Workshops
After the success of the launch, further workshops were held.  ITC was invited to attend a workshop and make our very own Tag I.T Lane Cove shopping bag.   ITC has no creative skills and can't draw a straight line with a ruler.  I was worried I would not be able to make a T-Shirt Bag.  I did not have to worry. My mini teachers showed me exactly what to do and I made a very impressive Tag I.T Lane Cove Shopping Bag.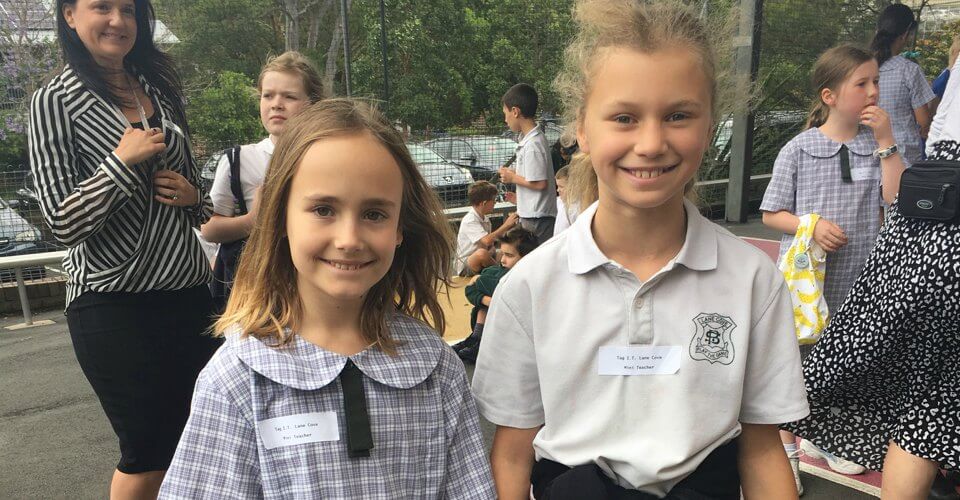 Stockists
Tag I T Lane Cove bags are exclusively stocked at Woolworths Lane Cove and the students would love you to "purchase" one of their bags when you're next in Woolworths Lane Cove.  To "purchase" the Tag I T Lane Cove bags look for the stunning display (pictured below) at Woolworths Lane Cove.  All proceeds will be used to fund the purchase of recycling bins at Lane Cove Public School.
Well Done
Well done to the environmental warriors of 3KD, 3JC and 4SS at Lane Cove Public School and their teachers Ms Dreverman, Ms Comensoli, Ms Scott and Ms Bucciol. Well done to Woolworths Lane Cove for being such an active participant in this project.
Next time you're in Woolworths Lane Cove, without a reusable bag, please consider "purchasing" a Tag I.T Lane Cove Shopping Bag.
---
Do you have a local issue you would like help with? ITC is here to help just email us at [email protected]