Welcome to our week in review.
Fatality Burns Bay Road Hunters Hill
Unfortunately on Thursday there was road fatality on Burns Bay Road (near Tarban Creek Bridge).  An man aged in his late seventies got out of his car to exchange details with another driver, after being involved in another accident, when a delivery van hit both men. Despite the efforts of emergency services, the man died on his way to hospital.  The other person involved sustained a broken arm. Police are appealing for any witnesses.  The offramp leading up to Church Street is only a short distance and many drivers leave it to the last minute to change lanes.
Update On Lexi
Everyone is keen to know how Lexi is doing and it is good news.  This is the latest from owner Luke:
"Hi ITC, She's doing well. Vet is pretty happy with her progress at the moment, still waiting for skin to close over the bones. Possibility she might have to get a toe amputated, which is a lot better then the leg. Will know more as the wound heals. She's moving around a lot more and seems to be putting more pressure on it each day."
URM Truck Accident
We wrote an article nearly one year ago (15th Feb 2018) about URM being under the microscope. Since that time a garbage truck has ended up on its side on the corner of Longueville and Epping Road and this week one Lane Cove local was sitting in her car when the garbage truck reversed and hit her. The driver had his left hand indicator on and then changed his mind and started reversing up Ross Smith Parade.
ITC asked Lane Cove Council to comment on the accident and a spokesperson for the Lane Cove Council advised:
"Council has received confirmation that the accident on 12 February was deemed to be caused by the driver rather than any alleged failure of technology.
Within 15 minutes, URM's Head Mechanic attended the scene of the accident. The vehicle did have a reversing camera fitted which was confirmed to be in working order the day prior. URM has confirmed the driver did in fact reverse at the intersection of Ross Smith Street into the claimant's vehicle and accordingly, URM is at fault and accepts liability.
We can confirm the truck's servicing and maintenance was up to date at the time of the incident. The truck was also recently put over URM's roller and shaker tester to determine if any maintenance or repairs were required on its brakes or suspension.
URM confirms that all of its trucks are inspected, serviced and maintained on a regular and scheduled basis. This includes:
Daily pre-operational inspections and daily post-operational checks;
Weekly fleet inspections;
Regular fleet auditing by compliance and Operations Managers;
Weekly tyre checks by external organisation;
"A Service" maintenance on a monthly basis;
 "B Service" maintenance on a 3 month basis; and
"C Service" maintenance on a 6 monthly basis.
Additionally, URM will be integrating the "Reverse Smart" safety and pedestrian detection systems on all its vehicles within the next 12 months.
The full fleet passed the impromptu inspection by RMS in late 2018 as well as its annual independent safety audits of its fleet by SAI Global. Council has confirmation that URM is compliant with the Australian and International Standards of Quality, Environment and Health & Safety."
Burns Bay Road Roadworks
Traffic on Burns Bay Road this week was at a stand still due to work being undertaken for the Rosenthal Avenue Car Park Development.
Another Independent Small Business Closes in Lane Cove
Lime Leaf Fruit Market have closed. Emma and Vince (owners of Lime Leaf) worked very hard to bring fresh fruit and veggies to Lane Cove. It just got harder and harder for them and the foot traffic continued to decline. With so many Lane Cove residents giving up on parking in Lane Cove this small mum and dad business suffered. Thank you to Emma and Vince for their generosity in supporting local charities and community events.
Claphams To Become a Bathroom Show Room
Work started this week on turning the old Claphams Antique Shop on Burns Bay Road Lane Cove West into a bathroom showroom.
Public Transport
The lines at the Lane Cove Bus Interchange continue to grow.  We have also received reports that the buses are now packed on weekends. We have not seen these types of lines since new services were put on in 2017/2018. ITC spoke to Anthony Roberts about this issue and he advised ITC he had already approached the Transport Minister with his concerns. We have heard from ITC followers that articulated buses are being used on Lane Cove in the non-peak period. These queues are a direct result of the Epping to Chatswood rail line closure. Why would you take a bus to Chatswood and a train into the city when you can take one bus to the city?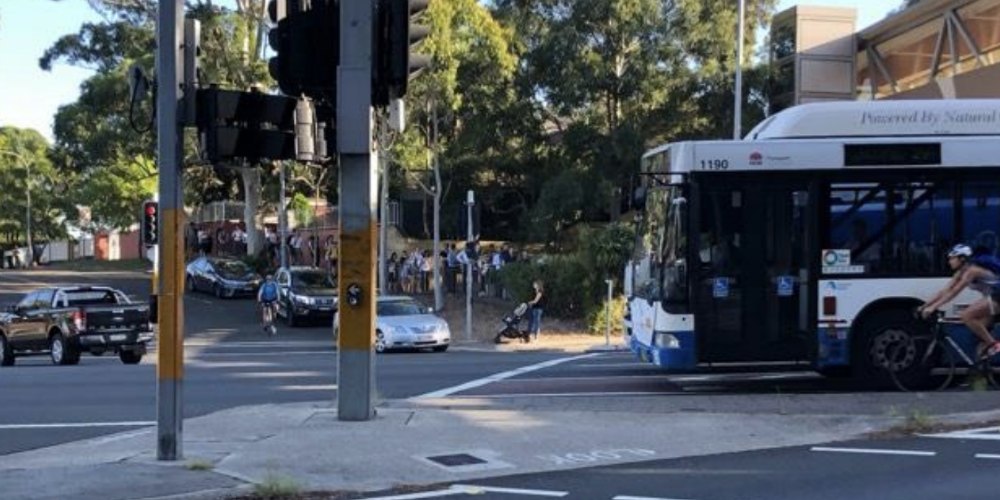 Last year ITC published an article on the new on demand service to Macquarie Park and how Lane Cove residents have embraced it. As of this week you can use your OPAL card to tap on and off. Read more here.
The Lane Cove Ferry also operates in the morning and afternoons on weekdays only.  Read more here.
Blackman Park Upgrade
The fences came down this week at Blackman Park.  Ovals 3 and 4 have now been refurbished and walking on them feels like walking on carpet.  On Saturday it was a historic day for cricket in Lane Cove with 3 Under 11's Lane Cove Cricket Club girls teams playing. This is the first time 3 local teams could play at the one venue. Blackman Park is such a great community asset (shame about the crap parking but one step at a time). ITC was lucky enough to film Elizabeth bowling and she took a screamer of a caught/bowled. There were so many potential Ellyse Perry/Alyssa Healys out there.
Lane Cove Theatre Company – The Female of the Species
Judith Greenaway from the Sydney Arts Guide has reviewed Lane Cove Theatre Company's latest production.  Judith said:
"Lane Cove Theatre Company are running a fun show at the moment.  THE FEMALE OF THE SPECIES is by Australian playwright Joanna Murray-Smith and was a bit of a cause celebre when first produced in 2006 and it still manages to raise a few eyebrows with its blend of farce and feminism… and some every odd mansplaining.   And an hilarious first line."
Read the review here and book tickets here.  The season finishes next weekend.
Lane Cove Bee BnB
Did you know that Lane Cove has a BnB for Bees?? Yep it all happens in the FoodFaith community garden in Hughes Park. Read more here.
Crime Update
Make sure you double check you've locked your car before you enter your house. This week roving reporters let us know about items being stolen from their cars in Lane Cove West around Centennial Avenue and the streets around Centennial Avenue.
The roving reporters acknowledged they forgot to lock their cars (on the particular night). This can happen to us all if you are distracted by kids or the battery is going in your key remote.
Here are some tips
✔️ Double check your car is locked;
✔️ Don't leave valuables in your car thinking it will okay for a short time;
✔️Report any criminal activity to the police;
✔️ Don't leave your car keys in your house in a spot that's easy to find (ie behind the front door or on a hall side table its very easy for an intruder to grab the keys and your car is gone); and
✔️✔️✔️get to know your neighbours and work together to keep an eye out for each other.
North Shore Police Area Command
Fraud Longueville
A Longueville man has been defrauded of more than $50,000 when he received a call earlier this month from a male purporting to be from his phone and internet provider.
The Longueville man was told by the male that hackers were attempting to access his computer and that in order to be protected from this hack attack he must allow the caller to have remote access to his computer. The Longueville man followed the instructions of the caller who proceeded to access the bank accounts of the victim, transferring more than $50,000 to various overseas accounts. Investigations into the matter are continuing.
Information Requested
The car below was stolen between 6 pm on 11th February and 6 am on 12th February 2019. It's s a Toyota Kluger, colour dark blue and rear left (passenger side) light was broken. It was parked in the driveway of the property (with the owner asleep at home) at the corner of Tambourine Bay Rd and River Rd. Please email us at [email protected] if you have any information.
Fit Lane Cove's New Mind and Body Studio – Exhale Opening in March 2019
This week in review is sponsored by Fit Lane Cove Mind and Body Studio called Exhale by Fit Lane Cove – an ITC platinum sponsor
In Mach 2019 Fit Lane Cove will soon be launching Exhale by Fit Lane Cove. This will be a brand new Lifestyle Studio, a dedicated Yoga, Pilates, Meditation and Barre Studio for its members. A unique urban sanctuary where our members will experience over 8 different styles of classes to discover the complete Mind and Body experience.
Exhale has a special 12 month Foundation Membership which provides you with the entire experience of Exhale and Fit Lane Cove:
$21 per week membership
No Joining Fee (save $95)
Access to Exhale Mind and Body Studio with over 30 classes per week
Access to FIT Lane Cove
60 minute FIT Life Consult
FIT Personal Training
Access to over 80 classes per week
Includes Kids Club (6 weeks to 8 yrs)
Steam and SaunaJOIN ONLINE HERE
---
Do you have a local issue you would like help with? ITC is here to help just email us at [email protected]