This week saw the opening of the new Mindarie Park in Lane Cove North and an announcement of more buses for Lane Cove.
Mindarie Park – Everyone Can Play
Stage One of Mindarie Park (on the corner of Kullah Parade and Mindarie Street Lane Cove North) was officially opened on Saturday morning.  The park is a well thought out and planned park and includes equipment accessable for all kids.
When completed Mindarie Park will have:
Off-street parking;
Table tennis;
Play equipment;
Full size basketball court (at last). This will mean two full sized public basketball courts in Lane Cove the other court is located at Kingsford Smith Oval;
All abilities access toilet block;
Serpentine walking path;
Multi use open lawn area;
Meeting circle/outdoor classroom;
Multi use platform/stage;
Picnic shelter, table setting and barbeque;
Pump track for skateboards, scooters and bikes;
Multi use games area;
New turning facility; and
Potential community garden
The opening made the nightly news.
More Peak Hour Buses For Lane Cove
People Power has worked!   Thank you to everyone who sent in photos of the long bus queues at the Lane Cove interchange.  Since 2017 more buses have been scheduled for Lane Cove, however they were not arriving when they were needed.  ITC captured on video a typical morning at the Interchange and sent the video to our local member the Hon Anthony Roberts to show to the Minister for Transport.  Commuters waited for 20 minutes for buses to arrive.  The queue cleared after several buses arrived at the same time.  At 8.45 am seven buses came in quick succession all half full (with only a few people waiting for a bus).  The buses are coming but not at the right time. More bus services are still needed for Lane Cove West, Riverview and Mowbray Road.  Read more here.
Roadworks on Epping Road/Centennial Avenue Have Started
Residents are concerned about the noise associated with the roadworks on Epping Road/Centennial Avenue.  These concerns are not unfounded.
Residents received a letter from the Works Project Manager setting out the working hours, which were up to 20 hours a day.  ITC queried these working hours with the project team.  Their response is below:
"We want to emphasise that the majority of our work will be undertaken at night, between 8pm and 5am Sunday to Thursday nights.
Occasionally we will work during the day in addition to these night shifts.
In order to help minimise the impact of our work on your family, we want to share our three-week look ahead with you. We will continue to share this with you as the project progresses.
Please note this schedule is subject to change based on weather and technical conditions. Please also note that the stated dayshifts may change and in addition to these works there may be deliveries to site that occur each day, which should have a minimal noise impact. Occasionally, we may need to work the following day if night works have not been completed as planned.
Night shifts:
8pm to 5am Sunday to Thursday nights.
Programmed day work, between 7am and 6pm:
Tuesday 25 February: Plumbing and Electrical connection to site sheds
Friday 28 February: Remove stockpiled material from Turrumburra Park
Thursday 7 March: Remove stockpiled material from Turrumburra Park
We hope this information is helpful to you. We commit to keeping you updated as this project progresses.
If you would like to schedule a meeting with our Project Manager to further discuss your concerns, please provide suitable times via email or by calling our community line on 1300 919 508."
You may have seen the "information" signs located near the roadworks advising the works are part of the Pinch Point Project.  Numerous residents have asked ITC why works to install a left-hand turning lane are costing $300 Million.  This figure is the total figure for all pinch point projects throughout NSW.
Property Prices Decline
This week, the Australian Financial Review published an article on the NSW suburbs most impacted by the property market decline.  Lane Cove is number two on the list.  Is it a buyer's market?  Read the article here.
Report Confusing Parking Signs
Have you ever had trouble reading a parking sign because it is confusing, faded or damaged?  All road users, including pedestrians, can now report confusing, faulty or damaged parking signs via this link.
If you see large potholes, dumped rubbish, fallen tree branches, dangerous manhole covers or any issue needing attention by a government authority you can easily report it via SNAP SEND SOLVE.  Lane Cove users have taken to SNAP SEND SOLVE and in January 2019 usage surged.  Lane Cove is the 10th biggest user of the website/app in Sydney.
Rosenthal Avenue Carpark Development Design Changes
The Rosenthal Avenue Carpark developer released new concept plans for the development this week.
The retailers in the Atrium Arcade are very concerned about the impact the new Rosenthal Avenue Carpark Development plans will have on their businesses. The retailers have launched a petition. Please read their petition to find out why they are concerned. The plans are certainly different to the concept plans which show Birdwood Lane as a pedestrian friendly connection between the arcades and the new development.
Alison Bird, owner of Balletstuff, told ITC:
"It is just the Atrium Plaza Arcade that has had their direct pedestrian access removed in this latest DA revision. This will severely impact a small group of long-term retailers who are already struggling due to this project. It also means Birdwood Lane is not receiving the optimal design and connectivity to the new site that was originally promised. Having attended the workshops, one of the key desired outcomes was to retain all existing pedestrian linkages to existing arcades, so the old lane Cove is incorporated with the new and to thereby encourage existing Landlords and businesses to activate their sites and upgrade. The new concept design that has appeared on the Rosenthal project site shows very high parapet roofing and no pedestrian pathway linkage to the Atrium Plaza. This highlights just how much the Birdwood Lane retailers (and of course Longueville Rd retailers) are now being screened and excluded. This project is fully supported by us all, but let's make sure any changes trying to be put through by Council adhere to the original concept and promises that were made, so that everyone wins and ultimately Lane Cove gets a connected engaged and vibrant centre where the old meshes with the new. Thank you for your support."
Sign the petition here.
Mulch Dumper
Rebecca Mitchell of Raine and Horne Lane Cove is about to list 24 Mindarie Street (very close to the new park).  Somebody knew this house and the house next door was vacant and dumped mulch on the driveways (cheaper than going to the tip).  So, if you are in need of some mulch, take your bucket and wheelbarrow and go and help yourself PLEASE!!  If you're hiring contractors to remove trees, please ask them for details on how they dispose of their mulch (it would be great it was reused).
Lane Cove is not Boring
Tom Gleeson needs to eat his words.  This week, Lane Cove had numerous entertainment options.
Drag Bingo came to the Lane Cove Golf Club and the locals loved it.  It was a sell-out crowd.  Next Drag Bingo is March 14th  2019.  Booking Details here.
The Lane Cove Theatre Company latest production finishes this weekend with the last performance tonight.  The Sydney Arts Guide has given the latest production a fab review. Don't miss out on the next production, details here .
The Alcott Comedy Nights continue to go from strength to strength with big names coming to Lane Cove.  This week Peter Berner and Cam Davies performed to a packed crowd.  The next comedy night is Thursday 21st March 2019.  Booking Details here.
New Business Alert
A new clothes shop will open soon next to Soulful Fitness in the Village Shopping Centre.
Girls' Sport
This year local sporting codes have introduced more options for girls.
Rugby Union
Would you like your girl to play Rugby Union? Get into Rugby – all GIRLS competition U8/U9 playing Minis rugby and U10/U11 playing Sevens.  No experience needed, join your local team at Lane Cove Junior Rugby LCJRU Check out this link to see why Alexandra plays Rugby (she started her rugby career in Lane Cove)
There is more (and growing) information about Sydney North Girls Rugby here Sydney North Girls Rugby
Rugby League
The Lane Cove Tigers Junior Rugby League team is seeking expressions of interest for girls aged 10 – 1 to play a non-contact, fast paced, highly skilled ball game based on rugby league rules.
Registrations: $100 (free with the Active Kids voucher!)
Includes Jersey, Shorts, Socks, Telstra NRL Season Pass*, Free entry to all North Sydney Bears home games, player insurance and a season of fun with your footy mates.
Click here to register: https://bit.ly/2AzHvL4
Australian Rules
The Lane Cove Cats enter teams in the Greater Sydney Juniors AFL competition. More information on the GSJ can be found at www.aflgsj.com.au.
In 2019 they plan to have teams playing in Under 10YG, Under 12YG and Under 14YG divisions.
Click here for more information
Study by NeuRA
Are you expecting a baby? Or about to buy a new car seat?⠀
Help NeuRA (Neuroscience Research Australia) researchers make child car seats safer. Simply order your car seat online through their website and for helping with their research you will get a $100 refund. Text "car seat study" to 0488 824611 or email child-safety-[email protected] for more information. NeuRA – Neuroscience Research Australia
Crime
Some good news from the police in relation to a serial offender.
Police have charged a 24-year-old Lane Cove North man with breaking into a home on Roslyn Street, Lane Cove on multiple occasions since August last year.
Police will allege that the male has broken into the home as many as 8 times, most recently on Sunday 17th February. On this most recent occasion residents of the home were present at the time and immediately phoned Triple Zero. Police attended the Roslyn Street home and spotted the male exiting the property. The male was arrested after a short foot pursuit. He was taken to Chatswood Police Station where he was charged with 8 counts of Break and Enter. He was granted conditional bail and will appear before Hornsby Local Court next month.
Upcoming Event
Do you own a business in Lane Cove or do you live in Lane Cove and have a business?  In the Cove and the The Alcott have teamed up to create an exciting business building event.  Management Expert Vivienne Anthon will speak on Six Essential Strategies to Grow Your Business.  You will also meet other Lane Cove business owners.  Last time we held a networking event invaluable connections were made.  Book here.
---
This week in review is sponsored by Rebecca Mitchell of Raine and Horne Lane Cove was was recently named Rate My Agent #1 Agent of the Year award for Lane Cove.  Rebecca told ITC:
🏡 So excited to announce that I have won Rate My Agent's #1 Agent of the Year award for Lane Cove.

I'm also incredibly proud, that the team here at Raine & Horne, have won Agency of the Year for both Lane Cove and Lane Cove North. Simone and I are so grateful to all our vendors and purchaser for an amazing 12 months.

If you are thinking of selling, please give me a call on 0412 257 625 🌳
Well done Bec.  Bec Mitchell has sponsored In the Cove since we launched our website.  Without her amazing support (and our other platinum and gold sponsors) we would not be able to undertake our community work and advocacy.  Thank you Bec.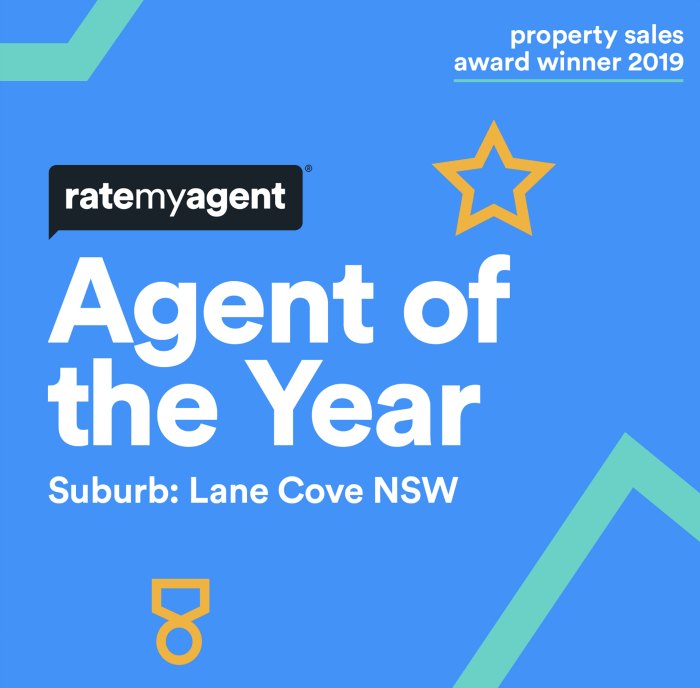 ---
Do you have a local issue you would like help with? ITC is here to help just email us at [email protected]