Whoa! Term Two is finished. Time to plan a few activities for the kids to help ensure you all have a fun couple of weeks off school.
---
Feed your child's curiosity in our workshops that packed with creative experiences and resources to ignite their senses. Think paint, tools, sculpture, re-used and recycled materials, markers, pastels, watercolours, ink, wire, beads and so much more, used in innovative ways to inspire open-ended creativity and unlimited imagination!
When: 
Workshops at Whoosh Club – 9am – 4pm – Thurs 11th, Fri 12th, Wed 17th and Fri 19th July.
Workshops (3hrs) at your place 9am – 12noon or 1pm – 4pm – Mon 8th, Tues 9th, Weds 10th, Mon 15th, Tues 16th and Thurs 18th July.
Cost: 
Workshops at Whoosh Club, Neutral Bay – 1/2 day $45, Full day $100 ($10 lunch time supervision)
Workshops at your place – Minimum $160 for 4 children, $20/extra child (6 children max.)
Whoosh Club, Neutral Bay. Level 1, 129-133 Military Road
At your place! Big Wild Imagination comes to you. Let us know your address in the booking form.
---
North Sydney Brick Fair
26 exhibitors with over 60 tables of lego displays, play tables and lego retail (large and rare sets, minifigs)
Get ready to be amazed by the creative masterpieces of some of SydLUG's awesome lego builders. This exciting display will include a large city layout with train, hundreds of minifig habitats and a great ball contraption.  There will also be lego tables to play and rare lego sets to purchase.
Cost: $7 pp or $20/family of four
Date: 20 and 21 July
Time: 10am – 4pm
Address: Home HQ Artarmon, Ground level, next to Shack
Book Here: Book Here
Website:  homehq.com.au/events/north-sydney-brick-fair/
Lane Cove Tennis Club
School holiday camps run over 4 days, Monday to Thursday, from 9:00am to 3:00pm.
Camps are suitable for all ages of kids and cater for beginners to intermediate players. Our coaches use Tennis Australia's ANZ Hot Shot program so learning strokes is easy.
Kids learn each stroke of tennis from forehand and backhands, volleys and smashes to the most challenging shot, the serve.  They are taught how to score so they can start playing games. There are other fun skills activities so footwork and stroke technique is reinforced.
Daily rates and full camp rates (4 days) so there is flexibility in pricing and commitment.  There are early bird rates available too.
What to bring
Racquet, hat, water bottle, healthy snacks and lunch.  Wear comfortable sporting clothing, sand-shoes or running shoes.
What's provided
A BBQ lunch on the last day at no cost. All coaches are Tennis Australia accredited.  Modified balls.
Find out more  by calling our resident coach Andrew Scanlan on
Upcoming Camp
Monday 8 July to Friday 12 July, 9:00am to 3:00pm
Register your interest now
Cost: Daily or Full 4 Day Camp Rates Apply
Date: 8th July to 12th July 2019
Time: 9.00am to 3:00pm
Address: Lane Cove Tennis Club Kenneth Street Longueville
Book Here: Book Here
Phone: 0419 240 958
Email: [email protected]
Facebook:@lanecovetennis
---
Sydney Speech Clinic are pleased to be able to offer their popular literacy booster camps again over the Easter break. They have 3 tailored groups (kindy, Years 1 and 2 and Years 3 and 4)running on the 15th, 16th and 17th April.  The course cover phonics, alphabetic code, blending (reading), segmenting (spelling), reading comprehension and writing conventions.  Give them a call to find out more.

Do you have a child starting school next year and you would like to provide them with some school readiness skills?
---
Little Legends – Rugby Camp
As far as rugby clinics go, Legends Rugby are second to none.
Our clinics have dedicated and experienced staff including Gordon 1st grade players. We focus on teaching and improving the fundamental skills of rugby, which encourages safety on the field as well as ensuring that they have fun while learning something new at every clinic.
We understand that every child will develop at their own pace and cater for them by providing drills and activities to improve skills like passing, tackling, agility, breakdown technique and team play. We also play lots of fun mini games and team building activities to improve their knowledge of the game.
These skills and drills get progressively harder throughout the week to challenge all abilities to improve. Little Legends goal is to ensure that your child has fun and enjoys developing their rugby skills.
48 hours notice must be given for cancellations to receive a refund.
Program continues rain, hail or shine.
Cost: $70 per day plus extended hours fee (if applicable)
Date: 10th and 11th July 2019
Time: 9 – 3 (extended hours available)
Address: Tantallon Oval Lane Cove
Book Here: Register
Email: [email protected]
Website: www.littlelegends.net.au
Facebook:https://www.facebook.com/LittleLegendsSports/
---
---
Dance Sensation Performing Arts Studio (Dance and Drama)
Your child will love Dance Sensations Performing Arts Studio's awesome Winter Camp!
They'll learn new skills with friends and team up for some brilliantly fun games. Their caring staff will ensure your child has a fab time in their brand new 730sqm dance and drama facility!  There will be dance and drama skills, theatre sports, team dance offs, scriptwork and filming. Daily costume wardrobe raid and performance and games games and games.  Send your little star for 1 Days or for 5 Days
Cost: 5 day Package – $300 (save $50) or Single day – $70 per day or 5 day Extended Hours Package – $425 or Single Extended Hours day – $95 per day
Date: Monday 8th July – Friday 12th July, 2019
Time: 9.00 to 3.00 pm (longer hours available)
Address: Brand New Fab Studio at Ground Floor Unit 2/706 Mowbray Road Lane Cove North
Email: [email protected]
Book Here: Booking Link
More Info:  http://dancesensation.com.au/drama-n-dance-camp
Website: www.dancesensation.com.au
Facebook: facebook.com/dancesensationaustsralia.com
---
---
KidFit Art Workshops
Cost:  $260 for 4 Days (Sibling Discount)
Date: Monday 15th  to Thursday 18th July 2019
Time: 8.30 to 4.00 pm
Address: St Michaels Primary School
Book Here: http://www.kidfitclub.com.au/enrol-now
Email:[email protected]
Website: www.kidfitclub.com.au
Facebook: facebook.com/kidfitclub15/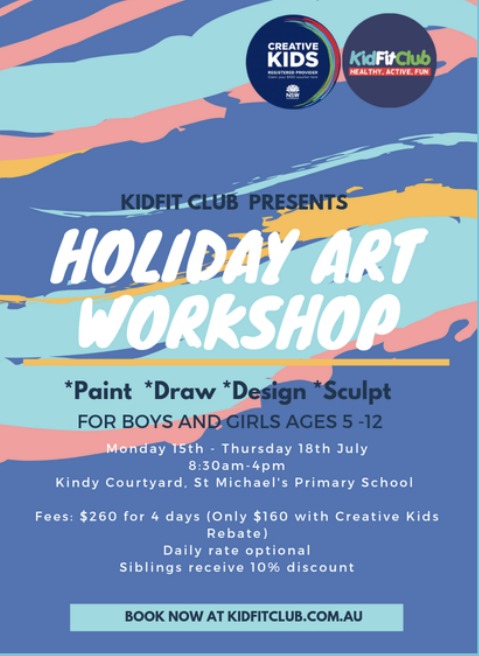 ---
Sea Creatures Interactive Display
Enjoy holding and touching a large range of marine animals, whilst the Marine Biologist presents interesting facts.
Cost: free
Date: Monday 8 to Wednesday 10 July 2019
Time: 11am – 2pm
Address: Home HQ Artarmon, Lower Ground, opposite PetStock
Website:  homehq.com.au
---
Lane Cove Bush Kids
July School Holiday Activities for 2 to 10 years – To make a booking, hover your cursor over the 'Online Booking' links and check to ensure you have selected your preferred date.
Bowerbird Bill – Wednesday 10 & Friday 19 July 9:45am to 11:00am – Meet at Gore Creek Reserve (far end of oval), St Vincents Road, Greenwich.  Have fun learning about the shopper of the bush – a Satin Bowerbird.  We'll read a story, go on a bushwalk to look for Bowerbird treasure and make a bower of our own. Online Booking 10 July  and Online Booking 19 July
Tree-mendous Trees – Friday 12 July 9:45am to 11:00am – Meet at Stringybark Reserve, Murray Street, Lane Cove North. Join us to celebrate and learn about tree-mendous trees!  We'll go on a bushwalk to look at, feel and wonder at these tree-mendous 'machines' of nature. Online Booking 12 July
Nature's Night Shift – Tuesday 16 July 9:45am to 11:00am – Meet at Blackman Park, end of Lloyd Rees Drive, opposite playground, Lane Cove West. Bring a torch and lets pretend it's night time to have fun learning about the Aussie animals that come out to play while you're asleep! Online Booking 16 July
Winter Wombats – Thursday 18 July 9:45am to 11:00am – Meet at Tambourine Bay Reserve, Tambourine Bay Road, Riverview. Wonderful wombats – how can you not love an animal that does square poos!  Join us to learn more about these unique marsupials. Online Booking 18 July