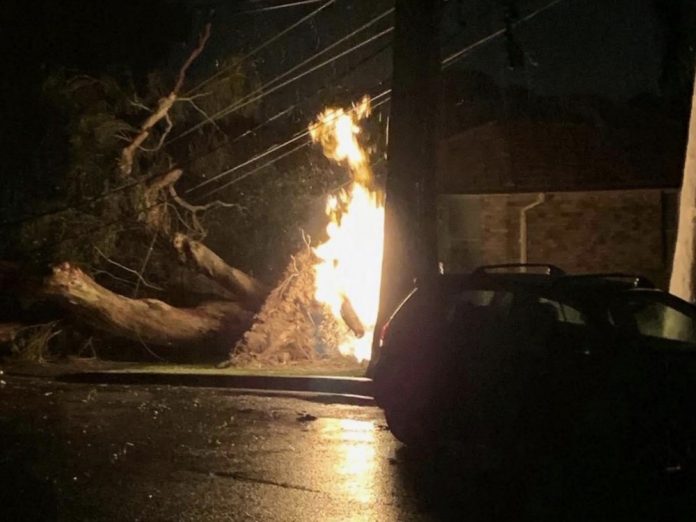 The Bureau of Meteorology issued a severe thunderstorm warning for the Sydney area at 10.25 pm on Tuesday 18th February 2020.  About 20 minutes later, the storm came, and it was brutal.
Many areas around Lane Cove reported wind damage. Unlike the last storm, power outages were limited to a few small pockets in Greenwich and Riverview.
Riverview Storm Damage
A tree fell onto powerlines on River Road West between Tambourine Bay Road and Fox Street.  This resulted in the road being closed during peak traffic on Wednesday 19th February 2020.  Over 20 000 cars a day, drive along River Road, and with the road being closed, there was traffic chaos in Lane Cove.  Several people told ITC it was the worst traffic gridlock they had seen in Lane Cove.  The 253 and 254 buses were delayed.
Gas Main Explosion Riverview
A Tree came down on powerlines and a gas main, resulting in an explosion on Werona Road Riverview (see our cover photo).  Over 90 homes lost power in Riverview (the same residents that were impacted by the last big storm).
Other Damage
Ronald Avenue Greenwich
Power was lost in Ronald Avenue Greenwich after a tree came down and blocked the road. Two buses were stuck on Ronald Avenue as they could not turn around.
Widespread Tree and Wind Damage
Other areas of Lane Cove reported trees coming down.
This building on the corner of Mowbray Road and Centennial Avenue suffered roof damage.
A tree on Nichols Reserve Burns Bay Road came down damaging a fence and clothesline.
The wire fence at Kingsford Smith Oval was bent by wind gusts.
Did you suffer storm damage?  Send us your photos to [email protected]
If you want to know about Lane Cove – you must follow In the Cove
To make sure you don't miss Lane Cove info sign up to our newsletter. It comes out every Wednesday Night at 7.30 pm and includes a wrap up of everything posted on our Facebook site in the previous week.
Did you know that In the Cove has an instagram page? Yes we do and we feature pictures from our roving reporters and our ITC team that do not appear on our Facebook page. Follow us on @inthecove