Please see below our daily update regarding Lane Cove and other important Covid 19 news.  If you know elderly or vulnerable people in the community who do not have access to social media then please ask them to sign up to our newsletter and we will provide information to them via our newsletter. Sign Up here.
COVID 19 Cases NSW
As at 8 pm, Tuesday, 31 March 2020, an additional 150 cases of COVID-19 have been diagnosed, since 8 pm 30 March  2020, bringing the total number of confirmed cases in NSW to 2,182.
There are 218 COVID-19 cases being treated by NSW Health, including 42 cases in the Intensive Care Units and, of those, 22 require ventilators at this stage. More than 50 per cent of the remainder of cases being treated by NSW Health is through Hospital in the Home services.
A Bondi Pop-Up Clinic started operation from today in Bondi in the Waverley LGA, which has the highest number of confirmed cases and the highest number of those with an unknown source of infection.
Finding those cases early and identifying appropriate isolation and quarantining are important factors in preventing onward transmission in the community. The pop-up clinic is at the Bondi pavilion seven days a week
Everyone can help prevent the spread of COVID-19 by practising social distancing, thorough hand washing, cough etiquette and staying home if they're unwell. To learn how to protect yourself and others see https://preview.nsw.gov.au/covid-19
COVID 19 Cases Lane Cove
There are 28 confirmed cases of COVID 19 in Lane Cove Council Area as at 8 pm 31 March 2020.
This is the Lane Cove Council area and includes the suburbs of Greenwich, Lane Cove, Lane Cove North (part), Lane Cove West, Linley Point, Longueville, Northwood, Riverview and St Leonards (part).
When you do a ratio of cases to the population the stats are 28/39486 Lane Cove 41/150 752 Hornsby and 19/80 339 Willoughby (all population figures are based on people living in a local government area.
You can check these figures on a daily basis here.
New COVID 19 Stay at Home Rules
On Sunday the 29th, March 2020 the Prime Minister announced new restrictions on public gatherings and when you could leave your home. Each state was tasked with the responsibility of drafting the Public Orders implementing the new rules. This has created mass confusion as some states have slightly different rules.
We have put together an article on the reasons you can leave your house and where you can go to Lane Cove here.
The rules might be complicated but the medical profession has just one request of Lane Cove locals – STAY HOME.  Only go out if you need essential supplies, you are exercising or for work or compassionate grounds.  Many doctors and nurses live in Lane Cove and they are risking their lives every day to treat patients.
Police Will Enforce New Restrictions
The Police have powers to enforce these restrictions either by an on the spot fine or arresting a person.  There are rumours and stories about being stopped in their cars and being fined because they don't have a reasonable excuse for being out.  The NSW Police Commissioner released the following statement this morning:
"No infringements have been issued anywhere in the state of New South Wales in connection with the new powers which commenced at midnight Monday.
In the last 24 hours only one infringement has been issued in the entire state for a breach of self-isolation and that infringement does not relate to increased powers in place since midnight Monday (30 March 2020).
I am on the record that NSW Police Force continues to use discretion in applying these regulations and the community must continue to work with police and the Government to ensure the safety of everyone in New South Wales.
If people continue to flout the rules and ignore the message, then tickets will be issued."
Lane Cove Council Closes Plaza Seating and the Village Green
Last weekend, Lane Cove was trending on Reddit, as one of the suburbs where people were not getting the message to stay home.  There was a busker playing in the Rotunda, groups were sitting and chatting (with very little social distancing) going on.  This promoted calls from ITC followers for the Lane Cove Council to close the Village Green and to stop people from sitting on the tables and chairs.  The message from the Government is do what you have to do and then go home straight away.
Today the Lane Cove Council installed red and white tape around the green and seating area.  Within an hour some Lane Cove Village plaza users had already broken the tape and ripped it off the seat so they could sit.

Lane Cove Golf Closed Yesterday –  Lane Cove Golf Course Could Possibly reopen.
After reconsideration, the Office of Sport – NSW Government has advised that golf is considered an activity that can continue to be played in line with Public Health Orders relating to public gathering limits, social distancing, and the elderly.
The statement from the Office of Sport – NSW Government is as follows:
"The NSW Office of Sport would like to clarify the advice that went out on Monday 30 March 2020.
As you know, there are now restrictions around public gatherings and rules around leaving your home. These new measures are in place to keep the community safe during the COVID-19 outbreak. But it is important to note that people are allowed to leave their homes for the purpose of the exercise.
The NSW Government has issued guidelines allowing people to go outside and exercise. Any form of exercise is to be undertaken in compliance with the Public Health Orders, meaning that people must not participate in groups greater than two persons at any point in time. Therefore, individual sports such as golf and tennis can continue provided the Public Health Orders are complied with.
Maintaining the public's physical and mental well-being is now as important as ever. Where possible, it is important sporting clubs and organisations continue to allow people to exercise, so long as social distancing is practised and rules around public gatherings of no more than two people are complied with."
Sydney Community Services Food Drive and Volunteers
Sydney Community Services is located in Lane Cove and has a long history of providing services to the aged and people living with a disability including social activities, gardening, home nursing, podiatry, Community Care Advisory, clean sheets and towels, home delivered meals, home modifications and maintenance, flexible respite, carers support, shopping services, community and engagement programs, medical transport and assistance in daily life.
Sydney Community Services (9427 6425) is a central source for anyone in Lane Cove or Hunters Hill who either need to self-isolate or choose to not go outside as they worry they are at risk of the Corona Virus.
If you are a neighbour of someone who may be at risk please check they are ok and let Sydney Community Services know if they need to be on the vulnerable list.
They are putting together a database of people who are in isolation but they also need volunteers who are able to help others who need emergency supplies, or even just give social contact, through a phone link.
They take referrals by phone on 9427 6425. You can also email [email protected] with your details.
They are now the first line of contact for many elderly and vulnerable people in our community.
Thank you to everyone who has put their name down for volunteering with SCS.  They are working hard to process all the applications and comply with government requirements for volunteers in the aged sector.  SCS will be in contact with you as soon as possible to work out a role for you to play.  However, as you can appreciate, with each new day and announcement SCS has to readjust and change their plans.
They may need to call upon more residents in the future, but at this stage, they have enough volunteers.
Food Drive
Sydney Community Services is asking for donations to supply urgent items to vulnerable housebound people in our local area. Items needed include toilet paper, non-perishable food such as pasta, rice, tinned vegetables, tinned fruit, tinned soups, tuna, beans, sugar, tea, coffee, cereals, long life milk and personal hygiene products.
Donations can be dropped at Sydney Community Services, Ground Floor, 1 Pottery Lane, Lane Cove. Parking in Little Street car park, take the lift to ground level. Opening hours are Monday to Friday 8:30am – 4:00pm.
Lane Cove Council Financial Hardship Support
Local residents can apply to have the interest waived on their third quarter (Jan-March 2020) rates notice. To apply please complete and submit this form.
The third quarter rates instalment was due on 29 February 2020. If this instalment has not been paid and you require assistance, please contact Council to access Council's Financial Hardship arrangements. Email [email protected] or phone 9911 3555.
Need for their services is growing daily and they have asked In the Cove to put a call out for donations.
Woolworths offers 'basics box' for vulnerable customers
Woolworths has launched an $80 'basics box' filled with meals, snacks and essential items for vulnerable customers who cannot leave the house. The box is available to order for residents in NSW.
The box includes contactless delivery by Australia Post and DHL, with an estimate of two to five days after being ordered.
Shoppers who order the box will not be able to choose or switch which items go into the box.  More information here.
Beware of Faux Medical Advice
A researcher at The University of Western Australia has cautioned people against relying on unverified medical advice and natural remedies in lieu of real science as the COVID-19 virus situation continues to unfold.
For most of us, viruses are invisible, and their effect on our bodies is difficult to understand. Despite lacking specialist knowledge, we often feel compelled to share remedies and cures based on intuitive ideas about how our biology works.
Unfortunately, our intuitive understandings are almost always oversimplified and do not reflect reality.
In the absence of a vaccine or cure for COVID-19, we can feel desperate to link our health outcomes to whatever actions we may have previously taken. This creates an illusion of causality, which is the same reasoning that led medieval doctors to champion such ineffective and toxic remedies as mercury, arsenic and the antimony pill.
Doug Macfarlane, a PhD student from UWA's School of Psychology, is examining what makes this faux-medical advice, particularly regarding natural remedies, so appealing.
Mr Macfarlane said such advice often falsely claimed to come from an authoritative source and unless we did our homework this could be enough to let our guard down. He said people made the advice more convincing by mixing snippets of real science and complex scientific terms with false pseudoscientific claims.
"Faux-medicine often uses oversimplified diagrams and explanations of complex biological phenomenon," he said. "The claims are made so confidently that we mistake them for being based on real knowledge.
"Often such claims confirm things we already believe or want to be true, such as natural is better or risk-free. Years of misleading marketing means we often confuse the term natural for harmless, which makes us more willing to try it."
This makes people who already firmly believe in natural remedies particularly susceptible to health scams.
"Our prior beliefs can blind us to the harms of the alternative remedy industry including the under-reporting of side effects, serious reactions to conventional medications and high-rates of substitution with unlabelled ingredients, including toxic metals or powerful pharmaceuticals," Mr Macfarlane said.
Mr Macfarlane said as humans we hated feeling like we were not in control, so miracle cures and natural remedies offered us false assurances that we were masters of our own health.
"Perhaps the biggest harm of all, is that sharing such simplified advice makes others less vigilant about the urgent actions needed to keep our community safe," he said.
"The thing about this coronavirus is that we are all in control. We can protect our friends and family by isolating ourselves and our families from unnecessary exposure, and dutifully using soap and alcohol wash."
Elderly or Vulnerable People Priority Online Shopping
If you are elderly or vulnerable you can arrange for priority shopping with Woolworths. Coles is working to introduce their priority home deliveries by the end of this week.
Woolworths has introduced Priority Assistance home deliveries to help the elderly, people with disability, those with compromised immunity and those in mandatory isolation. To apply for Priority Assistance delivery, please complete the form at woolworths.com.au/priorityassistance
Coles Online has been temporarily diverted to the Coles Online Priority Service (COPS), allowing them to focus on delivering food and grocery essentials to elderly and vulnerable members of the community, including retirement and nursing homes. They will shortly announce how customers can access COPS; please check www.coles.com.au for more details.
Mental Health Support
If you aren't feeling yourself lately the Way2Wellness team are available to listen. Talk to a trained mental health supporter using a free and confidential wellbeing service.
For more information visit: www.way2wellness.org.au or call: 1300 120 446 to chat.
Closest Covid 19 Testing Clinic
There is a Covid 19 Testing Clinic at Royal North Shore. These clinics are currently assisting with the assessment and testing of people with fever, cough or flu-like symptoms who are returned travellers or a contact of a confirmed case.
NSW Health Advice on Social Distancing
Everyone should practise social distancing, as it reduces the potential for transmission.
Social distancing is an effective measure to reduce the potential for transmission, but it is recognised that it cannot be practised in all situations.
Social distancing includes:
avoiding places where it is difficult to keep the appropriate distance away from others
attempting to keep a distance of 1.5 metres between themselves and other people where possible, for example when they are out and about in public place.
do not shake hands, hug, or kiss people who do not live with you.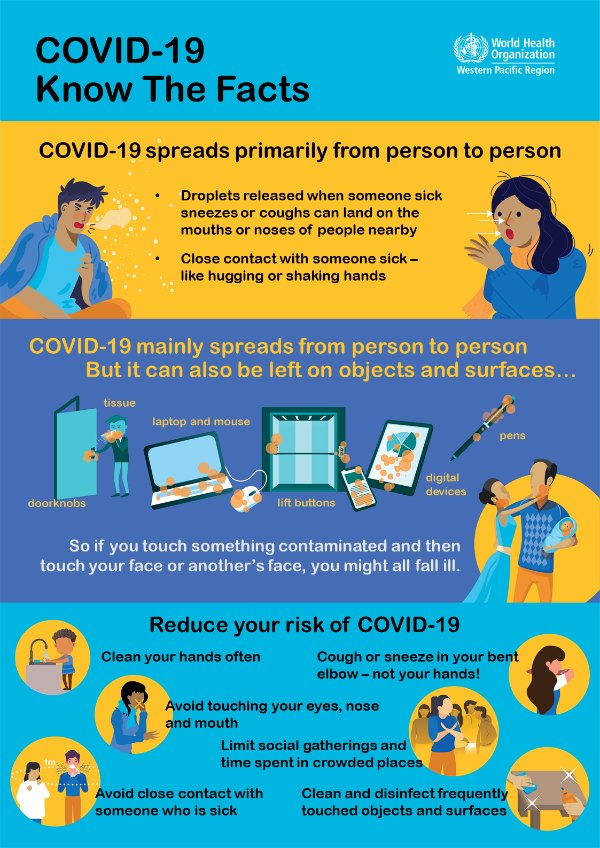 Keep Up to Date With In the Cove
To make sure you don't miss Lane Cove info sign up to our newsletter. It comes out every Wednesday Night at 7.30 pm and includes a wrap up of everything posted on our Facebook site in the previous week.
Did you know that In the Cove has an instagram page? Yes, we do and we feature pictures from our roving reporters and our ITC team that do not appear on our Facebook page. Follow us on @inthecove