Please see below our daily update regarding Lane Cove and other important COVID 19 news.  If you know elderly or vulnerable people in the community who do not have access to social media, then please ask them to sign up to our newsletter, and we will provide information to them via our newsletter. Sign Up here.
Everyone can help prevent the spread of COVID-19 by practising social distancing, thorough hand washing, cough etiquette and staying home unless it's essential. To learn how to protect yourself and others, click here.
COVID 19 Cases NSW
As at 8 pm, Tuesday 14 April 2020, an additional 16 cases of COVID-19 have been diagnosed since 8 pm 13 April, bringing the total to 2886.
During that time, 1305 people were tested. NSW Health is increasing its testing and surveillance for several areas including Penrith, Inner West, Liverpool, Randwick, Waverley, Woollahra, Blacktown, Cumberland, Westmead, Ryde, Manning and Lake Macquarie.
These areas have been prioritised as they have a small number of cases of community transmission where the source has not been identified; however, NSW Health is asking anyone who is feeling unwell to be tested.
There are currently 214 COVID-19 cases being treated by NSW Health. This includes 29 people being treated in Intensive Care Units, with 18 of those requiring ventilators.
There have been no COVID-19 related deaths in the past 24 hours.
At the Anglicare Newmarch House aged care facility in Caddens, a total of 10 cases – six staff and four residents – have tested positive.
The first case was in a health care worker who worked with very mild symptoms while infectious. There have been 31 staff and 66 residents identified as close contacts, and they are in isolation. Visitor restrictions are in place.
The first case also worked two shifts at Greystanes Disability Services in Jamisontown; four residents are close contacts and being isolated in their rooms; six staff are in self-isolation.
The Ruby Princess, which docked 19 March, is the only affected cruise ship that remains in NSW waters.
There are now a total of 140 crew on board who have tested positive for COVID-19. Also, there are 12 Ruby Princess crew members with COVID-19 in health facilities in NSW. This is an overall increase of 13 confirmed cases in crew in the past 24 hours.
In NSW, 369 passengers who were on the Ruby Princess have tested positive, and there have been eight deaths associated with the ship. There have been no changes to confirmed COVID-19 passenger numbers in the past 24 hours.
COVID 19 Cases Lane Cove
There were 37 confirmed cases in the Lane Cove Council Area as at 8 pm 14 April 2020.  As NSW obtains more information on about the confirmed cases numbers are fluctuating.  For example, on 7 April 2020, there were 39 confirmed cases of COVID 19 in Lane Cove Council Area.
The number of cases by postcode were:
Lane Cove 2066 – 16 cases
Greenwich and St Leonards South and other suburbs in  2065 – 21 cases
The Lane Cove Council area and includes the suburbs of Greenwich, Lane Cove, Lane Cove North (part), Lane Cove West, Linley Point, Longueville, Northwood, Riverview and St Leonards (part).
You can check these figures daily here.
COVID 19 Hotspots
Public Health Order Infringements – Police Action
A WA man who ignored a coronavirus quarantine directive and repeatedly sneaked out of a Perth hotel to visit his girlfriend has become the first Australian jailed for the offence. He will only serve one month behind bars. He is the first person in Australia to receive a jail sentence for breaching the Public Health Orders.
Since 17 March 2020, police have issued 66 Court Attendance Notices and 560 PINs for breaches of the Public Health Act.
Below are a sample of the PINS issued (many of them are being issued after police stop someone for a traffic infringement, and the person cannot provide a reasonable excuse for being away from home)
About 3.30 pm on Monday (13 April 2020), officers from Sydney City Police Area Command were called to a unit complex in Distillery Drive, Pyrmont, following reports of a social gathering in breach of the public health order. On arrival, officers found a group of people at the property holding an Easter party. Five women – aged 30, 29, 27, 26 and 21 – and a 28-year-old man were issued PINs for failing to comply with the noticed direction.
A 28-year-old Victorian man has been issued with a $1000 PIN after his campervan was stopped on Head Street, Forster, on Monday (13 April 2020). The man had been warned the previous day after he was found in at a camping ground at Tuncurry.
A 64-year-old Woollahra man has been issued with a $1000 PIN after he allegedly breached the Public Health Order when he was found on Boomerang Beach, 20km south of Forster, about midday Monday (13 April 2020). The man informed police he had been on the beach for two hours using his mobile phone.
About 11.50 pm on Saturday (11 April 2020), officers from Camden Police Area Command were conducting proactive patrols on Main Street, Mt Annan when they attempted to speak with the occupants of a vehicle parked outside a shopping centre. When police approached the vehicle, the car was driven from the scene before stopping at a nearby service station. The driver, a 24-year-old woman, and her passenger, a 21-year-old woman, were issued with $1000 PINs for failing to comply with a Public Health Order. The driver was also issued with a traffic infringement after checks confirmed her licence is currently disqualified.
Hand Sanitizer – Lane Cove Council
Lane Cove Council has partnered with a local pharmacy to make up Hand Sanitizer following WHO-approved formula.  You can purchase it a pre-COVID 19 prices at Unwind Expresso Bar.  BYOC – bring your own container.
NSW Health Warns Parents About Children Ingesting Hand Sanitizer
NSW Health is reminding parents that alcohol-based hand sanitiser is dangerous if ingested, particularly for children.
NSW Poisons Information Centre said while hand sanitiser is an important tool in stopping the spread of COVID-19, it has seen a spike in the number of calls due to hand sanitiser exposure incidents, mostly by babies and young children ingesting it at home.
Genevieve Adamo, Senior Poisons Specialist from the NSW Poisons Information Centre, said even a small amount could be harmful to young children and babies.
"Hand sanitiser products should be stored safely and out of reach of children. When they are used by young children it should be under the supervision of an adult. Washing hands with soap and water for at least 20 seconds is also a safe and effective option to help combat COVID-19," Ms Adamo said.
Consumers are reminded to be aware of imported products which may not be clearly labelled and may contain more toxic alcohols such as methanol that make the product more dangerous. Products may also be packaged in a range of container types, including beverage containers, which can increase the risk of accidental ingestion and poisoning.
Additionally, there have been reports of people making their own hand sanitiser, which may increase the risk of potential poisoning.
Most minor intakes can be safely managed at home, but telephone assessment is still critical.
"Regardless of the quantity, people should always call the Poisons Information Centre for first aid and monitoring advice and should ensure they have the container of the ingested product with them," Ms Adamo said.
"Calling the Poisons Information Centre first to see if you or your child needs to go to hospital may prevent unnecessary visits to the Emergency Department and will help to keep Emergency Departments free for emergencies. In the current climate, it also prevents people from increasing their risk of exposure to COVID-19."
For advice on possible poisoning, please contact the 24-hour Poisons Information Centre on 13 11 26.
Price Hike Name and Shame
The Department of Fair Trading has released the following statement:
Businesses that inexplicably set unfair prices for essential items such as food or toilet paper in response to COVID-19 risk being publicly listed under a new initiative announced by Minister for Better Regulation Kevin Anderson today.
Mr Anderson said this is a challenging time for everyone and is made more difficult when people take advantage of a heightened feeling of anxiety in the community.
"It's encouraging that so far, NSW businesses are largely doing the right thing and to date, we've seen very few examples of business trying to profit from the crisis," Mr Anderson said.
"It's best to shop with retailers and brands you know and trust to avoid being taken for a ride, but if you believe something has had an inexplicable price hike, then discuss it with the trader and if you are still dissatisfied, contact Fair Trading."
Reports made to NSW Fair Trading will be investigated, and traders will be asked to justify any significant price increases on essential items.
"This ensures businesses have the right to respond to claims made against them, rather than face trial by social media, especially if there is a legitimate reason for the price increase," Mr Anderson said.
If there is no known legitimate business reason for the increased price, a public warning can be issued under section 86A of the Fair Trading Act, which allows the Minister to warn the public about the conduct of a business.
Legitimate business reasons include increased transportation costs, increased staff costs, shortage of a particular good due to extenuating circumstances such as drought or price increases from the manufacturer or supplier.
"Issuing these warnings will help consumers make informed decisions about where to shop and will deter traders who may consider engaging in this conduct," Mr Anderson said.
"This is a time to look after each other and ensure people can access the goods and services they need to stay safe and healthy."
Complaints can be reported to NSW Fair Trading online or by calling 13 32 20.
When Will Stay at Home Restrictions Be Eased?
This is the question many people have been asking? The answer is not known (unless you are NSWRL and you think it is in late May).
The Federal Minister for Health Greg Hunt said the way out of self-isolation restrictions would depend on "three elements".
Element One: a clear indication that we are suppressing the case numbers in Australia – it could be case numbers, the re-transmission rate, that's all being developed into an assessment protocol.
Element Two: Ensuring Australia has rapid response capability – testing, tracing.
Third Element:  If the above two elements are met, then it would be a gradual programme of removing the restrictions.
The Minister warned countries, who have been successful in dealing with coronavirus, including South Korea, Singapore and Japan, had eased restrictions only to have to raise them again.
Lane Cove Local offers Help For People Looking for Work
In these crazy times, many in our community are trying to manage isolation, home-schooling, social distancing and other COVID 19 initiated changes to our lives. Some are also trying to work through the impact of job loss.
If you have experienced a recent job loss and are finding the thought of applying for jobs and going to interviews daunting, please feel free to drop Jo Newton an email [email protected]
I've spent my career in HR and recruitment and am happy to provide some free, confidential advice around resume writing and preparing for interviews.
Here's a bit of info on me https://www.linkedin.com/in/jo-newton/
Don't Ignore Symptoms – COVID 19 is Not the Only Life-Threatening Emergency
The Australian Chronic Disease Prevention Alliance (ACDPA) is concerned some people are overlooking their existing chronic conditions and even failing to call triple zero (000) for an ambulance in an immediate life-threatening emergency. This delay could put them or their loved ones at risk of disastrous consequences, lengthier hospital stays and even death.
ACDPA Chair Sharon McGowan said it was vital people sought urgent medical help when it was needed.
"If you, or someone with you, requires urgent medical help, do not hesitate to call triple zero (000)," Ms McGowan said.
"I understand some Australians may be concerned about being a burden on our doctors and nurses at this busy time or be worried about contracting coronavirus in hospitals.
"But essential services are still running in our hospitals and every precaution is being taken to protect patients and their families throughout the entire health system."
Many patients with chronic conditions, like diabetes, kidney disease, heart disease and cancer need ongoing treatment and care to manage their health. Other conditions like heart attack and stroke require immediate medical attention.
It is essential for Australians to know that they can keep accessing regular and emergency care during this time.
Ms McGowan added the health system is still available for medical emergencies, life-sustaining treatments like dialysis and transplant care, as well as ongoing care for those with existing medical conditions.
"I am hearing heartbreaking stories of people who are risking their lives unnecessarily by not calling an ambulance in a medical emergency," Ms McGowan said.
"This includes two patients with stroke who stayed at home where their conditions worsened, instead of presenting to hospital. Stroke is a time-critical medical emergency and as each minute passed, their brain cells died.
"This is incredibly distressing because these patients could have received time-critical treatment but are enduring much more serious disabilities as a result of the delay".
Hospitals are taking a raft of precautions to maximise safety in COVID and non-COVID areas. They are also minimising the length of stay for patients, with Telehealth consultations (phone or video appointments) available for follow-up care. They are also planning for worst-case scenarios that will help ensure essential emergency and urgent services remain open.
Ms McGowan reiterated people must always call triple zero immediately in a medical emergency, no matter where you live or what age you may be.
"Don't wait until it's too late," she said.
Reasons to call triple zero (000) for an ambulance include:
Chest pain or chest tightness.
Sudden onset of weakness, numbness or paralysis of the face, arm or leg.
Breathing difficulties.
Unconsciousness.
Uncontrollable bleeding.
A sudden collapse or unexplained fall.
Unexplained fitting in adults.
Injury from a major car accident.
A fall from a great height.
Serious assault, including stabbing or shooting.
Severe burns, particularly in young children.
Infants who are fitting or have an ongoing fever
A Lane Cove Activity to Do with Kids These School Holidays
Even though  Lane Cove Council's outdoor nature events have been cancelled or postponed due to the escalating response to COVID-19, we shouldn't forget how being in nature can help ease our anxieties and stress. Even the greenery of your own garden can provide mood-boosting benefits. Here are some events you can take part in while you are self-isolating.
Wild about Lane Cove Photo Challenge: 1 – 30 April
Take some time to explore and capture the many beautiful aspects of Lane Cove's natural spaces as part of Council's Wild About Lane Cove photo challenge. Spend time in your garden and discover its riches! Photograph what birds and insects are visiting, which mushrooms are growing or where spiders are weaving their webs. Try to find and take photos of the features suggested in the photo challenge. For example, can you discover a small creature, a beautiful native flower, life-giving water or maybe something which feels soft?
Upload your best pictures to Instagram, tag @lanecovecouncil_ and #WildAboutLaneCove and go in the draw to win great prizes! Photos must be taken in the Lane Cove LGA. Find out more
Lane Cove Guides and Resources
ITC has put together numerous guides to help out our local businesses, to make it easier for you to shop and for kids to have fun. The guides are listed below. We hope you find them useful.
Sydney Community Services
Sydney Community Services is located in Lane Cove and has a long history of providing services to the aged and people living with a disability including social activities, gardening, home nursing, podiatry, Community Care Advisory, clean sheets and towels, home-delivered meals, home modifications and maintenance, flexible respite, carers support, shopping services, community and engagement programs, medical transport and assistance in daily life.
Sydney Community Services (9427 6425) is a central source for anyone in Lane Cove or Hunters Hill who either need to self-isolate or choose not to go outside as they worry they are at risk of the Corona Virus.
If you are a neighbour of someone who may be at risk, please check they are ok and let Sydney Community Services know if they need to be on the vulnerable list.
They are putting together a database of people who are in isolation. Still, they also need volunteers who can help others who need emergency supplies or even just give social contact through a phone link.
They take referrals by phone on 9427 6425. You can also email [email protected] with your details.
They are now the first line of contact for many elderly and vulnerable people in our community.
Thank you to everyone who has put their name down for volunteering with SCS.  They are working hard to process all the applications and comply with government requirements for volunteers in the aged sector.  SCS will be in contact with you as soon as possible to work out a role for you to play.  However, as you can appreciate, with each new day and announcement, SCS has to readjust and change their plans.
They may need to call upon more residents in the future, but at this stage, they have enough volunteers.
Elderly or Vulnerable People Priority Online Shopping
If you are elderly or vulnerable, you can arrange for priority shopping with Woolworths. Coles is working to introduce their priority home deliveries by the end of this week.
Woolworths has introduced Priority Assistance home deliveries to help the elderly, people with disability, those with compromised immunity and those in mandatory isolation. To apply for Priority Assistance delivery, please complete the form at woolworths.com.au/priorityassistance
Coles Online has been temporarily diverted to the Coles Online Priority Service (COPS), allowing them to focus on delivering food and grocery essentials to elderly and vulnerable members of the community, including retirement and nursing homes. They will shortly announce how customers can access COPS; please check www.coles.com.au for more details.
Mental Health Support
If you aren't feeling yourself lately, the Way2Wellness team are available to listen. Talk to a trained mental health supporter using a free and confidential wellbeing service.
For more information, visit: www.way2wellness.org.au or call: 1300 120 446 to chat.
Closest COVID 19 Testing Clinic
There is a COVID 19 Testing Clinic at Royal North Shore. These clinics are currently assisting with the assessment and testing of people with fever, cough or flu-like symptoms who are returned travellers or a contact of a confirmed case.
NSW Health Advice on Social Distancing
Everyone should practise social distancing, as it reduces the potential for transmission.
Social distancing is an effective measure to reduce the potential for transmission, but it is recognised that it cannot be practised in all situations.
Social distancing includes:
avoiding places where it is difficult to keep the appropriate distance away from others
attempting to keep a distance of 1.5 metres between themselves and other people where possible, for example when they are out and about in public place.
do not shake hands, hug, or kiss people who do not live with you.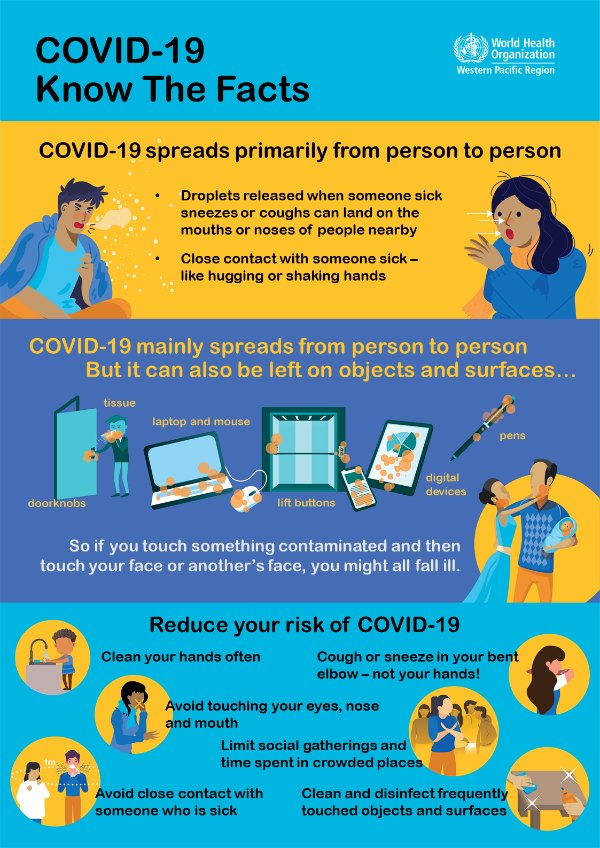 Be a Lane Cove Legend
To make sure you don't miss Lane Cove info sign up to our newsletter. It comes out every Wednesday Night at 7.30 pm and includes a wrap up of everything posted on our Facebook site in the previous week.
Did you know that In the Cove has an Instagram page? Yes, we do, and we feature pictures from our roving reporters and our ITC team that do not appear on our Facebook page. Follow us on @inthecove