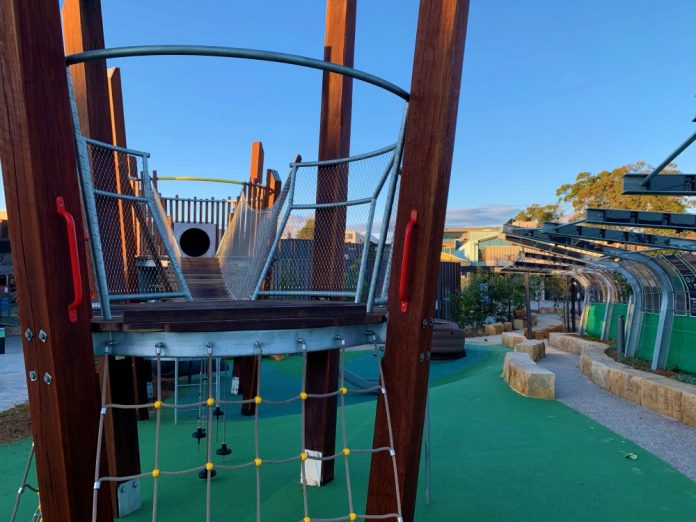 We asked Lane Cove Mum Julie Taylor to review The Canopy playground and give us her thoughts.  Take it away Julie…
The Canopy Playground – A kid's haven in the heart of Lane Cove
With the much-anticipated opening of The Canopy many have flocked to see what it holds, and it has not disappointed!
From the carpark, take the escalator to the ground floor and you will be greeted by an amazing 20 square metre green wall and this sets the scene for the playground, set amongst trees and wooden seating.
This area is what every parent dreams of, an extensive playground with plenty of free parking, clean toilets and coffee shops nearby.
The Canopy is host to a variety of playground equipment, suitably spread out to allow all ages to have their fun. A fantastic feature is the soft fall surfaces that surround the play equipment.
Playground area for older children
This area of the playground features an array of climbing activities. Children can climb the rope ladder, walk the suspension bridge and arrive at a multilayered tower. One of the highlights of the playground is the covered slide that spirals down. Or the children can scale down the chain steps to then take the slippery dip. There are also 3 trampolines embedded in the ground.
A highlight of the area is the natural environment that the equipment is engulfed in. There are trees surrounding the perimeter, and wooden and sandstone benches that the spectators/families can view from and sit back and relax on!
Playground area for babies and toddlers
This area is ideal for younger children. They can dig in the sand or hide in the tunnel. There is a fabulous climbing area where their fundamental movement skills will be tested and laughter will be heard as they zoom down the slide.
It also has a water play area and they will use all their might to funnel the water through the pipes.
This area is covered with shade sails. This is perfect for the little ones as they explore in this section.
Water play area
Be sure to pack extra clothes so that your children don't miss out on the water fountain section, perfectly located in the sun! The fountain features 46 jets with lighting which are programmable to allow various sequenced displays.
Easily accessible toilets
Toilets are optimally positioned next to the playground. There is a parent's room with a small toilet with a basin and tap that is the perfect height for the little ones to wash their hands. Currently, there is a hand sanitiser station located near the playground.
BBQ area
Planning your next catch up? There is a covered BBQ area, with picnic tables and chairs situated next to a grassy area with a beautiful natural wooden climbing frame.
This section of The Canopy is close to lift access and another restroom facility.
Solar panels
As you sit sipping your cappuccino on the sandstone seating you may wonder what the metal structure is overhead. Lane Cove Council teamed up with The University of Newcastle and they have implemented curved solar panels. These then power sensor triggered coloured LED strips on the western perimeter of the playground area. This will be a fun addition for evening playtime.
Things to note
There is a 'Shared Zone' within the vicinity of the playground area near the open cafes and businesses. By definition, a 'Shared Zone' is a road space shared by pedestrians and vehicles. This may not be obvious to children as it doesn't look like a traditional road with guttering. This is worth noting if you have a bolter and they see the playground and can't contain their excitement!
Parking
There are approximately 500 ticketless parking spots located right below the playground area. On Level 1 there is 1 hour free (express) parking and on levels P2-P4 there are 3 hours free parking. As you enter the carpark you will notice a digital clock above your car, note your time and the level you are parking on as there are cameras that will record if you are on the level for 1 hr or 3 hrs free. There is also early bird parking on P4 if you want to make a day of it and if you enter before 9:30 am and exit after 4 pm (for $7.50). If you are not sure if you have overstayed the free parking time, on exiting you should drive in the righthand lane so the computer will tell you if you need to pay for parking.
Ride your bikes to The Canopy
There are lock-up bike areas and also showers, so why not ride your bikes there! They are located on P1.
Great things to come
As the grass finds its roots and establishes itself, we look forward to outdoor concerts and movie nights under the stars with social distancing.
There are many fabulous cafes, restaurants and businesses in the local vicinity that are well worth incorporating into your playground adventure time.
Interesting Facts About The Canopy
The Canopy is not only about saving energy but also about generating energy too. 230 solar panels help to provide the power to The Canopy car park and park lighting each day.
Over the course of a year, this saves 83 tonnes of CO2.
The Canopy features 90,000 litres of water harvesting capacity. Rainwater from the water feature and the roof of the buildings is captured and reused for landscape irrigation.
Enjoy your time at The Canopy, no doubt you will be visiting it a number of times.
Written by Julie Taylor (Lane Cove Local since 2011).

Julie Taylor is a Digital Specialist focusing on small businesses in the local area. Her forte is website design, development and optimisation. She also executes digital marketing campaigns to help businesses thrive. If you want to know more she can be reached at 0432173848 or [email protected]
In the Cove Local News – Get in Every Wednesday!!
To make sure you don't miss Lane Cove info sign up to our newsletter. It comes out every Wednesday at 7.30 pm and includes a wrap up of everything posted on our Facebook site in the previous week.
Did you know that In the Cove has an Instagram page? Yes, we do, and we feature pictures from our roving reporters and our ITC team that do not appear on our Facebook page. Follow us on @inthecove