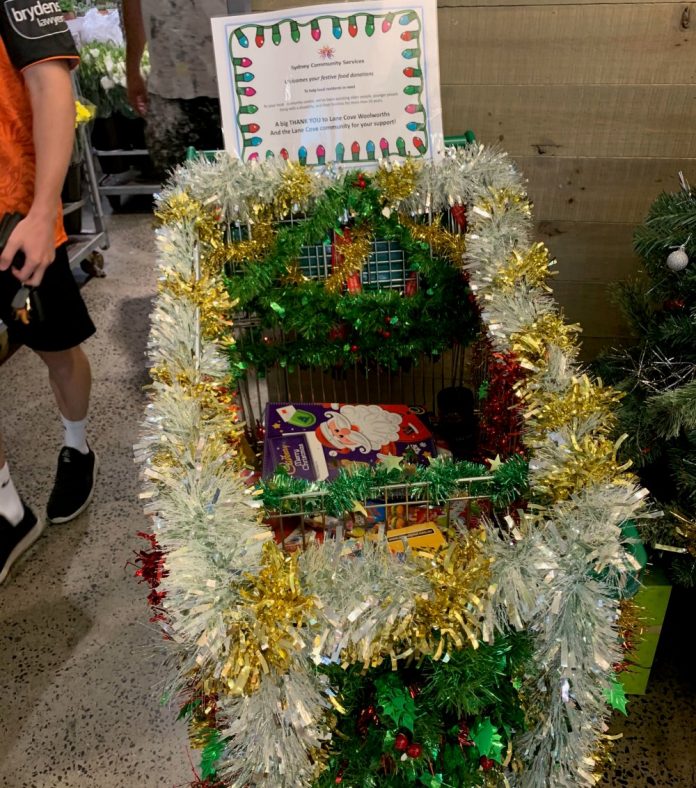 Lane Cove residents are generous.  ITC see acts of generosity every day.  Lane Cove also has one of the highest volunteering rates in Australia.  At this time of the year, ITC readers always ask us how they can help out or donate to someone in need.  We have put together a list of local donation drives.
This has been a hard year, so if you know someone who lives in Lane Cove Council area and needs a helping hand please email us at [email protected] and we will see what we can do.  One act of kindness can make all the difference and Lane Cove has never let us down.
Sydney Community Services
Sydney Community Services is collecting non-perishable food items to distribute to those in need in our community.  Just purchase an extra item when you are shopping at Woolworths and leave it in the shopping trolley located near the escalators.  These hampers go to locals in need.
With your help, Sydney Community Services distributes more than 100 Christmas hampers every year.
Not everyone enjoys Christmas – it can be incredibly stressful if you can't afford it. Please see a list of ideas for a gift or practical items you can donate to their hampers here.
There are three places to donate:
Please bring your donated items to 46 Gladesville Rd, Hunters Hill or to 1 Pottery Ln, Lane Cove (Little Street Car Park building next to the Pool).
If you shop at Woollies in Lane Cove, there's a tinsel-covered trolley for collecting items for our hampers; or
If you're in Gladesville Shopping Centre, look out for our Tree of Joy from which you can pick a dangling tag with a gift suggestion for somebody we know who would appreciate such a gift (the tags will also let you know where to drop the gift).
Sydney Community Services will be distributing hampers until December 18.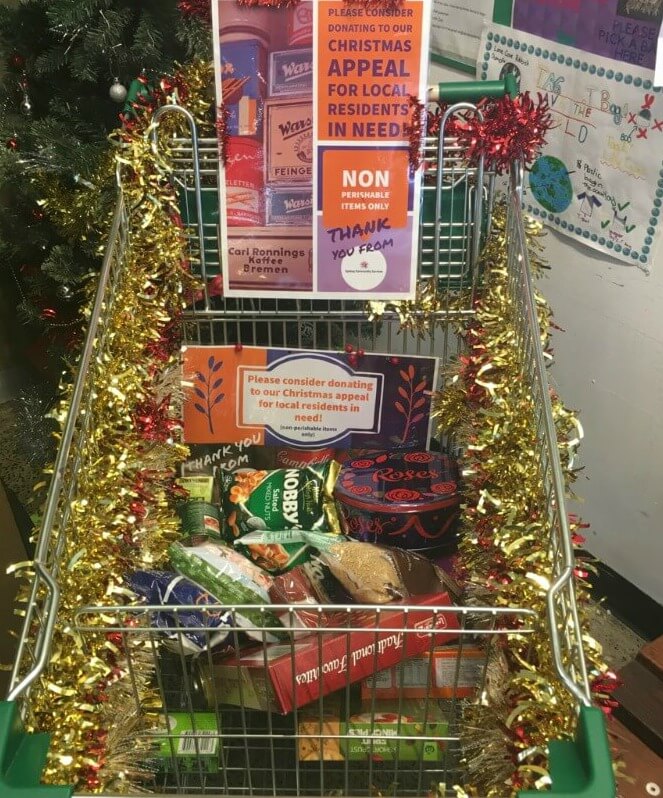 Lane Cove Market Square – The Smith Family's Toy & Book Appeal
Lane Cove Market Square has chosen to Host a Gift Collection in the lead up to the holiday season in support of The Smith Family's Toy and Book Appeal.
They would appreciate your support by donating new toys and/or books for children aged 0 – 12 years. Your gifts will be donated to young Australians in need who would otherwise go without on Christmas morning.
Please drop your donations to the Pacific Smiles, Lane Cove Market Square by Wednesday, 16 December.
Raine and Horne
This year (as in previous years) Raine and Horne will be accepting donations for The Salvation Army.
The Salvation Army's Gift Guide is below
Raine and Horne are located at 85 Longueville Road, Lane Cove (just near Kasina Korean Eatery).
Where appropriate, please ensure items have long expiry dates and are non-perishable
Consider donating a supermarket gift voucher, as they allow the recipient the flexibility to purchase their choice of fresh fruit, vegetables and meat
Consider providing food that will suit families with young children, people with allergies, the elderly or new Australians
A Little Ray of Giving
This Christmas, Ray White Lane Cove will continue their popular tradition of giving with the return of 'A Little Ray of Giving'. This inspiring Christmas campaign will see their office partner with Wesley Mission to help disadvantaged children who may need a little extra light in the festive season.
All you need to do is organise a wrapped gift, drop it under the tree in their office at reception from 1st of December, inform their team if the gift is for a male or female, and nominate an age group. They'll make sure it gets to a deserving family in our community.
Please donate by the 18th of December. Everybody deserves to smile this Christmas!
Lane Cove is such a generous community and at this time of year, ITC is regularly asked how locals can support Delvena Women's Refuge. The staff at Delvena never know who is going to walk in the door and need their help. They need to have generic supplies on hand and that is why cash donations and gift vouchers are so appreciated.  Why not buy a Lane Cove Gift Card so parents can choose gifts for the kids from a Lane Cove store.  You can buy a Lane Cove Gift Card at these stores.
They did, however, tell us that this year they do have some teenage boys (16 and 17 years) and a teenage girl.  They also have some kids in at the moment who love Minecraft – so any Minecraft related merchandise would not go astray. The kids also love Bey Blades.
You can drop off your donations at Sydney Community Services.
Your generosity will ensure women and their children escaping domestic violence have a happier Christmas with a small gift to enjoy in their environment free from violence and abuse.
Lane Cove Council
Share Christmas joy with those who are less fortunate by selecting a gift tag from the Tree of Joy. Donate your unwrapped gift at the Lane Cove Council Building or the Lane Cove Library by Wednesday 9 December 2020.
Gift collection can also be organised if required by emailing Council's Seniors and Disability Program Officer at [email protected].
Lane Cove Aquatic Centre
In the spirit of giving and community support, BlueFit and Lane Cove Aquatic Leisure Centre team are teaming up with The Smith Family Toy appeal!
On the 1st of December 2020, Christmas joy will appear with the arrival of a festive Christmas tree.
Place an unwrapped present under the tree by Monday 7th December to help make a child's Christmas wish come true.
A loving program that provides support to families of premature and sick babies staying in the Neonatal Intensive Care Unit.
Families of premature and sick babies can spend days, months and sometimes a year caring for their baby/s in hospital. They are often so focused on baby's care they forget to take care of themselves. Caring for a baby in the NICU is stressful and exhausting, and going without proper nourishing meals exacerbates this. NICU Food From the Heart aims to provide loving and practical care and support to the families who are working so hard to care for their babies.
NICU is looking for the following to provide a Christmas Gift for the families who are in NICU over Christmas and they would love a donation of:
– hand creams
– water bottles
– jewellery
– pamper items
– candles
– notepad/ pen
– Silly socks
– lollies/ chocolate
– children's books
– baby toys for under 6 months
– get creative, anything to brighten up the families Christmas Day
Drop Off Point: Bakers Delight Lane Cove.  Thank you to Joyce and her team for helping out.
Local News At Your Fingertips
In the Cove is run by locals. It is the only online hyperlocal news and media business based in Lane Cove.  We provide local free news – we do not have a paywall and will never have a paywall.