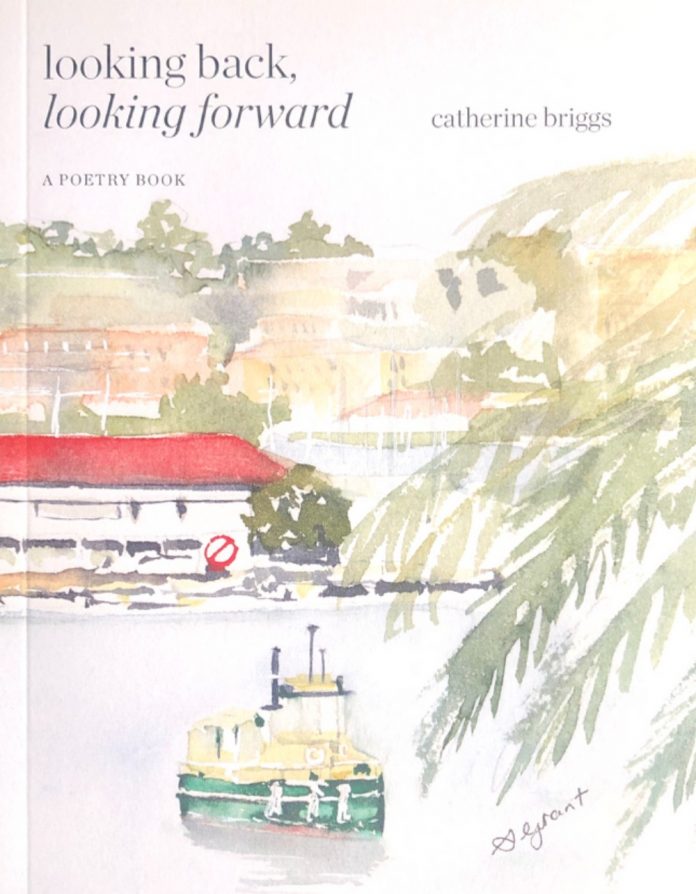 Lane Cove Poet Catherine Briggs has released the Poetry Book, Looking Back, Looking Forward.  It's a selection of poetry written by Catherine starting from when we first had COVID19 on our radar in Australia to the present time.
Who is Catherine Briggs?
Catherine was born in Ararat, a small country town in Victoria, which shaped her appreciation of nature and the Australian bush. Her parents were a guiding influence, her father Jack, her gentle uncle, Gene, moulded her regard for men, while her mother, Patty, moulded her love for the beauty surrounding her in the garden and the bush. Her three brothers honed her skills in tree climbing, AFL football and cricket, as well as discussion and debate, at the dining table with fine food and Great Western wines, leading to them saying that 'they did not need Germaine Greer, we have Catherine.'
After finishing her schooling,  a meandering career path ensued, always fuelled by a love for words. With a journal and a book always at hand, Catherine tried nursing, before focusing on a library career in Melbourne and London.
Beguiled by English traditions, she studied at the Victoria & Albert Museum, concentrating on porcelain, taking up ceramic restoration studies in Norfolk and Chelsea, before working for antique dealers in Chelsea and Melbourne where she set up a business. At the same time, she studied literature, art and film at Monash and La Trobe Universities then deciding on a teaching career in Sydney. She's always inspired by her daughter, Lucy, the light of her life.
What Prompted Catherine to Publish her Book?
Now, like so many during a global pandemic, Catherine had her plans for travel and the future put aside by COVID19.  This prompted her to look back on a lifetime of travel and education.  Catherine discovered that in times of sadness and the blues, the music of poetry could convey hope and delight.
Catherine is a member of the Lane Cove Poets in Residence at the Lane Cove Library.   When the library shut, the group supported each other via Zoom.
Looking Back, Looking Forward is a beautifully presented book.  The cover features a watercolour by local artist Susie Grant.  Susie also provided the sketches for the book.
The book is available for purchase locally at Burns Bay Bookery – thank you yet again to Burns Bay Bookery for supporting local authors.
Contact Details
Facebook: My Words, My World 
Instagram: @mywords.myworld.cb
Shop Local Lane Cove
It has been a tough year for local businesses (many of them owned by Lane Cove locals).  If you are in a position to shop for Christmas presents this year (and we know that many people have had to tighten their budgets this year), then please shop local.  Our Christmas Gift Guides are below.
Local News At Your Fingertips
In the Cove is run by locals. It is the only online hyperlocal news and media business based in Lane Cove.  We provide local free news – we do not have a paywall and will never have a paywall.