Welcome to our week in review. This week, the big news was that Coles Lane Cove and ALDI Lane Cove were listed as exposure sites.   On 29th July 2021,  In the Cove first reported the exposure site after been advised that Coles Staff had been asked to isolate and get tested and Lane Cove residents started receiving text messages advising deliveries would not be taking place due to Coles Lane Cove being an exposure site.  It was not until 2nd August that Coles and ALDI were listed as exposure sites.
COVID19 Update up to 4 August 2021
Three Confirmed Cases in Lane Cove
There are three confirmed cases in the Lane Cove Council area. Our LGA includes all suburbs with a 2066 postcode and 2065 postcode (which includes Greenwich and other suburbs not in the LGA). These stats do not include that part of Lane Cove North located in Willoughby City Council (for those who live on the Mowbray school side of Mowbray Road).
The source of infection is unknown for two cases.  You can see the full list of cases by local government areas here.
NSW Health's ongoing sewage surveillance program has detected fragments of the virus that causes COVID-19 at the sewage systems at Lane Cove West. Lane Cove West sewage network serves about 26,000 people in suburbs, including Lane Cove, Artarmon, Lane Cove West, Chatswood West, Chatswood West, Roseville, Lindfield, Chatswood, North Ryde and Lane Cove North. Everyone in these areas is asked to be particularly vigilant for the onset of symptoms that could signal COVID-19. If they appear, to immediately be tested and isolated until a negative result is received.
COVID19 Stats 4 August 2021
NSW Health is worried about how fast the virus is spreading in apartment complexes. Don't share lifts, wear your masks in common areas and don't congregate in common areas.
As of 4 August 2021, there are currently 286 COVID-19 cases admitted to the hospital, with 53 people in intensive care, 23 of whom require ventilation.
NSW recorded 233 new locally acquired cases of COVID-19 in the 24 hours to 8 pm last night. Ninety-two cases were isolated throughout their infectious period, and 21 were isolated for part of their infectious period. Forty-seven cases were infectious in the community, and the isolation status of 73 cases remains under investigation. Of the 233 locally acquired cases reported to 8 pm last night, two are from Northern Sydney LHD.
Of these locally acquired cases, 103 are linked to a known case or cluster – 79 are household contacts, and 24 are close contacts – and the source of infection for 130 cases is under investigation.
NSW Health urges everyone in all of these areas to be particularly vigilant for the onset of symptoms that could signal COVID-19, and if they appear, to immediately be tested and isolate until a negative result is received. Local testing details here https://inthecove.com.au/…/lane-cove-covid19-testing…/
Sadly, NSW Health has been notified of the deaths of two people who were confirmed COVID-19 cases.
A woman in her 80s from Sydney's inner west died at Royal Prince Alfred Hospital yesterday. This is the 16th COVID-related death during the current outbreak.
A man in his 20s from southwest Sydney died at his home yesterday. He was a confirmed case of COVID-19 and was isolating at home. His death has been referred to the NSW Coroner.
NSW Health expresses its sincere condolences to its families and friends.
There have been 4,063 locally acquired cases reported since 16 June 2021, when the first case in this recent outbreak was reported.
There were 105,578 COVID-19 tests reported at 8 pm last night, compared with the previous day's total of 104,536.
NSW Health administered 25,470 COVID-19 vaccines in the 24 hours to 8 pm last night, including 8,078 at the vaccination centre at Sydney Olympic Park.
The total number of vaccines administered in NSW is now 4,053,592, with 1,560,488 doses administered by NSW Health to 8 pm last night and 2,493,104 administered by the GP network and other providers to 11.59 pm on Monday 2 August 2021.
NSW Health is investigating the possible transmission of COVID-19 between returned travellers in Sydney's CBD.
Results of whole-genome sequencing show possible transmission between two separate groups of returned travellers staying on different floors of the Adina Town Hall in mid-July.
Two members of one family, who arrived at the hotel on 13 July, tested positive for COVID-19 on 15 July. They were transferred to Special Health Accommodation shortly after.
One member of a second family staying on a separate floor of the Adina Town Hall tested positive to COVID-19 six days later. They had arrived on 9 July. That family was then also transferred to Special Health Accommodation.
NSW Health's routine genome sequencing now shows the infection of both families is an identical match. The virus is the Delta strain and is different to the strain circulating in Sydney. No other cases in the Adina Town Hall have the same viral sequence.
Currently, there is no evidence of further transmission.
If you are directed to get tested for COVID‑19 or self-isolate at any time, you must follow the rules whether or not the venue or exposure setting is listed on the NSW Health website.
It remains vital that anyone who has any symptoms or is a close or casual contact with a person with COVID-19, isolates and is tested immediately. When testing clinics are busy, please ensure you stay in line, identify yourself to staff and tell them that you have symptoms or are a contact of a case.
Please check the NSW Government website regularly, and follow the relevant health advice if you have attended a venue of concern or travelled on a public transport route at the same time as a confirmed case of COVID-19. This list is being updated regularly as case investigations proceed.
NSW Police Release Mask Compliance Information
NSW Police will continue to reinforce the importance of complying with the requirements of the Public Health Order, with a focus on abiding by mask-wearing rules.
Rules for wearing fitted face coverings include:
You must wear a face mask at indoor non-residential premises in NSW
You must wear a face mask when using public transport
You must wear a face mask in a major recreation facility
You must carry a face mask with you at all times if you are in the local government areas of Greater Sydney, including the Blue Mountains, Central Coast, Wollongong and Shellharbour.
You must wear a face mask if you go outside in a public area in the Blacktown, Campbelltown, Canterbury-Bankstown, Cumberland, Fairfield, Georges River, Liverpool or Parramatta local government areas.
You must wear a face mask when travelling in a vehicle with a person you do not live with
You must wear a face mask in Greater Sydney residential building common areas.
Deputy Commissioner Metropolitan Field Operations, Malcolm Lanyon, explained that there had been various iterations of the public health orders and commended the community for being adaptable to the changes to requirements.
"The mask-wearing requirements have evolved over time to match the changing settings as the Government has responded to the escalating COVID-19 Delta variant case numbers," Deputy Commissioner Lanyon said.
"Clearly the rules now state that people need to abide by the mask wearing requirements of the Public Health Orders unless they have an exemption. That exemption can be in the form of either a medical certificate or people are able to carry a statutory declaration."
"If police ask to see the exemption people are required to present that documentation, and we will investigate all exemptions.
"Make no mistake, and police are investigators by trade. If we have any reasonable doubt that a document may be false, we can and will investigate these matters thoroughly to bring people before the courts," he said.
Anyone found guilty of making a false declaration under The Oaths Act, 1900 risks being found guilty of an indictable offence and liable to imprisonment for 5 years.
Further advice about the Public Health Orders can be found at www.nsw.gov.au/covid-19
Anyone who has information regarding individuals or businesses in contravention of a COVID-19-related ministerial direction is urged to contact Crime Stoppers: https://nsw.crimestoppers.com.au. Information is treated in strict confidence. The public is reminded not to report crime via NSW Police social media pages.
Fire in Riverview Street Riverview
A House was destroyed in Riverview St Riverview on 31 July 2021.  Six fire crews and the Bronto (crane) attended.  The Police were the first to arrive and rescued a woman from the house.
No injuries were reported. However, Police and occupants were treated by paramedics for smoke inhalation.   A considerable amount of damage was caused to the home, with repairs estimated to cost more than $300,000.  The fire is believed to be caused by a homemade chicken incubator made from a cardboard box and a light globe connected to a PowerPoint.
Burns Bay Road No Stopping Signs
We have been inundated with people asking us to find out why No Stopping Signs are now all along Burns Bay Road near the new traffic lights at the Burns Bay Road/Tambourine Bay Road Intersection. There is still one disabled spot. However, this has created concerns for seniors who have parked there to access the medical practices and chemists on Burns Bay Road.
Lane Cove Council advised:
"No Stopping area on Burns Bay Road was a requirement due to the new signals. The length of No Stopping zones required for traffic signals are developed from indicative traffic modelling and are approved by Transport for New South Wales (TfNSW).
Once the traffic signals are in operation, an audit of the intersection will be undertaken. The audit assesses the operation of the signals and enables a review of queue lengths and parking restrictions. After this review, it may be possible to reduce the length of the No Parking zone and/or to introduce an off-peak stopping/parking zone."
Our cover photo shows the new no stopping signs.
Lane Cove Residents in the News
New AMP chief executive Alexis George is a Lane Cove resident.  You can read about her in this Australian Finacial Review Article (note paywalled).
Lane Cove Vaccination
This week the Commonwealth Government for the first time released vaccination stats by the district.  Lane Cove, Hornsby and North Sydney have one of the best vaccination rates.  Let's keep it up.  Thank you to Councillor Andrew Zbik for the image below.
Elective Surgery
The NSW Government is providing an additional $30 million for private hospitals to undertake additional elective surgery on behalf of the NSW Health system to ensure that patients who have their non-urgent elective surgery postponed will be scheduled for surgery as soon as possible.
This is in response to the decision to temporarily postpone non-urgent elective surgery at public hospitals in Greater Sydney, excluding the Illawarra Shoalhaven and Central Coast Local Health Districts, from Monday, 2 August to ensure hospital capacity and resources required for the COVID-19 response are maintained during the current, growing outbreak.
In 2020-21 the NSW Government provided an extra $458.5 million to fast-track elective surgeries, which were delayed as a result of the Federal Government's decision to temporarily suspend non-urgent elective surgery in response to the COVID-19 pandemic in March last year, and a further $80 million has been provided as part of the 2021-22 NSW Budget.
All emergency surgery and urgent elective surgery will continue to be performed during this challenging period.
The NSW Government has committed more than $4 billion to the NSW health system to manage the impacts of the COVID-19 pandemic since March 2020.
Sydney Community Services Food Bank
Sydney Community Services is there for ALL of those that need a helping hand at the moment, and they are there for you right now. A well-stocked food bank is discretely available to help you with your current needs.
The office is currently open, and covid safe Monday-Friday 8.30 am-4 pm at 1 Pottery Lane, or you can call them on 9427 6425.
It is always great to see the generosity and kindness in our Lane Cove community and even more so at this strange and difficult time in our lives.
If you are able to, please consider doing an online order to be delivered directly to Sydney Community Services at 1 Pottery Lane, Lane Cove, Monday-Friday between 8.30 am-4 pm.
Items currently needed:
Gift cards for Coles or Woolworths
Breakfast cereal – Weetbix, oats, muesli, just right, rice bubbles etc
Long-life milk
Pasta
Rice
Tinned goods – veg, fruit and soups
Pasta sauce
"Up and Go" drinks
Juice "poppas"
Tetra packs of fruit
Biscuits/Cookies
Muesli bars
Teabags
Instant coffee
Sugar
Sanitary items
Toothpaste and Toothbrushes
Shaving foam
Shampoo and Conditioner
Body Wash
Incidents/Accidents/Crime Report
Accident – River Road Lane Cove
A nasty accident on River Road (Lane Cove West side) on 2nd August 2021.  No one was seriously injured.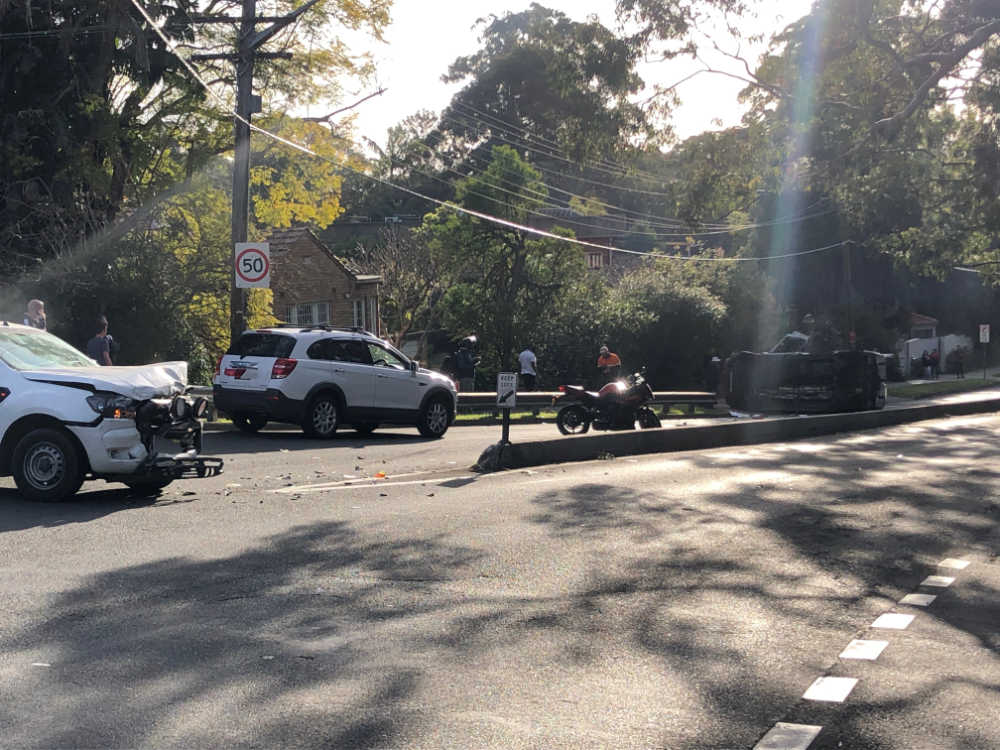 Artarmon 31/7/2021 
Around 2 pm on Saturday, North Shore Police were stopping vehicles on the Gore Hill Freeway as part of a large operation to prevent breaches of the Public Health Order.  A 34-year-old Chatswood man was stopped at the site and found to be driving while his licence was suspended.  He was issued with a Field Court Attendance Notice for driving while suspended and was also infringed for a breach of the Public Health Order as he did not have a reasonable excuse to be travelling from his LGA to the city.
Mosman 25/7/21
Police were called to Georges Heights Oval regarding a group of youths riding their bikes together at the location.  Most of the youths left before the Police attended. Two youths aged 14 and 15 years were issued with a warning for Breaching Covid regulations. The youths were also banned from the location by the Harbour Federation Trust.
Mosman 26/7/21
Police are investigating an assault on a 17 year old male on Military Road around 5.00 pm. It is alleged the 17-year-old was punched in the nose by another youth after the two males had a verbal exchange on the footpath.  The 17-year-old was treated by ambulance officers who suspected his nose may be broken.   Anyone with information should contact North Shore Police.
Cremorne 31/7/21 
Police received reports around 9 pm on Saturday that a group of people were having a bonfire at Little Young Street Community Garden.   Police attended and spoke to two males, a 20-year-old from Balgowlah and a 17 year old from Cremorne.    The 20-year-old was given an infringement notice for not complying with the Public health Orders, and the 17-year-old was given an official warning under the Young Offenders Act for not complying with the Public Health Orders.
Mosman 30/7/2021
A 40-year-old Northern Beaches man was arrested and charged with Aggravated Break and enter and commit serious Indictable Offence on Friday.   It is alleged that the man drove past a house in Kirkoswald Avenue while having issues with his car horn, which was sounding uncontrollably. Another man, who was standing outside the house,  allegedly shouted out to the man.  The Northern Beaches man then allegedly returned to the house a short time later, kicked the locked door open and punched a 24-year-old man who was inside the house.   There was a further physical altercation between the Northern Beaches man and the 20-year-old man outside the house before the two men who were at the house restrained the Northern Beaches man until Police arrived.  The man is due to face Manly Court in September.
Calling ITC Super Fans
Are you an ITC SUPERFAN? We know many of you are! For those who are not, we have so many platforms to follow. Don't miss out!
Instagram – www.instagram.com/inthecove/
Newsletter – https://inthecove.com.au/sign-up-for-newsletter/
Lane Cove Chat by ITC– www.facebook.com/groups/itclanecovechat
Kids in the Cove – www.facebook.com/groups/861987681252413
In the Cove Podcast – inthecove.com.au/in-the-cove-lane-cove-podcast/
As always, thanks to everyone for the support!!!!