A few weeks ago, ITC live streamed a performance by local musician Belle. The performance was live-streamed from a brand new studio in Artarmon owned by Lane Cove locals – EventSound.
Belle was a hit.  So we wanted to know more.  We asked Belle the following questions:
Why Did You Decide to Become a Musician?
Growing up, I was always a bigger kid. I was tall, chubby, and a redhead; to add to it, I was the left of center, theatre kid who was always loud, always singing and never quite fit in. Because of my differences, I was bullied for quite some years, starting from the age of 7.
Music and performing was something the bullies could never take away from me. It was kind of like my superpower and safe place all wrapped up into one. I would sing and play when I felt sad, lonely, and confused.
I have been playing music and performing since I was 9, and from there, my love for music just grew. Nothing sets my soul on fire as music does, and that's why there was never a question about it; I had to peruse music. Music is why I'm on this earth.
What's Your Musical Style?
This is a question that will never have a proper answer as I believe no creative is ever finished creating themselves. My style changes and evolves all the time. At the moment, I would say my music is pop/ soul with a jazz influence. My musical inspirations are from a plethora of genres, which adds to my ever-evolving style and sound.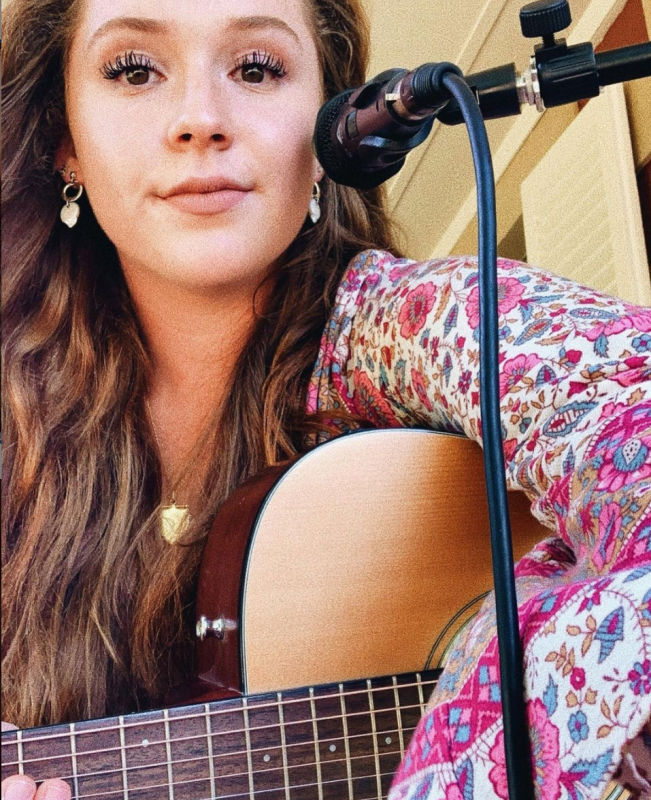 How Long Have You Been a Full-Time Musician?
This is a tricky question to answer because I don't consider myself a full-time muso just yet. I still have to work (outside of music) to pay the bills, but my heart is full-time muso. I am the weirdo with their light still on writing songs at 1 am.
So, I have been properly committed to music and working consistently in the industry since I was 15/16! Before that, I was in love with music but not making much money from it; it was my growing/ learning phase, just the beginning! I started making music more of my job at age 11 when I began busking and gigging!
Who is Your Musical Inspiration?
I wouldn't say anyone, in particular, inspired me to become a musician; as such, I fell in love with the feeling of performing and seeing people receive my music and story. But as I've grown into the musician, I am today. As I continue to work on my artistry, my biggest inspirations are Adele, Alicia Keys, Sara Bareilles, and Aretha Franklin. These artists are genuine, vulnerable, authentic, and so full of soul. That's all I can ever hope to be as a musician and as a person.
Why Did You Move to Lane Cove?
I had no idea Lane Cove even existed!
I grew up in Newcastle, and once I had graduated high school (2019), I was accepted into a college for Musical Theatre in NYC, then, of course, the pandemic happened, and that couldn't go ahead, I then planned to move to Melbourne, and that proved more than difficult due to COVID also.
I was desperate to get my adult life happening and move out of home, but I was deadest against moving to Sydney; I don't know why. I had a mate from school who had only recently moved to Lane Cove; he said to just come down to his place for the weekend and see what I thought of the area. After one day in Lane Cove and in Sydney, I fell in love, and within a month, I was living here!
What Do You Like About Living in Lane Cove?
I love that Lane Cove feels safe! I love the community and how many young families and kids there are. It reminds me a lot of Newcastle, and I think that is comforting. I also live on the river, and that is absolutely amazing!
What's Your Favourite Lane Cove Place?
I love the Canopy; I walk in there every morning. The vibe is just great. Closely followed by the river, absolutely beautiful!!!
What's your Go-To Coffee Place?
Oooohhh, this is a hard one; I don't even think I've tried all the coffee places in Lane Cove yet. There are so many! But at the moment, I am loving The Junction Coffee Co and Ground Cafré! Most lovely staff at these places too!
How Can People Hear Your Music?
You can find me on social media under @bbellemusic and on YouTube under Belle McGavin; I post photos and videos every day! I also am very excitedly releasing my first ever single on the 2nd of October; it will be available on all streaming platforms! So keep an eye out for that under my artist name 'Belle'!
Belle's Virtual Happy Hour
Check out Belle here.
Lane Cove Council Election Survey
The Lane Cove Council elections will be held this year. We want your feedback on what issues candidates should be talking about and also if you want us to hold a zoom candidates meeting. We held a forum last time, and it was packed, and residents got to ask some excellent questions.
Help us by filling out this survey, and you could go into the draw to win a $50 Lane Cove Gift Card.
Get Your Local News on Different Platforms
Are you an ITC SUPERFAN? We know many of you are! For those who are not, we have so many platforms to follow. Don't miss out!
Instagram – www.instagram.com/inthecove/
Newsletter – https://inthecove.com.au/sign-up-for-newsletter/
Lane Cove Chat by ITC– www.facebook.com/groups/itclanecovechat
Kids in the Cove – www.facebook.com/groups/861987681252413
In the Cove Podcast – inthecove.com.au/in-the-cove-lane-cove-podcast/
Weekly Lane Cove Property Update – https://inthecove.com.au/category/lane-cove-property/
As always, thanks to everyone for the support!!!!
Check out our Instagram Site click on the picture below.