It's that time of the year when we like to get together with our workmates or family and friends.  Have you locked in a date to celebrate, but don't know where to go or what to do?  Relax – In the Cove is here to help with our Lane Cove Christmas Party Season Guide.
---
Dine Out
---
The Alcott

Enjoy a Christmas lunch or dinner with friends, family or colleagues.
The Christmas Cheer package is an easy way to organise a festive get together, with each package including a set menu, drink voucher and Christmas themed table setting.
Two Course $59pp | Three Course $69pp
Minimum booking 6 people.
CHRISTMAS CHEER MENU & BOOKING FORM
Function Pack: Email
Facebook: @thealcott
Instagram: @thealcott
Booking Link:  Book here
Email: [email protected]
Phone: 029428 5155
Website: thealcott.com.au
Address: 1 Birdwood Ave Lane Cove Lane Cove, New South Wales
---
The Longueville
Now is the time to book your Christmas lunch or dinner and what better place than The Longy. Try one of their refreshing Cocktails with a delicious meal. 
Book here or call  02 9427 2021.
Contact Details
---
Little Red Robin
Little Red Robin now offers a modern Italian menu in their recently relaunched Birdwood Lane restaurant & wine bar.
Enjoy delicious dishes with quality produce, a wonderful wine list, modern cocktails and exceptional service.
Relaxed dining perfect for families, date nights, friends catch ups, corporate lunches, special events and more!
Open Wednesday to Saturday from 5pm for wine bar / pre dinner drinks and from 6pm for dinner.
Open for Lunch on Friday & Saturday from midday.
Bookings highly recommend and walk ins welcome!
Facebook: Littleredrobinrestaurant
Instagram: littleredrobinrestaurant
Email: [email protected]
Phone: 0294189529
Website: littleredrobin.net.au
Address: 4/85 Longueville Road, Lane Cove New South Wales 2066 (via Birdwood Lane)
---
Lillah
It's been a tough year, eh? You deserve to treat yourself to a beautiful banquet of Middle Eastern food, a few rounds of cocktails, and a great bottle of wine! You bring the friends, we'll bring the food, and we'll all bring the fun.
Lillah is already filling up fast for December – a reminder to secure your festive feasting sooner rather than later. Bookings of up to 30 available, they also have a great outdoor area, as well as their long window seat, if you're keen for some fresh air and sunshine.
Facebook: @LillahKitchen
Instagram: @lillahkitchen
Email: [email protected]
Phone: 0295881411
Website: lillahkitchen.com
Book here:  https://lillahkitchen.com/
Address: 128 Longueville Road, Lane Cove NSW 2066
---
The Diddy
Book before it's too late!
Make sure you secure your booking for your end of year Christmas party in 2021. Enjoy great food, drinks and atmosphere this Christmas.  Plenty of outdoor space to have a party.
Facebook: Longuevillesportingclub
Instagram: thediddy
Phone: 02 9427 2210
Email:  [email protected]
Website: thediddy.com.au
Address: Cnr Kenneth St & River Rd, Longueville NSW 2066
---
Four Frogs Crêperie
With Christmas around the corner, Four Frogs has put together the ultimate French Foodie catalogue where you can find the perfect gift for a loved one or yourself to put under the tree, including their famous marinière, a DIY box to learn how to make Crêpes, with their homemade buckwheat flour, salted caramel, apron, and more.
Don't forget that you can also have Four Frogs organise your Christmas party or end-of-year work celebrations at their Crêperie!
More info here
Function Pack: fourfrogs.com.au/functions
Facebook: @Fourfrogslanecove
Instagram: @fourfrogscreperie
Phone: 02 9420 3944
Website: fourfrogs.com.au
Address: 115-117 Longueville Road Lane Cove, New South Wales
---
Shorties Bar & Dining
Shoties has an exciting Christmas menu coming soo! Watch this space!
---
Masala
It's time to celebrate this crazy year with a Christmas party at Masala Kitchen and focus on enjoying ourselves again!
---
Garçon
Following the popularity of our first venue at Tramsheds, Garçon Lane Cove is bringing its French flair and certain je ne sais quoi to the Lower North Shore. Whether you're here for a casual brunch, family dinner, romantic date or with a big group celebrating those special occasions, we're here to make these moments memorable.
With a menu of French classics and Aussie staples, as well as an expansive wine & spritz list, Garçon will become a local favourite in no time. We look forward to welcoming you at our restaurant soon.
---
Encasa
We recommend you make a reservation well in advance of your intended dining date to avoid disappointment.
Set menus are required for all groups of 10 or more people.
---
Party at Home – Catered
---
Porters Liquor Northwood
Whether it's a job well done for staff, a thanks for the teacher, a high five for the coach, or a present for someone special under the tree, Porter's Northwood has a gift for everyone. Limited edition Christmas Gins, Cocktail gift packs, Champagne Bon Bons for the table, a craft beer discovery pack, and great prices on champagnes, wines and spirits from our December Catalogue. Porter's Liquor gift cards are also available in case you can't make up your mind. Stock up now for the Christmas and the New Year period – support your local independent businesses by shopping close to home this Christmas!
 
Facebook: @portersliquornorthwood
Instagram: @portersliquornorthwood
Email: [email protected]
Phone: 02 9427 1337
Website:  Portersliquor.shopmylocal.com.au
Address: 1 Northwood Road, Northwood NSW 2066
---
Walkers Party Hire
Walkers Party Hire  proudly offer a huge variety of party hire equipment including quality tables, beautiful chairs, indoor and outdoor dance floors, disco lighting, casual ottoman cubes & benches, market umbrellas, oven warmers, ice tubs, bbqs, crockery, cutlery and glass ware.
Events Pack: walkershire.com.au
Facebook: @walkerspartyhirenorthshore
Instagram: @walkers_party_hire
Phone: 02 9428 3922
Website: walkershire.com.au
Address: Unit 3, 12 Chaplin Drive, Lane Cove West NSW 2066
---
Chargrill Charlie's Lane Cove
Need a turkey, ham or chicken – Chargrill Charlies has it all.
Catering Info: catering.chargrillcharlies.com
Facebook: @cclanecove
Instagram: @chargrillcharlies
Phone: 02 8095 9761
Website: chargrillcharlies.com
Address: 27 Burns Bay Road, Lane Cove NSW 2066
---
Bern the Chef
Bern the Chef loves cooking, everything from roasting pork crackle, peeling potatoes and whipping meringues. We bring the experience, and you bring the guests, it's a perfect match!
Bern the Chef works in a Council Approved Commercial Kitchen, right here in Lane Cove!
Facebook: @bernthechef
Instagram: @bernthechef
Email: [email protected]
Phone: 0402 092 574
Website: www.grannycooks.com.au
Address: Lane Cove Community Hub Building. Lower Ground, 1 Pottery Lane, Lane Cove, 2066
---
A Cut Above Catering
A Cut Above Christmas Catering makes your Christmas Catering easy with their Self Catering menu.
Let us make your Christmas & New Year entertaining a breeze.

It's so wonderful to be back in full swing catering for your celebrations and Christmas parties. I'm so enjoying hearing from old clients as well as welcoming lots of new ones. A bit of house keeping today to clarify dates for final orders and when we'll be closed etc.

Christmas Self Catering
Orders close 5pm Friday 17 Dec for delivery Christmas Eve.
If you have any questions about our Christmas Self Catering menu please give me a call.

We're then closed Christmas Day to 30 Dec. Reopening for New Year's Eve. We're in the midst of creating a special New Year Self Catering menu, so stay tuned.

Closed New Year's Day until 17 January when we get to recharge 🙂

We have a number of parties already booked for February, so please if you have an event in mind let me know. I'm happy to pencil you in.

Click here to see their self-catering menu.
Contact Details
Wendy Middleton
Phone: 0403 861 117
Email: [email protected]
Website: www.acutabovecatering.com.au
Instagram: @a_cut_above_catering
Facebook: @acutabovecatering
Pinterest: @cutabovecater
---
The Ground Caffe
Let us cater for you. From kids party, family gathering, birthday, Baby shower, we have got you covered. We can do both cocktail and buffet style menus that suit your need. Please inquire within for quotes.
Facebook: @groundcaffe
Instagram: @groundcaffelanecove
Phone: 02 9418 3099
Address: Shop 14, Lane Cove Market Square, 24-28 Burns Bay Road, Lane Cove NSW 2066
---
Boujee Boards
Boujee Boards have Christmas inspired boxes perfect to take to a party or a park. Here are a few examples full list on Facebook
NAUGHTY & NICE
The best combo of sweet and savoury to delight your tastebuds this December- delish! Available in all sizes
Our Christmas Grazing! Available in sizes Classic, Indulge, Celebration and Extravaganza!
You've asked! We listened! Our FAMOUS Choc Strawbs finally have a box of their own!!! While wrapping some presents, or after dinner these go down a delightful decadent treat! Available only in size mini.
---
At Jon-Patrick our passion is creating something beautiful and delicious as well as creating a menu that will entice all your senses.
O
ur simple philosophy is that food need not be perfunctionary but something to be enjoyed, a chance to indulge or escape the everyday.
​Great food is about taking something raw and creating an experience that leaves a lasting memory.
Catering Info: jon-patrick.com.au/our-services/
Facebook: @myfriendthechef
Instagram: @jon_patrick2016 
Phone: 0414 729 993
Website: jon-patrick.com.au
Address: Lane Cove NSW 2066

---
The Cake Man – Lane Cove
The Cake Man Lane Cove has its legendary Gingerbread Houses on sale plus a huge assortment of cakes.  This year they will have gingerbread house, Christmas fruit mince tart, fruit cake and Christmas pudding. This year they are also launching gluten-free fruit cake and gluten-free Christmas puddings.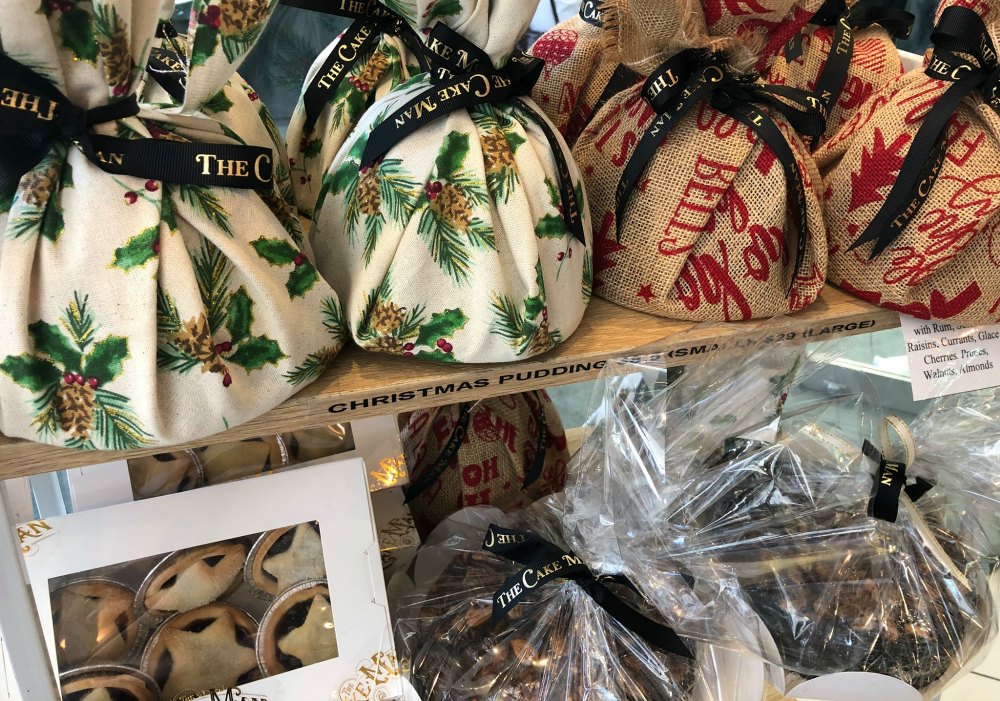 ---
Baker's Delight Lane Cove has some terrific Christmas Gift Packs which are ideal for teachers, hostess gifts, Secret Santa and much more.  The cakes are beautifully presented in a Christmas tin you can use again and they have packages wrapped up ready for you to take home. They have Christmas Cakes in the shape of an actual Christmas Tree and they do not use peel or nuts in their Christmas Cakes. Bakers Delight is located in the Lane Cove Plaza (just near the Rotunda).
---
Gelatissimo
Perfect Christmas dessert – Gingerbread Cookie Dough Gelato! Layers of chunky texture are in every scoop of this decadent Christmas delight, with pieces of choc chip cookie dough throughout a creamy gelato which has both a ginger cookie crumble and Buderim Ginger Crème folded through, before being rippled with a ginger caramel. Umm…yum.
---
I Love Pizza
Cater your home or park parties with I Love Pizza. 20% every Thursday for orders above $25 pick up only ( up to the end of the year.)
---
Party at Home – Self Catered
---

Pop into Riverview Butcher and grab your Christmas Order Form.  Riverview Butcher is taking orders up until the 21 December 2020.
They have Kaczanowski & Co. Smoke House Hams in many sizes to order. Kaczanowski & Co. have been in operation for 40 years using family recipes and traditional smoking methods with Australian grown pork.
Check out Riverview Butcher's range of Free Range Turkeys or Boned and Rolled Turkey Breast with the choice of Ray's stuffing or bring your own stuffing in store.
---
LV Meat Masters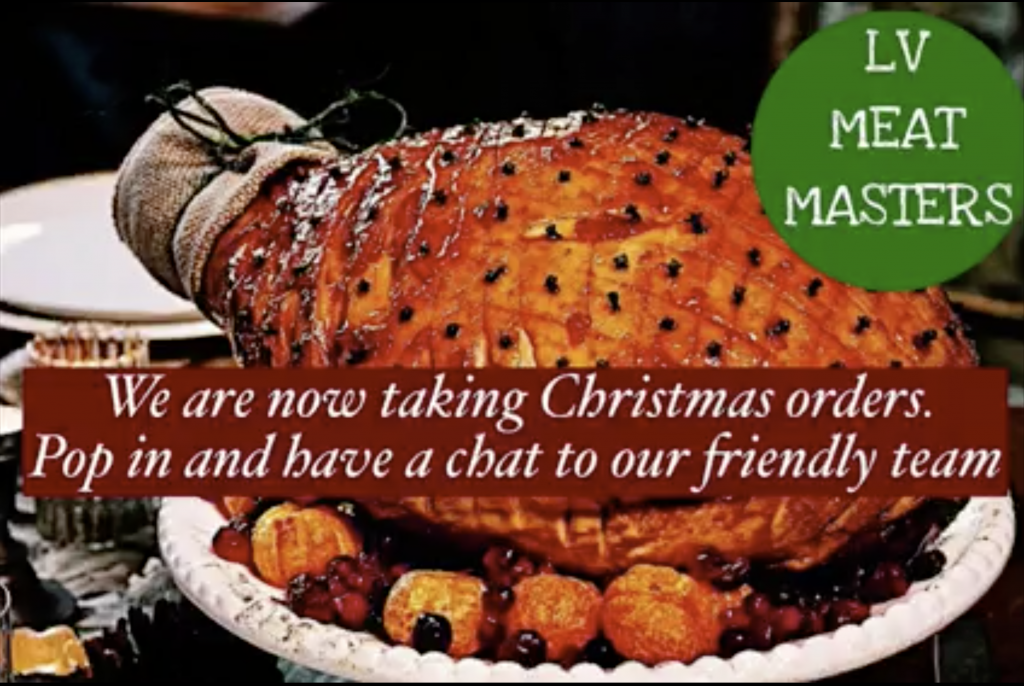 PREMIUM CHRISTMAS HAM (Awarded Sydney Royal Fine Food Gold Medal 2018,2019)
Our award-winning traditional Christmas Ham is the perfect centrepiece for any Christmas table.
We are taking orders from now until stocks last. List here 
To order you can either visit our shop, email lvmeatmasters@gmail.com or call our Christmas number on (02)94202739. You are welcome to message us on Facebook, however we will still need to take your CC details over the phone.
We strongly recommend to place orders for whole turkeys, free range hams and meats as stock is limited.
From all of us at LV Meat Masters we wish you, your family and friends a very merry Christmas!
---
Hummerstons is taking orders for their amazing Kazcanowski Ham.  Then, of course, there is their ham jam, ham bags and ham anything else you need.  Order soon to avoid being disappointed.
Click HERE to learn about their Christmas product range.
Click HERE to print out their order form to place and order for your Christmas catering needs.
---
Springbok Delights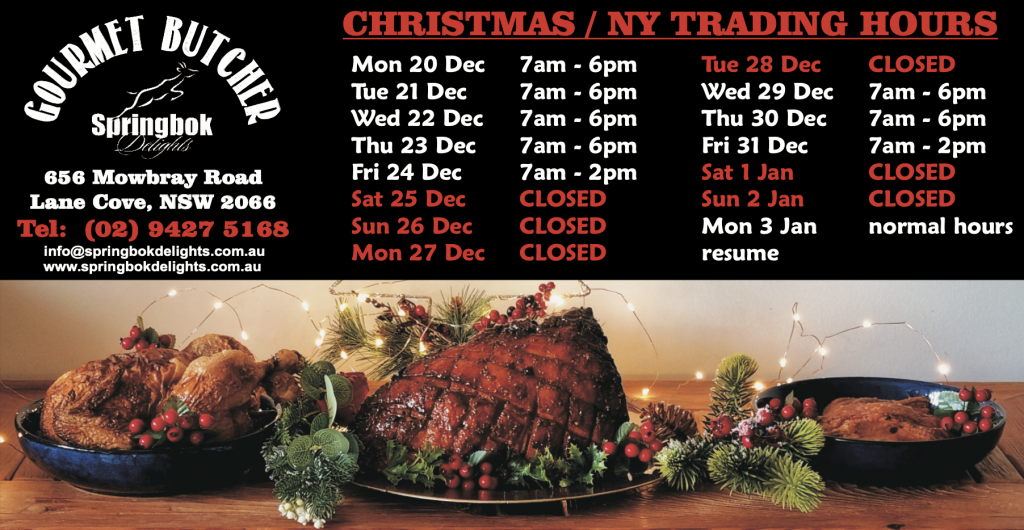 Don't leave your Christmas feast to chance. For the best quality Hams, Turkeys and other meats, order now at Springbok Delights!  Full order form HERE
Facebook: @Springbokdelights
Instagram: @Springbokdelights
Website: www.springbokdelights.com.au
Email: [email protected]
Phone: :(02) 9427 5168
Address: 656 Mowbray Road, Lane Cove North NSW 2066
---
Decorate your house with beautiful fresh flowers! Or select a stunning wreath for your front door (see below).  They are available in natural, dried and preserved flowers. Pure Flowers is located next to The Canopy, in the arcade between The Cake Man and Baker's Delight.
---
The Spotted Orchid
From the traditional to funky and unusual blooms, anything goes for Festive Flowers! Incorporate your favourite flower with other beautiful blooms or leave the choice to The Spotted Orchid, either way, they are sure to be 'wowed'!  Check out their Succulent Wreath.
Address:
1/44 Burns Bay Road, Lane Cove NSW 2066
---