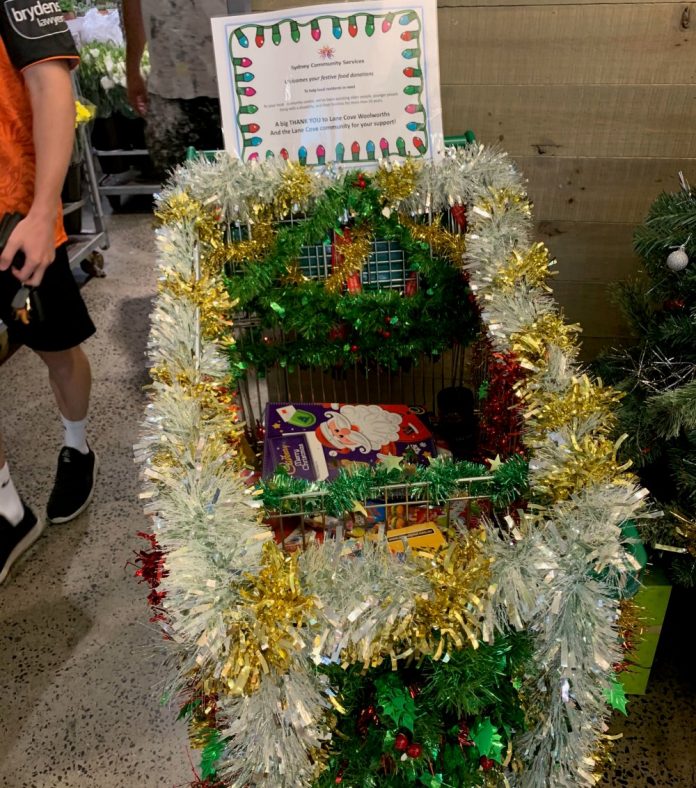 Lane Cove residents are generous.  ITC see acts of generosity every day.  Lane Cove also has one of the highest volunteering rates in Australia.  At this time of the year, ITC readers always ask us how they can help out or donate to someone in need.  We have put together a list of local donation drives.
This has been a hard year, so if you know someone who lives in Lane Cove Council area and needs a helping hand please email us at [email protected] and we will see what we can do.  One act of kindness can make all the difference and Lane Cove has never let us down.
Sydney Community Services
Sydney Community Services is collecting non-perishable food items to distribute to those in need in our community.  Just purchase an extra item when you are shopping at Woolworths and leave it in the shopping trolley located near the escalators.  These hampers go to locals in need.
With your help, Sydney Community Services distributes more than 100 Christmas hampers every year.
Not everyone enjoys Christmas – it can be incredibly stressful if you can't afford it. Please see a list of ideas for a gift or practical items you can donate to their hampers here.
There are three places to donate:
Please bring your donated items to 46 Gladesville Rd, Hunters Hill or to 1 Pottery Ln, Lane Cove (Little Street Car Park building next to the Pool).
If you shop at Woollies in Lane Cove, there's a tinsel-covered trolley for collecting items for our hampers; or
Sydney Community Services will be distributing hampers until December 18.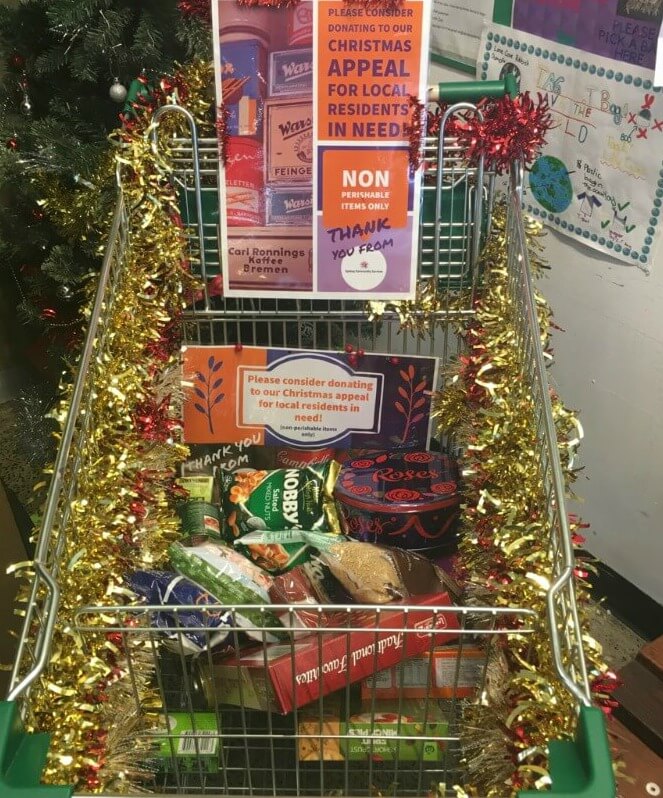 Raine and Horne
This year (as in previous years) Raine and Horne will be accepting donations for The Salvation Army.
The Salvation Army's Gift Guide is below
Raine and Horne are located at 85 Longueville Road, Lane Cove (just near Kasina Korean Eatery).
Where appropriate, please ensure items have long expiry dates and are non-perishable
Consider donating a supermarket gift voucher, as they allow the recipient the flexibility to purchase their choice of fresh fruit, vegetables and meat
Consider providing food that will suit families with young children, people with allergies, the elderly or new Australians
Lane Cove is such a generous community and at this time of year, ITC is regularly asked how locals can support Delvena Women's Refuge. The staff at Delvena never know who is going to walk in the door and need their help. They need to have generic supplies on hand and that is why cash donations and gift vouchers are so appreciated.  Why not buy a Lane Cove Gift Card so parents can choose gifts for the kids from a Lane Cove store.  You can buy a Lane Cove Gift Card at these stores.
They did, however, tell us that this year they do have some teenage boys (16 and 17 years) and a teenage girl.  They also have some kids in at the moment who love Minecraft – so any Minecraft related merchandise would not go astray. The kids also love Bey Blades.
You can drop off your donations at Sydney Community Services.
Your generosity will ensure women and their children escaping domestic violence have a happier Christmas with a small gift to enjoy in their environment free from violence and abuse.
Lane Cove Council
​Santa's elves have been busy putting up the Tree of Joy in the foyer of Council's Civic Centre!
If you'd like to spread generosity and joy this festive season, please consider taking a tag from the tree and donating an unwrapped gift by Thursday 9 December at Lane Cove Civic Centre or Lane Cove Library.
These gifts will be distributed to local children and families in need. We appreciate your kindness and generosity, particularly in light of a challenging year.
For more information, please contact Council's Seniors and Disability Programs Officer on 9911 3501.
Lane Cove Locals Helping Out
Eruna Elias and fellow Lane Cove resident Sarah Sanders are organising a food drive for 30 families for kids who are coming to school on empty stomachs or no food for lunch.
They are working directly with the Principal of a Public Primary School located in South West Sydney. These communities have emerged from lockdown with the highest rates of unemployment.
So their mission is to give some hope to these families this Christmas!
They are after donations of food (non-perishable) or gift card.
Food items could be:
staple items such as rice, pasta or couscous
Longlife Milk
canned tuna
canned tomatoes, corn or other vegetables
They will be topping up with fresh vegetables and fruit before delivering out to the families on the 21 December 2021.
They both live in Lane Cove so happy to drive to pick up food items or if you would like to drop off.
If you would like to donate a Woolies gift card you can head to this link:
And flag as a gift recipient to Eruna or Sarah
Lane Cove Doctors Medical
The Lane Cove Doctors Medical Surgery is hosting a 'Christmas Wish' tree for the Salvation Army which will run until the 22nd December. Essentially, anyone is welcome to drop off gifts under their tree – new and unwrapped gifts are best – and the Salvation Army will collect them on the 22nd to deliver them to local families in need.

Support Local News
Many of you have asked how you can support In the Cove.
In The Cove is all about Lane Cove. We take great pride in delivering you Lane Cove local news, events, and business updates. We also take great pride in our community advocacy. In the Cove is funded by our fabulous local businesses. However, we made the decision to keep advertising affordable for our local businesses. For us to grow and take on more staff and provide you with more, we need more revenue, and that is where you can help. We now have a mechanism for you to support us with a monthly payment or an off one payment. It is up to you. If you have ever been helped by In the Cove or found out some information that has made your life easier, then we would love your support.  Support Us Here.
Get Your Local News on Different Platforms
Are you an ITC SUPERFAN? We know many of you are! For those who are not, we have so many platforms to follow. Don't miss out!
Instagram – www.instagram.com/inthecove/
Newsletter – https://inthecove.com.au/sign-up-for-newsletter/
Lane Cove Chat by ITC– www.facebook.com/groups/itclanecovechat
Kids in the Cove – www.facebook.com/groups/861987681252413
In the Cove Podcast – inthecove.com.au/in-the-cove-lane-cove-podcast/
Weekly Lane Cove Property Update – https://inthecove.com.au/category/lane-cove-property/
As always, thanks to everyone for the support!!!!
Check out our Instagram Site click on the picture below.